If you're an online retailer, you are constantly looking for new ways to compete in the highly competitive space of e-commerce. If you're not, you need to be. A great way to see where e-commerce is heading is to look at the industry's leaders because they have all of the resources to optimize their conversion rates.
I recently visited potterybarn.com for some holiday shopping inspiration and was greeted with a very familiar digital marketing tactic: a simple promotional pop-up to encourage sales and build email lists.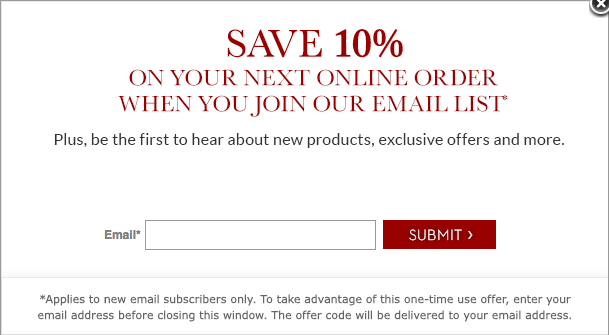 Three or four years ago, you would never see established e-commerce sites giving away coupon codes on-site. Now, it's becoming the industry norm because it works! By implementing pop-up promotions on-site, retailers encourage shoppers to complete a purchase using the promo code they just received while also gathering valuable re-targeting info such as emails and social followers.
Why do I need a pop-up on my site?
As an online retailer, you'll be running promotions on your site. It's in your best interest to make your promotions as effective as possible and you might as well acquire new emails and fans in the process. By implementing an email pop-up on like the one on Pottery Barn, you can directly notify website visitors of your current promotion which will increase coupon redemption rates and sales conversions. By presenting the promo code on-site, you don't have to worry about coupon phishing sites and affiliate fees. A promotional pop-up makes it easy on you and your customers!
How do I get a pop-up on my site?
You may not have the plethora of resources that bigger brands have, but you don't need them. You have the ability to create an attractive pop-up design like Pottery Barn's with all of the functionality you'll ever need. With Justuno, it's never been easier to implement pop-ups and promotions in your marketing strategy.
Take your promotions to the next level by choosing when, where, and to whom your promotions are displayed with behavioral targeting. Reduce bounce and cart abandonment rates with exit pop-ups. Seamlessly integrate with your email marketing software to market to newly acquired leads. Brand your own pop-up promotions in the design canvas. 
Designing Your Pop-up
You can create a pop-up promotion like the one on potterybarn.com in just a few minutes using the Justuno design suite. I've provided a quick tutorial outlining some key design elements to focus on.
Dive In and Design a Pop-Up!
Design your pop-up today with a free 14 day trial of the Justuno platform! All of the tools you need to get started are available to you so what are you waiting for?