The Justuno development team has been working hard to bring you the latest and greatest tools to help increase marketing conversions on your website.
Whether you're frustrated with low conversion rates or want to try some new tactics for conversion optimization purposes, these four tools are bound to be helpful to your marketing efforts!
NEW: Enhanced Session Tracking
Justuno just made tracking visitors easier than ever! The release of enhanced session tracking allows Justuno to collect more accurate visitor data and deliver relevant marketing messages to your prospects. This new technology, once activated, will:
Accurately track visitors across browsers, devices, and private browsing windows
Build complete visitor profiles which automatically apply to current targeting and display rules
Deliver relevant pop-ups, promotions and messaging to visitors based on past and present actions on your website
In short, this new technology will allow Justuno to better track and target your visitors leading to more effective and relevant marketing messages.
If you're a current Justuno user, this new technology does require a free update to the latest version of the platform (you may already be on the latest version).
NEW: 20 Customizable Countdown Timers!

The simple addition of a countdown timer can help drive your visitors to take action. Whether the goal is to capture an email address or convert a sale, this useful tool will drive urgency and conversions!
Use a countdown timer to create daily urgency, for flash sales, as a countdown to a specific date, and much more.
What's New?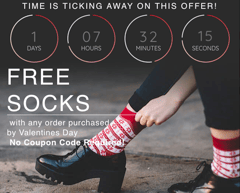 Add a countdown timer in one click. It's never been easier!
Choose from 20 vibrant countdown timer designs to match your design's branding and feel.
Completely customize the design, timer options, and conversion functionality
How to Add a Countdown Timer >> 
NEW: Copy coupon codes with a simple click!
By popular demand, your website visitors can now copy a promo code from a pop up with a simple click, making it quick and easy to apply the code to their order!
How do I set this up?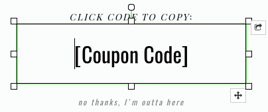 Step 1: Open the promotion you'd like to edit on the design canvas.
Step 2: Select the Coupon Code layer (Shown to the left)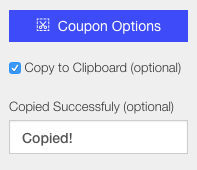 Step 3: Copy to clipboard options will appear under coupon options.
Check the box next to "Copy to Clipboard" and enter the text you want to show after the code has been copied.
Full Support Documentation Here >>
NEW: Google and Facebook Login
Justuno has released two new plugins that allow your visitors to either opt-in or log in using Google and Facebook. This new feature makes the login and opt-in process easier for the visitor allowing your pop-ups to be more effective at driving the desired action.
Note: This is an advanced integration and requires a developer to set up a customized endpoint to accept the data for integration with your backend systems. Step by step instructions are provided below.
New Integrations
Zaius Automatic Integration: Justuno now integrates with the B2C marketing platform, Zaius! Automatically sync new contacts into your Zaius database. Learn More >>
IBM Digital Analytics Integration: Automatically push data collected through Justuno into IBM's powerful digital analytics platform! Learn More >>
Salesforce Pardot Form Integration: Embed Pardot forms within a Justuno pop-up! This versatile integration allows you to implement different types of marketing forms with ease. Learn More >>
Sailthru Form Integration: Seamlessly add Sailthru forms to Justuno pop-ups. Learn More >>
Sendpulse Form Integration: Sync up your pop-ups with SendPulse email marketing. Embed forms, collect new emails, and trigger campaigns! Learn More >>
Not a Justuno User Yet?
Like these conversion optimization tools? There's plenty more waiting for you on the Justuno platform! Sign up today and receive access to the full platform during your 14-day trial. Start converting a higher percentage of traffic today!