Out of all conversion rate optimization techniques, none has received more scrutiny than pop-ups. Yet website pop-ups continue to be the most effective technique for increasing email subscribers and the number of sales conversions.
So why is this practice that is so powerful under so much criticism? We'll review the criticisms and benefits of using pop-ups along with the most effective techniques backed by data.
What is an Overlay? What is a Pop-Up?
A marketing overlay opens a frame within the same window, does not interfere with user experience, and does not prevent visitors from entering or leaving sites. A pop-up opens in a new browser window and interferes with website navigation and overall user experience.
Using the term "pop-up" is simply the easiest way to explain the action that an overlay performs. They are primarily used as an email opt-in form and also a way to offer incentives to website visitors. In this article, I'll refer to marketing overlays as "website pop-ups"
Read: Take a look at these 10 spectacular email pop up designs!
The main criticism of website pop-ups is that they are annoying to visitors. Fortunately, with new technologies from Justuno, it's easy to present pop-ups in ways that add to the website experience thus eliminating the annoyance to visitors.
Benefits
Pop-ups are the most effective way to present information, opt-in forms, and promotional offers to your visitors. They are impossible to miss, and if designed properly, they can make a positive visual impact on the visitor. Website pop-ups can rapidly increase email list growth, decrease bounce rates, reduce shopping cart abandonment, and increase sales conversions. Let's take a look at the most effective types of pop-ups that you can use on your site to achieve stellar results!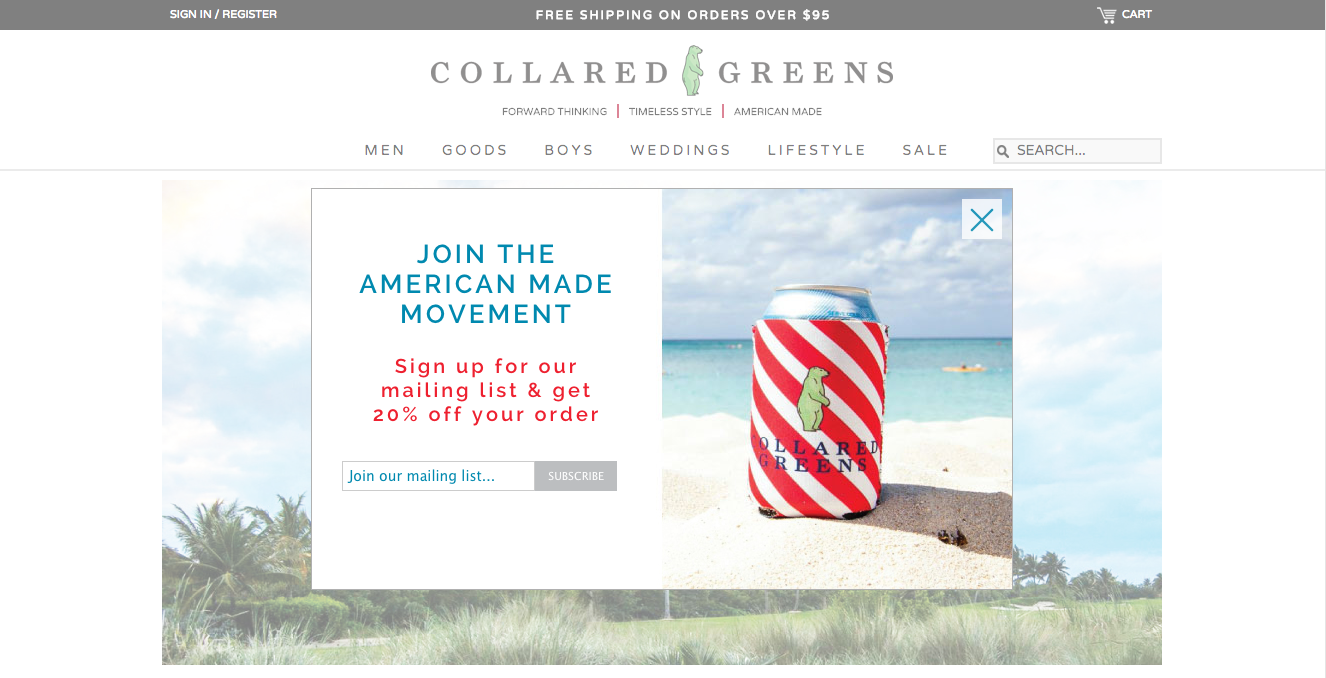 Types of Website Pop-Ups
Simple Opt-In Email Pop-Ups
These are the basic pop-ups that generally display the value that individuals can receive by subscribing to your mailing list. This technique is effective in getting your opt-in form seen but the incentive is intangible and you must deliver on your promises of "weekly deals, practical tips, and the latest industry news and updates." Yes, your newsletter can offer incredible value but offering an incentive that a person can't receive immediately does not spur action on a consistent basis.
Incentivized Email Pop-Ups
Adding an immediate incentive to your email pop-ups provides value and also allows you to target specific types of visitors and also influence visitors to take action. Oh yeah…and it also increases email sign-ups by over 300%! Take that same pop-up and offer a tangible incentive in the form of a promo code that can be used on your site or a piece of content (e-book, case study, how-to guides, etc.)
Say you want subscribers that are interested in bicycle repair. You'd offer "The Complete Guide to Rebuilding your Bicycle" to individuals that subscribe to your newsletter. Or if you want shoppers to buy more from you, offer a promo code for free shipping on orders of $70 or more that shoppers would immediately receive after subscribing to your newsletter.
Exit Pop-Ups
On average, 98% of website visitors leave without converting. In e-commerce, 68% of all shopping carts are abandoned. You can't tell me that bouncing visitors and shopping cart abandonment aren't a problem for you; I simply won't believe you.
Exit offers stop these leaving visitors in their tracks and give you one last opportunity to keep them on your site, convert them into subscribers, and drive them to complete a purchase.
With pixel tracking, a pop-up will appear when a visitor is about to leave your site. Exit pop-ups tend to convert 3-5% of leaving visitors into subscribers while saving 10% of visitors from leaving your site. By adding an instant promo code incentive, you can also see a boost in sales conversions!
Regardless of your opinions on website pop-ups, you can't argue with the fact that they work. Whether you're looking to build your email list, prevent visitors from leaving, or convert more sales, you need to incorporate pop-ups in your marketing strategy.
Still not convinced on the power of website pop-ups? Hop on a free 14-day trial and start converting more visitors today!