It's the boost you wait for all year — the holiday season when eager shoppers bring high traffic to your e-commerce business and buy, buy, buy.
Unfortunately, it also means that in a few short weeks you'll see a second wave of traffic — customers who want to return an item.
Yes, some returns are unavoidable. But many are if you have a solid pre- and post-purchase experience for your customers that sets your brand up for success.
And the truly unavoidable ones? You can turn those into happy, repeat customers who respect your brand with the right returns process.
The problem with returns
Everyone knows more people are shopping online than ever before.
As a result, it's no surprise that postage costs to return unwanted online purchases are also soaring. Last year, return delivery costs in the U.S. were $381 billion. By next year, those are expected to climb to $550 billion, an increase of 44% in two years!
If you sell apparel, you're among the hardest hit. Returned apparel, footwear, and accessories made up 40 percent of total returns in 2018.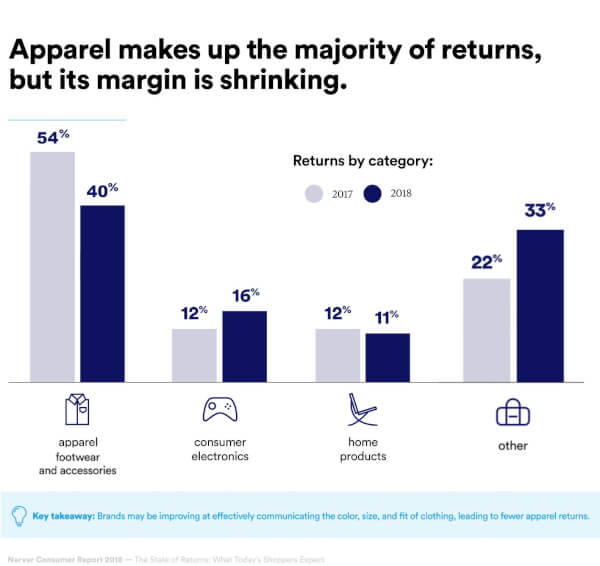 Since the bulk of e-commerce returns are free to the consumer, this means your business is taking a big hit.
You've lost the sale, you've lost shipping costs, you have to pay employees to process the returns, and you might end up getting a product back that can't be resold at full price or at all.
And the worst part, you probably lose future sales as well.
Why?
Customers who return items may blame you for the fact that they didn't get what they (or the gift's recipient) expected.
So what can you do? At Blue Stout, we recommend that you:
Prevent returns BEFORE they buy
We've all experienced it.
You go online to buy a new pair of running shoes or pick up a gift for mom and find yourself struggling to get details: How wide is a "wide" pair of shoes? That sweater you think mom will love — is it wool or an acrylic mix?
Failing to give your customers all the details upfront is the fastest way to guarantee you'll be getting a lot of those items back. You need to:
Share the nitty-gritty. Less isn't more when it comes to product descriptions. Tell shoppers the exact percentage of cotton that is in a fabric. Let them know if those jeans have some stretch to them or will stay snug. Give them 360-degree shots of different sized models wearing an item. These details matter.
Make sizing clear. A generic sizing chart isn't going to cut it. Sizing can vary based on brand and it's your job to make sure you guide customers to the right size the first time. Let shoppers enter specific measurements to get a size recommendation. Explain when apparel has a loose fit or runs small.
Show what other buyers are saying. Use the data you get from existing customers to help shepherd potential customers toward a purchase. For example, Yotpo offers an AI-powered system to collect feedback and photos from buyers so that you can share those reviews and questions with shoppers. By doing so, you can help customers learn what others like (and don't like) so they have more info. With Yotpo, you can also build customer loyalty with special programs and coupons.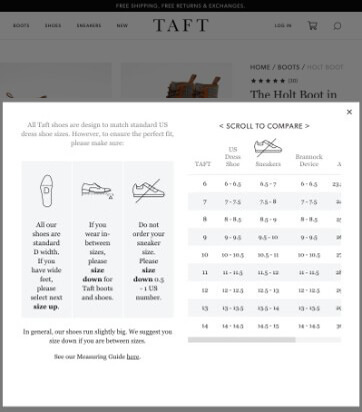 Reduce the number of returns AFTER the sale
When do you close a sale? It would be nice to call it a win once your customer's payment clears. But it's not that simple. They might love your product today, riding high from the excitement of purchasing something new. But once that item is delivered will the love fade or turn into a complex, adversarial return?
What you do after a sale can make all the difference when it comes to returns and customer satisfaction. And well-crafted email campaigns and generous return policies are key:
Use email to build excitement for a product after the sale. To promote satisfaction, send an email to talk about how stylish the item is, which celebrities are wearing similar styles, etc. Ward off dissatisfaction by setting expectations. Those slightly stiff leather boots? — they'll be buttery soft after you break them in.
Segment and send specialized emails to shoppers who are prone to returns. You can identify problematic customers prone to returns in advance so you can adjust the messaging you send to them. For example, share positive customer reviews or gently remind customers of the environmental/business impact of returns. You'll learn what resonates with this segment and be able to consistently improve your messaging.
Guide unhappy customers toward making exchanges not returns. Nearly 60 percent of shoppers who return an item will be happy to exchange it for another. When you do a great job at incentivizing exchanges rather than refunds, you can still get the sale and build a great relationship. Check out tools like Loop, which automates returns and promotes exchanges. For example, when a customer starts an online return, Loop will ask the customer if they'd like a different size or to exchange the item for something completely different. It also processes a return so the money goes immediately back to customer so they can spend it again without delay. The goal of Loop (which should be yours too) is to make returns so quick and simple that these customers will be returning, loyal ones.
Once that unhappy customer is happy, use email to keep in touch
Your hassle-free return policy isn't there to just ship out a different sweater or give money back. It's there to show your customers that you care when something goes wrong and you'll be quick to help. In fact, when a brand makes returns "easy" or "very easy," 96% of shoppers say they would shop with that brand again.
Use the goodwill and momentum you've built from a successful exchange and create an email campaign to get these customers to come back and buy more.
For example, show them a great shirt that will go with those pants they just picked. Or loop them into a special upcoming sale.
Final thoughts
It's important to keep one big thing in mind when you're dealing with returns:
Your goal is to build a repeat customer who loves your brand so much they promote it for you.
A bad shopping experience can chase customers away forever (and encourage them to rant about your company far and wide).
Properly set your customer's expectations from the minute they click on a product and by all means if a customer wants to return an item, keep it simple.
The 2018 report by Narvar shows us why:
"Retailers who make returns easy can expect repeat business."
Yep, it's true. And the study also showed what we at Blue Stout already knew — you can turn a return into revenue.
By staying with your customer throughout the whole shopping cycle — including when things go wrong — you not only can save a sale today. You built a loyal customer who trusts you.