Mother's Day is right around the corner, and for most individuals, Mother's Day is a time to celebrate the amazing women in our lives and spend time with our loved ones. However, this is unfortunately not the case for everyone. For other individuals, Mother's Day is a reminder of loss and grief, and the celebrations around Mother's Day can be daunting. 
In 2019, Bloom & Wild, an online florist, knew that Mother's Day was a difficult time for some and decided to offer customers the option to opt-out of receiving emails ahead of time. This resonated highly with individuals who do not view Mother's Day as a joyous holiday and other brands followed suit in 2020 to offer the same option.
Amidst the Covid-19 pandemic, holidays like Mother's and Father's Day were more difficult than usual with the visitation restrictions around the globe, and for families who lost loved ones during this time, this was even harder. This year, brands should look at how they can make holidays like Mother's Day more impactful than just buying flowers and cards— there's an opportunity to be more empathetic and to create a positive impact, and we have some ideas for how your eCommerce brand can get involved.
Use Mother's Day Traffic To Give Back And Make An Impact
While Mother's Day is a time to spend with our loved ones, it's also a large day of consumer spending. Last year, Mother's Day spending reached a record high of $31.7 billion in the U.S., with 84% of U.S. adults planning to celebrate the holiday. Between the marketing efforts and the promotions of sales and deals, Mother's Day has become a consumption-centered holiday. The good news is that this brings a great opportunity for creating a positive impact.
As conscious consumption grows, consumers are expecting brands to do more to make an impact. Consumers are looking for value alignment in the brands that they support and are increasingly choosing to support brands that do more than operate for a profit. In fact, 72% of Americans say they feel it is more important than ever that the companies they buy from reflect their values. With a large majority of the U.S. population engaging in spending around Mother's Day, brands can create an impact by utilizing cause marketing. 
With the competition amongst e-commerce and direct-to-consumer brands constantly growing, giving back on purchases can help better attract the growing population of conscious consumers while creating more authentic relationships with these customers. Whether you donate 1% or enable your customers to make a donation with their purchase, opening the opportunity for impact as your customers are shopping for Mother's Day can create a more meaningful interaction between your customers and your brand. 
A great example is luxury shoe retailer Margaux, who wanted to call attention to hard-working mothers by offering 20% sitewide while also enabling their customers to donate their discount towards No Kid Hungry. Through this campaign alone, Margaux was able to provide over 40,000 meals for fighting childhood hunger.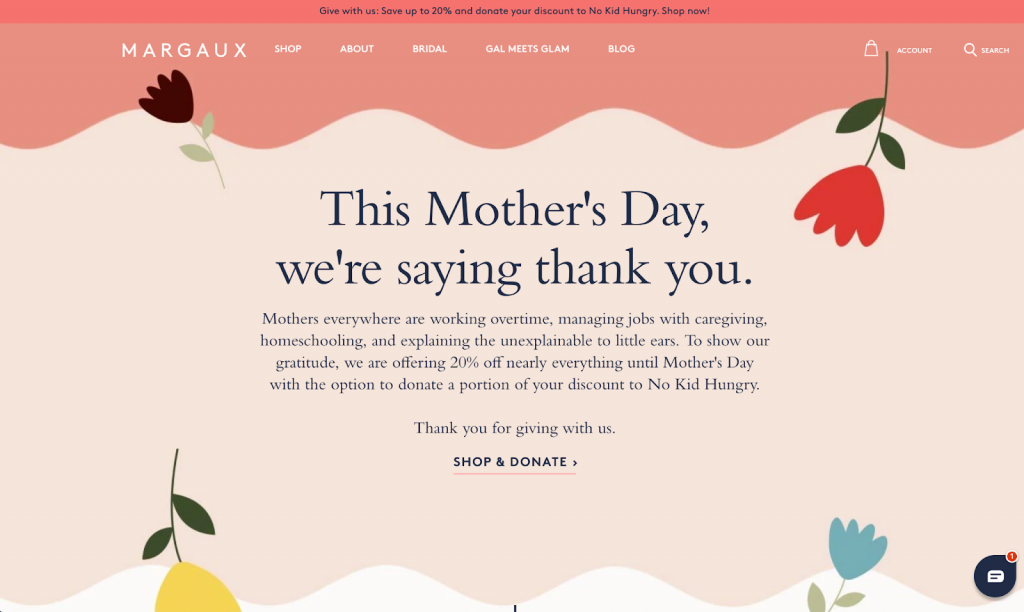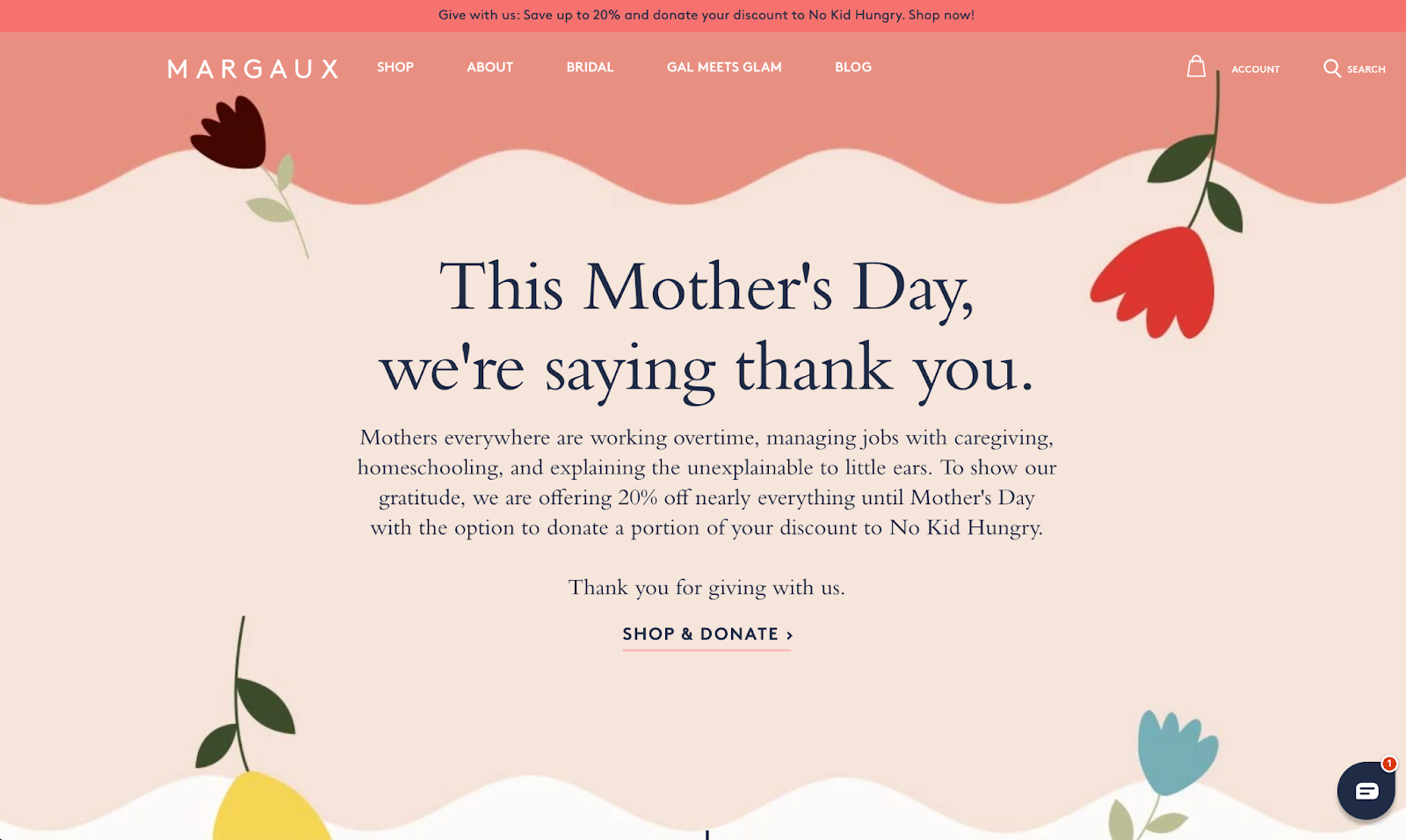 Who You Can Support Around Mother's Day
A great way to get your customers involved in your giving around Mother's Day is by enabling them to support their mothers' favorite cause. Supporting the causes that your customers care about can help create value alignment between your brand and your customers and can increase customer loyalty over time. Using a donation solution like ShoppingGives can make supporting your customers' favorite causes easier than ever.
Using their donation technology, your brand can empower your customers to support a cause of their choice with their purchase. This will allow your customers to purchase a thoughtful gift with the added benefit of supporting their loved one's favorite cause— and in turn, create a more meaningful experience between your brand and your customers. 
If you need inspiration for nonprofits that are helping mothers and families, here are some organizations your brand can support around this time:
How You Can Utilize Cause Marketing To Plan A Mother's Day Campaign
To get started with creating a cause marketing campaign around Mother's Day, you'll first want to plan out the goal of the campaign. What causes do you want to support? How much are you going to give back? How are you going to market your campaign? Once you've made your plan, you can begin executing your campaign.
Technology Partners
Using a donation solution like ShoppingGives can help you seamlessly integrate cause marketing for your brand within minutes. As a brand, you have the power to choose which causes are supported on purchases and which collections of products are eligible for donations. To create even more engagement, you can empower your customers to search and select the cause of their choice to support as well.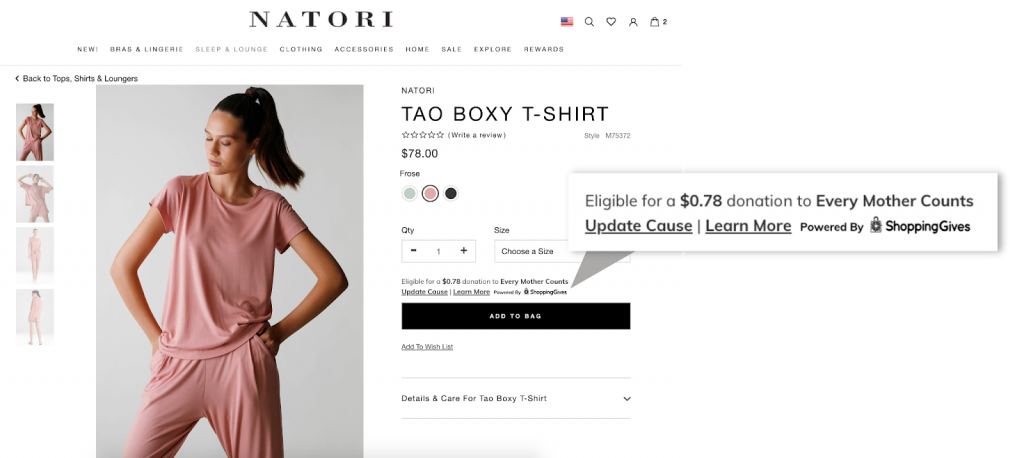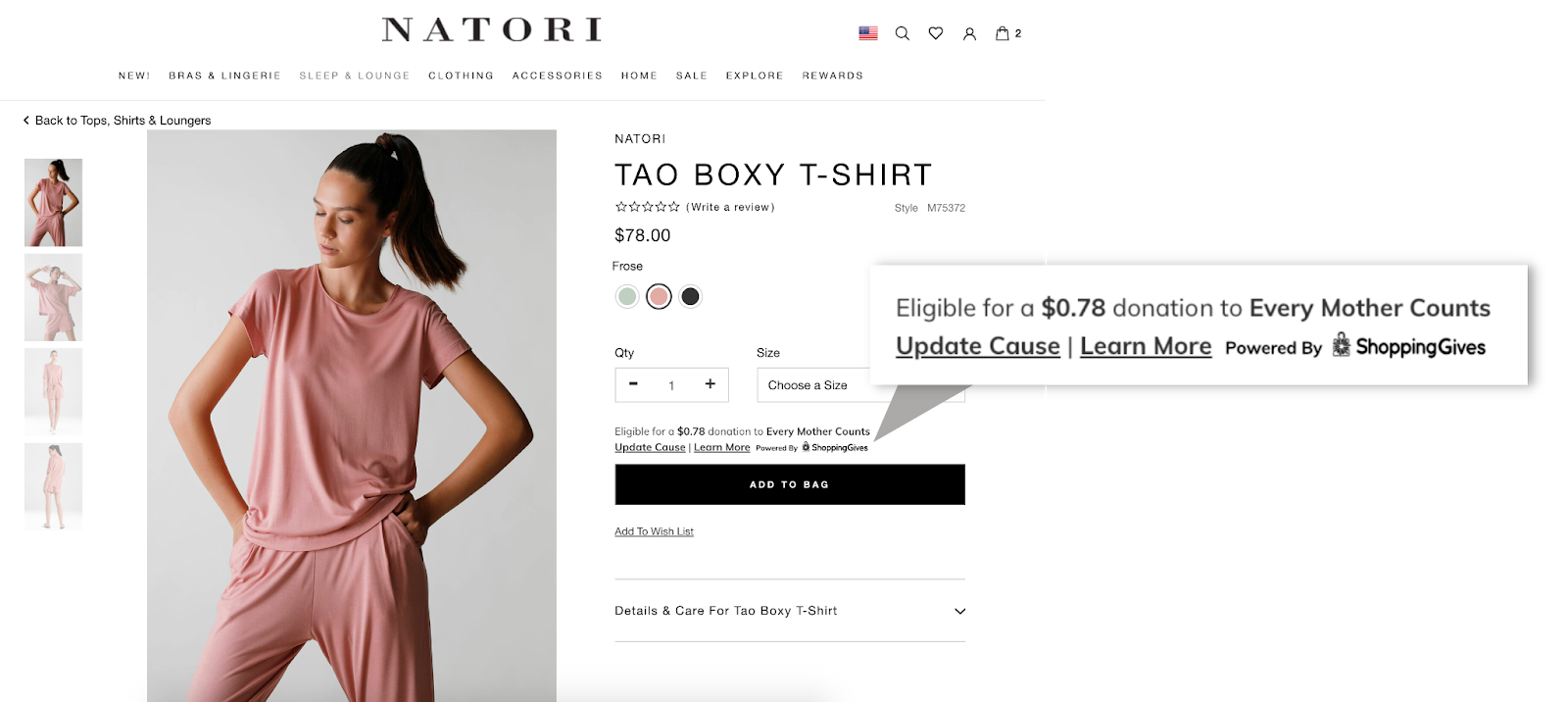 You can also use ShoppingGives and Justuno in combination to create personalized, engaging popups to drive purpose-driven purchases. By using Justuno and ShoppingGives together, you can increase conversions by informing your customers that their purchase is eligible for a donation. If you are using an opt-in model for donations, you can enable a popup before checkout if your customer hasn't yet selected a cause to support with their purchase.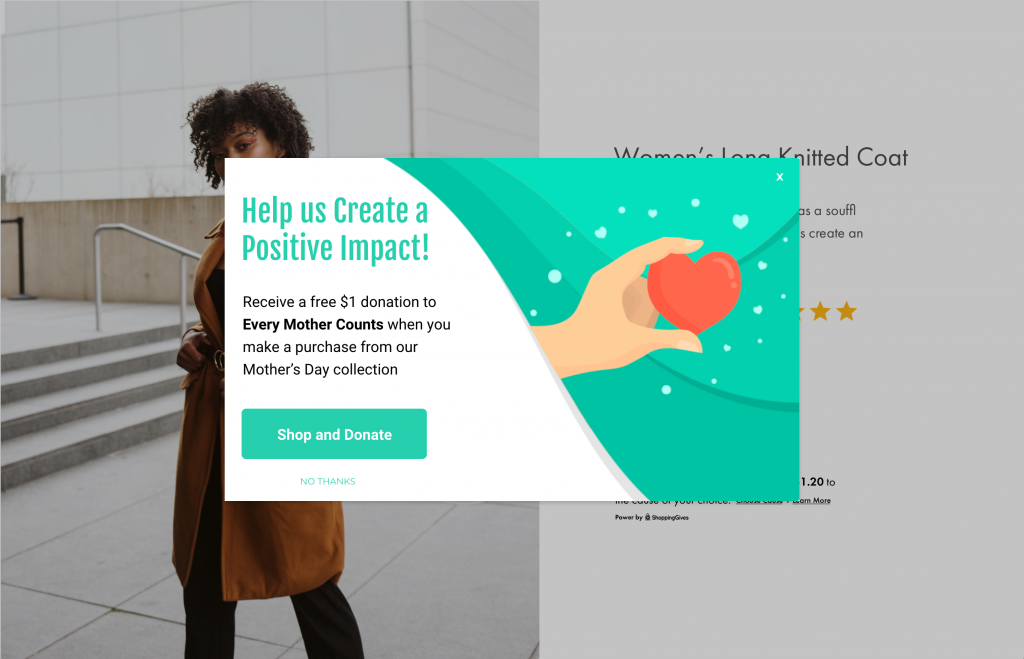 Email
Once you have your giving strategy in place, you can begin marketing it. In the honor of being empathetic towards your customers who may not enjoy the festivities around Mother's Day, you can create an announcement email to share your social impact instead. Focusing this email around giving back as opposed to the holiday can resonate more positively with these customers.
After Mother's Day, you can even use personalized re-targeting emails to send to customers who engaged with your brand and created a donation with their purchase during your Mother's Day giving campaign. In these re-targeting emails, you can remind them that they can still support their favorite cause by shopping with your brand and encourage them to come back and make another purchase. By following the personalized link in the email, your customers can be brought to your website as usual, with the added bonus of having a specific cause already selected to be supported with their purchase.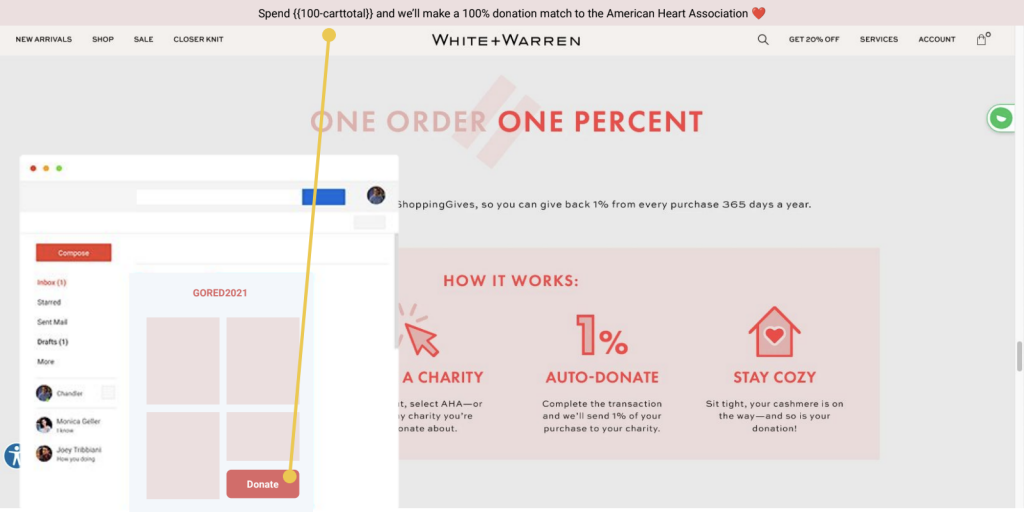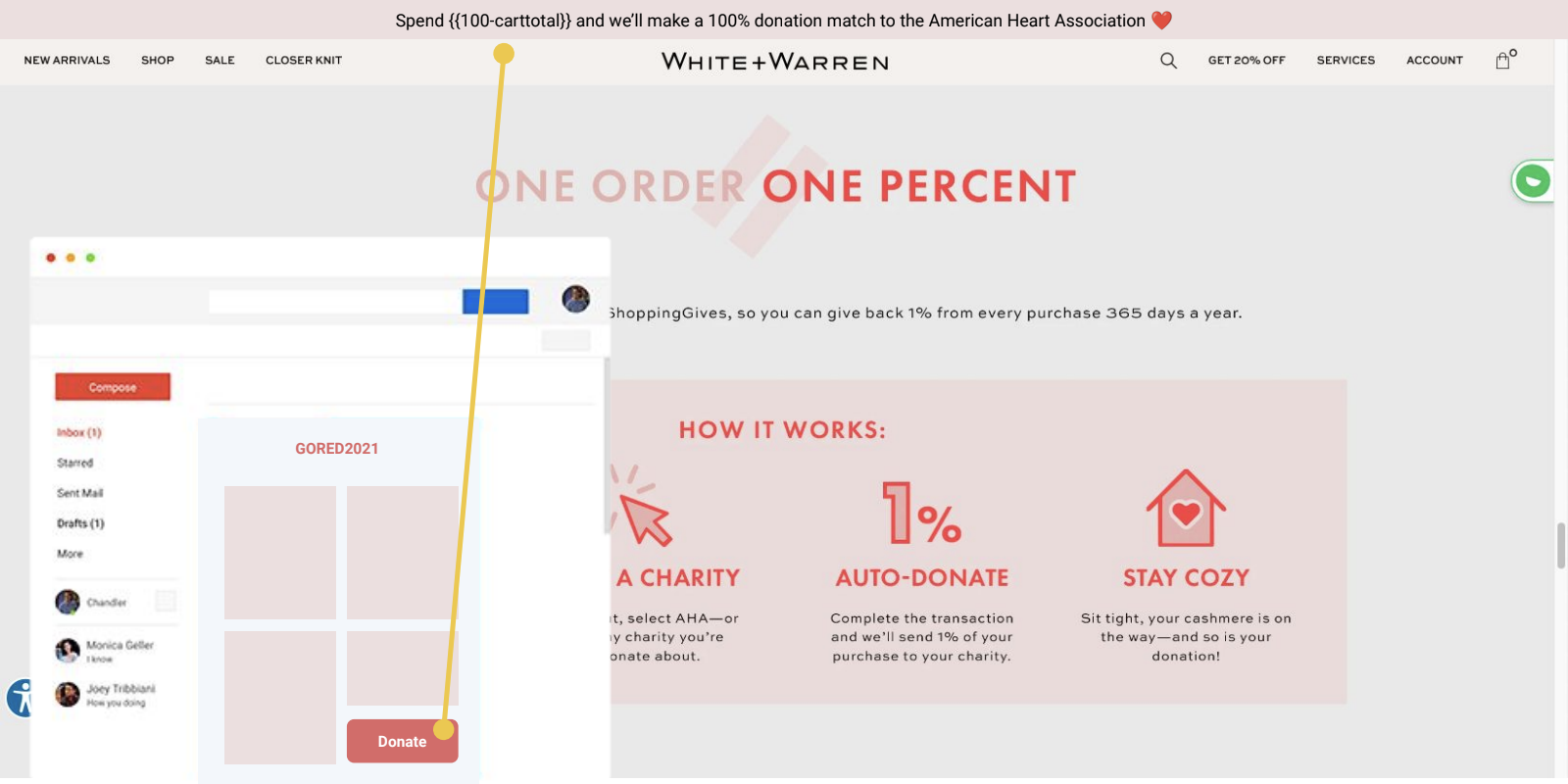 Social Media
Brands can also utilize social media to administer polls and find out what causes their customers care about. If you're not sure what causes you want to support for a Mother's Day campaign, you can connect with your customers through social media to find out what causes they'd like to see you support. This is a great opportunity to bring your customers into the conversation around cause marketing and empower them to feel more involved with your brand.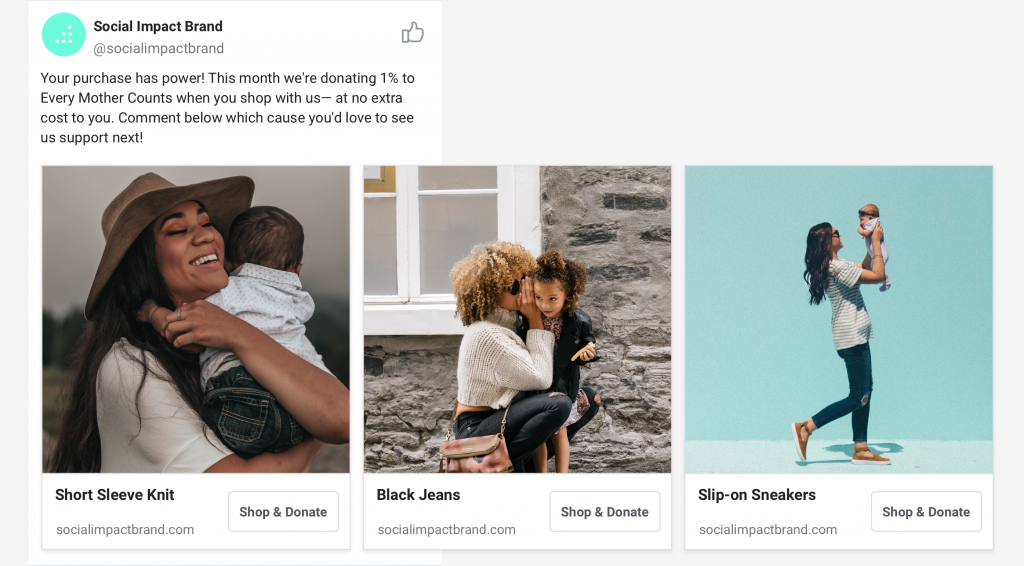 As consumers' expectations for brands to do more for society increase, implementing cause marketing is a great opportunity to attract conscious consumers around holidays and beyond.
No matter how you choose to make an impact, the key is to ensure that your cause marketing strategy is authentic to your brand. Implementing cause marketing as an evergreen strategy can help strengthen your customer relationships, boost customer loyalty, and of course, do your part in creating a positive social impact as well.