Flowers and spa day for Mom, fishing gear, and whiskey for Dad. No, it's not Christmas already, but it is time to start thinking about Mother's Day and Father's Day.
If you don't have these on your calendar already, don't worry, you've still got time!
Mother and Father's Day are big opportunities for e-commerce businesses. According to the latest statistics, Americans plan to spend $35.7 billion on Mother's Day-related gifts and activities in 2023. While those numbers dip slightly for Father's Day, the figure is still high, having surpassed the $20 billion mark in 2022.
These are eye-popping numbers for any retailers looking to boost early summer sales.
Here are a few Father's and Mother's Day marketing ideas to make sure you can help out customers shopping for gifts before it's too late.
Understand Your Audience
First, let's cover best practices for messaging that resonates with consumers and converts your visitors into customers.
When creating Father and Mother's Day marketing materials, keep in mind the buyer motivations surrounding their gift search. Understanding your audience and what they value is key to knowing what to offer.
Most people shop for gifts for parents, inlaws, or spouses, meaning they're on two ends of the spectrum: knowing exactly what they're looking to purchase or at a total loss for where to start.
The Decided Shopper
For shoppers who know what they want, their search becomes laser-focused and turns to comparison shopping. Therefore, your aim should be to get your offer in front of them in as many ways as possible and to keep them on your site so they don't leave to price compare on a competitor's site.
You can accomplish this through heavily targeted and strategic messaging. These shoppers move quickly through the funnel and the key to success lies in email and on-site messaging early in their search. You won't have long before they make their purchase, so act fast and early to snag that conversion.
The Inspiration Browser
For shoppers who have no idea where to begin, provide helpful content and a guiding hand to win their business.
Like most holidays, gift guides and specific product sections on your site are great places to start cultivating a helpful consumer experience. These visitors take longer to complete the buyer's journey, and will most likely browse across multiple devices. The key to success for these shoppers is persistent, helpful messaging.
Gift guides for "Dads who like to grill" or "Moms who deserve a spa day" are examples of how you can lead your visitors down a desired shopping path. Curating these product choices with pricing level options greatly reduces friction and motivates unsure shoppers to purchase.
Simplify the decision-making process as much as possible and you will quickly earn their appreciation and business.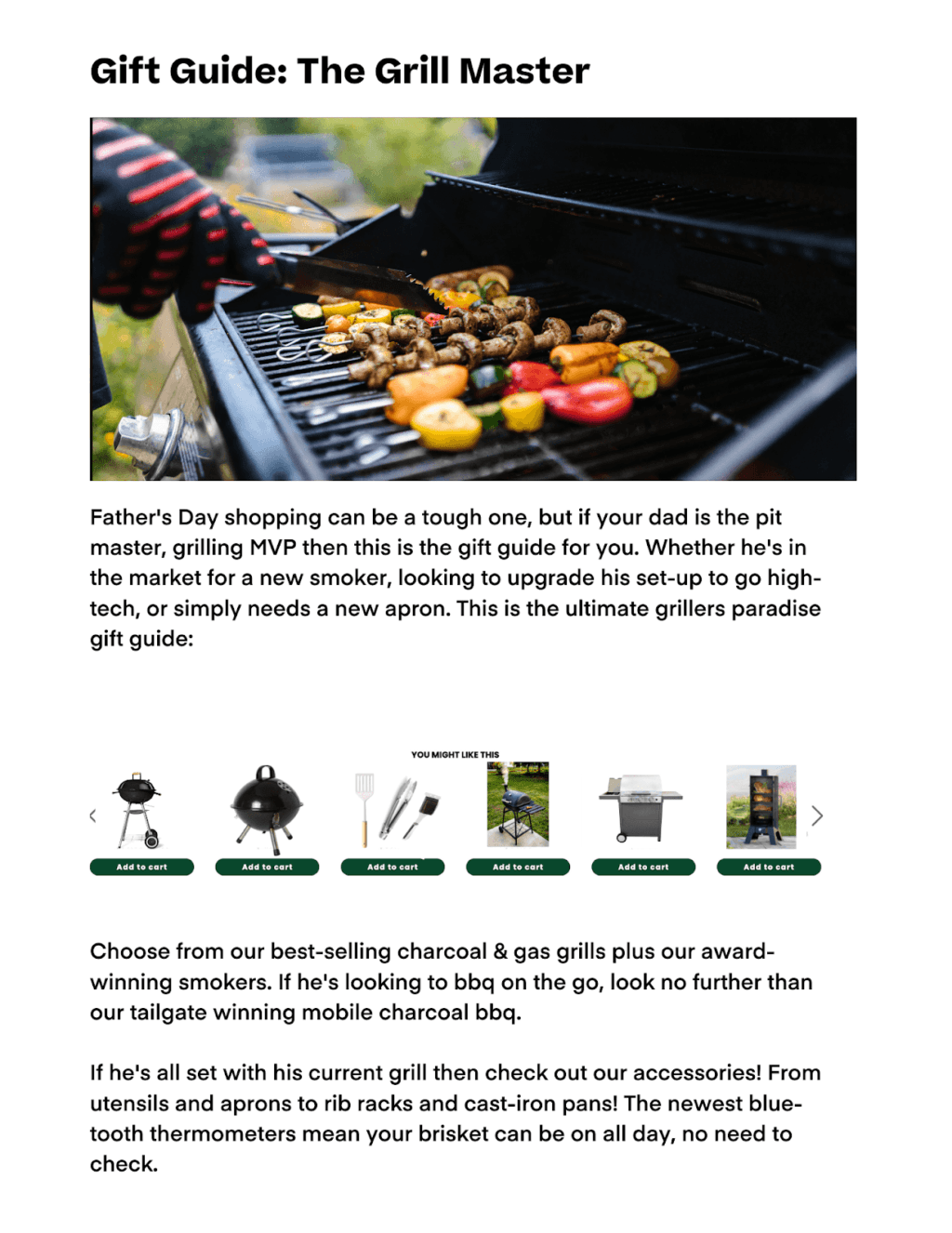 The Procrastinator
For procrastinators, two-day shipping (or next-day delivery) is a lifesaver. Running free, speedy shipping promotions can be a great way to capture those last-minute buyers.
A great way to incentivize these shoppers is with a countdown timer that highlights the order by the deadline.
With the rise of Amazon Prime, shoppers are now accustomed to fast and free shipping, so much so that many visitors balk at paying for shipping to the point where they abandon their carts entirely.
The free shipping strategy isn't always attainable for every business. However, it may be more attainable for customers within a certain area. Try pairing a free shipping or two-day shipping banner with geo-targeting rules to increase purchases within a realistic area.
Boost Your SEO Strategy
Enhancing your SEO strategy is the quickest and most affordable way to get your product listings ready for Mother's Day and Father's Day. Include holiday-specific keywords that have high search traffic in your product description and title. These will boost the visibility of your products or services in search engine results.
Some keyword phrases you could include are:
Mother's Day/Father's Day Gifts
Mom's gifts/Dad's gifts
Gifts for both her and him
Men's gift/Women's gift
Consider also long-tail keywords with a lesser volume to boost your chances of popping high on search results. By utilizing this SEO technique, you can ensure that your website is optimized for increased traffic and conversions.
Set Up Email Marketing Campaigns
Leveraging your email list is another fantastic way to let people know about your Mother's Day and Father's Day marketing promotions. It is also a great tactic to convert returning clients you've already established a mutually beneficial relationship.
Create a promotional email or newsletter with a Father's Day or Mother's Day theme, and include some of the items you think would make great gifts. Consider personalizing the content for different email target groups to improve conversion rates.
Here are some ideas for Father's and Mother's Day marketing via email to try this year:
Reminder or timer
Special offers
Last-minute discounts
Order cut-off dates
Best-selling items
Reminders for abandoned carts
When organizing your email marketing strategy, keep in mind that your clients will receive a ton of similar emails from your rivals. Be sure to create an eye-catching email design and carefully craft your subject lines.
We've also seen many brands begin to offer the option to opt-out of receiving marketing emails regarding Mother's & Father's Day—which is a great way to showcase empathy for those these holidays might upset and build a stronger relationship with your database. This can be easily done via segmentation in your ESP but means the world to those who might struggle with this time of year.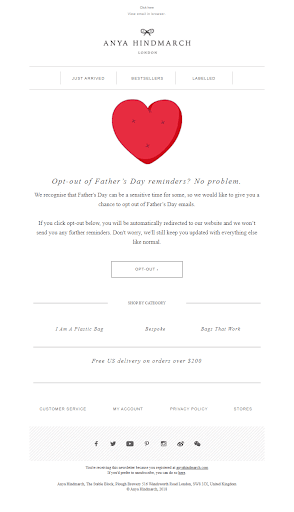 Host Giveaways
Giveaways allow you to create leads, gain social media followers, and boost website traffic and brand awareness. They are the perfect strategy to expand your reach, making your brand more discoverable online and on social media.
If you want your customers to sign up and generate enthusiasm around your business right before Father's or Mother's Day, make your prize highly valuable. Consider offering your best-selling item or a bundle of items that would make an ideal gift for any mother or father. Also, make your giveaway simple to enter. Don't make customers fill out a 20-question survey in order to receive a 5% discount voucher.
Create a Dedicated Page
Creating a separate page dedicated solely to Father's or Mother's Day shopping is a great approach to help people navigate your online store. It simplifies things for visitors who come to the website specifically looking for Mother's Day gifts. But, it can be helpful in turning regular customers into Father's or Mother's Day shoppers.
The creation of a gift-purchasing page alone won't automatically boost your sales, though. You must consider how to market the page and make it searchable in order to increase purchases. Displaying a pop-up on your online store that directs consumers to the respective page can help with that.
Bring Influencers Into the Mix
Influencer marketing can help your brand expand its reach, following, and, most importantly, trust.
Think about asking influencers to suggest to their audiences and followers that they take a picture of themselves with their mothers or fathers wearing your products and using a witty hashtag. This will get your existing customers engaged and excited but it can also help you attract new customers.
Another creative Mother's Day or Father's Day marketing concept is to have influencers create polls about gift suggestions, with a variety of your products listed as possible answers. This enables client participation and increases their interest in your current offers.
Promote Your Father and Mother's Day Marketing Campaigns
Now that your Father and Mother's Day marketing initiatives are complete, it's time to let people know! Here's how:
Send Push Notifications
Push notifications are a great tool for keeping in touch with your customers, considering they have a higher click-through rate than emails. This brief message which is usually no longer than 120 characters is sent to subscribers' desktops or mobile devices to promote a special offer.
Consider using push notifications to inform your consumers about your Father and Mother's Day marketing initiatives. There are numerous push notification options available. Just be mindful of your message frequency—the more notifications you send in a day, the less engagement they'll receive over time.
Make Your Brand Prominent on Social Media
If you want to make an impact with a themed campaign, keep your brand's social media accounts active.
Post visually appealing images promoting your Mother or Father's Day gift ideas and discounts. Moreover, engage your audience by inquiring about their holiday and gifting plans.
However, be careful not to spread yourself too thin when it comes to social media marketing, especially in the days running up to Father's or Mother's Day. Focus solely on social media channels that will allow you to reach your intended audience. Also, focus on producing high-quality content that is enjoyable to consume and easy to share.
Keep in mind that you will not be the only store advertising special Father's or Mother's Day deals. To differentiate yourself from the competition, find a unique approach to presenting your ideas and be sure your branding is consistent.
Tap Into "Nostalgia Marketing"
For Mother and Father's Day, "nostalgia marketing" comes heavily into play. It's a popular tactic in marketing today, and that is especially true for family-oriented holidays.
Nostalgia marketing is an excellent strategy because it appeals to the emotions of consumers and taps into the personal nature of the holiday. Heavy reliance on specific imagery and the sentimental nature of most shoppers leads to big wins.
However, it's important to note — nostalgia marketing is only viable when used in line with your brand voice. Do not force something that isn't there for a specific holiday — it won't work and may even backfire. Know your audience and brand and plan accordingly.
These are holidays meant for celebrating parents and role models in people's lives, so thoughtful branding and sincere messaging are key to resonating with shoppers.
Traditional industries these days are:
Flowers
Self-care
Jewelry
Alcohol
Food
Home Goods
Electronics
Activities/Experiences
The marketing tips described above are different for each industry and vary widely in how they can be executed.
At Justuno, we like to make things as easy as possible for our users, so we've created pre-built templates for these holidays. You can edit their design to match your site or edit the rules to make them more targeted or you can simply set them live instantly. Choose from a variety of targeting scenarios, placements, and more!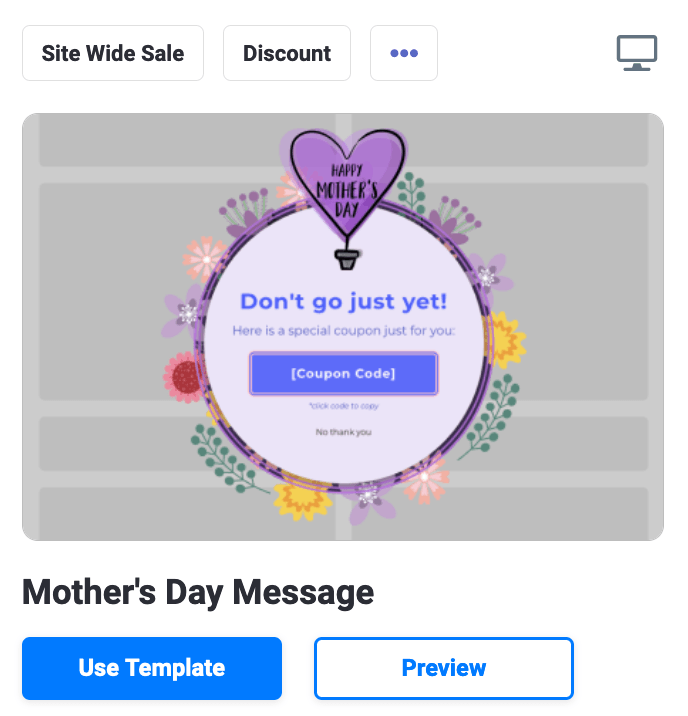 The Bottom Line: Father's Day and Mother's Day Marketing
Mother's Day and Father's Day are important occasions that present excellent opportunities for brands to connect with their customers and show appreciation to parents. By implementing effective marketing strategies such as personalized messaging, creative campaigns, and hosting giveaways, you can create meaningful experiences for your customers and strengthen their brand identity.
However, it's important to keep in mind that authenticity and empathy are key factors in successful marketing campaigns for these holidays. Put some effort into understanding the unique needs and emotions of their audience, so you can create Father and Mother's Day marketing campaigns that truly resonate with your customers and make a lasting impact.