Flowers and spa day for Mom, fishing gear and whiskey for Dad. No, it's not Christmas already, but it is time to start thinking about Mother's Day and Father's Day.
If you don't have these in your calendar already, don't worry you've still got time!
Mother's Day
USA, Australia, and Canada is: May 12
UK: March 31
Father's Day
USA, UK, Australia, and Canada: June 16
Mother and Father's Day are big opportunities for e-commerce businesses, with the National Retail Federation projecting the highest consumer spending to date expected. According to NRF research, "a total 84 percent of U.S. adults are expected to celebrate Mother's Day this year, and spending is expected to reach a record $25 billion, up from $23.1 billion in 2018" — 31% of that being online shopping.
While those numbers dip slightly for Father's Day, the NRF still projects an average of $133 per person, totaling a near-record $15.3 billion — 33.8% of that being online shopping.
These are eye-popping numbers for any retailers looking to boost early summer sales.
Here are a few ways to make sure you can capitalize on customers shopping for Mother and Father's Day gifts before it's too late.
Understanding your audience
First, let's cover best practices for messaging that resonates with consumers and converts your visitors into customers.
When creating your marketing materials for Mother and Father's Day, keep in mind the buyer motivations surrounding their gift search. Understanding your audience and what they value is key to knowing what to offer.
Most people shop for gifts for parents, inlaws, or spouses, meaning they're on two ends of the spectrum: knowing exactly what they're looking to purchase or at a total loss for where to start.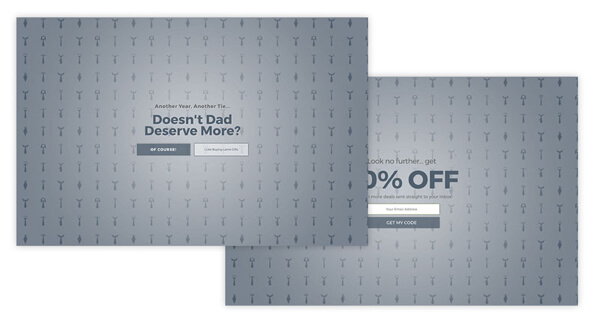 The decided shopper
For shoppers who know what they want, their search becomes laser-focused and turns to comparison shopping. Therefore, your aim should be to get your offer in front of them in as many ways as possible and to keep them on your site so they don't leave to price compare on a competitor site.
You can accomplish this through heavily targeted and strategic messaging. These shoppers move quickly through the funnel and the key to success lies in email and on-site messaging early in their search. You won't have long before they make their purchase, so act fast and early to snag that conversion.
The inspiration browser
For shoppers who have no idea where to begin, provide helpful content and a guiding hand to win their business.
Like most holidays, gift guides and specific product sections on your site are a great place to start for cultivating a helpful consumer experience. These visitors take longer to complete the buyer's journey, and will most likely browse across multiple devices. The key to success for these shoppers is persistent, helpful messaging.
Gift guides for "Dads who like to grill" or "Moms who deserve a spa day" are examples of how you can lead your visitors down a desired shopping path. Curating these product choices with pricing level options is a great way to reduce friction and motivate unsure shoppers to purchase.
Simplify the decision making process as much as possible and you will quickly earn their appreciation and business.
The procrastinator
For procrastinators, two-day shipping (or next-day delivery) is a lifesaver. Running free, speedy shipping promotions can be a great way to capture those last minute buyers.
A great way to incentivize these shoppers is with a countdown timer that highlights the order by deadline.
With the rise of Amazon Prime, shoppers are now accustomed to fast and free shipping, so much so that many visitors balk at paying for shipping to the point where they abandon their cart entirely.
Free shipping isn't always attainable for every business, however it may be more attainable for customers within a certain area. Try pairing a free shipping or two-day shipping banner with geo-targeting rules to increase purchases within a realistic area.
Focus on messaging
Another strategy for appealing to Mother's and Father's Day shoppers is to hone your messaging. This messaging can range from your blog, paid advertising such as Google ads, or simply your own social media posts.
No matter the format or the traffic source, a focus on consistent messaging is key.
For Mother and Father's Day, "nostalgia marketing" comes heavily into play. It's a popular tactic in marketing today, and that is especially true for family-oriented holidays.
Nostalgia marketing is an excellent strategy because it appeals to the emotions of consumers and taps into the personal nature of the holiday. Heavy reliance on specific imagery and the sentimental nature of most shoppers leads to big wins.
However, it's important to note — nostalgia marketing is only viable when used in line with your brand voice. Do not force something that isn't there for a specific holiday — it won't work and may even back-fire. Know your audience and brand and plan accordingly.
These are holidays meant for celebrating parents and role models in people's lives, so thoughtful branding and sincere messaging is key to resonating with shoppers.
Traditional industries for these days are:
Flowers
Self-care
Jewelry
Alcohol
Food
Home Goods
Electronics
Activities/Experiences
The marketing tips described above are different for each industry and vary widely in how they can be executed.
At Justuno, we like to make things as easy as possible for our users, so we've created pre-built templates for these holidays. You can edit their design to match your site or edit the rules to make them more targeted or you can simply set them live instantly.
Use the CTA below to click through to your account and choose a pre-built template to work with or use our design canvas to create your own from scratch.