In the world of website messaging, the banner or website notification bar is often overlooked. Although many digital marketers use bars and banners on their websites, they're often not being leveraged to their full potential to engage and delight website traffic.
Whether you're currently using a website notification bar on your site or haven't gotten around to adding one just yet, this blog post is for you. We'll cover fifteen different strategies you can implement using a banner that can help increase visitor engagement, personalize website experiences, and push shoppers toward conversion.
Plus, if you're just a Justuno customer, you can log in and find many of these banner strategies ready for you in our pre-built library. Simply pick it, brand it, and set it live!
Now let's get into these fifteen uses cases for banners on your website.
1. Share a Site-Wide Message
2. Display Free Shipping Offer
3. Display Free Shipping Threshold
4. Geo-Targeted Shipping Information
5. Stock-Related Information
6. Creating Urgency With a Countdown Timer Banner
7. Post-Engagement Banner
8. Offer Promo Codes
9. Boost Cart Value With Product Recommendations
10. Convert Mobile Shoppers to Email Subscribers (Google-Friendly)
11. Lead Capture on Desktop
12. CTA Banners for Improved Navigation
13. Promote Social Pages & Gain Followers
14. Match Offsite & Onsite Messaging
15. Collect Information
1. Share A Site-Wide Message
The beauty of the banner is its ability to display a message throughout the website experience without interrupting it. This increases exposure and improves communication with your visitors.
Sharing a site-wide message is one of the common use cases we see with a banner. This marketing tactic is perfect for displaying general information, a big sale, an upcoming event, a welcome greeting, or a new product/collection launch.
Site-wide messages are those you want to show to every single visitor meaning there's not really any segmentation going on. So save this for the information you want to communicate with the majority of your website's traffic. While this information isn't necessarily incredibly important, it adds incremental value to the visitor's experience.
This is a great example from our customer, Sheets & Giggles, who uses banners with a rotating message throughout their website. They let customers know about their environmental efforts, sustainable shipping practices, etc. These banners are purely informational and meant to help the visitor get a better understanding of the Sheets & Giggles brand and their why.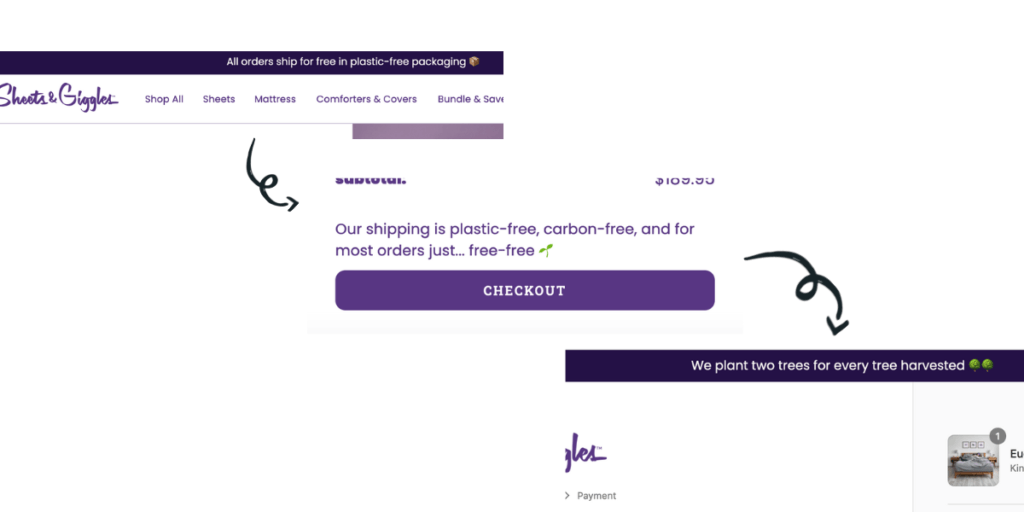 2. Display Free Shipping Offer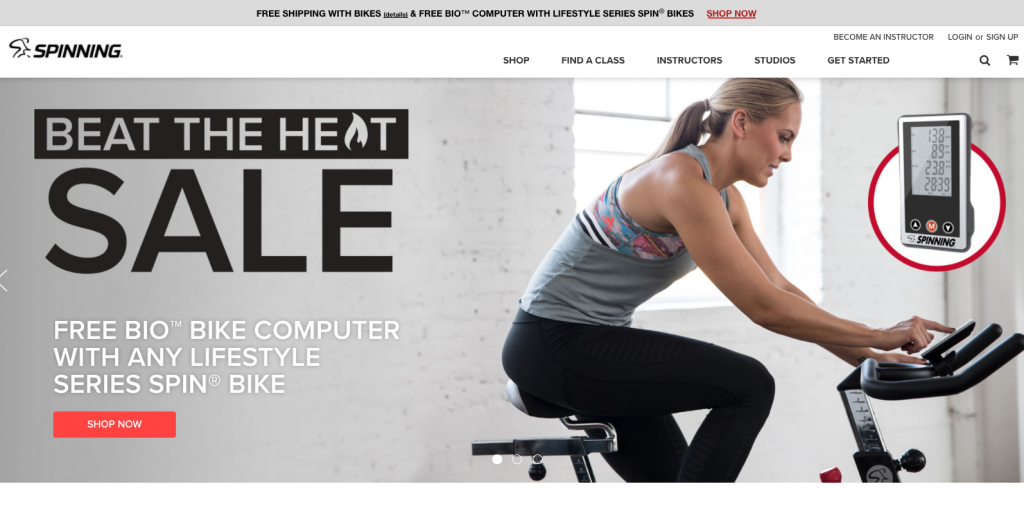 One of the most important factors for consumers is shipping cost and delivery time. So if you offer free shipping on all orders, this is definitely something to have on a banner. From the moment a shopper lands on your site, you've eliminated the number one reason to abandon their cart and preemptively answered questions about cost.
3. Display Free Shipping Threshold
On the flip side of the free shipping banner is a dynamic cart-value threshold banner. For those who only offer free shipping above a certain amount, display the exact dollar amount needed for a shopper to qualify for free shipping.

This dynamically updates based on current cart value providing automated, 1:1 communication with a sales focus. With this messaging, you can prompt your shoppers to continue to browse items and use the free shipping incentive to increase average order value!
4. Geo-Targeted Shipping Information
If you have shipping delays for certain areas, use a geo-targeted banner to let shoppers in those areas know. Set expectations from the start so customers don't get all the way to the final page of checkout before finding out something won't arrive on time—or worse, after they've already paid.
Below is a great example where one distribution point was experiencing delays, so it was important to let shoppers in that area know their orders may take longer. Transparency builds trust & reduces strain on your team later on from a customer support and order-tracking perspective.

5. Stock-Related Information
Banners are great for inventory-related information, either good or bad. If you've had long wait times in the past, let visitors know you're in stock and ready to ship! Big-ticket items can have longer lead times, so for returning visitors still weighing their purchase, this can be the perfect nudge to finally convert, knowing they won't have to wait anymore.
In this example from Tonal, they were able to let visitors know their in-home gym is ready to ship & be installed in just a few weeks after previously long waitlists.

6. Creating Urgency With a Countdown Timer Banner
The countdown timer is an amazingly powerful tool for banners and can be used in several ways to create urgency. By providing your visitors with a clear-cut time frame to complete an action, you provide extra motivation to convert.
Session Based
Present your visitors with an offer that's only available for a short period of time. The countdown timer will start when their session on your site begins, which provides a much more focused urgency tactic. Below is an example of how Rover uses a countdown timer banner to engage their mobile traffic.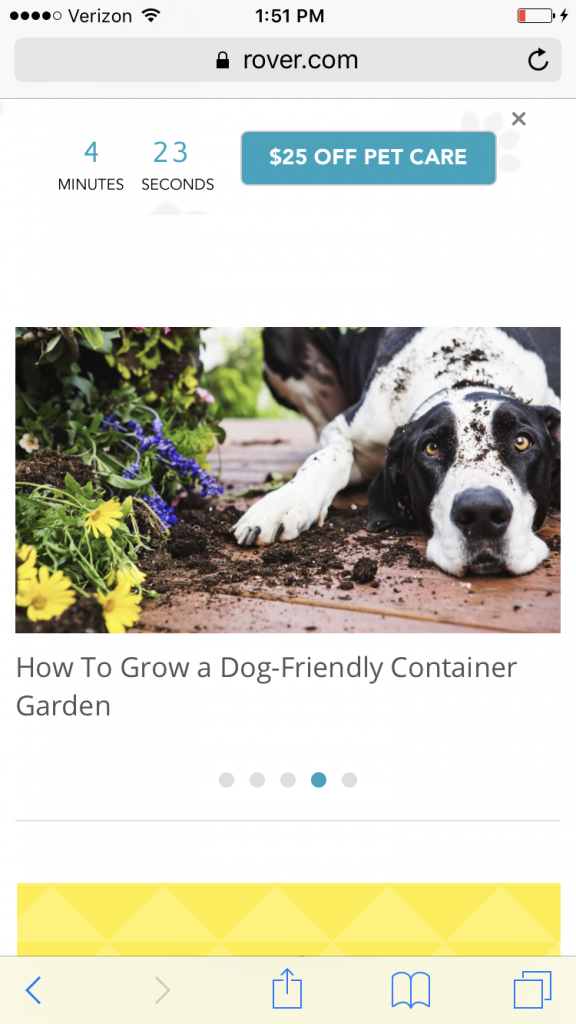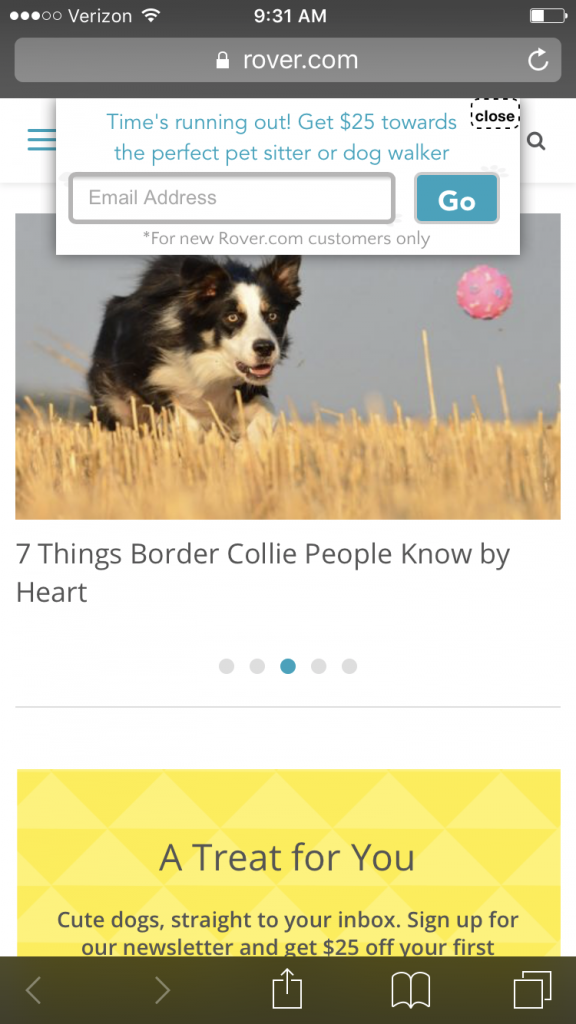 Remaining Time In Sale
If you're currently running a sale, use a countdown timer banner to show visitors how much time is left in the sale. This gives them a time frame during which they must convert to capitalize on discounted items.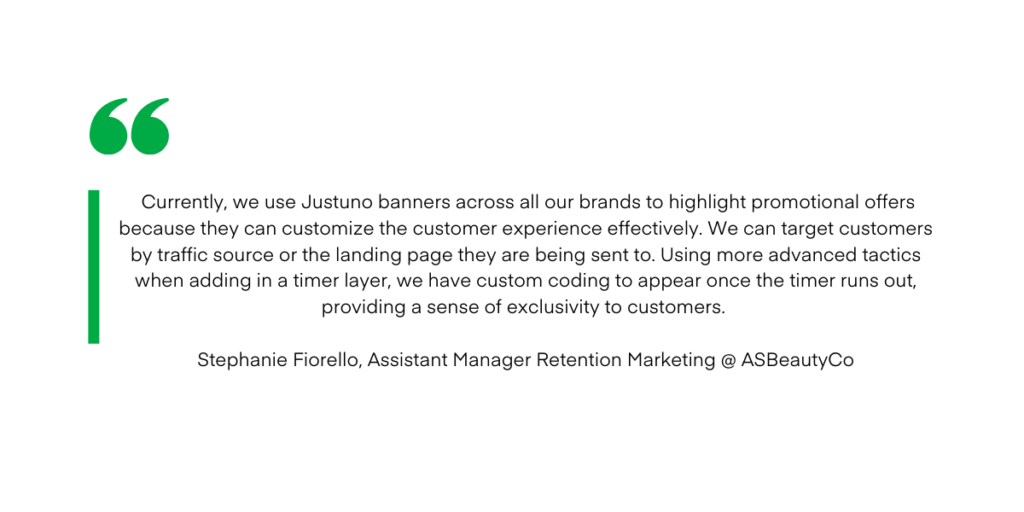 Countdown To A Sale
Have an upcoming promotion or sale on your calendar? Use a countdown timer banner to build anticipation for the event. You can also include messaging like "Get Early Access" and present visitors with an email opt-in, giving you additional sign-ups and a high-intent audience to send an email about the sale starting.
Countdown To A Shipping Deadline
Is there a major holiday coming up that you need a gift to be delivered by? Use a banner with a countdown timer to let customers know exactly when they need to order by to get guaranteed delivery. Include messaging like "Order by X date" or an actual countdown timer for a more engaging visual to catch their eye. Make sure this banner shows to all site traffic for maximum impact. This is a favorite strategy of ours during the holiday season when it gets down to the wire for ordering gifts in December.
7. Post-Engagement Banner
Once a shopper engages with another promotion on your website, display that unlocked offer via a post-engagement banner during the rest of their visit. For example, if a shopper submits their email/SMS in a lead capture to receive a coupon code.
This courtesy bar/ banner creates a sense of FOMO/ownership by keeping the incentive they just earned in front of the shopper throughout their experience. You can add a countdown timer to the banner as well to drive urgency and encourage same-session conversions.
Justuno customers can learn how to set up a courtesy/post-engagement banner here.
8. Offer Promo Codes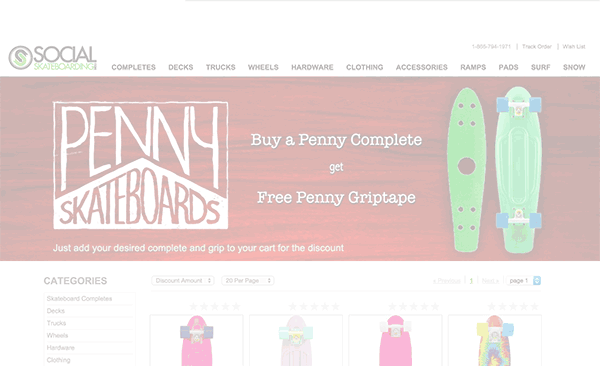 Conversion rate optimization in e-commerce largely involves fulfilling your shopper's needs. Promo codes provide tangible value to your shoppers and can be the difference between a new customer and an abandoning visitor.
Using a banner, you can either provide a promo code after an action or just in general, either of which can be copied and used in checkout. Depending on your end goal, you could be broader with this approach, such as all traffic from email gets 10% off for customer appreciation or more nuanced—mirroring coupon codes from your ad campaigns showing only to visitors with specific UTMs.
9. Boost Cart Value With Product Recommendations
If you want to get really crafty with your banners, you can incorporate upsells and cross-sells. When a shopper adds a specific item to their cart, trigger a banner prompting the shopper to add a related item to their cart. This also can help increase order value and improve the shopping experience with relevant recommendations.
Alternatively, you can do this with free samples or gifts with purchase instead, so while those may not increase order values, they'll help drive more visitors to purchase.
10. Convert Mobile Shoppers to Email Subscribers (Google-Friendly)
With mobile traffic on the rise, it's becoming increasingly important to have an email capture strategy specifically catered to mobile visitors. With Google's mobile policies and the mobile browsing experience, it's best to use a platform you can trust.
At Justuno, we've heavily researched the mobile experience, and the mobile banner provides the perfect solution for mobile email capture while remaining compliant with Google's policies.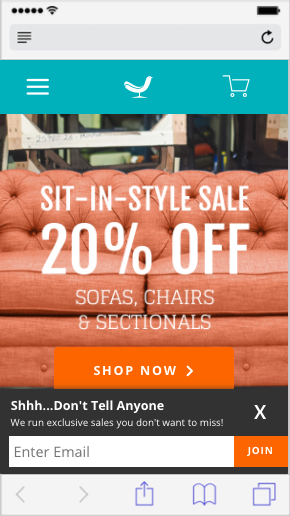 11. Lead Capture on Desktop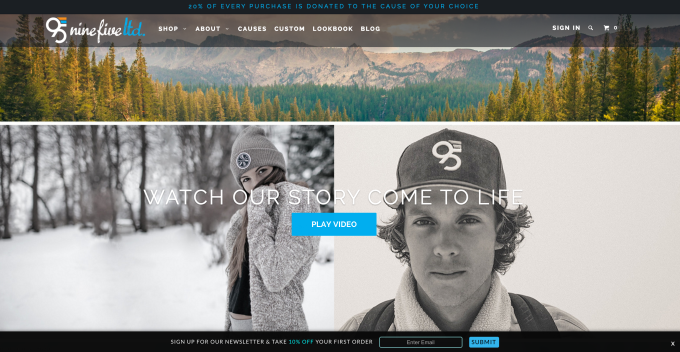 The same goes for banners and email capture on desktop—though it's not about SEO for this traffic. For those who want to have lead capture opportunities on their website that aren't interruptive, place an email capture within a banner. While this is a great way to ensure that your email opt-in is available throughout your website, opt-in rates are much lower for banners when compared to other placements. If email pop-ups are not in your onsite marketing strategy or are just not a priority right now, a banner is a great way to collect opt-ins passively while you focus on other priorities.
12. CTA Banners For Improved Navigation
Sometimes, it makes sense to include a call-to-action within a website message. Providing this next step for visitors can help improve navigation and drive traffic to relevant landing pages. If you have a landing page that you know converts at a high percentage, it may make sense to drive traffic to that page using a CTA Banner.
Here are some great examples from MindBodyGreen, who added CTA buttons to provide relevant destinations for their visitors.


13. Promote Social Pages & Gain Followers
If your business relies heavily on social channels, using a banner to increase the exposure of your profiles could be really effective. You can add a CTA, social follow, or social share buttons to your banner to encourage visitors to check out what's happening on your platforms!
Then re-target visitors when they come from those channels with a lead capture for their Instagram or TikTok handles. Our integration with Gatsby will help you identify those with potential for micro-influencing and future collabs.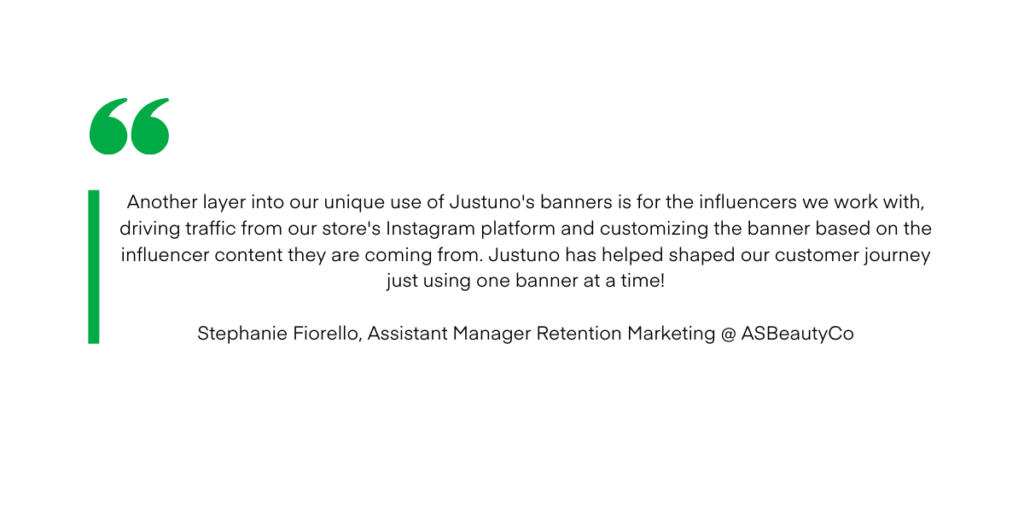 14. Match Offsite & Onsite Messaging
One of the biggest missed opportunities for digital marketers to improve their website experience is mirroring offsite campaigns in an onsite one. For example, when a visitor clicks through from an email, there should be a reinforcement of that email's content through an onsite message like a banner. So if the email contains a coupon code, display that coupon code on your website.
Use this strategy to engage email traffic, social traffic, and advertising traffic. Consider your goal with the traffic source and what sort of message is going to help reach that goal. Here's a quick tutorial on how to target specific traffic sources with a banner.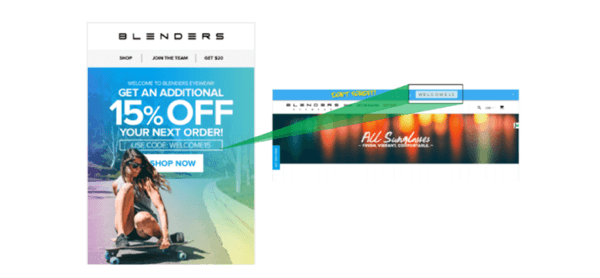 15. Collect Information
If you want to collect zero-party data to help make a business decision like creating a new scent, expanding into a new market, etc., there's no better group to collect it from than your website traffic. Use a banner to do this in a minimally invasive way to help you gather the insights you need without expending too many resources.
Depending on the decision/situation at hand, you'll want to, of course, apply the right targeting, but this can be a great way to collect data from a specific audience without added expenses.
Below is a great example by Tonal again, who wanted to see if they had enough demand to expand their operations into Canada. They applied geo-targeting to this, so it only showed to visitors coming from Canada—but it was a great way to have this group let them know yay/nay without expending resources. During these times when marketing needs to do more with less—this type of market research is crucial for assessing potential ROI before you get started on new projects!

Add A Banner To Your Website Today
These are just a handful of the many ways you can leverage a banner on your website for improved personalization and website experience. Start your free trial today to get access to pre-built templates for these banner strategies, advanced targeting capabilities, and so much more.