Unlock Your Klaviyo Campaign's Potential
Leverage Justuno with unparalleled ease to grow your email & SMS lists while building different experiences based on where each visitor is in their journey for maximum conversions.
Join The Club
And 127,000+ More
4.6/5 — from 2,200+ reviews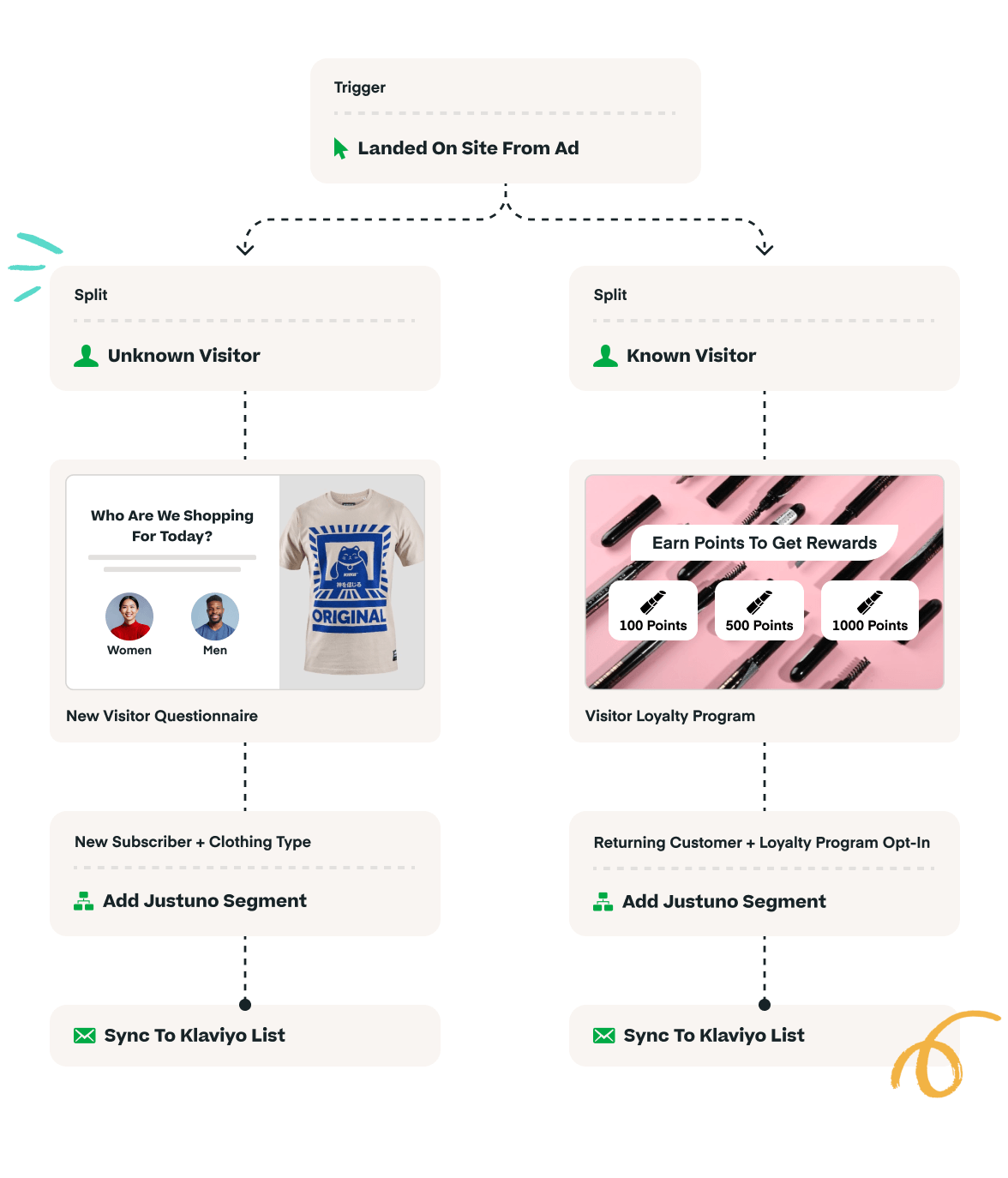 Justuno + Klaviyo = Conversions
Justuno sets Klaviyo users up for success with targeted opt-ins and compelling designs. Providing accurate attribution and data control to give you more control over your campaigns, plus actionable insight into your customers. Leverage Justuno's advanced segments to make your pop-ups a welcome sight rather than an intrusive one.
Customize & automate which lists or segments new contacts sync to based on behavior, data collected, referring source, & more!
One-click integration
Dynamically sync additional data properties to populate Klaviyo profiles with key zero and first-party data
Sync up coupon codes used in email campaigns with pop-ups for a seamless conversion experience
Justuno + List Growth
Grow your email and SMS databases with a variety of promotion styles—like custom games, two-step forms, tap-to-text opt-ins, and even in-page promotions that appear native to your website.
Use smart tabs to accomplish multi-channel opt-in without interrupting their shopping experience. Existing subscribers won't be asked to sign up again with Justuno's advanced targeting rules, so you'll only gain net-new opt-ins and additional channels from current subscribers.
Drive visitors towards conversion with features like Lead Capture by Shop, supplement their browsing with add-to-cart pop-ups that go directly to checkout, and so much more. Justuno's AI-powered product recommendations provide personalization and an AOV boost to every visitor.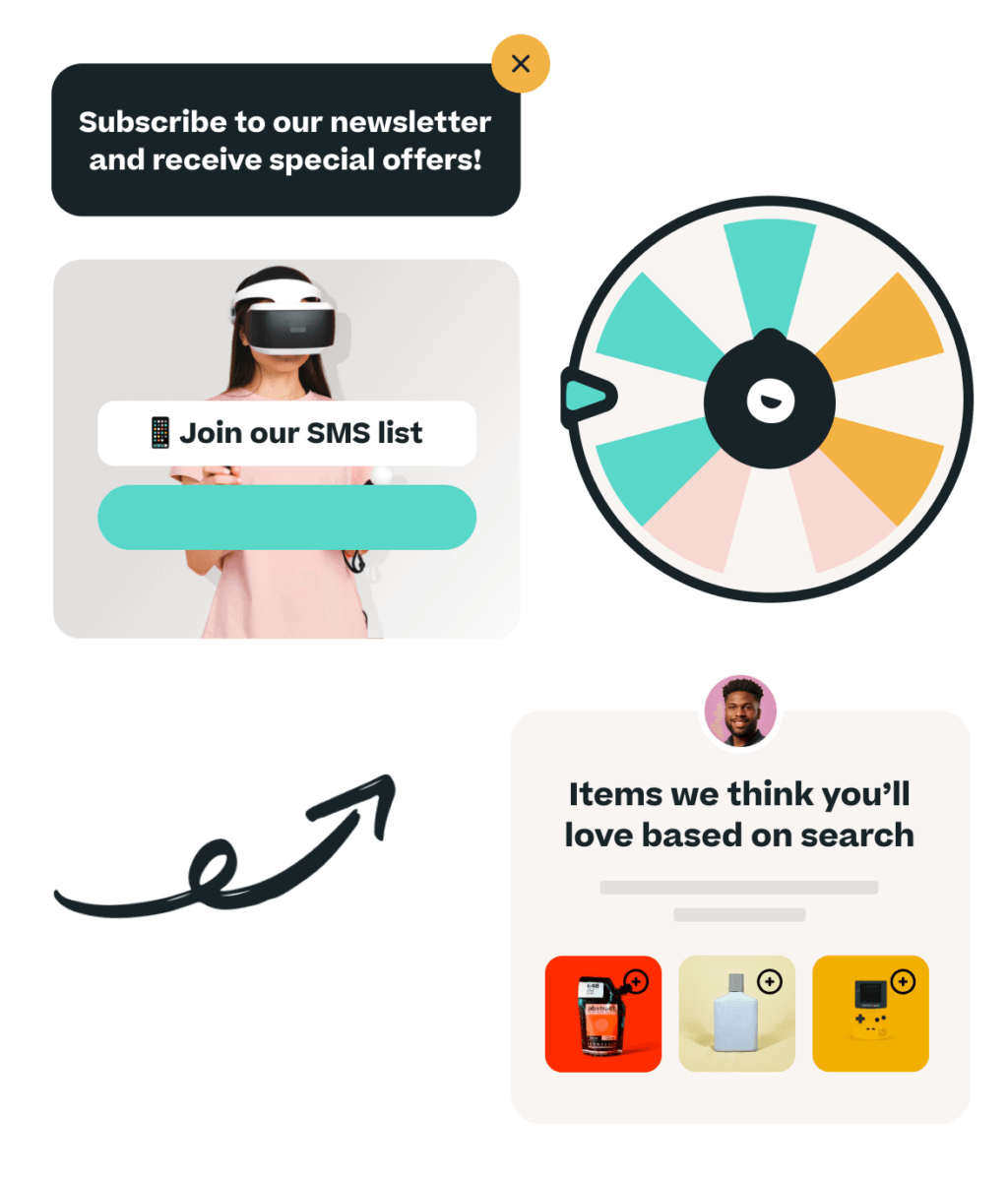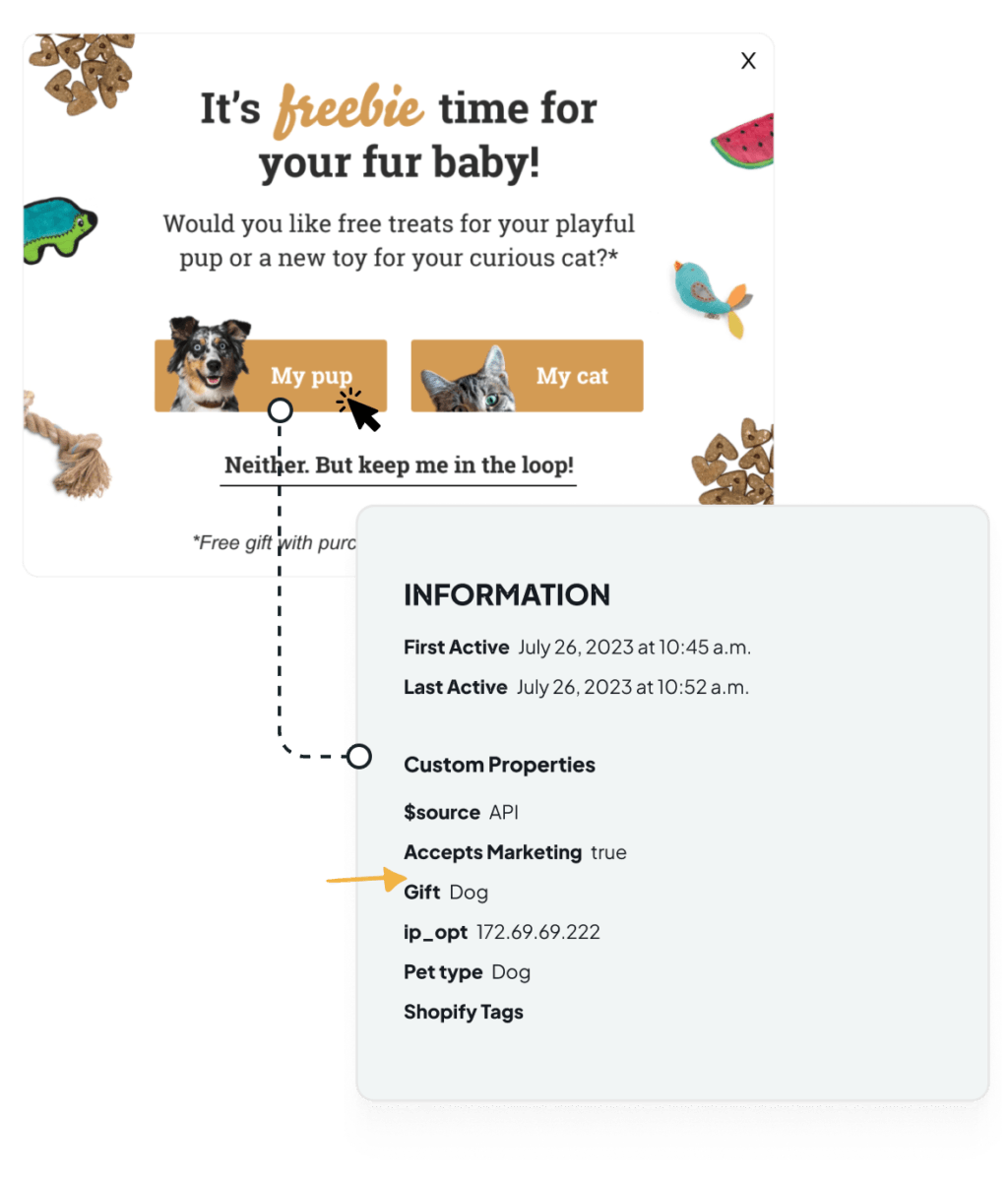 Justuno + Zero & First-Party Data Syncing
Justuno automatically syncs these new subscribers along with crucial zero and first-party data for a full 360° picture of your customers. Additional data points can be commonly used fields like traffic source, URL-opted-in, or custom properties like quiz answers, birthdate, product preferences, and more. Whatever personalization you want to create in your Klaviyo campaigns, Justuno can help you power it.
Don't want to wait for them to get an email or text? Start personalizing their experience with your brand immediately on your website base to keep them engaged and shopping!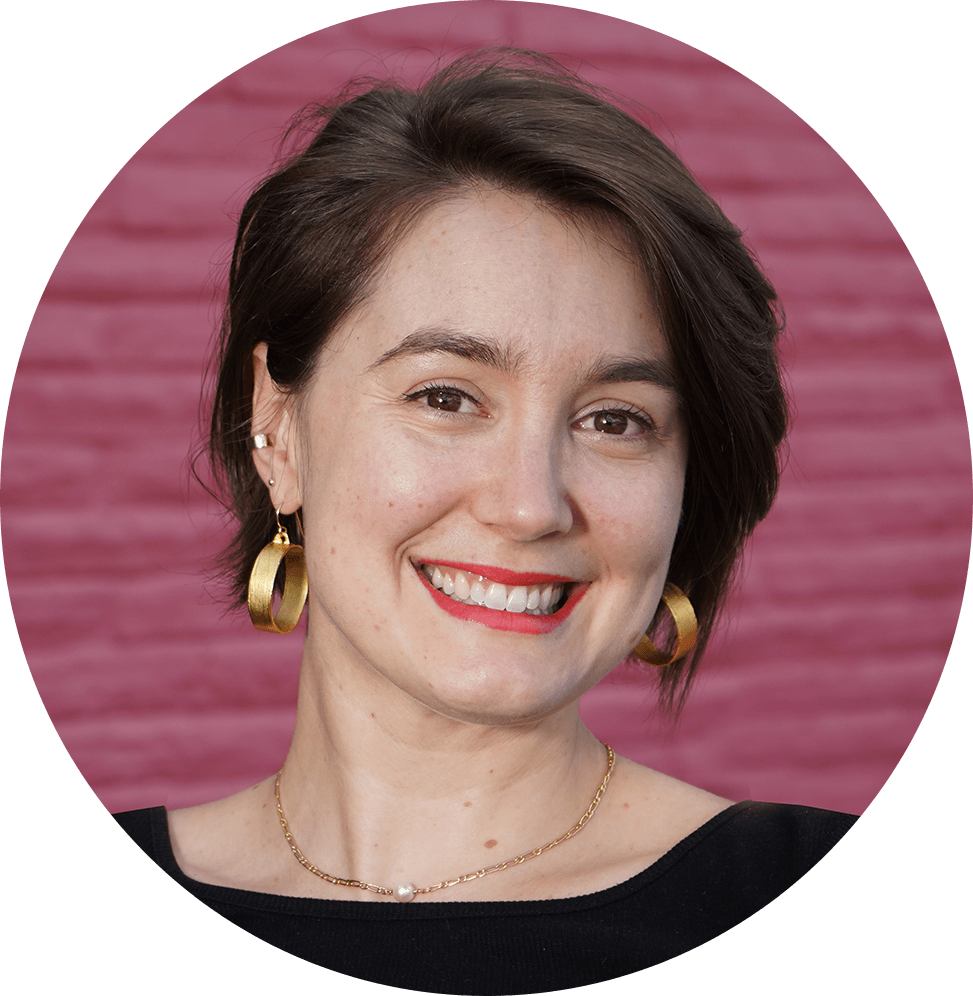 "Justuno makes it possible to bring to life the next-level strategies we like to create for our clients. They are a crucial part of our toolbox along with Shopify & Klaviyo when it comes to helping brands take their website and email marketing to the next level using zero-party data for personalization."
– Lisa Oberst, Director of Email Marketing, Fuel Made

Justuno + Campaign-Specific Targeting
Drive more money from your Klaviyo email & SMS automations with UTM-based targeting for onsite experiences that seamlessly transition from inbox to website. Target this traffic with the perfect product bundle & product recommendations, exclusive coupons, countdown timers, and more based on the campaign they clicked through, or use this as a suppression so that your VIPs aren't mixed up with new visitors.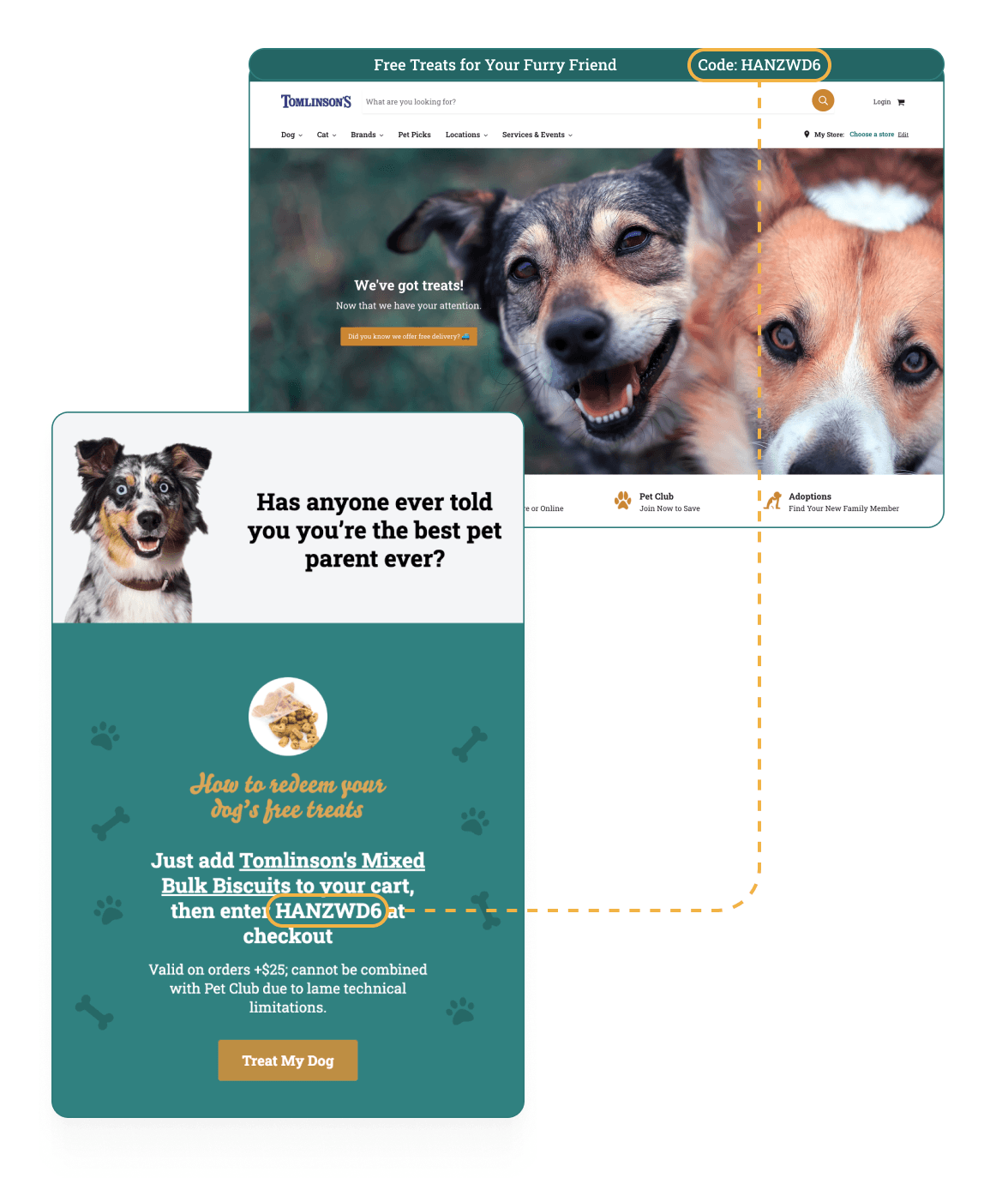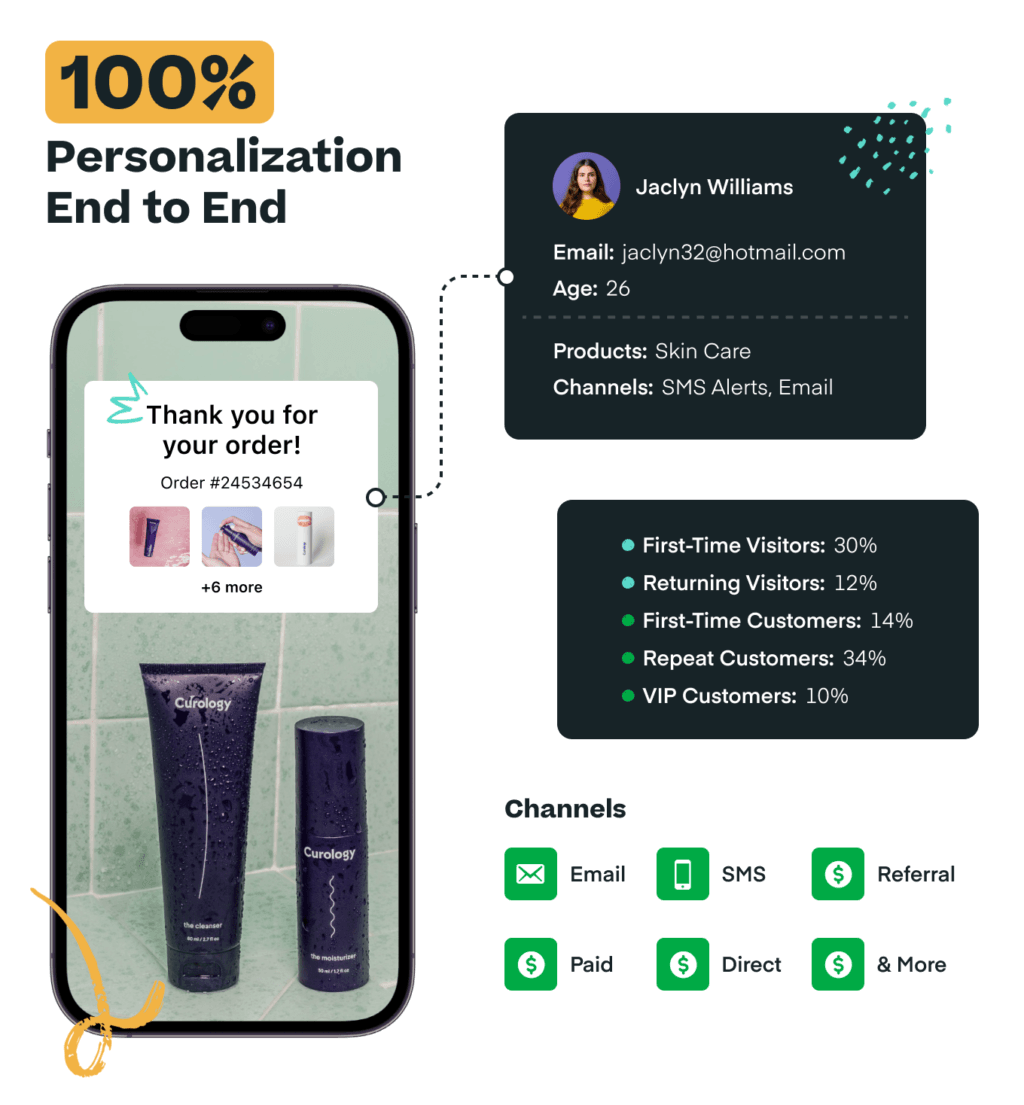 Speak To Your Whole Audience
Justuno doesn't just help you collect emails and SMS for Klaviyo but provides personalized messaging for every stage of the customer journey. Between Klaviyo and Justuno, your owned channels are 100% dialed in to driving subscribers to your website and wow-ing them once they're there.
Supercharge Your Tech Stack
Justuno doesn't just integrate well with Klaviyo's platform but with their entire ecosystem. Our partnerships provide you with a streamlined experience, industry-leading content, and more, all so you can make the most out of your stack. From automating influencer marketing program growth with Klaviyo + Gatsby, like for Moana, to loyalty program rewards with Klaviyo + Yotpo, like for Volcom—Justuno helps you with it all.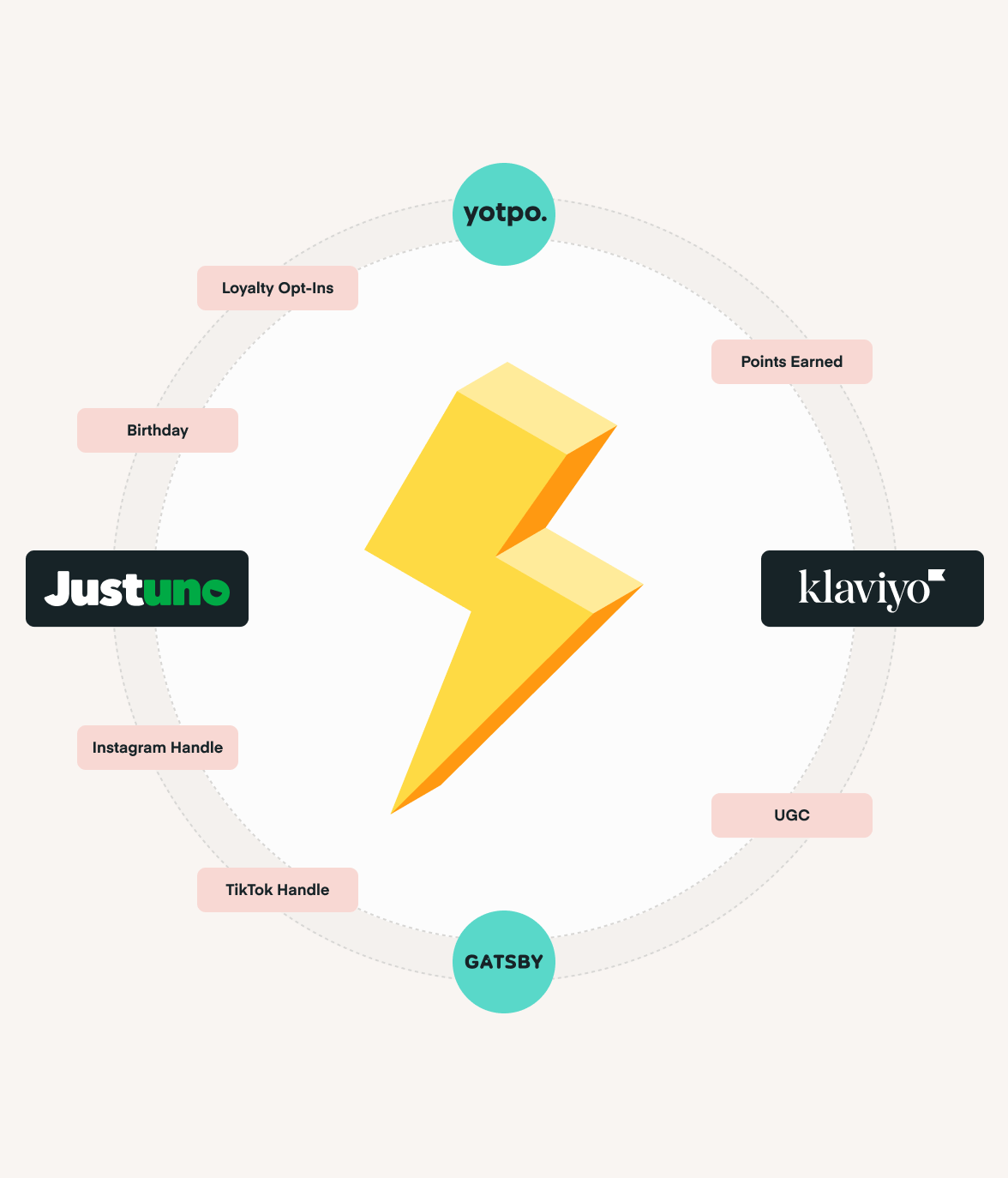 Ready To Take The Next Step For Your Klaviyo Account?
4.6/5 — from 200 reviews

4.6/5 — from 2,200+ reviews