E-commerce quizzes are one of the most popular new personalization strategies brands use to convert visitors into customers. Shopping online can be overwhelming, with too many choices and decision paralysis setting in. That's where an e-commerce quiz helps consumers not only find the right product to suit their needs today but also helps brands learn more about their audiences and create more personalized experiences in the future.
E-Commerce Quiz FAQs
What is an e-commerce quiz?
An e-commerce quiz is a quiz or survey used by a direct-to-consumer brand that contains a series of questions to engage and help customers during the shopping experience.
How do you create an e-commerce quiz?
Decide on what the goal of the quiz is and then create the questions you need to ask to provide the intended result.
What kinds of e-commerce quizzes are there?
There are many kinds—it just depends on what your target audience needs from you. Mostly, these quizzes end in a product recommendation, but how they get there is entirely up to you!
What can you do with an e-commerce quiz?
Use them to collect more newsletter sign-ups, increase sales, increase AOV, retain more traffic on your website, boost post-purchase engagement, and so much more!
Instantly take your website experience to the next level by adding quizzes to show visitors the products they're looking for…while adding a little fun & interactivity to your website experience.
Let's dive into what these quizzes are, how they're used, what makes an e-commerce quiz successful, plus a few of our favorite DTC quizzes.
What Are E-Commerce Quizzes & Why Do Brands Use Them?
E-commerce quizzes are an opportunity to provide an in-store-like experience online—they answer the biggest question of all: "Which product is right for me?"
These quizzes ask a series of questions (in various formats) designed to provide the brand with enough context about the customer and their needs to provide an answer (+ CTA). They can be used as a lead generation strategy, traffic retention tool, loyalty gamification, etc.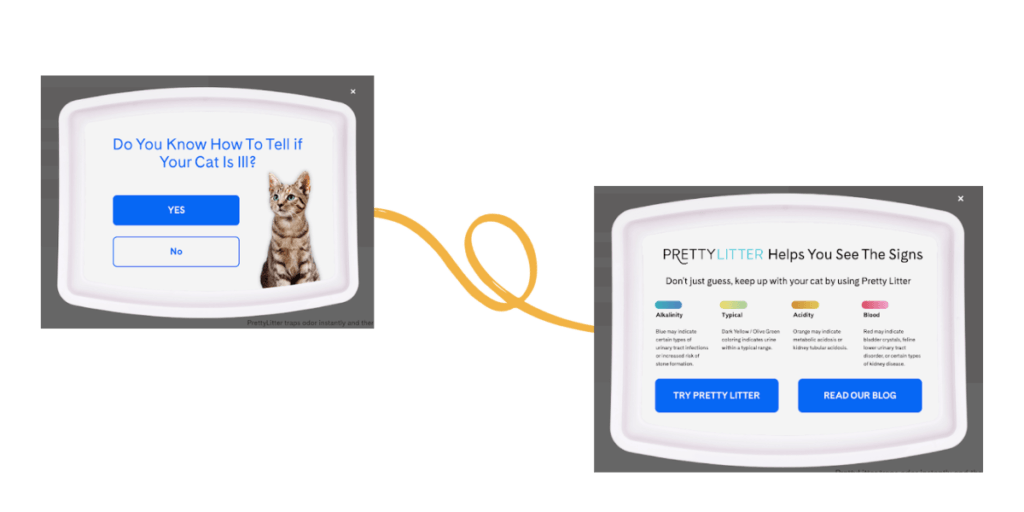 Simply put, quizzes allow for intelligent product recommendations to be delivered that are based on real-time customer insight from clicks and pop-up engagement. One quiz can provide guidance and support at scale and at just the right time to visitors when they need it most.
At the same time, quizzes allow brands to collect valuable zero-party data about their audience and boost revenue through increased sales and order values.
When Brands Should Use Quizzes & Surveys
Most e-commerce brands could use some type of quiz, but of course, there are certain cases where they will work more efficiently than others.
Brands should use a quiz or survey when they:
Have a fragmented target audience. If you have multiple distinct segments (not just VIPs vs. non) and the version of your products they would want is wildly different. For example, weekend camping enthusiasts vs. professional park rangers. A quiz can help you quickly identify which persona a visitor falls into and recommend the right product for their use. Jump down to our examples section to see how Midland Radio did just this!
Have many variations of the same product. For beauty & cosmetics brands where finding the right shade of a product is hard—a quiz can help your customers find the exact match versus guessing and likely becoming a return down the line.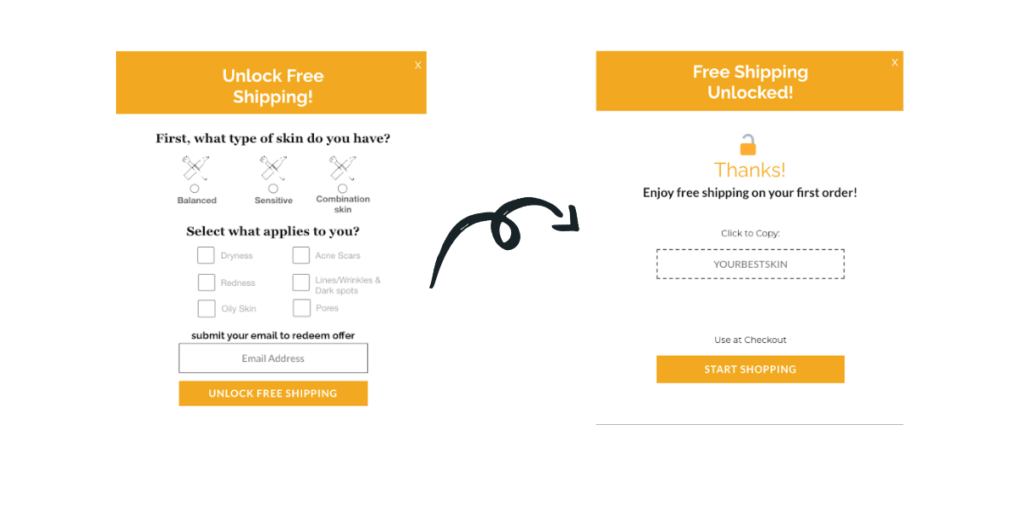 Sizing and fit questions. Obviously, this pertains to fashion & apparel brands, but when visitors aren't sure about sizing or fit, a quiz can help them narrow it down. Asking more contextual questions rather than just providing a size chart can ensure they not only pick the right size but also style for their body shape and increase the likelihood of satisfaction.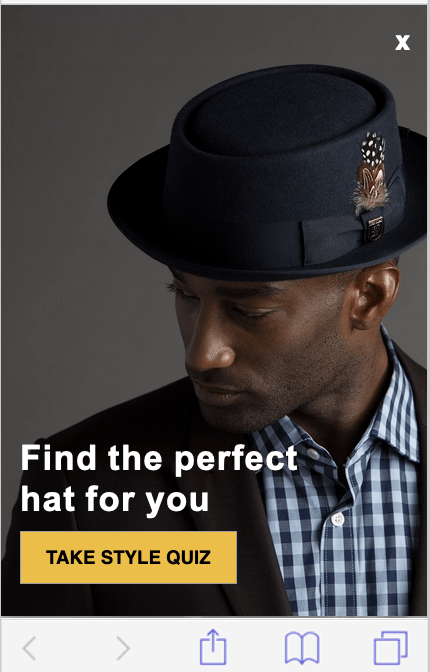 Multiple factors go into their products. If picking the right product depends on several factors, then a quiz can be helpful to narrow down which item is right for them. Where/when they'll use the product, how they've used previous items, etc., may all be helpful to know. Some examples of this are sporting goods, health products, etc.
Want to provide more personalization. Even if your products are straightforward and shoppers don't have a discovery problem, e-commerce quizzes can help you collect data and build a deeper understanding of your customers. Then, use that information to personalize your website experiences and off-site marketing campaigns such as email, SMS, re-targeting ads, etc.
Tips For A Successful E-Commerce Quiz or Survey
Quizzes and surveys are hard to mess up generally; being helpful to your customers will almost always be received well, but here are a few tips to make sure your quiz is extra successful:
Keep them as short as possible—ask only the questions you need to genuinely provide a recommendation. This isn't the time to collect wishlist data; make it easy and make it short!
Ask questions in the right way—this may require some target market research, but make sure you're asking the right questions in the right way. Phrasing and format are key!
Don't just wait for traffic to come to you—post about your quiz on social media and send it out via email/SMS to those who haven't taken it yet; it's never too late to collect and personalize!
Analyze results and optimize—keep an eye on drop-off rates, audience completion, etc., and make changes when necessary for maximum results.
Make purchasing as easy as possible—if you're providing recommendations directly in the quiz, have add-to-cart buttons embedded as well for faster time to conversion. If you're sending them via email/SMS, consider adding a discount + timer to incentivize their return to your website.
How To Use The Zero-Party Data From Your Quizzes & Surveys
We've talked a lot about the power and value of zero-party data, but how can brands use what they collect from quizzes beyond the initial recommendation? Lots of ways!
For Future Product Recommendations: Launching a new product? Find quiz respondents who it will appeal to and send them an exclusive product drop campaign.
Personalizing Automated Email/SMS Campaigns: The obvious way is to use quiz answers for campaign segmentation down the line. From one-off sends to automated win-back flows, every piece of zero-party data you have in their customer profile can be used to personalize and tweak the campaigns they receive.
Understand Your Target Audience Better: Quizzes can help you find hidden areas of opportunity you didn't know about. For example, you might find out one of your product features you usually gloss over is actually one that people find valuable, you may find a certain answer indicates long-term customer potential, etc. You never know until you start looking at your data what you might find.
Other Business Functions: Data from your quizzes doesn't just have to be used to improve your customer experience and marketing—it can extend to other business functions like:
Inventory Forecasting: Build a better understanding of what customers are shopping for and when to avoid sell-outs and excess inventory.
Product Development/Improvement: For example, if you have a large sub-set of customers with answers not quite addressed by your current catalog or developing more products in a line based on audience response.
5. Save Your Zero-Party Data For Later: We highly recommend using the data you're collecting and not asking extra questions than you need, but sometimes you end up with more info than you realized. Simply save this for later, creating robust customer profiles ready for activation in the future!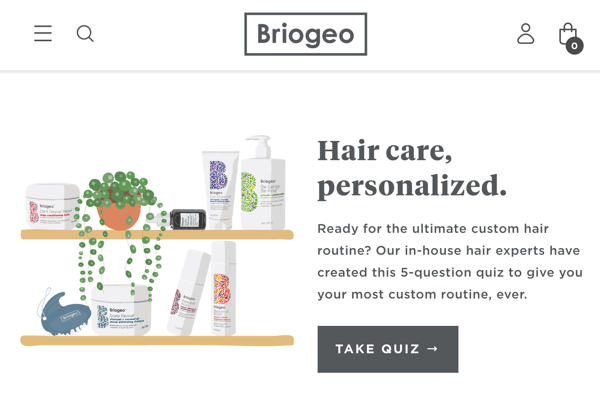 Pro Tip: Want to learn even more about zero and first-party data? Check out our popular ebook, Zero & First-Party Data for Dummies for the ultimate guide.
Examples of E-Commerce Quizzes
Now let's get into some of our favorite examples of quizzes we've seen e-commerce brands implement, and some suggested targeting rules to maximize results:
Fashion Retailer
A fashion retailer wanted to suggest the right styles to new subscribers, so they had them select the group of brands that best described themselves and the types of clothes they were shopping for.
This allowed them to send more personalized recommendations to them for product drops and recommend clothes they'd actually be interested in.
Using this as a lead capture welcome offer means they know about the potential customer's preferences from the start and don't waste time sending their curated looks.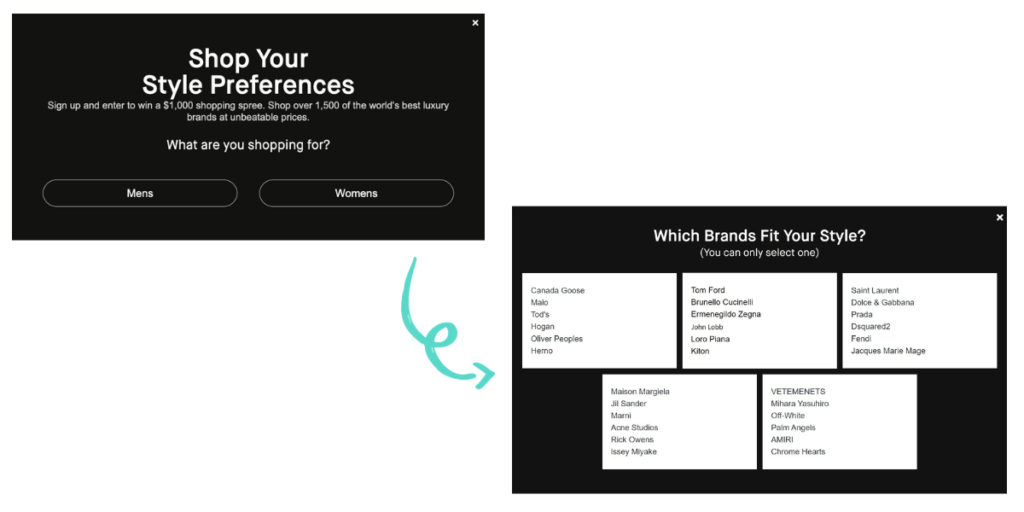 Vegamour
This quiz isn't built into a pop-up but uses a pop-up to direct the visitors to a landing page to take the quiz. A popular choice for brands asking more questions/several answer options that wouldn't fit into a pop-up.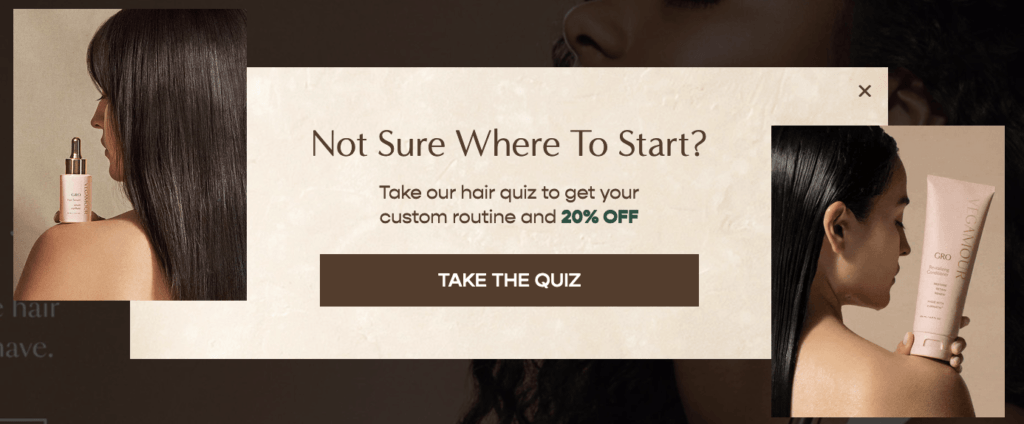 This helps Vegamour narrow down which products to recommend based on the concerns and lifestyle of the consumer.
Hair products are one where quizzes are incredibly helpful for consumers to ensure they're picking the right product for their needs and hair type, as sifting through multiple product listings would be time-consuming. They'll end up with a customized hair care routine just for them with minimal effort, win-win.
It ends with an email opt-in to save your results & discount code, encouraging a quick conversion.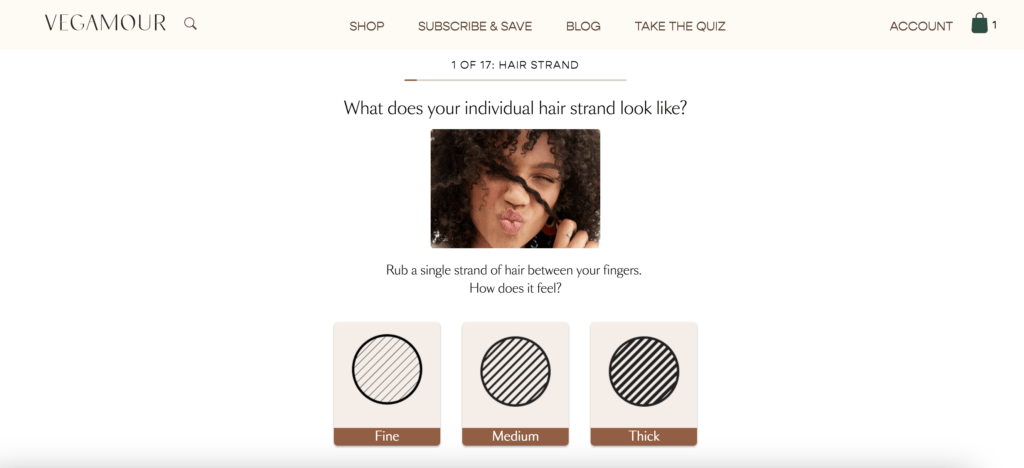 Midland
Midland used a two-prong exit approach; for those with items in the cart, they offered a timed discount, but for those with none, they offered a product finder quiz.
They had a highly fragmented target audience who used their radios for different reasons—so they needed a way to segment shoppers accordingly.
The quiz provided more value than a straight discount would, as these shoppers needed more education before making their choice.
The result? 20% more traffic stayed on their website.
Check out their case study for the full details.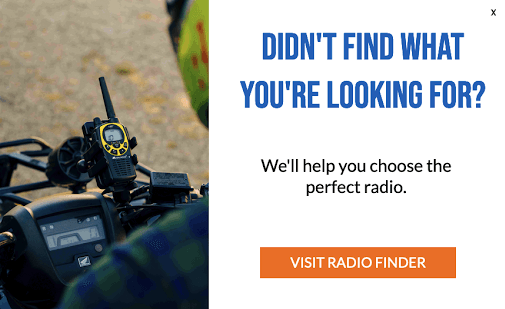 Stegmann
Stegmann also used a two-prong exit approach, with those exiting their site with nothing in their cart receiving an exit offer to take a product finder quiz or quickly jump to their best sellers.
The exit offer quiz has more value than a simple discount code as this traffic is looking for education and information, and the results prove it with a 22.54% engagement rate.
This means that Stegmann could keep 22% more traffic on their site who were otherwise planning to leave.
Check out their case study for the full details.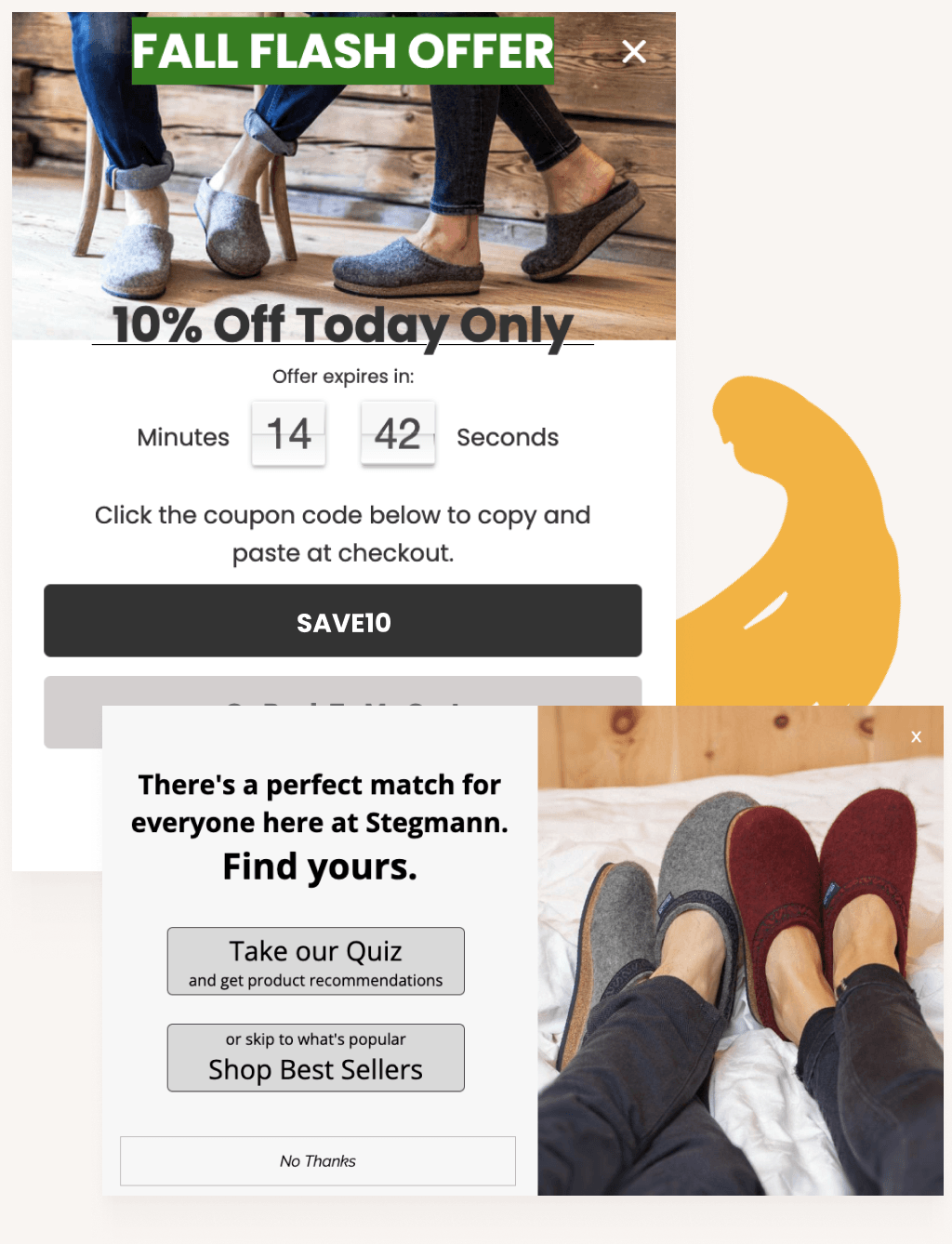 Sodanca
Sodanca's quiz starts off by asking what style of dance the shopper is interested in, who they're shopping for, and what their style is. Then, it ends with an email opt-in for curated content and the latest product releases.
The simple design allows the core message to shine through and provides a compelling customer experience.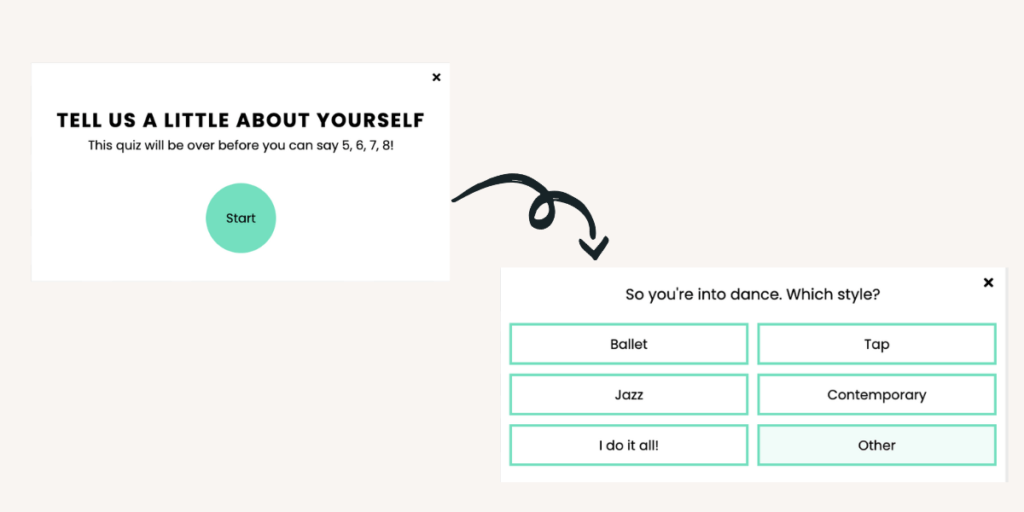 For Retention: Loyalty Members & VIPs
If you want to fill out existing customer profiles more—incentivize loyalty members to take quizzes with points or other redeemable perks in exchange. You'll be able to provide a more personalized experience for them while shopping + get a better understanding of your existing customer base, easily boosting retention and CLV!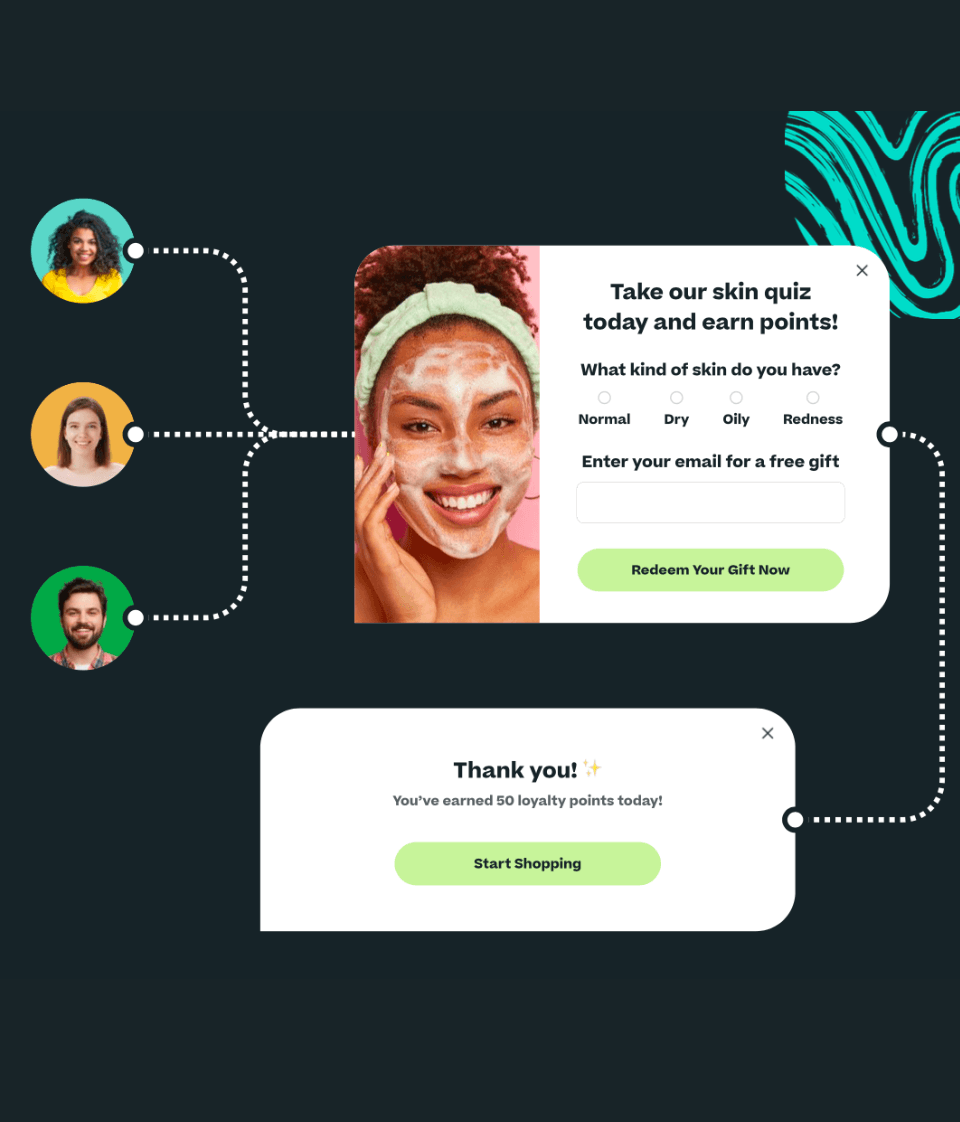 You may think you know everything there is to know about your VIPs, but you'd be wrong!
Use a quiz to get feedback on new product development, branding, and even which seasonal scent you should release. Their loyalty will only grow by being involved with the brand this way, and you'll receive invaluable market research for minimal effort!
What To Avoid When Using Quizzes & Surveys
Just a few tips to keep in mind when designing your quizzes to keep them in tip-top shape and avoid any negative experiences:
Don't ignore devices. Make sure your quizzes are mobile-friendly. Don't let sliders or other input fields be cut off or hard to use on phones.
Don't ask too much of your customers. Again, we recommend focusing only on the bare minimum you ended to make a genuine recommendation.
Don't ask complicated questions or answers. You'll see high drop-off rates on these, so keep an eye on if any stand out with double-digit bounce rates.
E-commerce quizzes are an amazing tool for brands to use that can make a huge impact on revenue and customer satisfaction. You'll not only make their experience more engaging and memorable but learn more about them in the process, so if you don't make the sale now—you have plenty of opportunities to in the future.
If you're ready to personalize your marketing and want to see how Justuno can help you take your website to the next level, book a 1:1 walkthrough of the platform here!