The competition among businesses is always fierce and marketers always work hard to drive more traffic to their websites through various marketing campaigns. From SEO to PPC strategies, gaining a competitive edge is the top priority for all successful businesses.
As important as these tactics are, the real challenge starts when prospects visit the business's website. Business owners pour an immense amount of effort and funds to ensure that they effectively convert website visitors into buyers.
But, in order for a successful conversion to take place, lead generation is essential. On that note, more than 85% of businesses measure the success of their marketing efforts by analyzing only the efficiency of their lead generation campaign.
The most vital part of the lead generation process is lead capture. However, capturing leads might prove difficult if the right tools are not in your arsenal.
In today's article, we will show you how you can optimize your B2B website for supercharged lead capture.
What is Lead Capture
Successful lead capture is when you effectively incentivize a website visitor to provide you with their information. In most cases, businesses employ various tactics to add multiple points to the user experience. Some of the most common on-site features include chatbots, pop-up messages, powerful CTAs, and lead capture forms.
To boost their chances of successful lead capture, it's not uncommon for businesses to offer discount codes or other irresistible offers to their website visitors. These tactics can be further enhanced with the help of paid advertising and SEO.
Lead capture forms and lead capture landing pages are the most common tools that businesses use for collecting contact information from prospects. And, they are still as effective as ever.
Lead capture forms are special on-site forms used to collect customer data. By offering visitors something in return for their data, businesses can capture leads. In recent times, marketers employ more creativity when it comes to lead capture forms. Lead capture quizzes have sprung to prominence and are widely used to add a fun factor to the lead capture process.
Lead capture landing pages are pages where prospective customers will "land" thanks to the business's paid advertisements and SEO efforts. These pages are deliberately designed to provide the visitor with valuable information regarding the business's services and products and with the help of the right tools, entice them to leave their data so that they can be reached and effectively targeted in the future.
In addition, landing pages can be the perfect place to set up CTAs that lead the prospect toward your sales page but more on that later.
7 Ways to Optimize Your B2B Website for Lead Generation
When developing a marketing strategy, marketing teams focus on aspects such as lead generation and capture, customer satisfaction and retention, and so on. However, it's safe to say that without lead generation and capture, the other aspects are rendered obsolete.
As lead generation and lead capture are incredibly valuable for businesses, it's no wonder why marketing teams are testing new and emerging strategies daily. However, the tried and true methods still work wonders and you should know them.
At the top of your marketing funnel is your website. And, if that medium is not optimized to be effective and help you drive leads and ultimately sales, you are not setting yourself up for success.
Below are the seven most effective ways to optimize your website for lead capture.
1. Optimize Your Website's UX
According to HubSpot, the first five seconds of your website's load time have the highest impact on conversion rate. After that, with each additional second, the conversion chances drop. So even if we agree that more on-site features can improve your conversion rates, certain features can tank your website's performance.
A website designed for lead capturing should captivate the visitor right from their entry point. In most cases, a welcome pop-up based on their referring traffic source will suffice. After they are properly greeted, you can then use the other high-quality onsite messaging and tools to ensure the visitor sticks around and gravitates toward the desired action.
And since more than half the searches online are done via mobile, you should ensure that your website is easily accessible and mobile-friendly. A good user interface has the capacity to boost your conversion rate by 200%. Coupled with a good UX, you can expect to see an increase in conversion rate of 400%.
2. Use Pop-ups Effectively
Pop-ups are one of the best all-around tools that enable B2B businesses to optimize their websites for perfection. There are different types of pop-ups and each one serves a different purpose. As we mentioned above, welcome pop-ups are extremely effective as a first impression to get the ball rolling right from the start and outline the perks newcomers can enjoy on your website. But, pop-ups don't serve just to greet your new visitors, if properly utilized, they can help navigate visitors down the funnel toward a conversion at every step.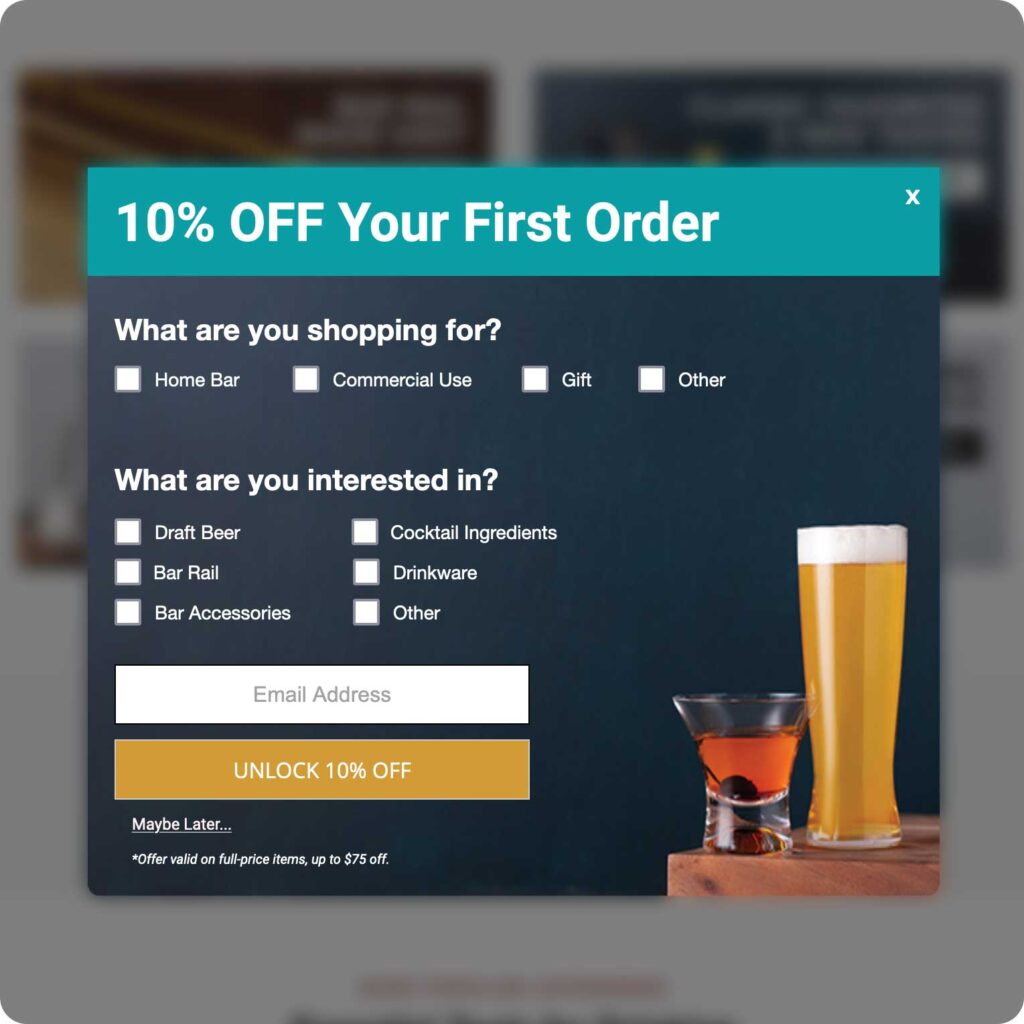 Besides guiding your visitors through your site, pop-ups can become your go-to conversion rate optimizer for other marketing efforts. You can effectively build your email list with this method of website lead capture and later launch a newsletter campaign. Newsletters allow you to regularly get in touch with your email subscribers and pique their interest with interesting inventory updates, increasing your conversion rate each time you send them out.
Given that not all leads will purchase on their first visit, retargeting them later with a personalized offer, can turn the tides in your favor.
You can also regain your website visitors' interest just as they are about to leave. Leveraging exit offer pop-ups to keep traffic on-site longer and drive them toward conversion.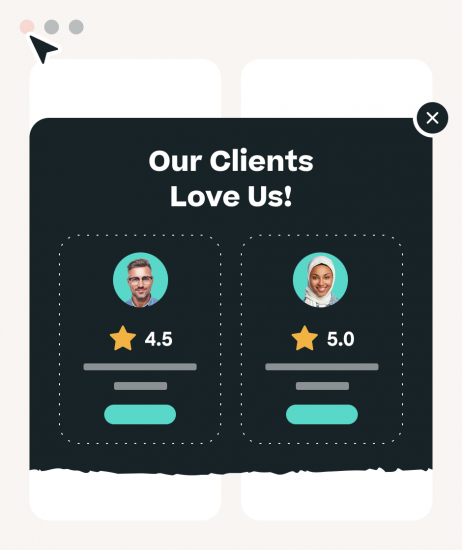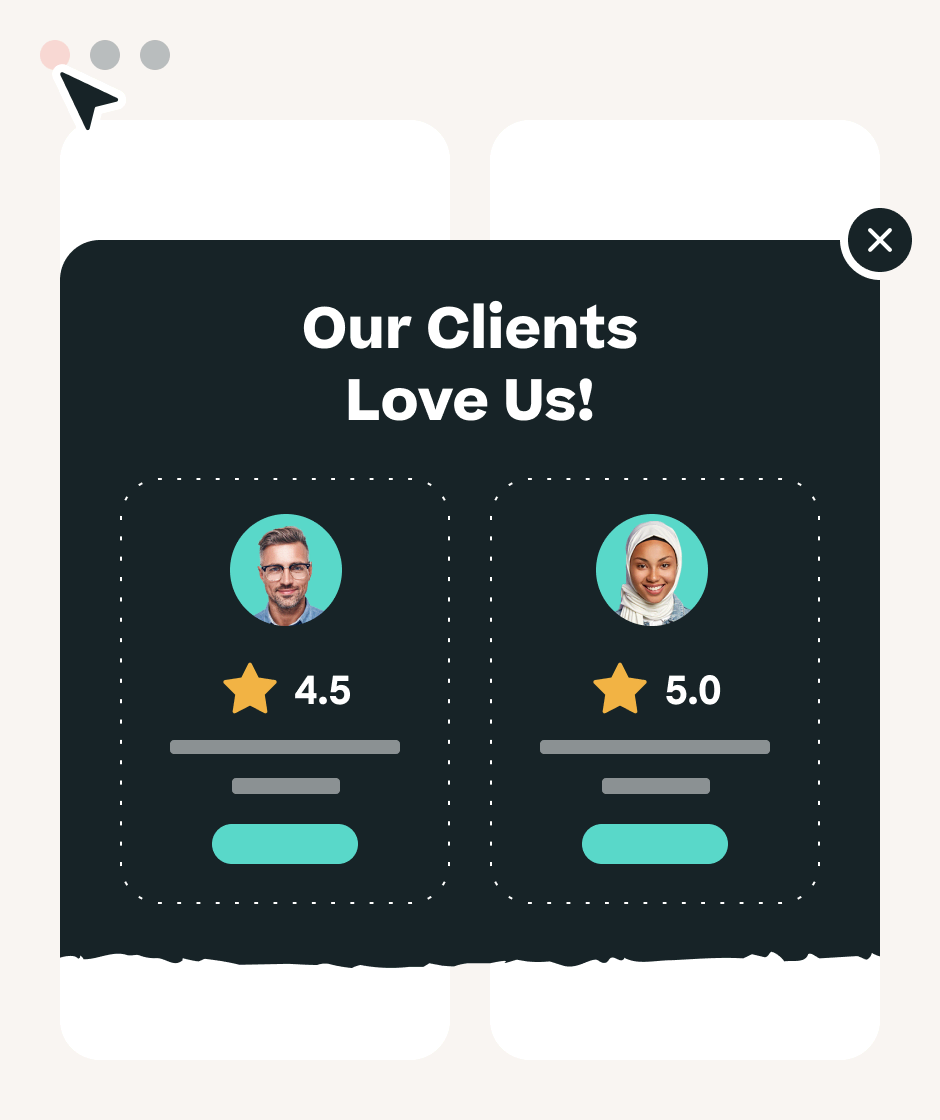 3. The Homepage Is The Start Of Every Lead Experience
For the majority of your prospective customers, the first introduction to your brand will be either your landing page or your homepage. For this reason, it's important to start on the right foot with captivating CTAs.
You might feel tempted to go all out and use as many CTAs as your homepage can withstand. However, that would be the wrong course of action. Stick to a bare-bones lead-capturing approach and use strong action words that provoke emotion and enthusiasm.
To effectively convert visitors into leads, consider using CTAs such as:
Subscribe To Our Newsletter For Regular Updates
Book An Appointment Now
Click Here and Get 20% Off
4. Develop a Live Chat Service
Live chat service is one of those features that recently gained a lot of traction. In the past, this feature was underutilized. But as things stand, businesses that are not using it are missing out on a fantastic lead source and conversion driver.
To effectively employ a lead capture system, carefully analyze which pages keep your website visitors' attention the longest. After that, consult your web designer and ask them to implement this tool on your site. After your website is equipped with a live chat service, you can expect all of your prospective customer's needs to be addressed promptly.
The customers of today can be a bit restless. In fact, 60% of website visitors expect instant responses when initiating a conversation with a brand through live chat. They expect to find everything they are looking for in a matter of seconds. The live chat service will allow them to do just that at their own pace. Prospects will have your website etched into their memory if you execute this service properly as they can expect to find all the information without depending on anyone.
5. Utilize Your Blog's Potential
Even a single high-quality piece of content has the capacity to increase your lead capture rate exponentially. Organic website visitors will reach your domain for a reason. They are either looking for a service you offer or seeking information in a field you specialize in.
77% of all internet users love blogs. Blogs are super effective at informing your potential clients, and on top of that, they can serve as a catalyst for your marketing efforts. In addition to that, your SEO efforts can help your blog rank higher on search engine results. And, if your on-site features are optimized, you can expect a lot of lead capture as your prospects are going through your blog post articles and consume valuable content. Timed pop-ups are perfect for blogs either based on time-spent on page or percent-scrolled.
As the reader enjoys your content, you can utilize the power of pop-ups to redirect them to your sales page, show them other related content, or a special offer in exchange for their email address. The leads generated through your blog are the easiest to convert and you should not hesitate to capitalize on this opportunity.
That being said, your content output should always be impeccable. A high-quality blog post can convince the reader that you are well worth their time and money and that your expertise should be sought after. After you produce a series of valuable content, you can offer special and exclusive downloadable content, which is only accessible to those who sign-up for your newsletter.
6. A Winning Landing Page
When potential customers reach your landing page, you have a few seconds to effectively charm them. There are various landing page templates out there and you can pick the one that suits you the best. That being said, always remember that every landing page needs to have a valuable proposition for your potential customers, a dominant CTA, and a clear brand statement.
It's not wrong to experiment with color as well. In western cultures, the color red symbolizes urgency. If you can effectively produce urgency on your landing page and redirect your new leads to your sales page, you can convert them to buyers on the spot. It's well-known that triggering a sense of urgency can boost sales drastically and, with the aforementioned on-site features and tactics, doing so will be a breeze. A/B test creative changes like color, CTA copy, etc. to find the right mix for your target audience.
Include powerful messaging like social proof on your landing pages to build trust early on in the customer journey using testimonials, reviews, ratings, etc., Don't forget to optimize the thank-you page as well. While the landing page is the one that gets the most attention, the thank-you page is a key part of the experience a new subscriber sees—make sure you're not letting valuable onsite real estate go to waste.
7. Win Their Confidence Early On
Your B2B depends on your website optimization to get leads that grow your business. When prospect encounters your website, you will have to convince them that you are well worth their time and funds.
As we mentioned above, you can start building trust with your prospects as soon as they load your homepage with testimonials. You can take this to a whole new level with case studies and metrics that further provide evidence of your excellence.
How to Measure Your Success
To ensure that your website lead capture methods are performing as well as they should, you need to measure the success of each of your lead generators. You can perform a CRO analysis and determine whether you need to embellish and diversify your current lead capture tactics.
As a general rule of thumb, your conversion rate should be anywhere between 2 and 5% in order to be considered good. However, you should not focus only on the numbers but rather on the complete functionality of your website lead capture tools. For instance, even if your landing page is producing solid leads regularly, it might produce even more if you make it mobile-friendly and include more dominant CTAs.
For effective analysis, compare your best-performing lead generators to those that didn't reach your expectations.
That being said, a successful lead capture system doesn't translate to imminent success. Once you start building your leads, it's important to capitalize on the opportunities that come forth. Nurturing your leads is the next natural step to a successful conversion. For qualified leads evaluated by your marketing team, nurturing them can be as simple as sending a follow-up email with valuable content to spark their interest once again.
For cold leads, you will have to work a little harder. However, with the upcoming holiday season, it's easy to offer incentives that turn cold into warm leads.
Final Thoughts on How To Successfully Optimize Your Website To Capture More Leads
You can easily connect with your target audience via a tactically deployed lead capture campaign. Your lead-capturing efforts are what will ultimately decide your performance in the market. For effective and optimized B2B website lead capture efforts, follow the points we outlined for you above and watch as you reach your milestone conversion goal.