SMS marketing is the hottest channel for brands right now, customers love it (as long as you're doing it well), and it gives brands the opportunity to present more personalized content in a 1:1 setting than ever before. Collecting SMS subscribers in tandem with email is a popular way to build both of your databases simultaneously, giving the option for different messaging on different platforms.
Let's dive into the what, why, and how of SMS marketing with two-step lead captures, the compliance rules to be aware of, and a step-by-step guide to building this high-converting lead capture in Justuno.
What is a Two-Step Lead Capture
A two-step lead capture SMS pop up has multiple screens, one collecting email addresses and another collecting phone numbers. These are very popular with brands due to dual-growth opportunities they provide for both subscriber lists. For those on desktop, it would look something like this.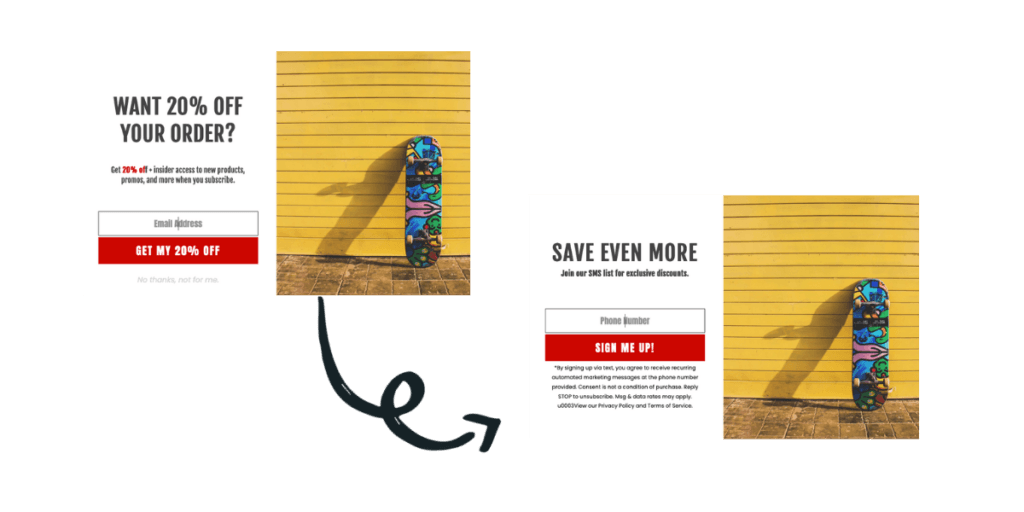 And for those on mobile, you can implement the tap-to-text layer in Justuno so they don't have to type in their phone number to opt-in; merely tap once to pre-populate a message in their texting app and then a second time to send it, and then they're opted in!
Engagement with this type of promotion averaged 7.06% during 2021, with an engaged conversion rate of 10.92%.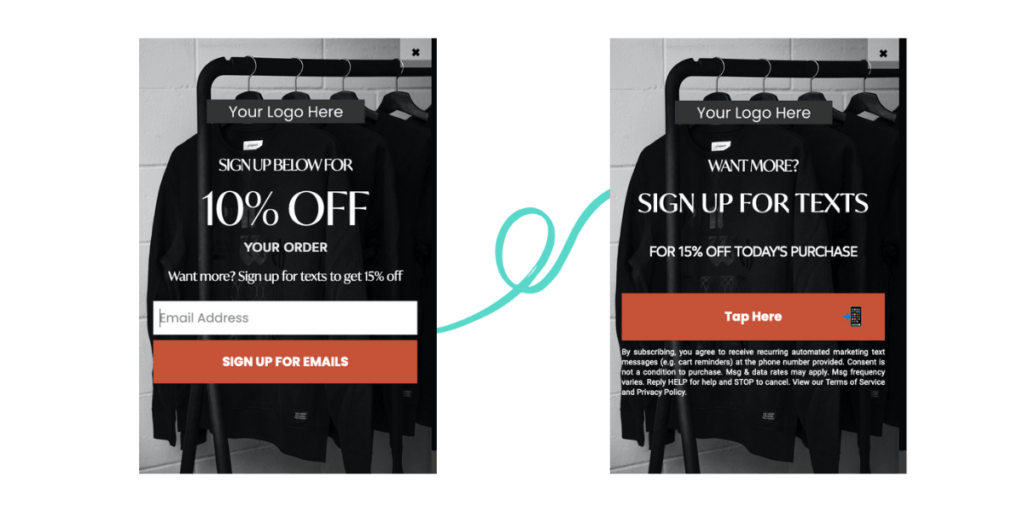 Both of these are pre-built templates available in our template library to make it easier to get started using two-step lead capture, plus hundreds more for every type of onsite need.
Compliance Rules to Keep In Mind For Two-Step Forms
Two-step lead captures have some extra compliance rules attached to them for collecting subscribers, so you'll want to keep these in mind when building out these promotions or risk getting a fine. The rules are as follow:
Email and SMS must be split into different steps (on different screens)
SMS field must be optional
Pop-up must be dismissable (able to close at all times)
The consent checkbox for SMS is optional as long as the SMS field is optional
The pop-up must include compliant opt-in disclaimer language, with links to both your Terms of Service (ToS) and Privacy Policy
How to Set Up a Two-Step Lead Capture With Justuno
Sign up or log in to Justuno
2. Click on new promotion to start building your new two-step lead capture. Choose from building your own from scratch or use one of our pre-built designs in the template library to go live even faster, the library even features templates by our partners including some SMS opt-ins by Postscript!
3. If you selected a pre-built template, all you have to do is simply brand it, pick your targeting rules, link to your ESP/SMS, and go live! Pretty simple. If you elected to build your own you'll need to follow the steps below:
If you started with a template that already has a form on it, chances are the form needs to be hooked up to your integration. If this is the case, edit the form by selecting any of the form layers in the design and then clicking the Change Form button on the right side.
If you started with a blank promotion or have already deleted the existing form, you will need to add a new form by clicking the Email Form button under the Add Layer section on the left side. Documentation to connect your dedicated Email Subscription Provider (ESP) can be found here.
4. In your form, add all of the form fields that will be needed. This will be found on the form builder page. You can add a new custom field or import a field from your ESP.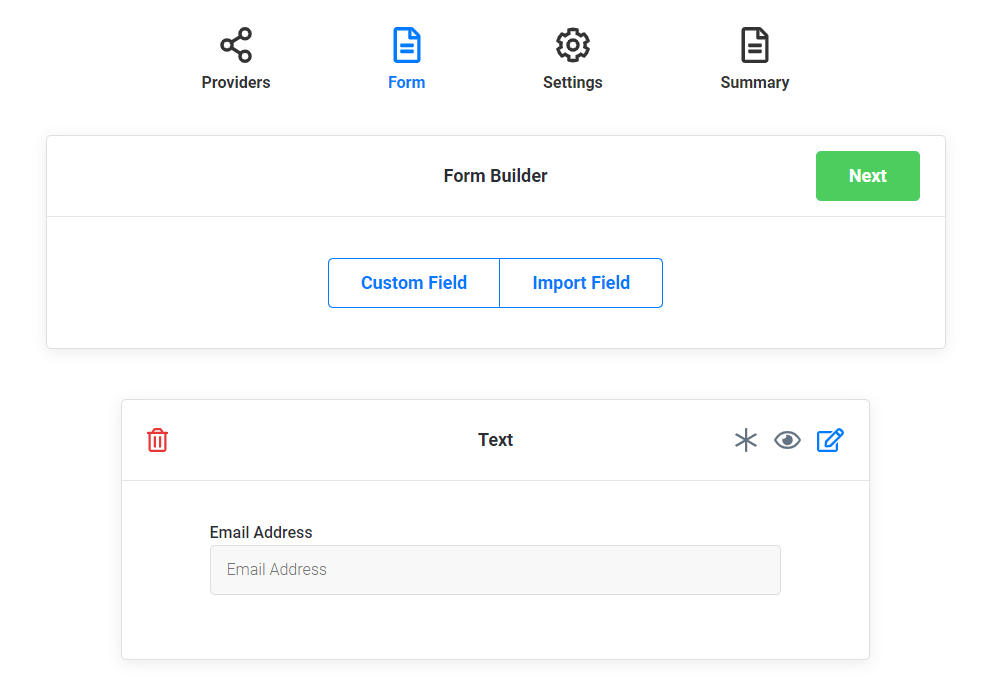 4. Next, select the form submit button layer and again click the small arrow button next to it and choose to duplicate the layer: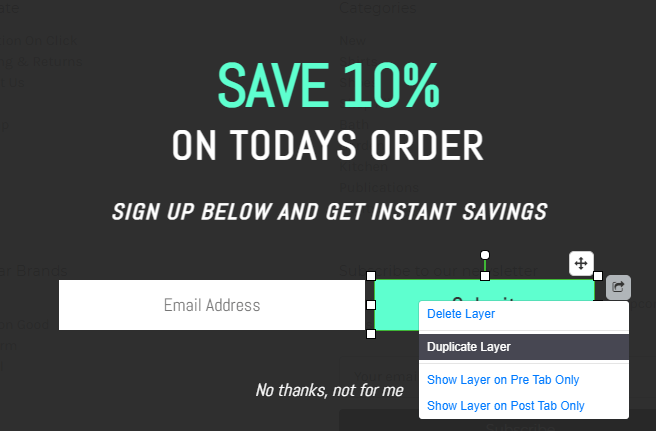 6. Move the duplicated submit button and any desired form fields to the next page by clicking on the arrow.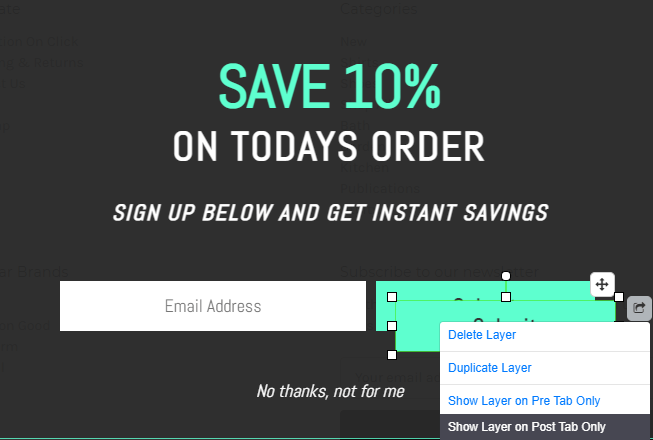 7. Arrange the form so that it fits correctly within the design canvas.
8. Add a follow-up screen so that the user can move to another page after submitting their phone number. This can be used to show a coupon, a thank you page or any additional details for the offer post-submission.
9. Save and publish your promotion.
How Hawke Media Uses Two-Step Lead Captures For Clients
Justuno agency partner, Hawke Media, has several clients implementing this dual lead capture strategy. First up is Poler, an outdoor gear and camping retailer whose two-step lead capture stands out with an on-brand shape and simultaneously pushes the emails into their ESP, Klaviyo, and phone numbers into their SMS platform, Postscript.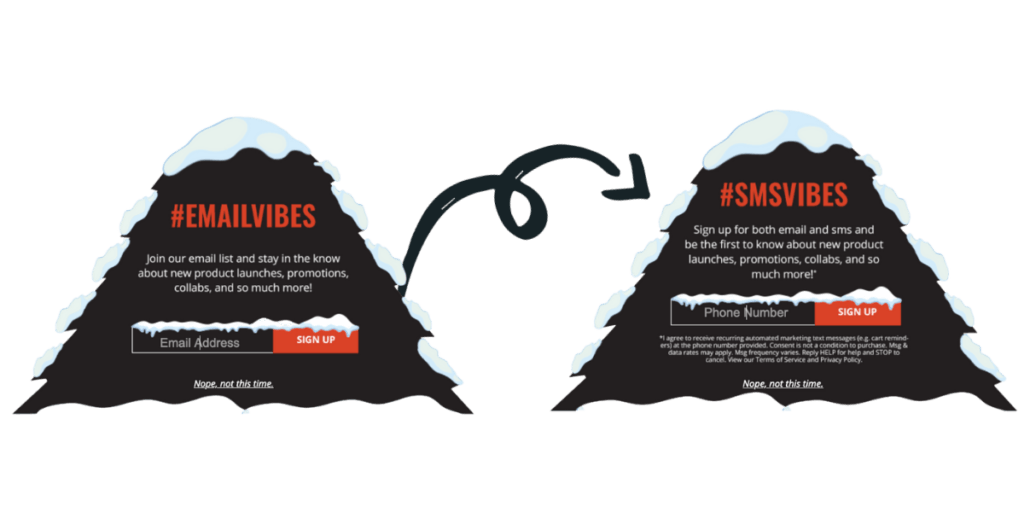 During the holiday season, Poler ran this two-step lead capture without a discount targeting both desktop and mobile visitors. Their mobile visitors engaged* at a rate of 21.53% and of those visitors, converted 3.3%. Their desktop visitors engaged with the pop-up at a rate of 2.1%, but converted 22.8% of those that engaged. Their mobile traffic was ready to engage and opt-in while desktop traffic was more primed to convert.
When compared to overall BFCM performance, on average the engagement for mobile traffic was only 9.3% far below Poler's performance while Outdoor & Sporting Goods brands with center promotions averaged 13.75% engagement. Poler's two-step lead capture promotion knocked these out of the park during a high-stakes weekend when adding additional fields for customers is typically a no-go.
Another Hawke Media client, Yoga Club, offers activewear subscription boxes at lower prices than retailers. Their two-step opt-in doesn't feature a discount but instead offers a free pair of leggings to drive immediate value for visitors and encourage them to convert or risk missing out on their free items. Yoga Club pushes both their email and phone numbers into Klaviyo. This promotion targeted their mobile visitors and had another high engagement* rate of 15.5% and converted 4.11% of that mobile traffic.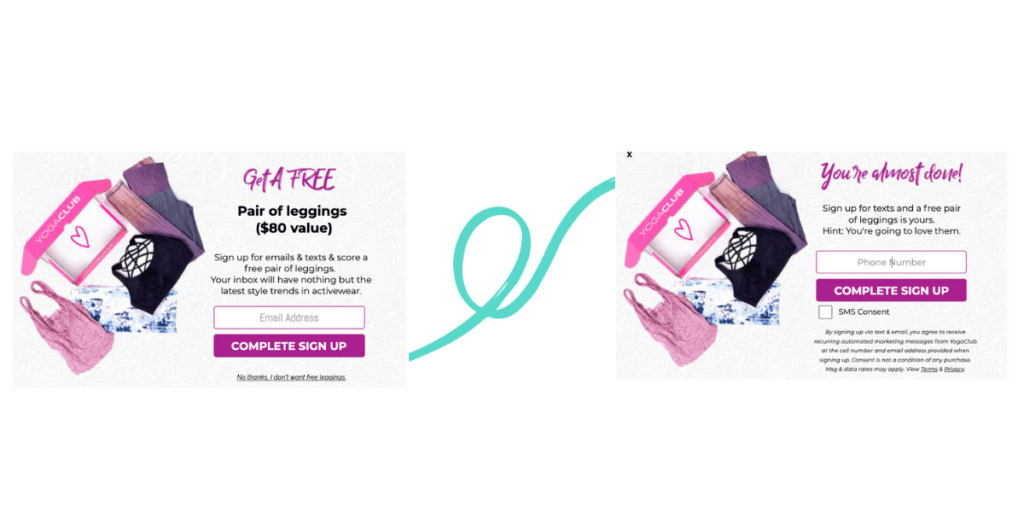 Why You Should Use Two-Step Lead Captures with Justuno
Depending on the ESP and SMS provider you're using, they may not directly integrate, so using a platform like Justuno allows you to connect those apps to push contacts into both platforms. Some of our ESP and SMS platform integrations include Klaviyo, Omnisend, Sendlane, Postscript, Attentive, Emotive, and more! Check out a full list of our technology partners in our directory here. 
Justuno's two-step lead captures are a great way to start building synergy between your SMS and email marketing campaigns, as a standalone channel SMS is a powerful tool, but when used in tandem with other marketing channels unlocks a wide variety of benefits.
SMS is fast; in comparison to other channels, it offers an almost immediate touchpoint, with nearly 99% of text messages being read within three minutes of being received.
Use SMS for time-sensitive offers to drive immediate engagement and action. That can be something like flash sales, VIP exclusive offers, or announcing your latest product drop. It's also fast on a creative level for your marketing department; SMS doesn't require design work, while emails can be a powerful source for more long-form visual content. Combining both channels for one campaign will boost results and drive engagement across your database.
You can also send texts to email subscribers who miss your emails in their inboxes to maximize campaign results. Let's say you send an announcement email for 20% off, then 48 hours later, a reminder email to those who didn't open the first one.
If you were collecting emails and phone numbers using a two-step lead capture, you could then send a text to those who ignored your emails. This will help you target different subscribers on channels that engage them better, can shape future targeting rules, and ultimately, help combat inbox fatigue, especially during high-volume times like the holidays.
In addition, SMS is a great opportunity for post-purchase add-ons, transactional updates like shipping, and even customer service 1:1. Collecting phone numbers is invaluable for brands since it opens up an opportunity to meet consumers where they are often (on their phones) and gives them flexibility for campaign creation.

If you're looking to add two-step SMS lead capture to your website and are a Justuno customer, log in now to get started or hop on a free 14-day trial to watch your SMS list explode!