The importance of leveraging email marketing can be easily seen due to the fact that the United States alone is projected to spend a whopping $3.07 billion dollars on it in 2019. From an expenditure of $2.07 billion in 2014 up to $3.07 billion in 2019, email marketing has come a long way emerging as an effective digital marketing channel.
Moreover, with 52% of people checking their personal emails every few hours, reaping the benefits of email marketing can help marketers pave new avenues of success in no time. However, with the evolution of email marketing, the challenges associated with it have evolved too. This is the reason 54% of marketers struggle with acquiring the customer's attention in their inbox.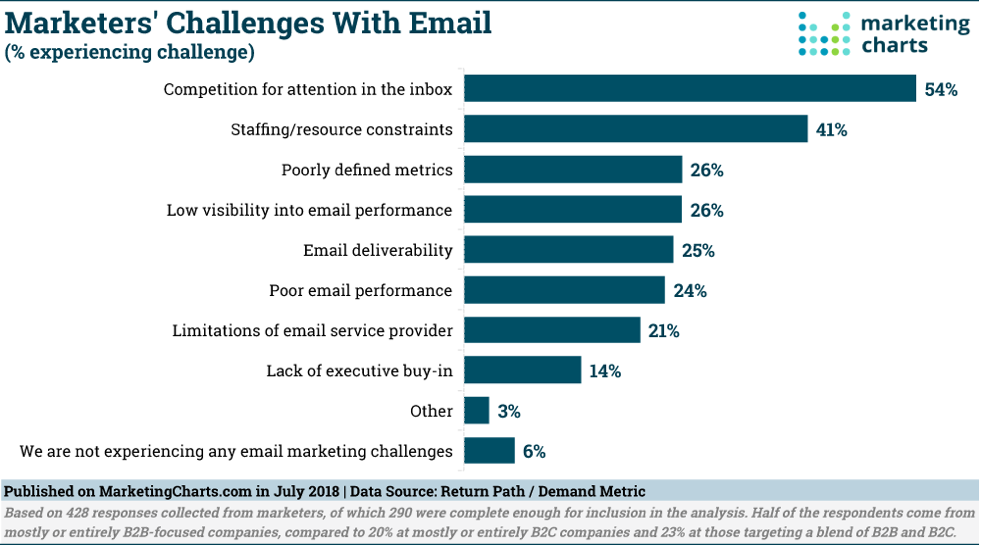 Those in the e-commerce industry can benefit from sending out regular emails to subscribers that match their purchase patterns and provide relevant messaging.
Below are some strategies to keep in mind when creating your email campaigns to maximize its impact and conversion rate:
1. Hit the right chord with the right question
Asking your customers the right questions at the right time can set you up with the personal information you need to create engaging, relevant marketing emails. Information such as their buying interests and preferences can help you segment your list and send highly-personalized triggered emails to prospects leading to a better ROI on your marketing efforts.
When a customer opts in or subscribes to your email campaign, make sure to leverage their motivation by asking their purpose for doing so. This won't just give you a deeper insight into your customers, but also provide them with the value added by receiving a relevant email that resonates with their needs the most.
2. Create customer personas
A customer persona is a semi-fictional representation of your ideal customer. They're created by leveraging customer data through in-depth marketing research while including critical customer aspects such as demographics, buying patterns, interests, goals, etc. All of these details will help you create a detailed customer persona and allow you to segment consumers to provide them with a more personalized and targeted experience.
3. Optimize with location & time
Apart from having a relevant and personalized approach in your email campaign, choosing the right time to send these messages is also key. Remember, your customers span across various areas and region with different schedules and time zones.
It's important that you keep this in mind and send promotional emails when subscribers are most likely to open and click-through them. Remember, the better your timing is, the higher your chances are to nurture leads and drive conversions. In this context, doing A/B tests on your emails will be the best way to figure out the optimal time to send them. Once you know this, you can easily automate your email campaigns to be sent at specific times.
Pro-Tip: Create beautiful holiday email campaigns for your e-commerce store to help you make the most of this lucrative period.
4. Create accessible emails
One billion people in the world are living with some form of disability according to the World Health Organization. As online shopping becomes increasingly popular among consumers, it becomes imperative to incorporate the principles of accessibility in your emails so they are readable for everyone.
Now since you have a thorough idea on how to collect data and leverage it to send automated email campaigns based on segmentation and personalization, let's look at a few types of e-commerce emails you can send to entice more customers.
Say hello with welcome emails
Welcome emails are the critical first interaction enabling you to connect with your new subscribers and establish a long, enduring relationship with them. Whether you send a welcome note inviting them to share which products they are interested in or offer a sneak peek into discounts and sales coming up, there's a variety of welcome emails you can send to create a good first impression.
TrueBlue does a great job of establishing a loyal relationship with new customers through its welcome email. They reiterate the benefits the subscriber is receiving from their new membership in the TrueBlue rewards program and encourage them via a call to action to buy into the program and start earning those rewards.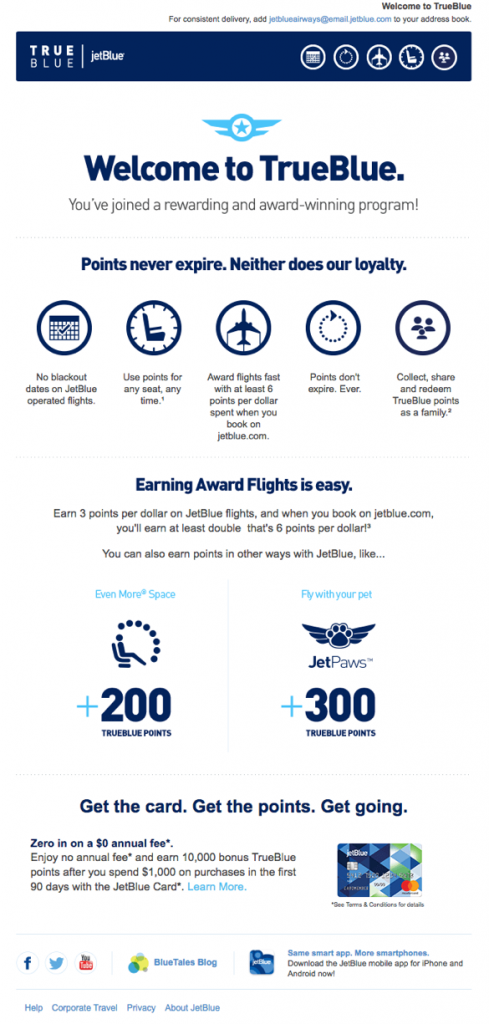 Increase revenue with abandoned cart emails
There are times when subscribers add items to their cart but don't finish the checkout process. Consumers will abandon their cart for a variety of reasons like slow internet, complicated payment process, high delivery charges, etc. This is where abandoned cart emails can save the day. You can begin by sending personalized abandoned cart emails that highlight the products consumers left in their cart as Beardbrand did. Additionally, you can even encourage your customers to complete their purchase by offering additional incentives such as discounts, free shipping, gifts, etc. These additional value adds are a great way to drive conversions and increase traffic.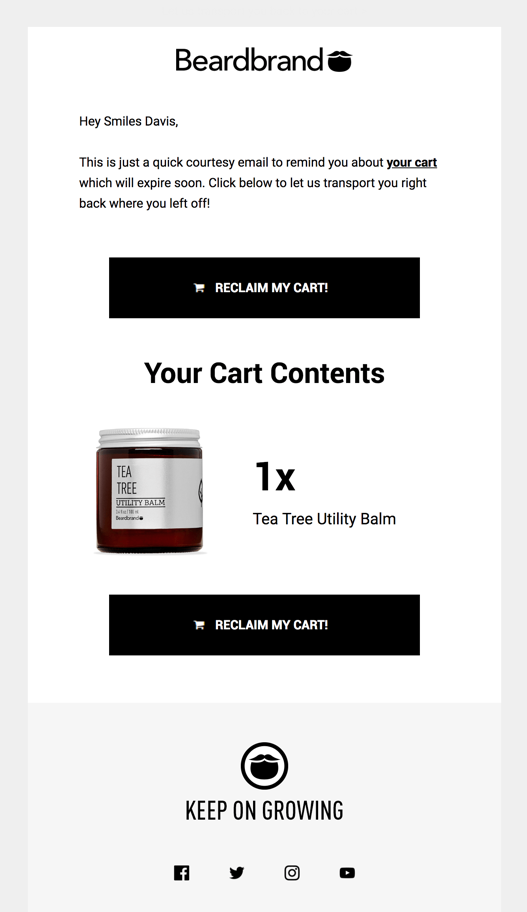 Give a personal touch with order confirmation emails
Another way of sending automated emails that are personalized to the receiver's actions is via sending order confirmation emails. An immediate order confirmation email with a thank you note followed by a payment receipt, order summary, and order tracking feature gives customers a smooth buying process.
See how Fitbit does it like a pro, by providing all the information the consumer would want or need regarding their recent order. They provide all this in one easily accessible place, to help ease the customer's experience and simplify their experience.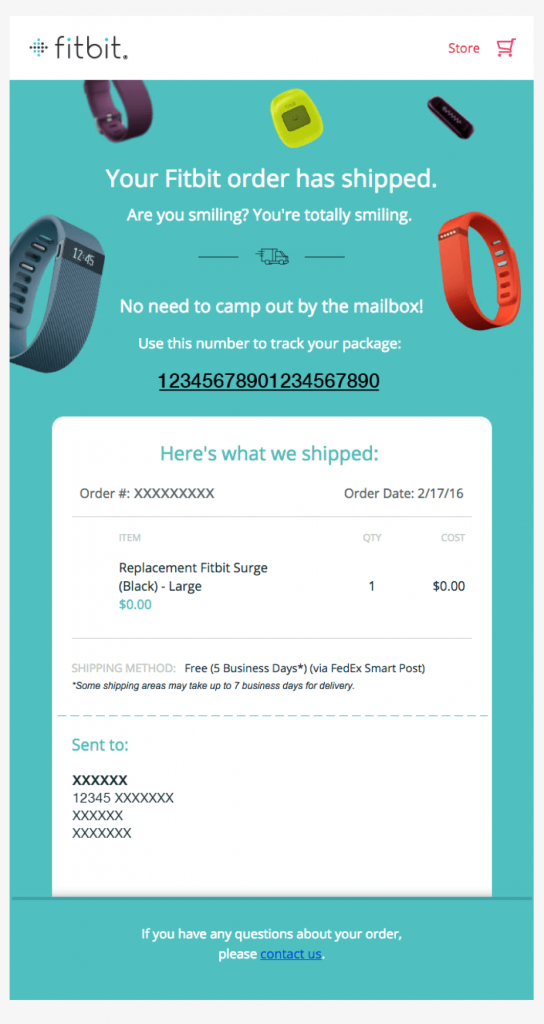 Entice customers with follow-up emails
Automated follow-up emails work wonders in enticing customers and motivating them to buy more. By tracking a customer's recent purchases, you can send them personalized recommendations for complementary goods or newly released products that are relevant to their interests.
Bring back subscribers with re-engagement emails
Customers become disengaged and disinterested easily. Therefore, it's imperative to keep their interest in your brand alive and nothing does that better than a re-engagement email. Don't panic if you haven't heard from a customer from a long time!
Just automate your re-engagement email and send a series of emails packed with special offers and discounts personalized exclusively for them. This will bring them back to your website and lure them into purchasing again. Return Path keeps it simple but strikes all the right chords. They offer the subscriber an easy out if they would like to take it, but also offer them a chance to opt back in and re-engage with Return Path going forward.

Final Thoughts
Email marketing is a channel that's only going to continue to grow with time. To keep up with its increasing growth, make sure you stay up to date with the latest email trends. Gone are the days when personalizing your promotional emails with the subscriber's names did the trick. Customers look for even more personalized and valuable experiences now.
In a nutshell, it is the era of hyper-personalization for email marketing. If you wish to drive conversions through automated email campaigns, make extensive use of the tips mentioned above and leverage the potential of email marketing to its fullest.