If the last email you sent to your customers had their first name merged somewhere in the copy and you felt it was personalized…you're wrong.
Not only are you wrong, but you're also misunderstanding one of the most powerful e-commerce conversion tactics: personalization.
That's OK because – as with most marketing tactics – "personalization" has become quite the buzzword lately and many marketers simply just get lost in the noise and information overload that follows.
But once you do understand what personalization is and exactly how you can implement it, you can join the ranks of BustedTees, who saw a 34% increase in revenue after implementing their personalized email marketing strategy.
Today's post will show you the three steps to creating an email marketing campaign that not only is personalized to your customers but generates sales.
Step 1: Learn how your customers behave on-site
In order to make something personal for a customer, you have to know a little bit of information about how they're interacting with your e-commerce website.
Where did they come from? (What's their traffic source?)
What items is this customer clicking on?
Did this customer abandon their cart?
What product categories are they most interested in?
Once you have a general idea about your customer behavior, you will be able to segment your email list accordingly.
Having an idea about your customer behavior, like the bullet points above, will help you serve the most relevant popup or offer to your visitors. We've recently partnered and built an integration for Sailthru, an email service provider who also specializes in website personalization (more on that later). Sailthru can help gather data about your customers and enable you to begin implementing a more personalized experience.
But, if you aren't quite ready to commit to a personalization software, Justuno can help gather some behavioral data and use that data to present personalized offers and messaging throughout the site.
For example, you can put a simple newsletter signup pop-up on a T-shirt category page. If a website visitor – let's call him Bob – engages with that popup (submits their email address), then you can use that information in a future pop-up creation.
You can offer a special discount to Bob based on the knowledge that he previously engaged with the pop-up being shown on the T-shirt category page. When creating the pop-up, select the targeting rule you want to use.
In this example, we can use "Has ever engaged SPECIFIC pop-up" and you can select the foundational pop-up for this targeting rule: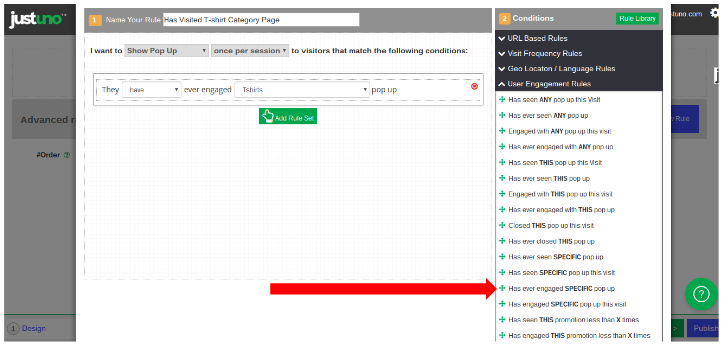 Now, the next time Bob visits the T-shirt category page, he'll see the following promotion: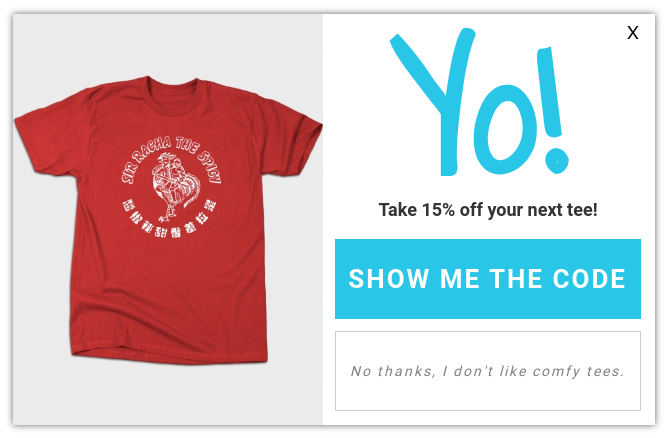 Let's take a look at some examples of leveraging your website visitor behavior to create more targeted pop-ups and offers.
Step 2: Use multiple field forms to personalize & boost email marketing
One of our favorite ways to leverage popups is to gather an extra bit of information with multiple form fields.
Capturing one extra piece of information about your website visitor can greatly help your email marketing campaigns. Let's look at an example from baby apparel brand Robeez: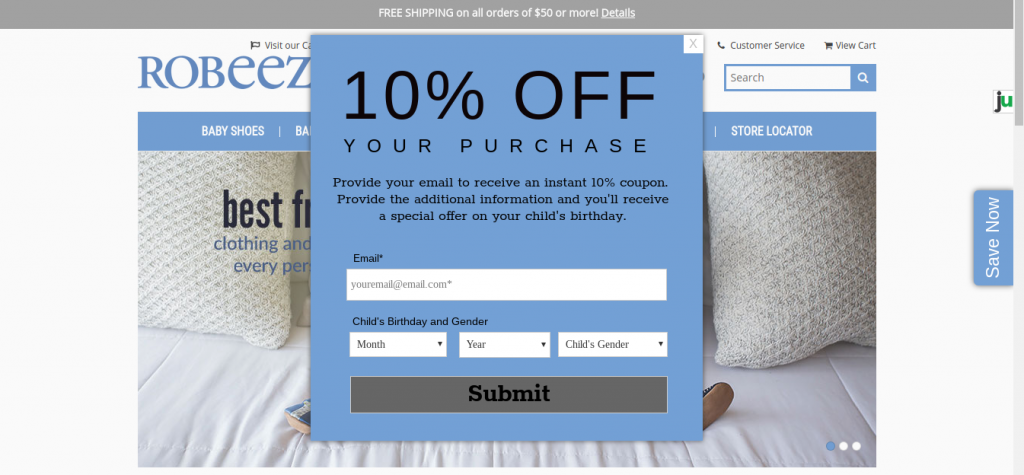 First of all, this "New Visitor" pop-up is already a winner as it's offering an incentive (10% discount).
But what makes it extremely powerful is the extra information gathered. When a website visitor gives the child's birthday and gender, this allows you to send a special offer on the child's birthday.
It also allows you opportunities to market gender-specific products that are "New Releases" or "On Sale".
Here's how to add a Sailthru form to Justuno pop-ups.
Step 3: Nurture your converted customers to improve retention
After you've invested time and resources into learning about your customer, don't drop the ball on nurturing them! Nurturing is where true revenue growth comes from.
One of the main things we preach here at Justuno is – in order to optimize your email marketing nurture campaigns – make sure your website messaging is mirroring those email messages.
For example, when one of your email blasts goes out and a recipient clicks through if they're seeing a "New Visitor" pop-up you are wasting the perfect opportunity to be relevant and personal with your customer!
A cool Justuno feature we offer is using website banners to show customers a discount code they've unlocked by providing their email.
We make it easy, so all they have to do is copy/paste the code from the bar:

Then, if the customer does not purchase during that visit, you can build an email campaign around that behavior, sending them the discount code as a follow-up, nudging them to move closer to a purchase.
In general, it's a best practice to sync-up your site messaging with your other marketing efforts. That means pop-ups and banners included!
Here's a great example of Brooks running shoes uses a banner to reflect their St. Patrick's day messaging delivered via email: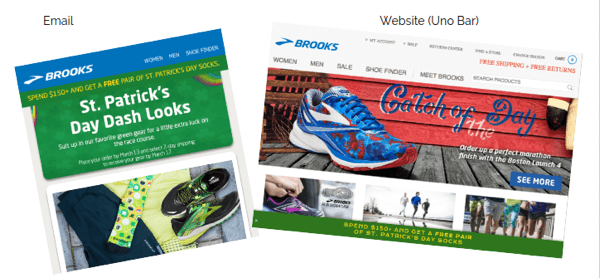 How to use Justuno with Sailthru
We're excited to announce our new integration with Sailthru and have built the integration to make it easy for you to boost your email marketing campaigns with Justuno pop-ups.
If you're a current Sailthru user, follow this step-by-step integration guide to connect Justuno!