Influencer marketing is not a new concept – in fact, it's been around a lot longer than you think, predating social media by entire centuries! While influencer marketing has evolved over the years, one thing is certain: it isn't going anywhere anytime soon. Quite the contrary, more marketing budgets are being allocated to influencer marketing than ever before to meet the opportunities and demands of a rapidly accelerating social commerce landscape: what started as a $1.7 billion industry in 2016 is expected to reach $16.4 billion this year alone.
In today's world, influencer marketing has become nearly synonymous with Instagram, with the majority of marketing dollars going to the platform for the purposes of content collaborations, paid sponsorships, and celebrity endorsements. But with consumers becoming more savvy and able to easily sniff out when they're being sold to, influencer marketing on Instagram has evolved yet again, with more value being placed on authentic, real-life product endorsements by peers – aka micro- and nano-influencers with less than 25k followers – instead of big-name (and big-budget) celebrities and mega influencers. Small in following but mighty in influence, these types of influencers garner more engagement from their posts and more impact on their followers' purchase decisions. Now, nearly anyone can be considered a nano-influencer – all it takes is an Instagram account and a reliable, authentic voice.
Discover Your Most Influential Customers
As marketers reallocate their budgets and redefine their strategies for influencer marketing towards these smaller influencers, there are new challenges — while it may be less costly and more accessible to partner with a bevy of micro and nano influencers, the question is: with so many options, how do you find the right ones for your brand? That's where Gatsby can help. Their community-building tool enables brands to identify, connect with, automate, and scale partnerships with their most influential customers. Odds are, your customers are already sharing about your brand on Instagram – Gatsby allows you to discover and reward them.
The best part? Gatsby seamlessly integrates with your Justuno account so you can gather customer and website visitor Instagram handles directly from your Justuno popup! Once captured, you'll get access to key data points such as their number of Instagram followers, IG Stories & Posts they've mentioned you in, engagement rate from those posts, and much more.
Gatsby also syncs with your favorite email service providers like Klaviyo and Omnisend, so you can easily automate outreach using your existing tools. 
Build Your Ambassador Program
instead of one-off partnerships, leverage your customer base to create an army of advocates! Many brands are now building small communities of brand ambassadors made up of their own influential customers, a sort of "inner circle" who get special perks and rewards when they share about products. Not only does it foster community, it offers brands a way to connect with and reward customers while also driving UGC content.
Let's take a look at an example: Jackpot Candles
Jackpot Candles, a luxury scented candle encasing a precious jewelry surprise inside, sought out Gatsby to help build out their ambassador program, with a goal of increasing mentions by influential customers on Instagram. They integrated Gatsby with their Justuno popup to collect Instagram handles, gather insights, and trigger automated influencer outreach with Klaviyo so that now anyone with 500 to 20,000 Instagram followers can qualify to receive an email offering them a special reward when they tag @JackpotCandles on Instagram.
In just 8 weeks, nearly 2,000 visitors on jackpotcandles.com entered their Instagram handle into the Justuno popup, and 30% of them qualified to receive the outreach email with the special offer for posting.
Jackpot Candles selected 51 of these customers who met qualifications and approved them for their ambassador program, 30% of whom (and counting!) have now already published content for them through this fully automated strategy. This is an impressive conversion rate achieving exactly what Jackpot Candles hoped for: more authentic user-generated content from real customers and doing so at scale!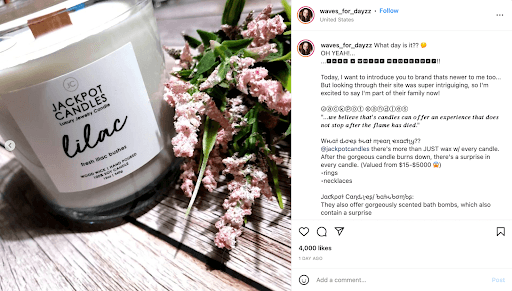 Another example: Promix Nutrition
DTC natural protein supplement brand Promix Nutrition used Gatsby in a similar way to scale up their ambassador program – beyond just their elite athletes, they wanted to become more inclusive by showcasing and empowering their more typical customers to get on the horn and share. Through Gatsby, they found a bunch of customers with 1,000+ followers that were already shopping and sharing about Promix as part of their healthy lifestyle, which added up to be a huge amount of influence that was going unnoticed and unrewarded previously.
While they were already gathering Instagram handles from their popup and on their order confirmation page, Promix took a slightly different approach from Jackpot Candles to vet potential ambassadors.
They created a landing page which they then sent out to their most recent customers / Klaviyo subscribers, about 20,000 in total via a newsletter blast.
Based on the email's 53.6% open rate and 5.4% click-through rate, it was received with overwhelming positivity. On launch day alone, nearly 900 customers submitted their handles to the landing page, effectively applying to be part of their ambassador program.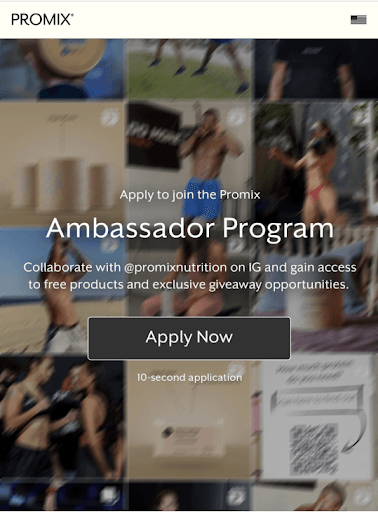 Promix then automated influencer outreach so that anyone with more than 750 followers received a follow-up collaboration offer with all sorts of perks, including $10 off their next purchase in exchange for sharing and tagging the brand on Instagram. The result? The email garnered a jaw-dropping 80% open rate and a 5% click-through rate. Of the nearly 1,500 ambassadors who received the collaboration offer, 6% of them published content tagging Promix within the first month, and that's growing quickly with automated follow-ups.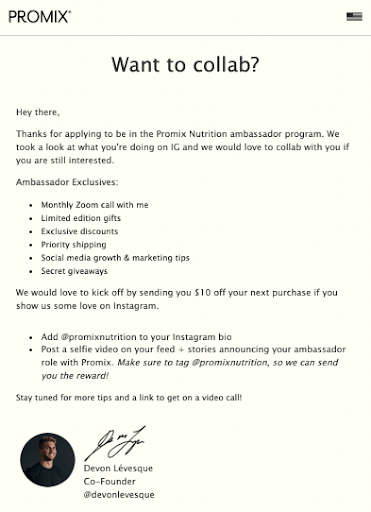 The takeaway? Your customers are a key part of your brand's story. In the marketing days of yore, brands sold customers on their story over which they had full control. But now, thanks to social media, customers have a voice and the story becomes a collaborative conversation. And this offers tremendous opportunities for brands to engage and connect with their customers.
Reward Your Customers For Posting
Another way to expand your influencer marketing is by engaging (thanking and/or rewarding) your customers when they share about your brand on Instagram Stories. While it's easier to track feed posts, it's a bit harder to catch elusive stories due to their fleeting nature – after 24 hours, they disappear completely. While ephemeral, Instagram Stories play an important role in brand discovery – a study conducted by Instagram found that 39% of users became interested in a brand or product when viewed on Stories. So as a brand, it's important to know what your community is sharing about your products in their stories. Thanks to Gatsby's Instagram Story Tracking feature, you can automatically track all story mentions from everyone on Instagram (and soon TikTok too), which opens up a huge opportunity for capturing content. This data of them mentioning your brand on Instagram also syncs with your customers' profile in Klaviyo (or your preferred ESP) so you can automate a thank you and reward for posting. As a result, within 10 days of having access to this feature, Promix was able to identify 133% more pieces of media mentioning their brand than they did in the previous 3 months! They were then able to connect with all these customers and automate rewards for their mentions.
You can also take your customer reward to the next level with a loyalty program, where you can build customer retention (and UGC) by rewarding your customers for sharing about your brand on Instagram. Skate, swim, & snowboarding brand Volcom uses Justuno, Gatsby, and Yotpo together to automate rewards for members of their loyalty rewards program, Stone Rewards. When a customer signs up for the Stone rewards program, they have the option to accrue rewards points for posting and tagging Volcom on Instagram. Once a customer selects the option to get these rewards points, all they have to do is enter their Instagram handle and email address into a Justuno form. This data gets passed into Volcom's Gatsby account so that when the customer mentions them, they can view the post as well as all data connected to it. And because they integrated with Yotpo Loyalty as well, the mention will automatically trigger rewards points to be added to the customer's account in Stone Rewards.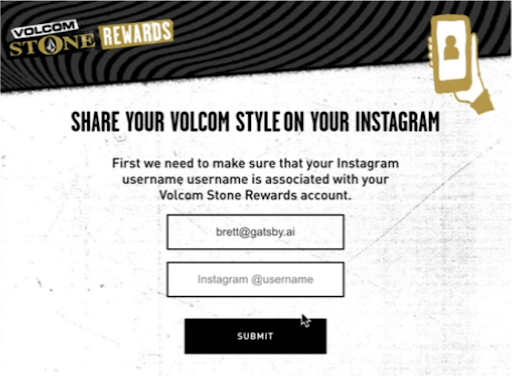 Watch this Volcom workflow for Justuno + Gatsby + Yotpo Loyalty:
Leverage UGC
User-generated content can come in the form of user reviews, testimonials, and Instagram posts produced by "the people" – a customer, employee, or fan of the brand. Initiating a UGC campaign is a super effective way to boost brand awareness and build community with your target audience. Considered more authentic and relatable than a traditional branded campaign, UGC campaigns have been proven to build more trust and convert followers to customers. And not only are they more cost-effective to produce, they have the ROI to prove it: ads created with UGC boast 4x higher click-through rates at 50% less cost per click. Types of UGC campaigns include ad campaigns, media galleries on your website, and even simply reposting on your brand's social media profile. While there is no doubt that UGC is beneficial to your influencer marketing strategy, finding the right content is key. With Gatsby, you can track all story posts, feed posts, and even carousel posts to source the right content for your campaign (and TikTok is coming soon!). Not only will you have easy access to the content, but it's also available in high-res for download so you can repurpose it when needed.
Never Miss a Message
Being able to easily, quickly, and directly communicate with your customers on social media is key to building stronger relationships with potential influencers. But this can sometimes be challenging, especially for brands who receive a huge volume of DMs or mentions on Instagram. Because Instagram has multiple mailboxes, it's easy to miss important messages that may not show up in your main mailbox. With Gatsby, you'll never miss a DM again – all of your messages are stored in the same place within the Gatsby dashboard, and you can even sort and filter conversations by campaign tag.

Revenue Tracking
A more quantitative approach to expanding your influencer marketing involves the elusive ROI. Marketers are continuously searching for ways to capture and track ROI from their influencer activations, and now you can. Gatsby's Revenue Tracking feature allows you to automatically track and attribute revenue generated by your micro-influencers thanks to multi-use Shopify discount codes they share with their followers, unlocking an entirely new way to connect with and reward your most influential customers. Not only does it provide another incentive to post about your brand, it gives them something unique and exclusive to share about – a gift they can give their followers. Being able to track the revenue driven by your influencers also offers key insights into your partnerships with them – you can:
Quickly identify who is the most influential for your brand in terms of driving sales
Gain a better understanding of your brand's demographic
Get tangible metrics to ensure future successful partnerships

Sneak Peek: Complete Social Listening
We'll let you in on a little secret – soon, you'll be able to access any and all mentions of your brand within Gatsby! This includes all post and story mentions (including key data) from anyone – regardless of whether they opted in through one of your capture methods – for complete social listening. Identify and vet potential influencers directly within Gatsby, without having to spend hours surfing Instagram and calculating engagement rates.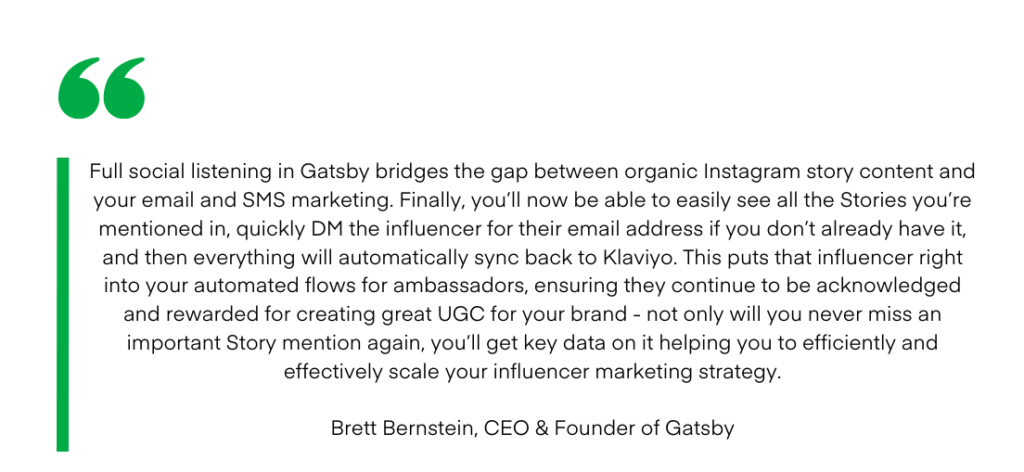 Get Started
If you haven't already, install the Gatsby Shopify App or create an account from their site. Then, visit this help page for more directions on how to integrate with Justuno as well as your preferred ESP/SMS provider.