Have you ever bought something on Instagram after seeing it in your favorite Influencer's stories? Maybe on TikTok after watching that unbelievable unboxing experience?
Well, if you have, then you've shopped using social commerce. Social commerce is the ability to sell products and services directly through social media. The entire process from discovery, browse, research, and checkout is on social media. Shopify predicts that revenue from these shopping methods alone will expand worldwide to over $3 trillion over the next eight years.
Let's dive into what social commerce is, why you should care, and how e-commerce brands can harness the power of prolific platforms like TikTok in the marketing mixes.
What is Social Commerce
Social commerce is defined as selling products or services on social media, with the entire customer journey staying within the platform. While this is the technical definition, in today's ever-connected world, the lines are blurred. Consumers don't think of it as "social commerce" vs. e-commerce; they just think of it as online shopping.
This is due to the highly visual and influential nature of social media, and brands looking to meet shoppers where they are, promoting a "see it, click it, buy it" mentality. 71% of consumer buying decisions are influenced by social media – and that funnel started with awareness and interest, something that visual and video content sites are ideally suited for.
As our social media consumption behaviors have changed over the years, from the early days of Facebook to new platforms like Snapchat, Pinterest, and TikTok, social commerce has become a natural evolution of our timeline's content. This is in part due to the rise of the influencer, someone who can be an "average" everyday person who influences potential buyers by promoting it to their audience on social media. Influencers are a crucial part of any social commerce strategy for brands as they are the front lines interacting with buyers. Their peer reviews of brands and products are an effective source of social proof as, inherently the buyer is putting their trust in the influencer rather than the brands themselves.
Social Commerce By The Numbers
In the next few years, according to eMarketer, U.S. social buyers will increase steadily from 32.5% in 2021 to 37.9% in 2025 and grow into a predicted $3 trillion market by 2029. Here's a breakdown of those most likely to shop on social media, how influential it is on buying decisions, and why.
Gen Z is 2-3X more likely to shop on social channels than other generations and this group is rapidly aging into their buying power. Combined with millennials, these two younger consumer groups have $350 billion worth of buying power, and both list mobile video as their primary source of entertainment. Social connectivity is the new word of mouth and that tracks directly in line with these two generations being at the forefront of the social commerce charge. A 16% YoY increase in social media usage and average time on social media for U.S. adults at 65+ minutes a day is only accelerating this process.
Influencer Management & Social Commerce
Scalable content creation and fresh creative are key to sustainable and successful social commerce, which is where influencer marketing and management come in. You'll not only need influencers to promote your brand through sponsored posts, stores, Q&As, etc., but also a way to scale your influencer program as a source of content and distribution.
For many brands, influencers don't mean someone like Kylie Jenner posting your product, but rather a micro-influencer who is already a customer or someone who resonates with your target audience. An army of micro-influencers with smaller, but highly engaged audiences will have a more immediate and measurable impact than a celebrity would. Micro-influencers are defined as those with between 10,000 and 50,000 followers. They tend to be more affordable for brands and are often more effective at driving results. One of Justuno's technology partners, Gatsby, is a micro-influencer marketing automation platform that helps brands identify which of their current customers are potential influencers, collect their information, and then manage their program. Their integration with Justuno allows users to collect Instagram and TikTok handles to then sync back to their other marketing tools like Klaviyo and Gorgias.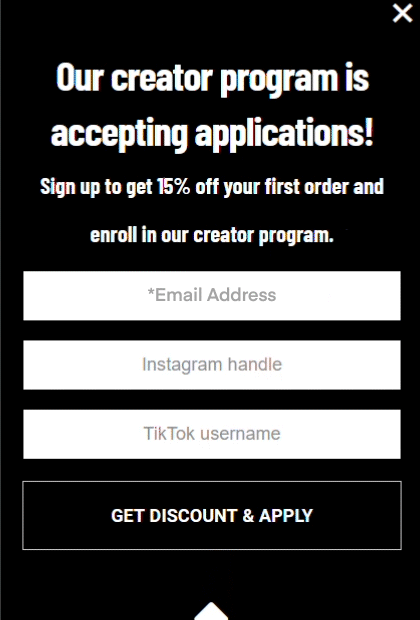 Growing your influencer marketing program by directly sourcing members from your customer base is a double win. Their authentic content and genuine excitement about your brand and products will resonate with followers at a much higher degree versus larger influencers who are often clearly trying to sell.
Maximize your ROI from influencer programs by reusing influencer content across your marketing campaigns, using lifestyle content for emails, boosted posts on social media, and even onsite via dedicated landing pages for your most prolific collaborations. If you're driving traffic to your site, make sure to create lookalike or re-targeting audiences from influencer traffic to improve paid media campaign targeting. Use Justuno's Audience Sync to feed emails back to Facebook and Google ad managers for improved ROAS across the customer journey.
Influencers aren't the only route to social commerce success, user-generated content (UGC) is just as powerful. An unboxing TikTok video by a customer can convert just as well as an influencer's review.
Social Commerce & TikTok
TikTok is the hottest social platform around right now, with user growth on the platform exploding beyond just Gen Z, making it a prime spot to drive consumer action. 49% of TikTok users say they've purchased something after seeing it "advertised, promoted, or reviewed on the platform." Plus, with their Shopify partnership, TikTok is rapidly becoming a more seamless social commerce experience with entertainment at the forefront.
TikTok is the source of some of the biggest trends in pop culture right now, giving brands who know how to harness its power the opportunity to unlock deeper connections with consumers. According to Tinuiti, 61% of TikTok users like brands better when they create or participate in a trend on the platform! By finding a viral trend to hop onto early that makes sense for your brand, you can ride the wave of popularity before it becomes too overdone. Combine this with an organic presence of consistent content so you're able to authentically tap into TikTok's power. Engage with followers by replying to comments, resharing content, and actively trying to build a community and not just sell your products.
Social Commerce & Instagram
Instagram is one of the first players in the social commerce arena, launching their shoppable posts for brands in 2018. The addition of a checkout feature made it easier than ever for influencers to showcase their aspirational life, easily driving followers into buyers with the products they wanted at their fingertips. Instagram Shopping is an incredibly intuitive buying experience with detailed product pages that rival those on your own e-commerce site.
The average ROI of a dollar spent on influencer marketing on Instagram is $6.50, making it an obvious leader for brands looking to succeed with social commerce. Instagram's first-mover status in the space means Instagram influencers have had years to nurture their audiences and build up a powerful brand and niche for their organic recommendations to turn into sales. 65% of consumers follow Instagram influencers, and micro-influencers made up an average 93.9% of all brand partnerships in 2020. This is a great opportunity for brands to run effective campaigns with smaller-scale influencers like those mentioned above.
Conversion Optimization for Social Commerce
If you approach social commerce as another vehicle for your brand to connect with consumers rather than as a stand-alone outside of e-commerce, you'll need a conversion optimization approach to your website experience for when those shoppers eventually end up on your website. 73% of consumers use more than one channel when shopping, so eventually, social commerce customers will end up on your e-commerce site making it crucial you're using an onsite messaging platform that enables cross-device tracking like Justuno. For example, someone may be browsing on Instagram in the morning, add items to their carts via shoppable posts, then jump onto their work laptop in the afternoon to do some research on your brand, and ultimately convert that night on their tablet. Each one of these touchpoints needs to be consistent throughout the funnel, avoiding duplicate experiences, and breaking down the silos between marketing channels.
Create customer segments based on when and where they purchased. If someone purchased within TikTok, have specific email and SMS flows that are geared towards that source. Different messaging, including visuals, to make their experience with your brand reflective of the one they had in the app. If you're driving traffic to your website, then make sure UTM targeting is dialed in so that imagery is similar to your native content into your pop-ups.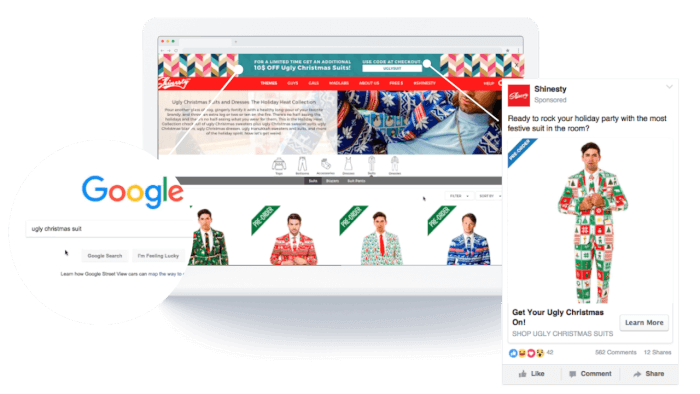 Don't assume that every touchpoint is the same on all platforms. Pinterest isn't ONLY for discovery at the top of the funnel, just like Instagram Shop isn't always for the ready-to-convert bottom of the funnel. There's a strategy for every platform at every stage for every customer off-site and on.
Final Thoughts
Social commerce is "already here, and it's reshaping how we buy," making it something that most brands need to be working into their marketing plan. There are many platforms that you can use beyond Instagram and TikTok, like Snapchat, Pinterest, Facebook, etc.
Finding the right combination of platform, influencers, and branded presence can take some time, but the more you put into it, the more, you'll get back out. Think of social commerce as another tool in your marketing belt, another way to connect with consumers rather than something wholly new. It's simply the natural evolution of online shopping and the blurred digital lines that our lives have become!