Every marketer knows that pots of gold aren't found at the end of rainbows — they're found at the end of well-honed and executed strategies. If you're not incorporating social media as an essential piece of your business's online sales strategy, you're missing out on a significant opportunity to earn your share of this treasure.
With its built-in audience of 1.23 billion active daily users, Facebook is especially valuable for online businesses who want to test messaging, grow brand awareness and target specific audiences to increase revenue.
As Facebook's algorithm continues to evolve, organic reach has become nearly nonexistent, meaning brands must leverage Facebook's advertising platform if they want their content to reach customers.
In order to fully maximize the value of Facebook advertising, it's key to ensure you are delivering ads to audience members who are most likely to make a purchase from you.
Thanks to Facebook's pixel integration and custom audience features, it's easier than ever to find out exactly who your customers are and create ads that convert, in addition to bringing them back to shop on your site again and again.
Below, we'll discuss how to properly leverage Facebook's advertising platform to nurture returning customers and reach new customers. We'll also look at the real-life example of Spearmint Love, an online merchant that knocked their Facebook advertising out of the park using custom audience lists and retargeting strategies.
What is Facebook Pixel?
To make the most of the data your Facebook ads can provide, you must first install Facebook's pixel. Facebook's pixel is a small but powerful piece of code that bridges the gaps between your customer's social media and e-commerce site experiences.
The pixel allows your site and Facebook business profile to talk to each other, tracking customers as they move across devices and take actions on your website. This also helps Facebook slowly home in on who your audience is so that you continue to deliver ads to the viewers most likely to shop with you over time.
You can either place the Facebook pixel on each page of your site yourself or have your developer do it for you. It sounds complex, but some e-commerce platforms integrate with Facebook to make this task a seamless and easy experience, even for non-developers. Once the pixel is properly integrated into your site's code, you are ready to begin collecting actionable data on your customers.
When infant clothing and accessory brand Spearmint Love hit a wall in their revenue growth after three years in business, they realized they needed deeper insight into their audience in order to revisit their advertising strategy. They leveraged the integration between BigCommerce and Facebook to place their pixel and quickly realized they needed to retarget their ads to keep up with their audience's changing needs.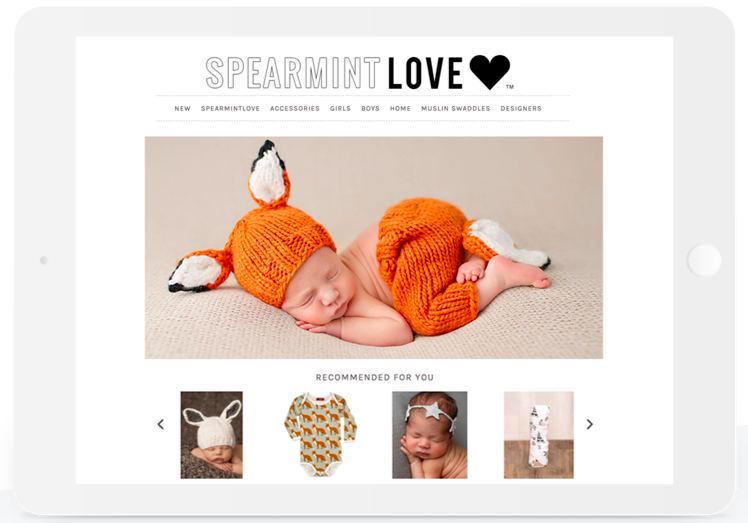 Creating your first Facebook ad
Facebook's Ad Manager allows you to target ads to a particular set of users based on as many or as few criteria as you desire. Facebook also tells you how many people you are able to reach within an audience set, so you can narrow or widen your audience as desired. You can target your audience by these factors:
Location: Target customers by the country, state or zip code where they live or choose users near your business.
Demographics: Select customers based on traits such as gender, age or language.
Interests: Target customers with interests related to your business, such as sports, films, parenthood, music, hobbies, shopping or hundreds of other interests.
Behaviors: Target customers based on how they behave online, including the device they use to browse Facebook, charitable donations made or shopping and purchasing behavior.
Connections: Target people who already like your page, or expand your search to reach their friends as well.
Partner Connections: This leverages activity the customer is undertaking while not on Facebook, as reported by Facebook's third-party partners. This could include customers who regularly shop with another brand or are interested in a certain political party, for instance.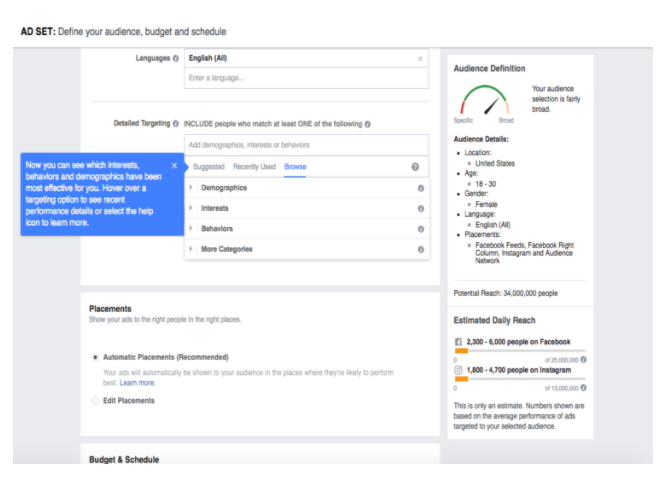 Re-targeting ads with customer and lookalike audiences
Once you've been running ads for a while and have your pixel set up, you can create custom audiences and lookalike audiences to allow Facebook to do the targeting work for you.
Custom audience lists are created from past customers who have checked out on your site, and you can create multiple lists based on their actions. For example, you could create a custom audience list of members who purchased face moisturizer from you three months ago. It may be effective to target them with an ad asking whether they're low on moisturizer and offering a 10% discount to re-up.
This feature operates based on rules and parameters you set, meaning each list of audience members updates itself as often as you tell it to without any manual work on your end. For example, you could choose to only target users who visited your site in the last 30 days, tailoring your messaging and targeting to always be relevant to those who see it.
Lookalike audiences are "copycats" of prospects who are similar to your established customers. Facebook creates lookalike audiences by analyzing several sets of people from a source audience of your choice, then creating a new audience of people with similar traits who could become your next customers. Facebook refreshes lookalike audience lists every few days to keep them updated and accurate.
After running ads on Facebook for a while, the Spearmint Love team decided to conduct a re-targeting campaign using audience data the pixel had collected over time. The team was able to set up a custom audience list based on visitors who had stopped by their website in the last 60 days without making a purchase. Because this feature is automated, Facebook constantly updated the list based on the 60-day rule.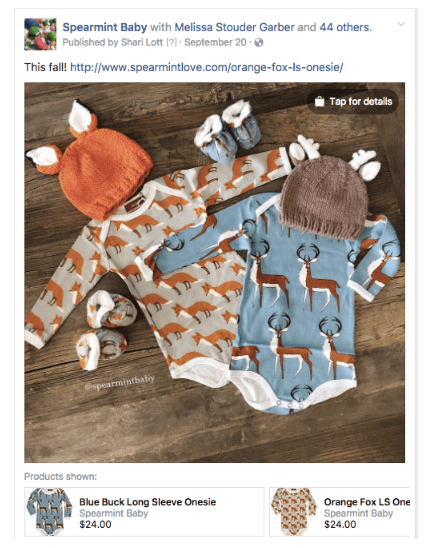 Spearmint Love then created dynamic ads that pushed visitors to return to the site and shop. The dynamic ads even featured products from Spearmint Love's online catalog that each audience member had clicked on but didn't purchase during their last visit.
This incredibly tailored marketing strategy required very little work on Spearmint Love's end and paid off in a major way, earning a 14.2x return on ad spend and contributing to the company's 12x year-over-year growth in revenue. The cost for each conversion? A mere $0.11.
Measuring and analyzing results
Spearmint Love's advertising successes are remarkable, but the reason for their success lies deeper than the ads themselves.
Facebook's Ad Manager provides a wealth of data on how your ads are meeting your goals — or are not. To reach this level of advertising success, you must regularly analyze the metrics that matter for your business and tweak the ads that aren't measuring up.
Cost of customer acquisition
Spearmint Love's team focuses primarily on one metric when determining if the ads they're running are effective: the cost of customer acquisition. For most brands, it's more expensive to gain new customers than to earn revenue from returning customers through upselling and cross-selling.
While the ideal cost of customer acquisition will vary for every business, you can get an idea of how much you're spending to earn new business by measuring these two variables every month: total net new customers (includes organic customers) and net new customers won through ad spend. Spearmint Love's team even created a custom spreadsheet to measure the lifetime value of a customer.
Grow your business with custom audiences
In a time when marketing is more complex than ever, integrating Facebook with your e-commerce platform is a simple way to cultivate highly specific audience lists and use them to launch retargeting campaigns. But more importantly, this simple tactic can yield big returns, as Spearmint Love learned firsthand.
Whatever your business size or stage, make setting up your Facebook pixel a goal for the coming quarter. With Facebook working for you day and night, you won't need the luck of the Irish to see your business flourish this year.