As a marketer, one of your goals is to build a blog that is consistent and that provides valuable information for your audience.
If you've already accomplished that goal, it's time to level-up!
Your readers now know they can expect quality content from you regularly, so how can you "spice things up" and keep them interested?
One of the most effective ways to reactivate your blog audience is to introduce a series.
Blog post series are a great way to approach content for your blog because it can help you:
Focus your blog on a specific theme for a given amount of time (ex. September blog focus could be Black Friday)
Break up a complex topic into shorter, easier-to-read pieces for your audience
Create anticipation for the next release
Earn more SEO benefits for your site by creating more articles vs. one, long one
Stretch your content more to last over a longer period of time (instead of one, long post), making your workload and schedule a bit lighter
We already know that people love the anticipation and respond well to it (why do you think Game of Thrones fans are tortured waiting an entire week for the next episode?).
Your blog audience is no different and you can play off the psychology of anticipation by building a blog post series.
When you create a good one, your audience will become more engaged and interactive with your content.
Fellow marketer, Neil Patel, tells us "How people anticipate things powerfully shapes how they will interact with your […] conversion funnel."
So now that you know why a blog post series could be a way for you to up your blog game (and conversions as a net effect), let's look at the step-by-step creation process so you can create one that works.
1. Choose a topic that can be a lesson or action
This is probably the most critical step of the entire process: choosing your topic. In order for your series to actually make your readers anticipate the next post, the topic needs to be something that involves them!
Can you teach them how to do something?
(Ex.: How to Create a Cart Abandonment Campaign that Converts)
Can you involve them in the series by asking them to accomplish something by the end of the series?
(Ex. 31 Days to Build a Better Blog)
Both of these examples are super-valuable to an audience and would help create anticipation for the series. What will they learn next? What do they need to accomplish by the next post?
If you're having problems imagining a good topic for your own blog there are a few ways to drum up ideas.
First and foremost, if you have a clear idea of what your audience's pain point(s) is/are, you should absolutely tap this for topic ideas.
Actually focusing a month or so on one of their biggest pain points will undoubtedly make a great series.
What are their frustrations?
What problems are they looking to solve?
What common questions do they ask you?
 To learn your audience's pain points:
Pay attention to what they're saying in your blog comments
Run through the search query terms in your Google Analytics specifically for your blog
Review any contact submissions you've received and find common threads
Find out where your readers hang out
Finding an online community where your audience hangs out is probably one of the lowest-barrier action items for finding a topic.
Communities like Facebook groups, LinkedIn groups, and entire, unique websites devoted to specific topics and professionals (like Inbound.org, a home for marketers to discuss their pain points and questions) make finding your audience online pretty easy.
Search Facebook and LinkedIn to see what communities you can become a part of.
Once you're inside, you can just watch and…LISTEN.
It's important not to be spammy or over-the-top inside of these groups. This is where your audience comes together to vent or to ask questions. The last thing they want is a sales-pitch for your product or service.
Instead, watch.
Listen to what they have to say, and use it as inspiration.
Then, once you create a valuable piece of content actually telling them how to solve their problem, go back to the community and share.
Your engagement will then be seen as a move of goodwill and not one of pure promotion.
If you're still at a loss for what blog post series topic you think will resonate well with your audience, you can always source the general public to see what is popular.
Tools like Carrot Search or sites like Answer the Public help organize your search terms, visually, helping topic idea generation become a lot easier.
Sometimes it's easier to have things presented in a visual way and both of these sites can help you generate some topics based on popularity.
Additionally, you can visit sites like Quora to understand what questions are being asked around your keyword or keyword phrase. Be sure to do your due diligence and thoroughly read through the answers before you use them as a basis or reference for your topic.
2. Make sure the timing is right
Planning can make or break the success of your blog post series. Remember, your audience loves anticipation! So, the more in advance you can plan your series out, the more time you'll have to tease the series in your marketing.
Of course, if your blog is already a consistent and regular content-machine, then you may already have a content schedule in place.
If not, just make sure you give enough lead time to
Tease the series in marketing initiatives
Coordinate with any external dates (if your topic is holiday-related, for example)
There are many great resources for content schedules online. Here's a downloadable template from HubSpot: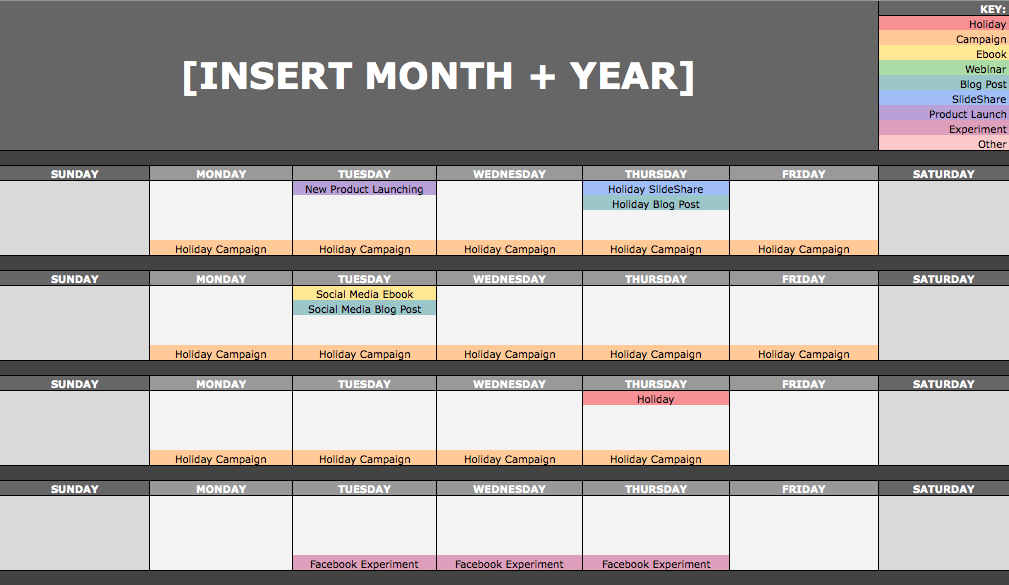 3. Market to your existing audience & new visitors
Once you have your blog post series staging and ready to go, you need to plan how you're going to market it to your existing mailing list AND new visitors.
Of course, the default audience is your already-existing list, but don't discount the ability of your series to engage new visitors and become a means by which to acquire them as a new lead!
Email marketing to your existing audience
Introduce your blog post series to your list by announcing a "teaser" before it's actually live. You can do this in the body or a P.S. section of the email just prior to the first post's release.
When your first post is live and you're creating the email copy around it, make sure and create an interesting subject line – this is your chance to really grab their attention!
There's a ton of advice online about creating effective subject lines. One of my favorite guides for writing an email's copy comes from Neville Medhora's Kopywriting Kourse. Here's a PDF guide to his recommendations. (Note: he can often be cheesy, so use caution when using his techniques!)
Using your blog series to acquire new leads
Don't assume that your blog post series' purpose is only to further engage your existing audience. Yes, that's the primary goal!
But, this content can also be double-purposed as a lead magnet or gated content that your new visitors have to opt-in to (i.e. provide their email address in order to receive the content).
Here at Justuno, we see in our users that approximately 50% of a healthy site's traffic is NEW TRAFFIC! That's a lot of new eyes on your site that are potentially arriving, browsing and leaving without giving you any information!
Here's where you can have an easy win: use your blog post series in a Justuno popup that shows only to New Visitors.
The big plus is that your blog series topic should already resonate with your ideal audience, right? So you can be fairly certain that any New Visitors would be very interested in learning about your series topic – meaning they will give you their email address in exchange for receiving the series!
Now that you have their email, of course, you can send them the email series as promised. But after that, they can be segmented as you see fit for further marketing opportunities and lead nurture.
Here's an example 3-step offer for a series/course:


If you spend all this time creating an in-depth, valuable series, offering it to your existing traffic is literally the highest ROI marketing tactic to deploy (outside of emailing it to your existing list).
You don't have to pay for ads to this series. You don't need to pump additional money or resources into excessively promoting it.
Just set up your pop-up offer, set the targeting rules and watch the New Visitor opt-ins roll in!
You can sign up for a free Justuno account here and be on your way to acquiring new leads with your content today.
How can your blog series work with Justuno?
If you have questions about how your blog post series idea can work with Justuno, feel free to reach out to us here. We're happy to help brainstorm ways for your content to transform into a lead acquisition channel.