For the second part of our Professional Services interview series, we interviewed Dirk Abinakad and Sergio Abi-Naked from Simply Carbon Fiber, a company specializing in carbon fiber products for everyday use, about their experience with Justuno's Professional Services team.
Thanks to the Professional Services team, Simply Carbon Fiber attributed 31% of their revenue to Justuno promotions over a three month period.
In addition, Simply Carbon Fiber reduced their cart abandonment rate by seven percent using strategically timed exit offers. These exit offers provide no discount and instead capitalize on user psychology by allowing the visitor to take a minute to reconsider before abandoning the checkout process.
With an overall 10.45% engaged conversion rate for their email capture promotions — more than double the average Justuno user and five times the industry average — Simply Carbon Fiber has seen great success since enlisting the help of our Professional Services team.
In this interview, we dive into why Abinakad and Abi-Naked chose Justuno over other Saas options, why they chose a fully managed plan, and what new platform features they're looking forward to most.
Simply Carbon Fiber's Goal
Simply Carbon Fiber crafts and sells luxury carbon fiber products for everyday use, including sunglasses, watches, wallets, jewelry, and luxury goods. Their goal is to scale their e-commerce business while maintaining a high level of quality, not only for their products but also for their customer experience.
Why did you choose Justuno's Professional Services plan?
We were doing Google searches for exit offer providers when we first discovered Justuno. While we considered other providers such as BounceX and Privy, we decided Justuno was the best fit for us as we scale our business and after.
We wanted an outsourced part of the marketing team. To be frank, we wanted someone who would help us start early on designs and plan more extensively for holidays and marketing campaigns.
Using Professional Services has been a real treat since it takes the burden of on-site messaging off our shoulders and has been a learning experience for how to work with a bigger team as we expand our business. Outsourcing this part of our marketing has freed up resources internally, allowing us to focus on the parts of our business we love.
How has Justuno enhanced your conversion rate optimization strategy?
We were using Wheelio and only had a spin-to-win on the website. Moving to Justuno allowed us to expand our on-site messaging options into pop-ups in different forms, such as the embedded timer below for the Memorial Day sale we ran.
We also used an in-page countdown timer on our Cinco de Mayo sale and had a 14.3% engaged desktop conversion rate. These are an excellent way for us to drive urgency and close business during summer holidays — plus they look native to our site and aren't obviously a pop-up that's interrupting the shopping experience.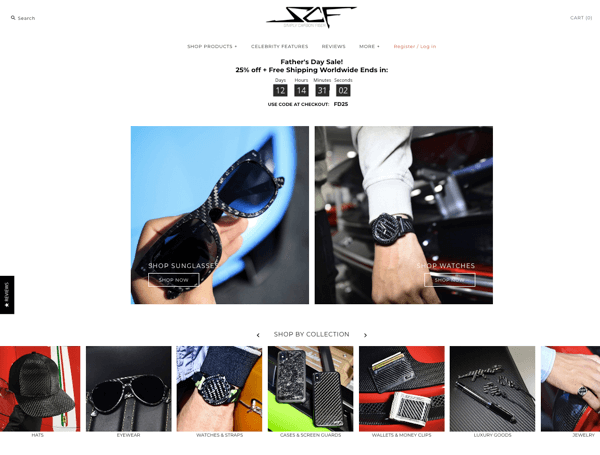 What's been your favorite part of working with our Professional Services team?
Stephanie, our Customer Success Strategist, has been great when it comes to understanding where we want to take our brand as we grow. She is great about coming back after our calls with creative assets that fit our specifications and help us expand our marketing horizons.
What's been your favorite design or campaign set-up so far?
Hands down the watch spin-to-win promotion, it's the coolest looking promotion we've done so far. Plus with an 18% engaged conversion rate on desktop, it's an excellent converter, too.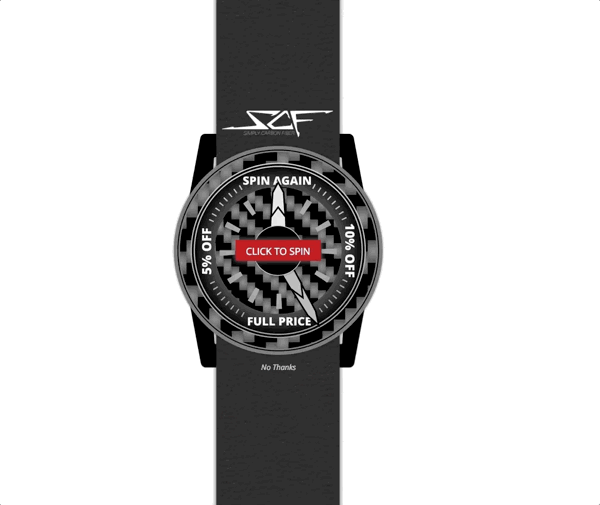 What's a Justuno feature you're looking forward to trying?
We're really looking forward to push notifications being out of BETA testing since we'd like to start targeting more subscribers through that channel. It's a great opportunity to communicate with your customers when they're not on your site and can drive traffic to our website through time-sensitive offers like flash sales or stock notifications.
Have other areas of your marketing strategy been impacted by Justuno?
We also use pop-ups as a vehicle for our Facebook Messenger opt-ins since we started with Justuno. These conversions have been great since one of our top traffic sources is social media — being able to build an audience through Facebook Messenger has added an invaluable channel to our marketing portfolio.
That's a wrap on this Professional Services spotlight. We hope you've learned a bit more about how our Professional Services department supports clients in scaling their businesses and bringing their visions to life.
If you're interested in learning more or signing up for the comprehensive Professional Services plan, click the link below to learn more.