Professional Services: who are they, what can they do for me, are they magical marketing conversion wizards? Not quite, but you've come to the right place for answers. In this two-part interview series, we pull the curtain back on our Professional Services team and interview department head, Kelsey Stapleton, as well as one of our current Professional Services clients.
In this article, we talk about how things work for both our team and our clients, our goals for clients (and what they receive), our favorite designs and campaigns, plus what you should know before you sign up for our comprehensive white-glove services.
We interviewed Stapleton, Head of Customer Success, about all things Professional Services — from general onboarding procedures to perks of the program. Here's what she had to say…
What can clients expect when they sign up for Justuno's Professional Services?
Clients can expect a holistic strategy for their on-site experience that encompasses their online presence and brand persona as a whole. After collaborating with the Professional Services team, we will create a unique experience for your visitors that is professionally designed and puts the user's experience at its core.
Walk us through the typical onboarding process for a Professional Services client?
We start with an introductory onboarding call, where your new Customer Success Strategist will get to know your brand, business goals, and expectations. Recurring calls throughout the life of your contract will keep you and your Strategist in sync to optimize your strategy and ensure our efforts stay in line with your vision.
Depending on the state of your current onsite conversion strategy, your Customer Success Strategist will start with the foundational promotion triad (Welcome, Exit, and Abandoned Cart offers). If those foundation promotions are already in place, we create a strategy to optimize and improve your promotions ROI.
What are realistic expectations for what a client will get out of their time with Professional Services?
At Justuno, we put our customers above all else, and our Professional Services department brings a whole new meaning to white-glove service. Clients receive a dedicated Customer Success Strategist, who creates two to three campaigns a month depending on the complexity. With a guaranteed one business day response time, clients know their strategist is just an email away.The Justuno team of experts will personally get your account up and running, both installing and testing any necessary code, as well as analyze and troubleshoot any issues within your account.
How do the Justuno Customer Success Strategists get a feel for their client's brand voice and personality?
Each Strategist has a set of onboarding questions tailored to the company and industry that are designed to unearth their business goals and ideal customer profile. These questions give our Strategists an initial feel for your brand and how it's positioned in the market.
Next, our team will conduct exploratory research on your site — getting to know the average visitor, target audience, and user experience. Finally, Customer Success Strategists work closely with the client to collect assets and marketing collateral to ensure the brand is consistently represented across all channels, both visually and contextually.
What's the most important thing for prospective Professional Services clients to know?
We strive for quality over quantity. Our Professional Services department wants to create something that fits the client's brand and fits the specific needs of their visitors over time. While the Customer Success Strategist works with the client to complete their short term goals, they also maintain a focus on long-term solutions for their website.
What's your favorite design or campaign you've set up so far?
Half Price Drapes is one of my favorite clients to work with. They always have wonderful ideas for us to build and challenge us to push our tool to new boundaries. Check out a few of the promotion designs below that we've worked on together.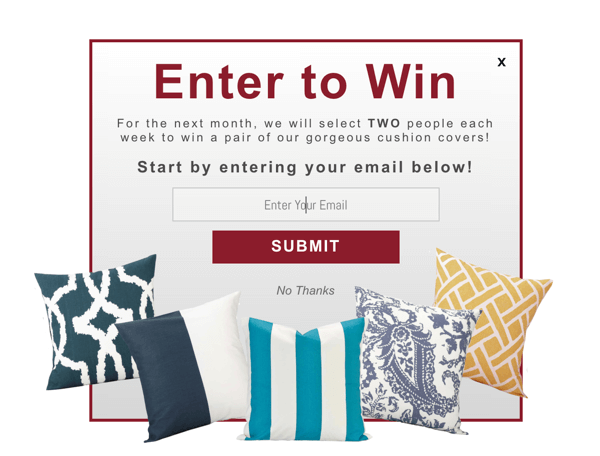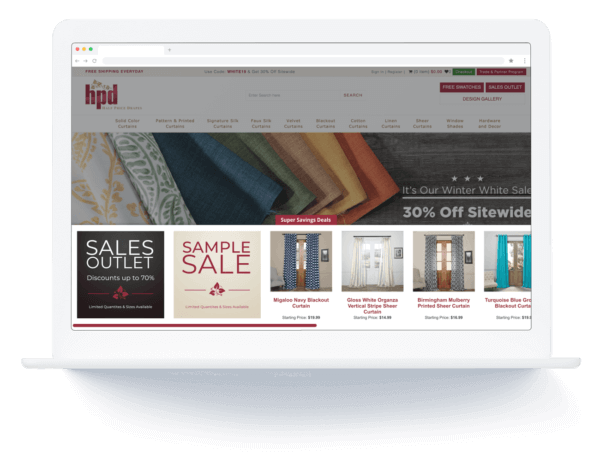 What is the difference between Professional Services and Justuno Plus? How do you know which one is right for you?
With Justuno Plus, you have access to all of our latest AI-driven features and your Customer Success Strategist is there to guide you and answer any questions you might have. With Professional Services, you receive access to the same AI-driven features, however your Customer Success Strategist builds everything for you — taking the primary stress of running on-site promotions and messaging off your shoulders.
Pairing Professional Services and Justuno Plus together is a popular package. Many clients start with Professional Services — allowing Justuno to build their promotions and templates to get started as they learn the ins and outs of the tool. Clients then transition into a self-managed Justuno Plus account once they feel confident in their skills. With Justuno Plus, the client maintains the support of the Customer Success Strategist, however, by this point they've gained the skill set to design and implement promotions on their own.
Check back next week for Part Two of our Professional Services AMA, where we interview a mystery Professional Services client to get their side of the story.
Still have questions? No worries. Click below to request more information or a quote on Professional Services, today.