In the eCommerce world, one of the best ways to make sure you're always staying on top of your game is to constantly monitor the metrics that indicate whether your optimization efforts are generating results. Relying on data to make even the most insignificant and banal decisions usually results in a bigger ROI. But where can you find data that makes such a significant difference? If you look carefully enough, that data can come directly from your customers and help you shape your entire eCommerce CRO strategy.
For instance, you can easily extrapolate information from online product reviews. Customers are generally honest, and their experience with your product can help you understand how the public views your brand and services as a whole. You can take the positives from this type of eCommerce customer feedback, build upon them, and use them as hallmarks of success in the form of on-site testimonials. The negatives should be used to refine your offering to become a better, more customer-centric business. You never know; your next big breakthrough product may be buried in a review wishing you made something!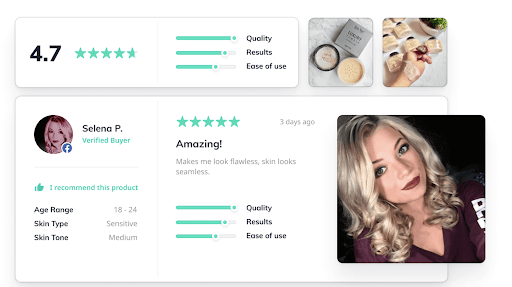 Building a successful customer-centric eCommerce store is challenging, but the feeling of seeing your conversion rate increase is unparalleled. Going over reviews to achieve this is an effective way to leverage existing zero-party data and feedback, but take it a step further by developing 1:! Customer relationships to gather direct feedback for the ultimate conversion rate optimization strategy.
In this article, we share how you can use feedback to develop all-around captivating CRO strategies.
What is eCommerce CRO?
At its core, the definition of conversion rate optimization is employing various tactics to ensure that no on-site opportunity to convert visitors into customers gets wasted. This metric is viewed by many as the sole indicator of how successful their on-site efforts are.
While some may argue that CRO is basically taking the proper steps to ensure your store's visitors click the add-to-cart button and make purchases, we view it as crafting the perfect customer journey process and allowing clients to gravitate toward their desired actions organically.
Your store's conversion rate can fluctuate, but there are steps you can take to ensure your set goals and KPIs are being met and the bottom line is strong.
How Using an eCommerce Platform Can Help You Reach Your Goals
Integrability is a major part of why eCommerce platforms such as Shopify are so successful. Merchants can watch their online store reach incredible milestones using native platform features, and when the time comes, use the Shopify ecosystem to deliver even more value to their prospects and loyal customers.
Using the apps available in the Shopify App Store you can take your eCommerce store to the next level, setting up a more personalized customer journey both on and offf-site.
Use the variety of features Justuno has to gather key zero-party data from prospects while providing them with a captivating experience.
Besides helping you deliver a solid experience for your website's visitors, Justuno easily integrates with your favorite ESP, maximizing the effectiveness of your email marketing efforts by sending out personalized offers without a hitch. The winning combo of Justuno and Klaviyo gives you all the right tools to target specific groups of individuals with shared characteristics, maximizing your chances of a successful conversion.
How To Gather Customer Feedback?
73% of consumers state that the CX makes or breaks the entire shopping experience, so it's essential to have a customer-centric approach when launching promotions and campaigns. So, let's take a look at how you can transform your entire store's performance with the help of your customer's feedback.
Use Feedback Boxes
After wining and dining at a restaurant, you can spot a suggestion box located near the counter. Those boxes are intended to collect customer feedback and give restaurants insight into whether customers were satisfied with the service and courses.
So, why not make use of this age-old feedback collection method, modernize it with the help of on-site interstitials and use it to deliver a better user experience? As soon as a prospect completes the checkout process and moves their cursor towards the exit button, you can deploy an exit offer pop up asking them whether they were satisfied with the experience they enjoyed on your site and whether your on-site features were helpful. If necessary, you can use this newly gathered data to make the right tweaks. Remember that exit offers should seize the attention of potential customers instantaneously. So, it's best to experiment with colors and use creative practices that produce a sense of urgency.
If you want first-time customers to constantly leave positive reviews, include features that enhance the overall user experience, such as progress indicators, so that they know just how far away they are from completing the checkout process. Besides that, try to give them more product info and product suggestions based on their filtered preference.
Carry Out Surveys
Asking as many questions as possible will take you far. But on the other hand, asking your website visitors to answer a barrage of questions will only incentivize them to hastily click on the X button as soon as they see the survey pop-up appear.
Make your survey questions simple and only ask users to provide feedback on a single topic or issue. In addition to that, present the survey prompt through a well-designed pop-up with an alluring incentive such as:
Help us make our site better and win a free shipping coupon or;
Fill out this survey and win a 15% discount code.
If you want to elicit more information, ensure that your surveys are open-ended. While multiple-choice survey questions will take your customers less time to complete, you won't receive as much information as you can through open-ended surveys.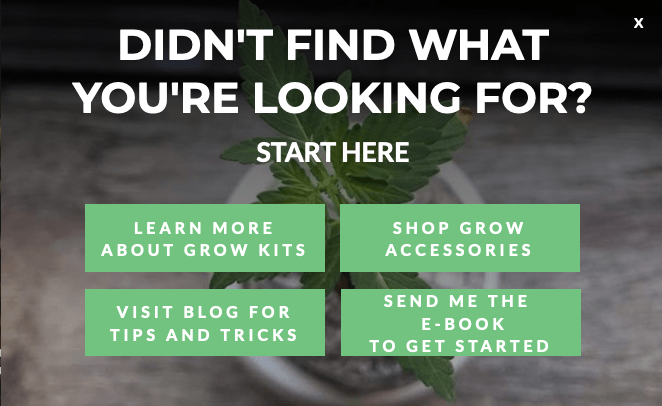 Converse Directly
When conducting an online survey with some incentive attached to them, there is a high chance that the response you receive will be biased. To exclude bias from the picture, you need to find a platform to engage with prospects and clients as you would in person.
Social media is a great way to do that. Simply go live and have an honest interaction with all the followers who decide to join and take note of what they have to say. In addition, if you have branded hashtags, you can quickly discover what kind of public opinion surrounds your products and brand. Remember that when going over customer reviews, you can encounter brutally honest opinions which should be considered and exaggerations that should be outright ignored.
Besides gathering information, you can convert all your social media channels to serve you as customer service hubs so you can troubleshoot problems as they appear. This is a good strategy as many eCommerce shoppers turn to social media to deal with problems that occur with services and products they've purchased.
And most importantly, you can gain your customers' loyalty on social media by simply interacting with them and responding to their messages and inquiries. Every negative opinion can be turned into a positive association if you handle it right!
Uncover Underlying Checkout Abandonment Issues
Sometimes, you don't have to ask shoppers for feedback; all it takes to pinpoint customer wants and needs is a simple look at their onsite behavior and the numbers.
If you have a high cart abandonment rate, it's time to review what's standing in your way to success. You can uncover which part of your conversion funnel falls short by thoroughly reviewing it with the help of analytic tools such as Google Analytics. Again, you can use exit offer popups to ask shoppers why they are abandoning their carts when they obviously had a desire for a specific product. A common reason for such occurrence can be the fact that your prices are too high, you haven't provided enough product info, or there were surprise shipping costs at checkout.
You can reduce your bounce rates and boost conversions by analyzing your potential customer's on-site behavior and recognizing the patterns. For instance, if you have trouble pushing potential customers through your conversion funnel, you should think about implementing a live chat service and/or popups at key drop off points to serve as the on-site guide to help potential customers navigate your site and find themselves in a position where they can complete their desired actions. While these features are not a replacement for the human element, they add points to the overall user experience and help your customers browse your eCommerce store's pages the way they want to.
Another strategy for proactive cart abandonment is to fire an irresistible offer one-page before a customer usually leaves. For example, if a visitor travels an average of five pages before abandoning their cart, trigger this offer on the fourth page. This strategy is most effective if the incentive is better than anything else they've seen on your site (e.g. if welcome offer is 15% off, make this one 25% off) and bonus points if it includes a timer for same-session conversion urgency.
On the other hand, if your bounce rates are extremely high, your landing page might need a serious rework. On landing pages, your CTAs are tasked with doing the heavy lifting. If your click-through rates on your CTAs are staggeringly low, you need a different approach.
We suggest analyzing your target audience and keeping customers' wants and preferences at the forefront when crafting your CTA strategy. Personalized CTAs perform 202% better than basic ones. A specific CTA strategy for a particular target audience is always advised as you can evoke the right image of why that offer needs to be grasped and how your product will add value to their life.
Perform Split Tests
Split testing, also known as A/B testing or bucket testing, is a powerful tool that can be used to optimize and improve the performance of your existing on-site strategy. It involves running two versions of an onsite experience to test a single element's change to see which version performs better. By comparing interactions between both versions, you can determine which version yields a higher conversion rate or better user engagement.
A/B testing is an integral part of any successful optimization strategy, and it's one of the most effective ways to measure the success of changes you make to your website or app. With split testing, you can quickly identify which features work best for your users and make changes based on their feedback.
Why is Feedback Important for CRO?
Putting yourself in your customer's shoes will reveal where your eCommerce is firing on all cylinders and where you can improve the overall customer experience. Since customer feedback is vital for developing an eCommerce conversion rate optimization strategy, constantly keeping track of and analyzing the data gathered from Google Analytics, reviewing, and producing content that allows you to extrapolate feedback from customers should be on your daily agenda.
Besides that, user feedback will allow you to optimize your eCommerce store's user experience and stay relevant in an ever-so-competitive market. And optimizing your site for conversion rate by using pertinent data reduces your cost per acquisition drastically.
Conducting a CRO Audit
76% of shoppers are dissatisfied if they are not presented with a personalized eCommerce shopping experience, so adopting such an approach will help you with your CRO after. But how do you uncover just how well-optimized your on-site experience is?
Now, it's likely that you will be pouring a substantial amount of funds toward your on-site optimization efforts to deliver an unparalleled customer experience. Therefore, ensuring you are getting your money's worth is vital. Experts in the field will always tell you that when it comes to on-site optimization, it's all about marginal gains. Since they are hard to pinpoint, you will need to conduct an eCommerce CRO audit to analyze the performance of your deployed strategy through and through.
To conduct an eCommerce CRO audit, you must first look at the goals you outlined before launching your optimization strategy. But sometimes, it might very difficult to find roadblocks on your own site, so use experts like us to help you uncover hidden opportunities and actionable insight for CRO success. Schedule a free yet extremely valuable audit with Justuno today and uncover on-site conversion opportunities you never knew existed. Our CRO experts WILL guide you through the best UX practices and give advice on how you can improve key metrics like lowering cart abandonment rates or CPAs.
Bottom Line
While tracking the metrics provided by analytic tools such as Google Analytics and going over all product reviews is vital for success, asking your customers for feedback directly will yield more results you can use to better design your eCommerce CRO strategy.
Above, we outlined how you can achieve success with the help of data provided by your own customers. As you optimize your site, you can be sure that you will spot a drastic decrease in your CPA rate and an increase in your conversion rate. Besides that, taking a customer-centric approach and moving away from just incentivizing customers to fill their shopping carts will benefit your eCommerce in the long run.