Since it is one of the first steps, marketing and getting traffic to your e-commerce store seems like a daunting task.
We all know that without any traffic or leads you have nothing but an empty site with no visitors to use conversion optimization strategies with
It's not just about having visitors alone either because they won't stay long without a good reason!
Anyone with a few bucks can get traffic. Traffic that converts? That's harder.
Every visitor comes for a reason
Each person who comes to your store is coming for a reason.
Some might search for solutions to a problem they have, others may be recommended by friends, and then there are those that find you because of advertisements.
No matter what the case is, each one has their own goal in mind when visiting you so it's important to know how best to connect with them based on their unique motivations.
You only have a few seconds before they click back and abandon your site.
A world-class product is the best way to entice them, but this can be difficult because it's hard for customers to go from "I've never seen anything like that" all the way up to l "take my money."
Give value
The first way to give people value is by entertaining them. Entertaining visitors feels easy and fun, but it can also be ultra competitive with the results varying widely- for every viral video there are thousands of failed campaigns and who knows how many millions wasted.
The second way is by teaching something valuable right away, which may not feel as fun at first since you're on a deadline (or if someone's paying), but will often hold your audience's attention long enough to get their email address or phone number.
Teaching is difficult, but it can be very predictable. An article and a video explaining different ways to solve the customer's problem will consistently produce measurable results.
Social media platforms are so transient and fleeting, with new features rolling out every other day. In a digital space where everything is constantly changing, it can be hard to plan for the future when you never know what's going to happen next!
Build marketing funnel assets on a platform you control
Building a great funnel starts with building top of the funnel assets. The best way to do this is by using Shopify's blogging system because it allows you to build and share content that will generate leads.
The key here is that these assets will all live on your own e-commerce store, giving you complete control rather than an algorithm or other platform gate-keeping them.
Shopify's built-in blogging system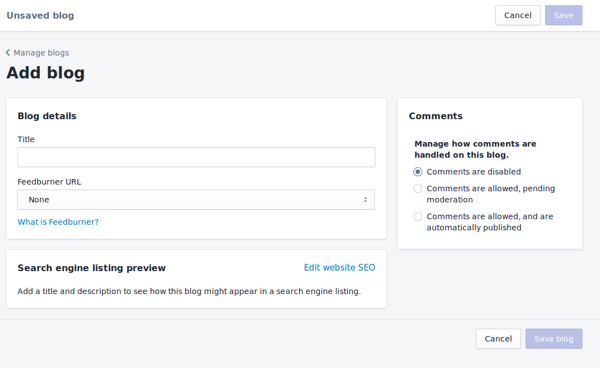 All Shopify stores have blogging capabilities built-in. In fact, new stores come with a default blog where you can create your own posts and share what goes on in the store or behind the scenes.
Even if you're not an expert blogger or writer yourself, it's easy to start writing on this platform because there is no need to set anything up before publishing content.
Shopify blogs are integrated directly into the storefront, meaning that they can appear in the menus, footers, or even along with your products. This also means it's easy to have blog posts reference e-commerce promotions and collections you offer!
What to blog about?
A blog is a place for you to connect with your customers and potential buyers, so make sure the content on it excites them!
Create things that will teach or educate your readers. If they're interested in what you have to say, chances are they'll want more of it.
What's even better about this method? You don't need anything fancy – just write down some tips and tricks from time-to-time as reminders for yourself and for your customers.
Don't just limit yourself to that though.
Let's look at an example and say that you sell teacups.
You can write about the teacup as a product, focusing on its attributes like size, material, colors available, etc. Useful, but maybe a bit boring.
You can write about what it does for the customer. It holds a beverage, maybe some Earl Grey tea (hot). Still a bit boring for a teacup.
Or you can look at the ecosystem. What kinds of beverages? Tea, coffee, water. Still boring.
What types of tea? Where can someone get good tea? How do you make the tea?
Now we're getting into something interesting, expanding beyond the initial pain point of needing a teacup into the genuine interests and day-to-day experiences of your customers..
From personal experience, getting into tea and coffee could easily be thousands of different articles.
Share the spotlight
You could even create articles that share the spotlight with other companies, partnering with complimentary brands whose products go with yours is a great way to get in front of a new audience and expand your reach.
Following the teacup example, maybe you could order various teas from other stores, have a taste test, and compare all of the teas in a blog post.
Then there would be about a dozen product photos of your teacups but in a subtle way. Some of those tea vendors might even return the favor and help you promote this post.
Your customer will benefit from these articles immensely. If they cared about or were curious about tea, now your blog post has helped them understand more about and see a variety of options.
They'll be more likely to be interested in more of your articles, your email list, and ideally even your products. Really good articles would even be shared, all without you bribing them.
Using Shopify's blogs
Now that you've thought about what to write, it's time for the mechanics. Shopify is here with a blogging system that is a bit more limited than WordPress but still perfect for your store if you're in need of something simple and fast.
It has the basic data you need for a blog post including:
title
content
images and videos
visual editor
tags
It's like having a blank canvas to build your store's blog from scratch! You can run multiple blogs and customize the content of each one with different topics.
Comments are moderated, you have control over who sees posts through private settings, and even scheduling posts at future dates (great for holiday product launches and staying organized).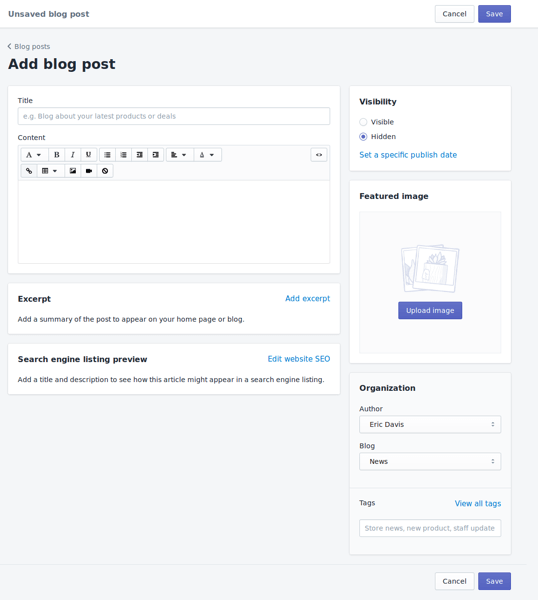 Integrate the blog into your brand
One piece of advice about using Shopify blogs is to not just call them a blog. Many brands want a more creative name, like Makeup Makeovers or Cathy's Corner because customers don't want to be bored with generic names that are too common and don't show personality.
One way to make your blog more familiar is by giving it a name that sparks interest. If the name of the blog is boring, then customers will likely think the content will follow suit.
This is a chance to add some flair to your website, giving you a chance to really connect with visitors while finding new followers.
Blogs can boost your SEO traffic
Shopify's built-in blogging system is a great choice for any e-commerce store owner who wants to scale their business. With the blog on your own website, you'll be able to take advantage of SEO and search engine traffic more easily than if it were hosted somewhere else!
Get a link from a popular site in your industry? Google's trust in your site goes up.
Get caught buying links to your site? Trust in your site goes down.
In other words, as your blog posts become popular and shared, your store will gain more trust in general through natural growth.
This doesn't happen if you host your blog on a different platform, a social network, or even a subdomain (blog.example.com). In those cases, the majority of your blog's trust stays on your blog and isn't transferred to your store.
Customizing the Shopify blog
A starting point for merchants is to find a theme from the Theme Store.
All themes in the store have blog templates so you can get started right away with an already professionally designed template that suits your brand's style and needs.
Some customizing might be needed, but it will not take too much effort once you know what changes need to be made!
Customize your Shopify blog with just a few clicks! You can modify two template files to suit your needs, using the Liquid language along with HTML and CSS.
This is an easy way for anyone who knows how to customize themes on Shopify store fronts to already feel right at home.
Having a Shopify-specialized designer on your team will make it even easier to customize your blog's design.
A skilled designer without experience with Shopify can still do the job, but may need some extra time understanding Liquid (It's fairly simple).
For those who want to tweak their blog evenmore, there are various Shopify apps like Shogun Page Builder that can be used for additional customization beyond what's outlined above.
If you're looking for ways to customize your website's look-and-feel beyond what templates offer but don't have time (or interest) in learning how code works: all blogs start from "/blogs/" so adding any CSS edits there should reflect on every blog post and page.
Example Shopify blogs
To get a better idea of what you can do to customize your Shopify blog, here are a few examples.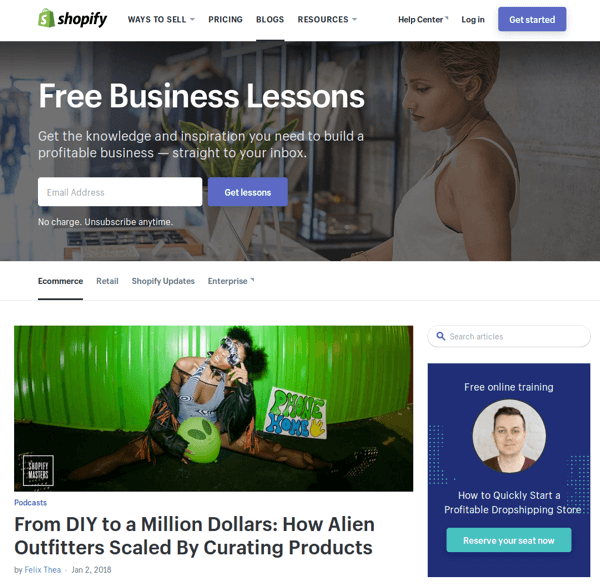 Shopify's own blogs are using the Shopify blog system. This includes the main e-commerce blog, the retail blog, the Shopify Plus blog, and the partners blog.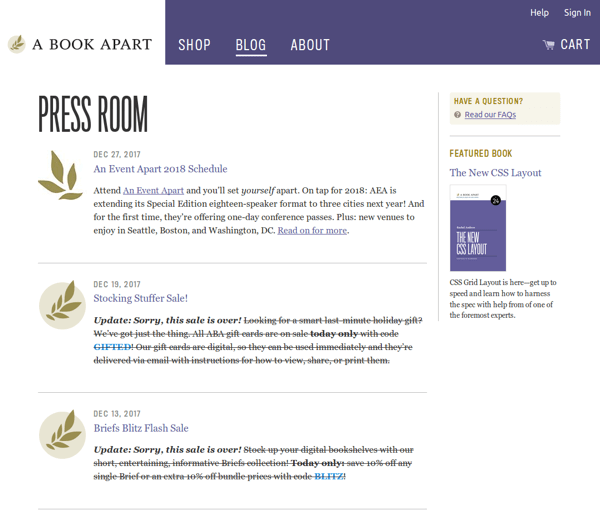 A Book Apart publishes technical books on design and web. As you might expect from a company of web designers, they are using a custom designed Shopify blog that integrates seamlessly into their main storefront.
Instead of just one blog, Poo-Pourii has split its content into five different Shopify blogs based on the subject.
Use Shopify's blog platform!
Packed with benefits and features, Shopify's blogging system is a great way to start your content marketing experience.
The fully integrated platform provides several easy-to-use templates that can be customized in minutes for any store type or industry.
Multiply the speed of getting started by adding third party apps like Canva, Pinterest Promote Button, and Sprout Social which will help you create engaging visuals without having to deal with code!