We're excited to announce the first addition to the all-new Justuno platform, lead capture with Shop, a feature allowing our Shopify users to further streamline the Shop Pay experience for customers with automatically saved and applied discounts, all from a single opt-in.

Shop Pay is an accelerated checkout that lets customers save their email, credit card, and shipping/billing information—customers will save time during checkout with pre-filled fields to glide through the process. This new lead capture with Shop feature simply allows visitors to sign into their Shop accounts on a lead capture, and once authenticated, their discount/coupon is saved to their profile, so when they go to complete a purchase, the code is automatically applied even across sessions!
Brands will grow their lists more effectively while removing roadblocks to check out for the end customer. This feature is available on all Justuno plans and can be added to lead capture campaigns in our workflow builder when you choose which apps to sync with your designs.
What Are The Benefits of Lead Capture With Shop
There are many benefits to lead capture with Shop, impacting nearly every stage of the customer journey.
Meet Your Best Customers
Automatically identify buyers from the Shop network of 100M+ users to deliver even more personalized and convenient shopping experiences. This network represents about half of the average Shopify store's user base, so you're collecting high-intent subscribers perfect for the long run. Shop Pay users have an average 85% repeat purchase rate
Boost Conversions
Lead capture with Shop Pay saves shoppers time since once they're signed in, their discounts and coupons are automatically applied, plus checkout information is already saved. Shop Pay is an average 4X faster than standard checkout, which results in a 91% higher conversion rate.
How To Set Up Lead Capture With Shop
To be eligible for lead capture with Shop, you must have Shopify Payments & Shop Pay enabled. Some checkout customizations may also interfere with this feature, so check with your Shopify AM for any questions.
Choose or build the workflow you want to enable Lead Capture with Shop Pay on. If there's already a design within the workflow you choose, there is also a "Sync to App" option on the design.
2. If creating a workflow from scratch, add the desired triggers and lead capture designs to the workflow.
3. Click the "Sync to App" option and add it to the workflow.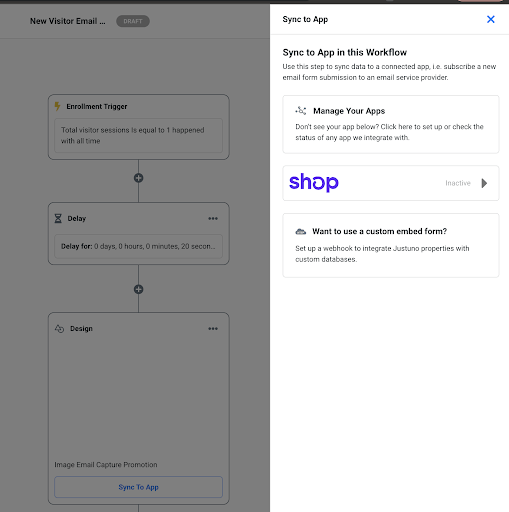 4. This will open up a window asking you to enable Shop. Toggle the on/off button to enable the setting, and then click save.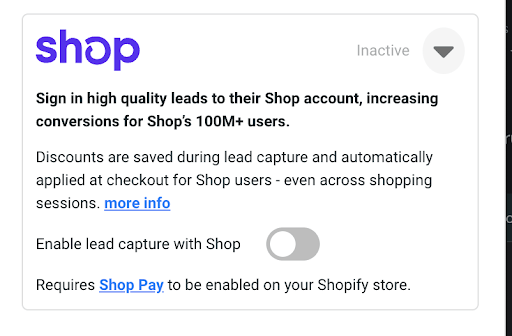 5. Continue adding any steps to the workflow to build out the desired website experience.
Closing
Our CTO and co-founder, Travis Logan, is especially excited about this feature, saying, "We're all about creating a customer-centric experience, and this Justuno X Shopify lead capture with Shop is just that. With simple opt-ins to streamline checkout, this feature will instantly improve performance. From incremental subscriber growth at the top of the funnel to efficient checkout at the bottom—this feature will power end-to-end optimization."
This is the first of many exciting new features on the roadmap for the all-new Justuno platform. If you want to learn more about how Lead Capture with Shop works or have a full demo of the Justuno platform, you can book one below.