We're thrilled to announce two new gamification features that have been added to our platform: scratch offs and slot machines! These two new games will let you create an even more fun and engaging website experience for visitors. Let's take a look at what these look like, how to integrate them into an onsite promotion, and what gamification can do for your onsite conversion campaigns.
Slot machine pop up
The slot machine is a well-known game and takes minimal effort on the part of the visitor: all they have to do is "pull the lever" and get a row of matching symbols when the slots stop spinning. You can customize the slot machine plug-in however you want from the images to the shape, lever—everything! We've seen amazing custom designs from some clients that play off of seasonal themes, specific products they sell, and more!
You can also A/B test which prize performs the best by creating multiple slot machines with different winning options. This can help you narrow down the best motivators for your target audience and optimize your game's performance.
Below are a few of our favorite designs from Justuno customers implementing slot machines on their websites to inspire your next promotion:
Sand Cloud Lead Capture
Sand Cloud's slot machine is used for lead capture and plays on their #savethefishies mission and general beach themed goods. It's a gorgeous pop-up with a playful spin!
Grill Your Ass Off
Grill Your Ass off has a great take on the slot machine featuring a stylized grill and various meats. This lead capture is meant to help new visitors convert by winning 10% off their order and the design is a team favorite!
Mcdodo
Mcdodo's slot machine incorporated their product into the design (a best practice for sure) for the ultimate exposure and engagement experience in a welcome lead capture.
If you want to learn more about how to build or edit slot machine promotions, check out our support article with all the details.
Scratch off pop up
Everyone wants to win the lottery, so let your visitors! These are one of the more engaging onsite game options, but they take a little more effort on the part of the shopper to "uncover" their prize, by dragging their cursor over the promotion to reveal their offer. These promotions feel more fun and less predictable for a whole new level of engagement and delight for onsite visitors. Scratch offs are especially effective when used for special deals or promoting limited-time offers to amplify the novelty of the game – people don't get as excited when they win the lottery every week.
Plus, on mobile, the fun goes to the next level with touch screens allowing mobile shoppers to scratch off with their fingers to reveal their prize…mobile shopping just got a LOT more fun.
If you want to learn more about how to build or edit a scratch off promotion, check out the support article for details.
Gamification marketing
Gamification isn't new, it's been around for a few years and in that time has earned a bad rap. You're probably thinking of a gimmicky spin-to-win with garish colors and lots of prizes. And while those can be some people's version of it, here at Justuno we like to take our games to the next level. Using different games can be a great way to show off your brand personality and create a truly memorable onsite experience that engages an average 15% of website visitors.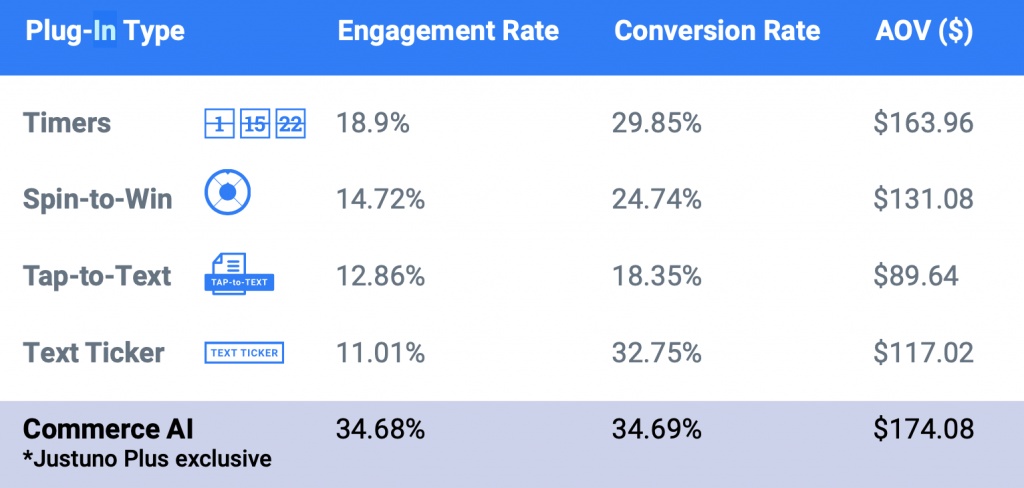 Gamification is the strategy of using elements of games in non-game settings to appeal to shoppers' competitive and fun side. By letting them win their prizes, they feel a sense of ownership over the offer and it's tougher for them to leave it behind. Because of the higher engagement, it's a great way to collect more leads Although it has one of the highest opt-in rates out of the different pop-up styles, Justuno's CRO experts say gamification is not for everyone.
For those of you who are focused less on volume, this may not be the lead capture for you as some clients have reported that, while having high opt-in rates, these leads don't always have strong buyer intent. Additionally using gamification for lead capture should be avoided during the holiday season as they can distract buyers from their main purpose during Black Friday- buying at great discounts.
Other examples of gamification you can create with Justuno are spin-to-wins and mystery prize games, both offer the same level of customization and interactive elements as the newest gamified plug-ins, in different ways.
Some of the best reasons to use gamification include:
Increase visibility compared to a standard pop-up
Provide a memorable and differentiated onsite experience
Improve engagement and opt-in rates
Increase conversions
Gamification is a great way to showcase custom designs and add an interactive element to your website in a way that doesn't require a total redesign. Thoughtful, branded site experiences are more likely to convert visitors and gamification is just one of many ways you can use Justuno's platform to delight and convert your visitors. With four choices for gamified plug-ins and the option for custom designs, Justuno has the most freedom when it comes to adding a game promotion to your website.