SMS marketing is one of the newer and best ways to connect with your audience. Text message marketers often emphasize that the average open rate for SMS is 98% as evidence of the power of SMS, a power that more and more companies are deciding to tap into. In 2021, more than 40% of digital marketers and business owners texted their customers using a text messaging service. This year, 55% of companies use SMS marketing for their customers, which indicates a 27% yearly growth in SMS adoption.
Yes, SMS marketing is very effective, but first, you need a subscriber list to market to, and there is no better tool to assist in collecting more text marketing leads than an SMS lead capture pop-up.
In this post, you'll learn how to make pop-ups to collect SMS subscribers. Also, we will discuss the advantages of SMS promotions and explain how to use Justuno's SMS marketing templates to design your SMS opt-ins to drive more leads. But first, let's begin with reviewing the most important benefits of using pop-up SMS lead captures in marketing.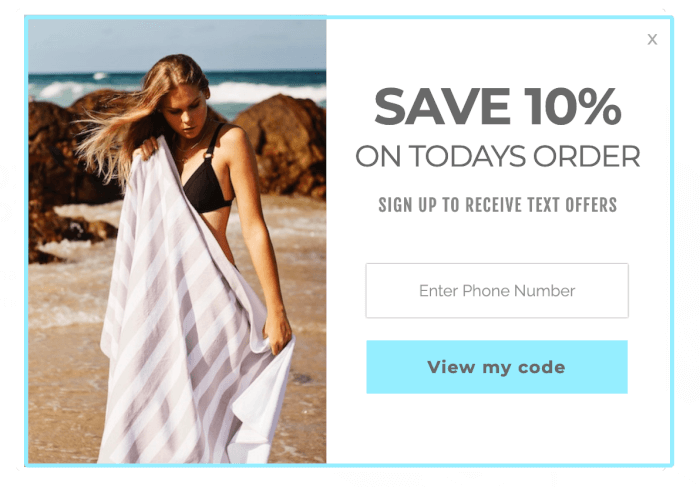 What Is SMS Marketing?
​​SMS marketing is a type of direct marketing that involves sending customers text messages with promotional offers, news, and updates. Because of its relative speed and favorable reception, it is a simple and practical method of communicating with customers.
Businesses employ SMS marketing to share promotions, reminders, time-sensitive information, targeted discounts, and order delivery updates. Using these SMS messaging campaigns makes it possible to advertise products while at the same time building customer relationships.
What is a pop-up SMS lead capture?
A pop-up SMS lead capture is a website popup that is specifically designed to collect phone numbers from website traffic for text message marketing campaigns. This can be done as a single field or as part of a two-step form where their email address is also collected. It's important to note that there are differences in regulations for collecting the two pieces of contact info. Plan accordingly!
Benefits of Using Popup SMS Lead Captures
Businesses use SMS marketing for several reasons, to raise brand awareness, enhance engagement, improve retention/satisfaction, and increase sales. However, in order to get started with SMS marketing, you need to build a database of SMS subscribers. Add a pop-up with an SMS opt-in to your site, and you should see the following benefits:
Grow your text message list faster
First and foremost, SMS lead captures help businesses grow their SMS lists. Depending on your focus, you can make this SMS opt-in the prominent lead capture touchpoint on your website as a secondary choice to your email opt-in or leverage it later on in the customer journey, like post-purchase, for a value-first approach.
Convert more website visitors
Growing your text message list faster also means that your brand will be far more likely to actually convert website visitors into buying customers. Need to encourage shoppers to use discount coupons? SMS can help. According to research, text message coupons are used up to ten times more frequently by consumers than traditional coupons.
By obtaining a visitor's phone number, brands can now nurture that person into becoming a customer rather than taking the chance that they visit a website once and never return. Using this 1:1 channel, brands have numerous opportunities to share exclusive offers, inform subscribers of events, drive sales, and increase lifetime value.
Drive more revenue
Although pop-ups are also used to grow email marketing lists, they can have increasingly bigger impacts on sales through SMS. This is due to the fact that emails frequently remain unopened in inboxes for hours or days, long after a promotion has ended, whereas 90% of text messages are viewed within only three minutes.
In addition, SMS click-through rates surpass those of email marketing. Email has a CTR of just 3.2% on average compared to 36% for SMS marketing. That's an increase of more than ten times, making SMS marketing a significant source of revenue for e-commerce businesses.
Finally, mobile shopping is on the rise. Owners of smartphones are up to 50% more likely to make an immediate purchase while using their gadgets. During last year's holiday season, a third of all online purchases came from smartphone users. Therefore, adding a pop-up to collect SMS opt-ins on your website could be the first step to increasing sales and boosting your revenue.
How to Design Your SMS Opt-In Pop-Up
Regardless of whether you are new to SMS marketing or your onsite pop-ups require an upgrade, keep these recommendations in mind while creating an SMS lead capture.
1. Offer something of value in exchange for visitors' mobile numbers
If you are promoting signing up for texts on your website, you should provide something valuable in exchange for signing up. The offer will, of course, vary depending on your business and profit margins. But it should be something of high value to acknowledge the more personal level of access you're requesting than other channel opt-ins like email.
Frequently used incentives for e-commerce brands include higher discounts, exclusive deals, or product recommendation quizzes. Media companies may provide early access to event tickets, breaking news updates, or notifications whenever there is a new contest to enter, whereas nonprofit organizations may provide the most recent information on relevant topics, proposed legislation, or local events. The key is to establish what value you're offering in exchange for their phone number and clearly demonstrate why your visitors should care.
2. Write an effective CTA
Before visitors close your pop-up SMS lead capture, get right to the point and explain the benefits of subscribing to text notifications. Be sure to keep your message brief and clear. Here are a few examples of compelling calls to action that you can use as inspiration:
Become the first to learn about our newest products. Sign up now!
Sign up for SMS alerts and 20% off your first order.
Join us and get weekly updates on events near you
Save an additional 15% by signing up for SMS alerts.
3. Establish trust by staying on-brand
Giving out a mobile phone number can seem more intimate to some users than joining an email list. For this reason, it is important to establish trust by keeping your pop-up SMS lead capture design consistent with your website's branding. Visitors may see a pop-up as spam if it is badly designed, feels like an afterthought, or doesn't fit your website, which will decrease their likelihood of signing up.
A fully customized pop-up that adheres to your branding, including images, fonts, and colors, is the best approach to driving more text marketing leads. Consider using a pop-up solution like Justuno with multiple customization options for complete control.
4. Optimize your popup for phones
If website visitors are choosing to receive communications on their smartphones or other mobile devices, it's safe to presume that many of them are opting in when using their mobile devices. In order to convert your mobile site visitors, use responsive pop-ups or develop a targeted pop-up for phone traffic.
In addition, make sure the form's buttons and fields are the proper sizes and distanced from one another so that visitors can easily tap on and type the information out on mobile devices. Once you've created the pop-up SMS lead capture, test it on several mobile devices and browsers to make sure it appears as you planned.
Another mobile-friendly SMS opt-in experience is using tap-to-text. Specifically available for mobile traffic on SMS lead captures simply tap the CTA once to open a pre-populated message in their texting app and a second to send it. That's it—they're now signed up for SMS and ready to get back to shopping.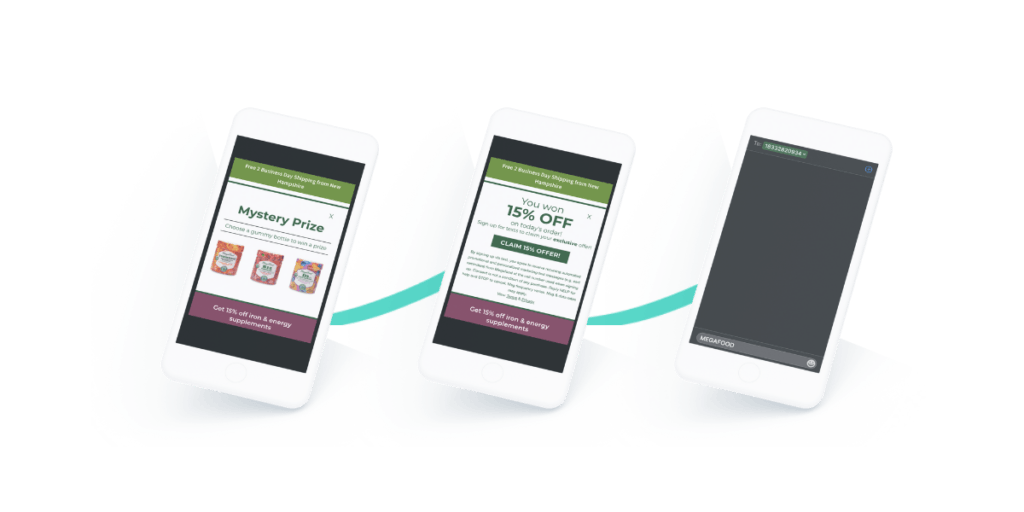 5. Make sure your pop-ups are compliant
Compliance is an important part of marketing, but it is absolutely critical when it comes to SMS marketing. It's crucial to strictly adhere to the guidelines around subscription, opt-out, and other SMS-specific concerns.
These include:
The SMS field is not required
Separate screens for SMS collection vs. other channels
Ability to dismiss the pop-up
Compliance language & checkboxes
And much more. Check with your SMS provider regularly to confirm you're adhering to the most recent regulations.
The newest change is that the phone number collection form must now be separate from the email collection form and have its own CTA. This means that in order to be compliant, your pop-up must be multi-step and not require the phone field in order to complete the opt-in flow if you wish to collect both SMS and email addresses.
Carriers may ban message sending for non-compliant brands, or worse; they may face fines starting at $500 and increasing as high as $1500 for each text message sent! Not to mention, if you violate your customers' right to privacy, you will face not just legal consequences but also lose their trust and hurt your brand reputation.
Your SMS provider should be well-versed in these and more nuanced SMS compliance regulations. If you're looking to get started collecting SMS subscribers compliantly, then check out one of our pre-built templates for SMS lead capture in the Justuno platform. Simply sign in if you're a customer or start a free 14-day trial to gain access.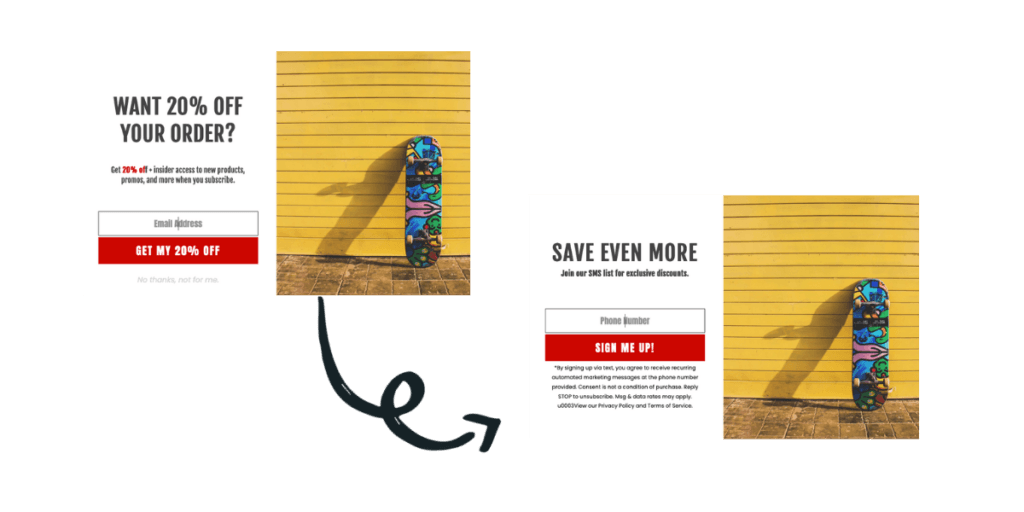 The Bottom Line
Using SMS opt-ins, businesses and organizations can grow their subscriber lists and drive more text marketing conversions. SMS marketing lead captures offer your visitors a simple way to sign up for text messages enabling you to develop a relationship with them over time, driving value and revenue.
With the help of Justuno's array of conversion tools, you can build the ideal conversion journey that sends the appropriate message to the right customer at the right time. These tools include lead acquisition (including email and SMS marketing templates), cart abandonment, exit offers, banners, and more.
Don't forget to assess the effectiveness of your campaigns using the analytics offered by the supplier of your SMS marketing software and use it to enhance future SMS campaign effectiveness.