Imagine you're going on a trip, you'll need to find a place to stay. Easiest way is to Google it, after a while you pick three cool spots. Each of them has its own perks, is cozy and not far from all the key sights. How to make the right choice? That's easy…read the reviews to see which people loved the most!
The decision-maker here is social proof, which represents a purely psychological phenomenon – the bandwagon effect, when a person is more likely to buy a product others have already bought. In the marketing context, it serves as evidence that other people have already tried something you're thinking about purchasing, received the expected value, and had a positive experience.
Social proof work can take a myriad of forms, like customer reviews, friend referrals, testimonials, user-generated content (UGC), and influencer opinions. Let's dive into how social proof is being leveraged in e-commerce marketing. 
Enhance Your E-Commerce Marketing Strategy With Social Proof
Use Customer Reviews & Ratings To Increase Trust
When a customer is browsing and settles on a certain item, they'll look for a source of additional information subconsciously to reinforce their choice. It literally happened to me the other day. I was surfing Amazon's marketplace looking for a power bank, and there were two options, with the same price point & charge time. But what made me ultimately pick one over the other were the customer reviews, the overwhelming number in fact—-the winner had over 30K! 😱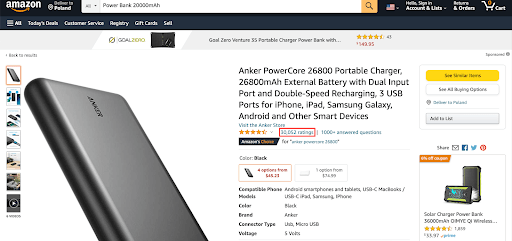 Did you know that 88% of users trust consumer reviews as much as personal recommendations? Meaning that you need to make sure you're proactively sourcing reviews, responding to negative ratings, and making it a no-brainer for happy customers to provide one. A strong strategy will combine a mix of these three strategies:
Ask For Reviews Directly: Don't feel weird about this; you're asking for them to share their experience with your brand so that other customers can make more informed decisions. Make this a low-barrier task for customers, don't require too many fields, and save yourself time but automating this task via email or SMS two weeks after their order is delivered. 
Respond To & Keep Up Negative Feedback. No one is perfect; if you get a not-so-nice review, always respond! Offer assistance, fix any mistakes, and ultimately, keep it up on your site! If you have all 5-star reviews, customers will be wary of their legitimacy, and your response can show another side to the story—building trust and transparency! 
Provide An Incentive. Be kind to your audience and give them something nice for their honest thoughts about your brand. For instance, offer a discount, free shipping, or gift upon their next purchase in exchange for their time! (Make sure it's clear this is not in return for a good review, everyone gets it no matter what they say!)
Create A Sense of Urgency
"There are only 5 left!" "Limited release" and other slogans alike serve as triggers; they nudge users further down the funnel towards purchasing. 
Start by thinking of how you want to implement this urgency. Consider adding a live chat feature to your website where customers could actually see a message and take action (Hey! We only have 3 left in stock! Someone from Switzerland just purchased one now!)
Alternatively, you can use a pop-up that fires on certain product pages, those with low inventory to close them out, or those with a high URL bounce rate to try and drive more conversions. If you aren't sure what message/targeting works best, you should A/B test every iteration and find the winner.
Make sure you're not cultivating a negative experience, though, overselling or misrepresenting your stock! That will create a negative customer experience and turn shoppers off your brand!
Use Cross-Selling Techniques
Cross-selling is a strategy to boost average order value by suggesting complementary items to customers from what they have in cart or are browsing. Think "do you want fries with your burger?"
For e-commerce retailers, this is usually shown in a product recommendation carousel of "Frequently Purchased Together" or "Other Customers Bought" collection of items. The social proof lies in the fact that other people who were looking at this item ended up purchasing these as well to use together.
In fact, cross-selling is one of the most popular Amazon hacks – nearly 30% of Amazon sales are backed by additional product recommendations. Try this on your store with intelligent product recommendations on product description pages suggesting related products or in-cart for impulse add-ons as they move towards check out. Not only do cross-selling recommendations increase average order value but they improve the customer experience. You're providing personalization, relevant messaging, and ultimately, helping them find the right mix of products to purchase to improve their resulting experience!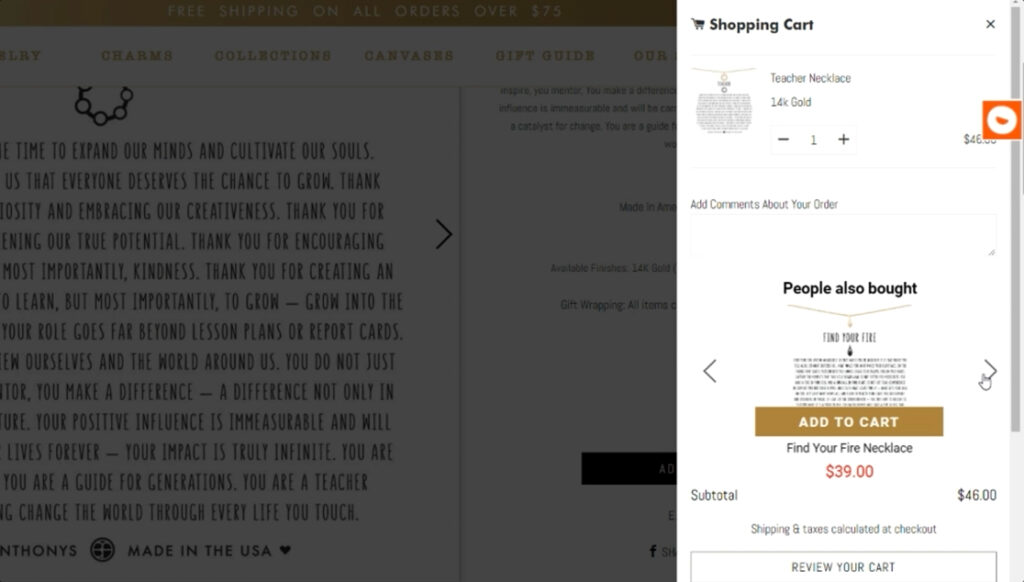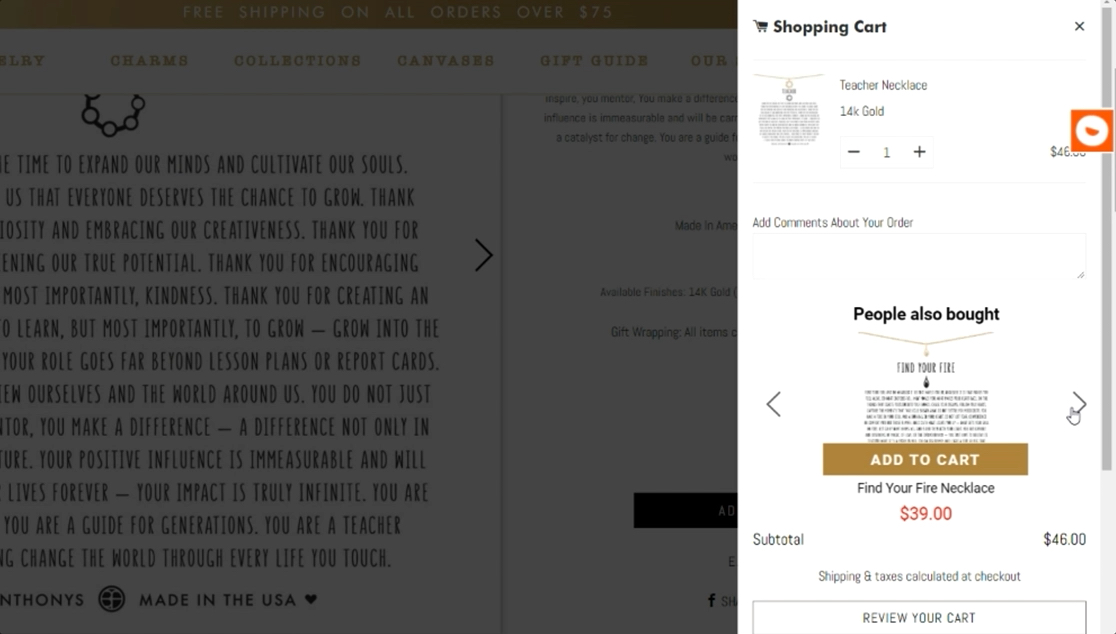 Present Products As Bestsellers
Have you ever seen an e-commerce website without a bestsellers page? Me neither. Originally, this term came to fruition with books, but we've seen retailers of all kinds take over this strategy.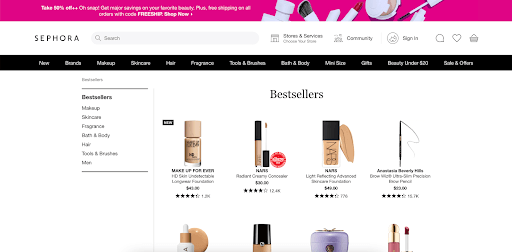 The strategy here is pretty self-explanatory, if an item is a bestseller, that means lots of customers bought it and enjoyed it. Combine that with a high-rating/reviews score and of course, shoppers will naturally gravitate towards it.
To make it easier for customers to comb through your website include the bestseller section in the search filter, this way, you make it easy to find your best hits quickly.
If you want to instantly appeal to new traffic coming to your site, place a best sellers product recommendation carousel on the home page. You'll be able to strategically drive traffic to your highest converting product pages, increasing the likelihood of a same-session conversion and provide a compelling reason to not bounce off your site for those who don't take the time to open up your nav menu.
Build Confidence With Celebrity Endorsements & Expert Reviews
In today's world, celebrities, influencers, and big-league bloggers are huge opinion shapers. Their followers want to know what products and brands they like and use, instilling trust in their opinion and ultimately creating a great source of social proof for brands to leverage.

If it aligns with your brand, collaborate with some celebs or influencers whose target audience aligns with your brand's. You'll boost awareness, and it's a golden opportunity to create a sense of quality and credibility. Why? Because they've cultivated a strong relationship with their audience, and they trust their opinion over that of a branded advertisement. 
Pro Tip: When is the best time to leverage some of these endorsements? The Holidays! Draft a holiday marketing calendar to never miss a date and provide your customers with top product recs when they need them most.
Use Tags To Boost Decision-Making
Choosing only one item when from a sea of options can be an overwhelming task. Don't let choice paralysis drag down your e-commerce site's conversion rate. Make the path to check out an easy one for your customers using a tagging system to keep products organized and clear for customers. Tags like "Popular", "Top Choice", "For Dry Skin," etc., help customers navigate to find the right product for their needs. If they can't find what they want, they'll get frustrated and lose interest. And if they can't find what they need, they'll leave your site for somewhere else with a clear customer journey. 
Show "Likes" To Increase Trust & Confidence
Which of the items you would buy on Instagram: the one with only 50 thumbs-ups or another one with over 16K? Most of us would choose the second one, and is just another example of how powerful social proof is when it comes to marketing. 
But aside from just "dull likes" as a vanity metric, you should also note the number and quality of comments each post has. Place more unique comments about your product or services on top: those can involve info about all the pros of the product, meaningful thank-yous from other customers, or even celebrities' comments. This will win the trust and confidence of customers since they don't have to sift through to see the most relevant ones and helps your brand stand out from the crowd even more.
Conclusion
Social proof in your e-commerce marketing is the secret weapon you need to help build more trust with customers. Use it across your channels, from social media and email campaigns to onsite messaging and product pages. Thanks to the multiple forms social proof can take, it can be leveraged at every stage in the customer journey for maximum impact!
This is a guest blog post by Help Crunch, a customer communication platform.