If you pride yourself on offering high-quality products and services, you are likely within striking distance of making a sale each time a customer visits your eCommerce store. But, sometimes the desire created by the product itself is not enough to get the prospect to your store's checkout page. Or, to maintain your retention rate at an optimal level.
Marketers use various methods to make online prospects turn their way. And, when ranked by effectiveness, pop-ups will top almost every list. With pop-ups at your disposal, you can ensure the right message gets shown to eCommerce store visitors at the right time. And that will result in a steady email list growth with each recorded visit.
That being said, to reap these benefits of using pop-ups, you will have to play your cards right. Consumer behavior is rapidly changing; in fact, these days, a large percentage of online purchases are done via handheld devices.
M-commerce or mobile commerce, the form of eCommerce which allows users to make purchases via their handheld devices, is rapidly gaining traction. While it's not quite up there with eCommerce in terms of sales made, Statista reports that there will be more than 180 million m-Commerce shoppers.
But even with that fact in mind, mobile conversion rates are lagging behind desktop ones. So to combat that, businesses use various conversion rate boosters. One such champion of conversion boosters is pop-up messages. Pop-ups are the best conversion optimization tool. But, there's no denying that you will have to deploy a different strategy to charm your mobile traffic.
Read below to discover how you can boost conversion rates with mobile popups.
Why Are Mobile Pop-Ups Important
At first glance, you might underestimate the importance of pop-ups, but there's more to them than meets the eye. Pop-up windows go far beyond just informing your website visitors. They also delight, entertain, and help visitors navigate through your website's content.
While you might have perfected your pop-up strategy on-site, the mobile experience is very different. To pique the interest of your mobile traffic and provide a good mobile UX, you will have to rely on different tactics. While you want to avoid overwhelming your m-Commerce store visitors right from the start, welcoming them when the home page for the first time can be the start of a long-lasting customer-business relationship.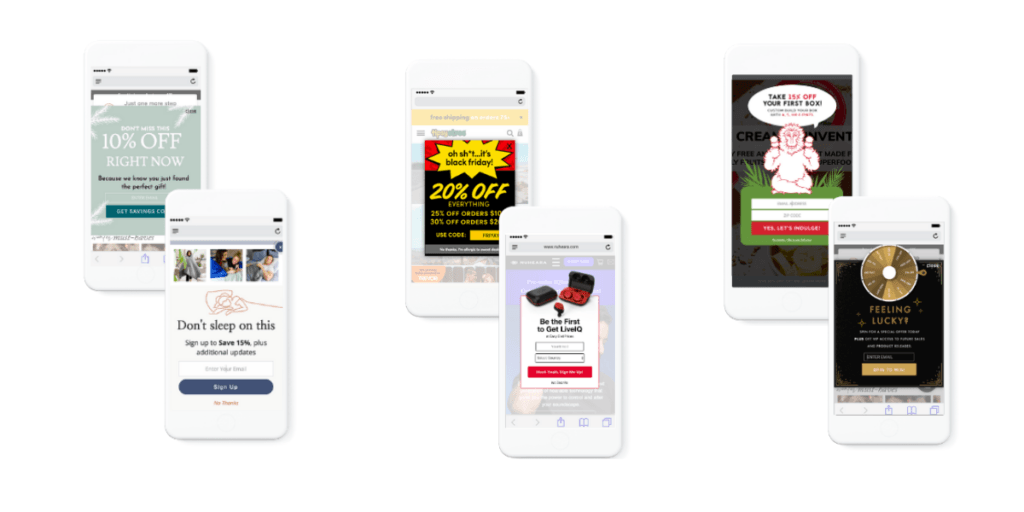 The main reason why pop-ups are so important is that mobile traffic is just too widespread and present to be ignored. Statistics show that by 2025, m-commerce will make up more than 10% of all retail sales. While those numbers are impressive, only a small portion of mobile traffic makes a purchasing decision upon their first visit. With that in mind, pop-ups can help you convert customers by allowing you to retarget them later down the line with a perfectly crafted email or SMS campaign.
Why you need to use them
When mobile device prospects visit your store, you will have limited time to capture their attention. This means that your pop-up design and timing must be impeccable. To not isolate this massive segment of potential customers- around 80% of Americans – you will have to ensure that the pop-ups enhance your m-commerce store visitor's experience and that they are guided toward their desired action.
Pop-ups are all about creating a solid user experience. Still, some worry that using interstitials might affect their SEO efforts negatively. And of course, that can be the case if you don't use the right strategy. Below we expand on this.
How To Design Popups For Mobile Applications
According to HubSpot, individuals now spend more time reading emails in comparison to previous years. Or if you are a fan of numbers, this can be classified as an increase in attention span of 7%, but only when it comes to emails.
You can easily capitalize on this increase in attention span with a personalized email containing a dominant call-to-action button. But, to send that email, you will first have to build your email list and there's no better tool to do so than by using lead capture pop-ups.
Designing your pop up window messages should not be a dice roll, but a process with a clear goal, the goal being supercharged conversions. In fact, the Justuno pop up app can help you bring your already successful eCommerce promotion strategy over to your m-Commerce platform in a manner of seconds.
When it comes to m-commerce pop-up creation, your two main focuses should be segmentation and pop up text quality. With segmentation comes personalization, and personalization leads to conversion. What you should avoid is making every popup window take over your m-commerce visitor's entire screen. Doing so might even hurt your SEO as Google dislikes interstitials that cover a lot of on-screen "real estate". It's common knowledge that without proper SEO, you won't be able to drive quality traffic toward your e-Commce/m-commerce as they will rank lower on search engines.
Picture this, you grab your phone to make an online purchase, but you cannot progress toward the checkout since a gigantic message is blocking your way. This will probably lead you to leave and take your business somewhere else.
Besides making mobile interstitials compact, you should also ensure that the pop up text provides additional value points to the overall user experience. So the clear takeaway here is that pop-ups don't just complement the mobile users' experience, they complete it.
How Justuno helps you
Let's say that you want to run an eCommerce promotion to boost sales, so why not maximize your chances of success by optimizing it for your mobile traffic as well? You don't have to pull tricks from the hat to do so, all you need is the Justuno pop up app. Justuno understands that the browser and mobile experience are polar opposites, so it provides you with all the right tools to bring your success over to your other channel of focus.
Justuno's pop up app will help you get your mobile promotions live quickly. You can either opt to duplicate your current eCommerce promotion and adjust it so that it fits in the mobile template, or you can let the design studio do all the work. Recreate your desktop promotion options and replicate the same lead capture effectiveness and customer engagement on your m-commerce store.
After you've selected all the options you wanted, simply change the rules so that your promotion shows up on your second page in order to adhere to Google's SEO policy, and that's it. All that is left for you to do is to click "publish promotion" and you are live.
Click here for a quick and comprehensive video guide on how you can bring your desktop popup promotion to mobile in less than two minutes.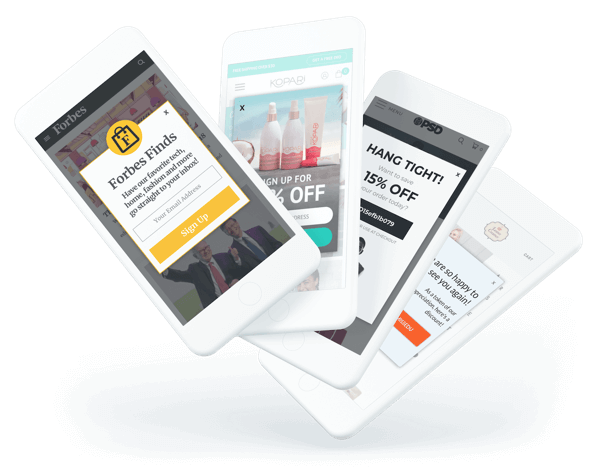 Best Practices For Creating High-Converting Mobile Popups
Now that we've established what your pop-up pre-production process should look like, let's take a look at some of the best design practices for creating high-converting mobile popups.
Use fewer input fields
Crafting a pop-up is an art, and the secret lies in simplicity. If you burden mobile surfers with a million input fields in a single pop up window, the chances are high that they won't tap on a single one.
Opt for a minimalistic look for your popups, especially when your main goal is to build your email subscriber list. The bigger your email list grows, the easier retargeting will become. You can keep your mobile commerce store leads data in your sales funnel for a longer period, and effectively convert them with the help of newsletters containing irresistible offers, just for their pleasure.
Use banners
Banners take up little space and help communicate information quite effectively. With banners, mobile users can freely view all your site's content without struggling to navigate to your other mobile website's features. Banner pop-ups will also allow you to experiment with color schemes. It's widely known that using a single shade of the color red in a muted color palette creates a sense of urgency, and, you can use that urgency to drive more sales.
However, if your m-commerce users opt to turn off banners, you should accommodate their preferences. Include an opt-out button and allow your mobile website's visitors to control their own experience.
Write a concise copy
When creating a pop-up or your eCommerce/m-commerce, it's important to keep it short and simple. Use pop-ups to entice your target audience to click your CTA button through powerful and dominant language. Or use them to help your prospects have a better user experience by providing them with valuable information and guiding them through your store.
Bear in mind that with desktop popups, you will have a lot more room to play with, while with mobile popups, you will have to rely on your creativity to make the most of the limited space.
Gamify
Why not keep prospects entertained while you are collecting their data? Gamified pop-ups are popular because they offer completely new experiences for both eCommerce prospects and mobile device shoppers.
By applying gaming elements to a non-game context you can be sure that you won't just engage with your target audience but with every visitor since everyone loves fun features. Spin to wins are a type of game that is always popular along with mystery prizes. You won't have any problem gathering data while entertaining prospects at the same time.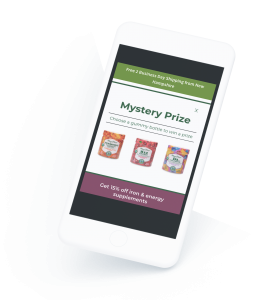 Timing is key
Perfect popups are also known as well-timed popups. Since Google penalizes the act of showing popups as soon as the site loads, it's wise to use engagement indicators to pinpoint when it's the right time to roll out your popup content.
Deploying your popup text content after visitors scroll for a bit is one of the best ways to use these conversion optimizers. The main reason for this is that they are clearly interested in your products or services and the additional information provided by your pop up window can help them reach their desired location.
Make the whole experience seamless
If your m-commerce traffic wants to close your popups, you should enable them to do so easily. Rather than using a small X at the top of the right corner, include a bigger button that will allow them to close the popups that they feel don't add additional value to their user experience.
Of course, this is not a bad thing. That same popup might be the deciding factor for a sale the next time the shopper opens your mobile commerce store. And in addition to that, you can use exit offer popups to incentivize your mobile traffic to stick around. For instance, if you remind them that you have a free trial period on a certain product just as they are about to leave, they will be more likely to reconsider their decision or return in the future.
Test test test
Once you are content with the look of your popup, it's time to see the big picture. Certain designs will only work on paper, and that's completely okay as there are a plethora of options available for creating the perfect mobile popups.
Split testing or A/B testing is an integral part of creating mobile popups. So, after each creative change – background color or color theme, CTA copy – perform A/B tests to ensure absolute quality.
The Bottom Line
There you have it, the complete guide to designing stylish and high-converting popups. By using the right strategy, you can reach your business goals while also providing an immaculate customer experience.
Designing your mobile pop-ups with the help of Justuno's design studio is extremely easy and fun. You can have complete control of your pop-up marketing efforts and feel pride when your conversion rates rise exponentially.
The Justuno pop up app will seamlessly integrate with the Shopify platform and other preferred Shopify apps so you can get the most out of your digital marketing efforts, regardless of the channel. Start your 14-day free trial today and see just how far beautifully-designed and effective popups can take your business.