There's been a lot of talk surrounding the effect that popups, modals, and interstitials have on SEO and SERP rankings. With Google's focus on improving the user experience of organic search and the increased usage of these marketing practices, we've provided a helpful guide to marketing effectively with these tools while being in compliance with Google and other search engines.
The different types of "pop-ups"
While we typically refer to all of these onsite elements as "pop-ups", there are actually some big differences between these types in both user experience and how they interact with SEO ranking factors.
1. New window pop-ups
A true pop-up is a new window that opens up outside of the main browser window. These pop-ups are now rarely used (except for spamming sites) for one reason, they hurt the user experience and damage website navigation. You're most likely not using a true pop-up but for the off chance that you are, you should definitely stop. Google and other search engines do not like new window pop-ups.
2. Overlays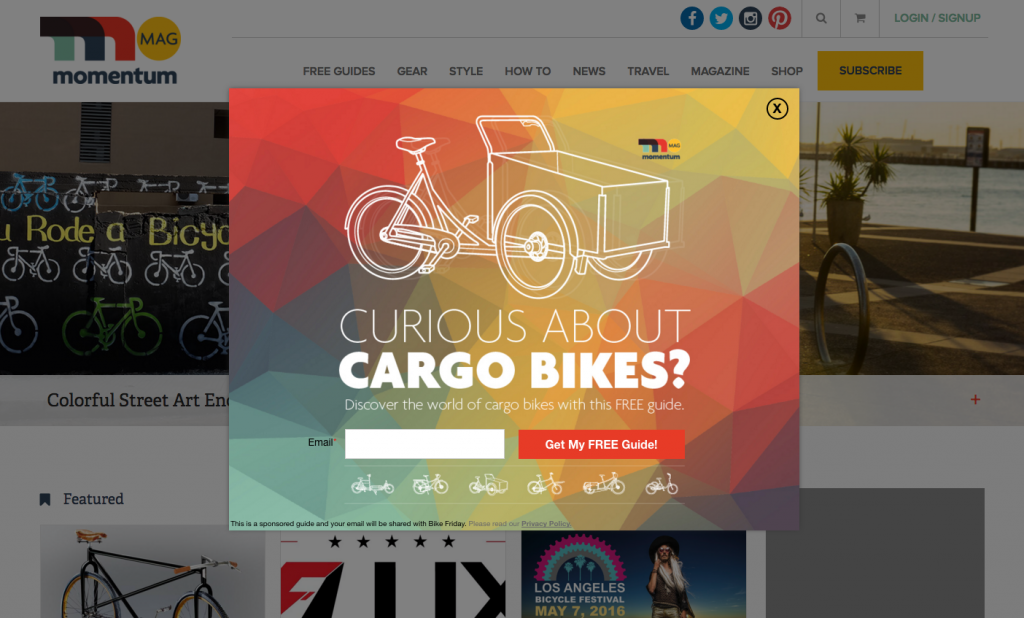 We call them pop-ups, but they are actually considered overlays. (Can you blame us? This is an SEO post after all.) An overlay is a pop-up that opens in the same browser window and is layered on top of the page content. Overlays are widely accepted as an effective marketing practice for engagement and conversion while still maintaining good user experiences and navigation. Here are the most common types of overlays along with some common use cases:
Pop-up Overlay
A pop-up overlay is typically a window, lightbox, or full-screen takeover and can be used for email capture, traffic conversion, promotional marketing, and website messaging/navigation. These overlays are effective and SEO friendly when implemented properly. We'll review proper use cases later in the post.
Notification Bars and Banners
A bar or banner is an overlay that sits at the top or bottom of the browser window and is a great tactic for globally displaying important messaging, bringing attention to certain landing pages, and as an effective email capture method on mobile browsers. Here are 10 use cases for notification bars that you can implement on your site.
Here's a great mobile notification bar used for email capture on Joybird. As you can see, the majority of the page content is visible and the close button is clearly in view. These are great practices to consider using when marketing with overlays on mobile browsers.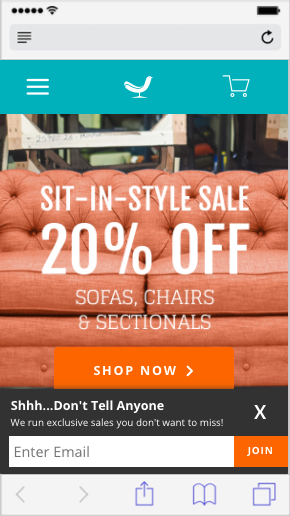 Slide-ins
A slide-in is essentially a corner overlay that can be used for virtually anything listed above. The benefit with a slide-in is the ability to draw attention to your overlay without it covering up potentially important content. Keep in mind that the prime real estate and cover-up of page content are why a pop-up overlay drastically outperforms banners and slide-ins. There's a place for all three in your marketing strategy.
3. Modals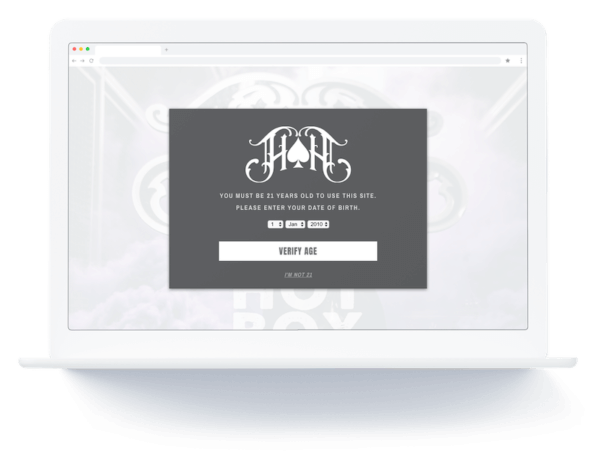 A modal window is very similar to an overlay but is typically used for important or required actions. For example, cookie usage agreements, age verification popups, and login windows would all be considered modals. These are typically SEO friendly because these actions or notifications are important to the user experience.
4. Interstitials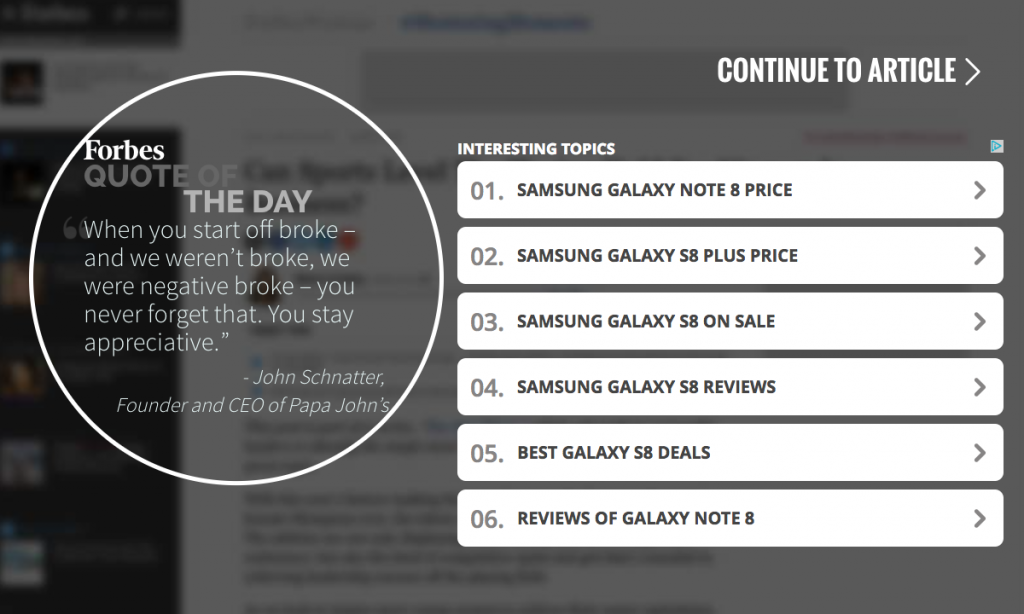 You've probably been served up an interstitial on PCMag or Forbes. Interstitials are typically a window that covers up the page content and requires a certain wait time before a visitor can view the content. Google is going to penalize for the use of interstitials because it definitively restricts visitors from accessing the content they searched for. Many big sites that use interstitials have either been heavily penalized in SERP rankings or have begun to remove interstitials from their site.
Conclusion: Use Overlays and Modals. Avoid New Window Pop-ups and Interstitials
SEO factors
Now that we know that we should be using overlays and modals, let's review the search engine factors that determine the correct usage of these tools.
1. User Experience
Why does Google continue to keep us on our toes with new SERP ranking factors and AdWords policies? It all comes back to improving the user experience. They want to control the experience from search to search results, to the first-page load of the destination site. It makes complete sense because that is their most widely used product and want to improve it.
Want to be in compliance with Google? Make sure the content of the search result is accessible on the first-page load. Hold off on the overlays and modals until the second-page load. There are some unique cases to consider when it comes to timing. We'll discuss those next.
2. Timing
Since we're talking timing, let's revisit the first-page load versus the second-page load. The very first page visited from a SERP page is what Google is ranking. You could say that they have some control over that experience. But, after that first-page load, you control your website experience and are free to market with overlays and modals how you'd like.
Other things to make note of are delayed triggers, action-based triggers like percentage of page scrolled and CTA click, and of course, exit intent. The jury is still out on how Google is factoring this in but it's important to note that it is being treated differently than if an overlay were to open immediately after a visitor click through from a SERP.
3. Content
The content of the element displayed is also going to factor into SERP rankings. If the content is prompting a visitor to take a required action like verifying their age, a legal agreement, or logging in, you're typically going to be fine. If it's part of the user experience, this should be in the clear.
However, if the content is an ad, this is a definite no-no. This is something Google has been trying to get rid of and is viewed as a bad practice for digital marketers.
4. Interaction
This refers to the many different ways that a visitor would interact with the element. Since content readability and navigation are a focal point, the website element must be able to be closed easily and not restrict the visitor from the content.
The other aspect of interaction is the visitor's behavior and action on site. If an overlay opens when a visitor clicks a CTA, that's part of the website experience and should be fine. Scroll triggers are a popular marketing tactic and should still be in compliance. As we gather more information on action based triggers, we'll keep you updated with the best practices.
5. Traffic Source
This is going to clear up a lot of confusion out there. No, popup overlays are not dead and here's why. These changes only apply to organic search traffic and paid search, nothing else. This means that traffic from social, email, referral, and direct sources aren't at all affected because Google doesn't control them.
Still, we can learn quite a bit from Google's criteria and apply that to bring about a better user experience for our visitors. We'll get to proper use cases soon.
6. Device Type
Back in January of 2017, Google updated its policies regarding mobile popups, overlays, and interstitials to bring about a better mobile search experience. The mobile browsing experience is completely different therefore requires different design and different user experience.
Since Google seems to be taking a similar approach to the desktop search experience, there's no longer a huge difference in how popups, overlays, and interstitials should be used differently on mobile but we'll fill you in on the best practices in the next section anyway.
Proper SEO practices with pop-ups
We've covered a lot in this post but now it's time to put it all together. Below, I've provided a list of SEO best practices for popups. Use these strategies and tactics when setting up your campaigns for a better user experience and SEO friendly marketing!
1. Avoid New Window Pop-ups and Interstitials
This one is simple. Google penalizes both new window popups and interstitials that restrict access to content so avoid using them and you'll be good to go!
2. Avoid Triggering on the first-page load from Search Engines
Google wants to make the searched content more accessible on both mobile and desktop which means that rankings could be affected if an element displays on top of the main page content.
To ensure that you're in compliance with this, restrict from triggering a popup overlay from displaying on the first-page load from the SERP page. You can display a popup overlay on the second-page load because it's no longer a search result. Also, if you want to engage traffic on the first-page load, display a banner on the top or bottom of the browser window.
3. Segment Based on Traffic Source
By now, it should be clear on the different ways to use overlays and modals correctly when marketing to organic search traffic. If not, check out the paragraph directly above this section.
With this in mind, we should also look at all of our other traffic sources. Your website experience can cater to each traffic source differently depending on what your goals are. For example, traffic from a marketing email should receive different messaging than a first-time visitor from Facebook. Here's a helpful article on how to target visitors from specific traffic sources.
4. Target Browsing Visitors Upon Exit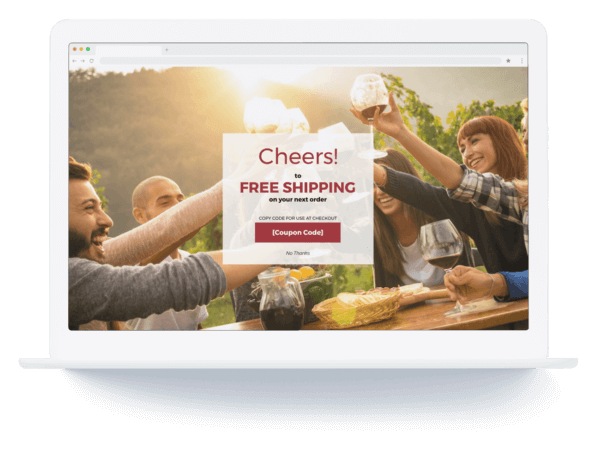 One of the main reasons marketers use overlays in their marketing is to increase traffic conversion. Since we have limited means of engaging search traffic upon entry, let's make sure to target visitors who are leaving with an attractive offer. Use exit indicators to target leaving visitors with something of value. If you're concerned about displaying an exit offer on the first page from a SERP, set it to trigger when someone attempts to exit on two or more page views.
5. Treat Mobile Differently
This is essentially the same practice as listed above but mobile deserves its own section. Here's a cheat sheet to show you proper and improper use of pop-up overlays on mobile sites. This should clear up any questions you have about mobile best practices for Google Search.
One other key thing to note here is the mobile pop-up design. The mobile experience is different so the design should be tweaked to better suit the browser. These key changes in design should be made specifically for a smaller display:
Different shape of the pop-up.
Stacked email field and CTA.
Larger close button text.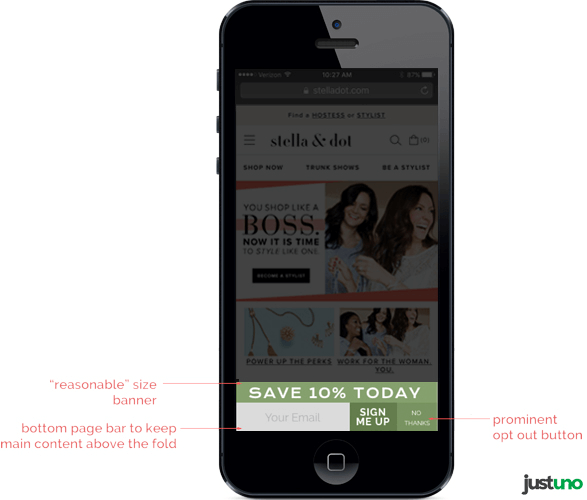 Using Justuno for SEO friendly pop-ups
You made it through a crash course in SEO! You can now take this info and apply it to your search marketing and content marketing strategies. Hopefully, this article helped answer all of your questions on the topic of popups and SEO. If not, feel free to leave your question in the comments below and we'll make sure to provide you with a detailed answer.
Interested in using SEO friendly pop-ups overlays? Justuno has exactly what you're looking for:
Design and customize overlays to meet your exact specifications
Target traffic sources, visitor actions, device type, and more to create SEO friendly campaigns
Design specifically for desktop and mobile to own each browsing experience.
SEO friendly themes
And much more!