Sending the right message to the right consumer at the right time is the end goal for every successful marketing campaign, but it's not always that easy. Depending on where a consumer is in their buying journey, the messaging that will be most effective can be wildly different. That's where automated emails come in.
As you scale your business, effective automated email flows will be critical to creating personalized experiences that engage and convert consumers. Let's check out three automated email strategies based on lifecycles and personalization to increase customer satisfaction and conversions.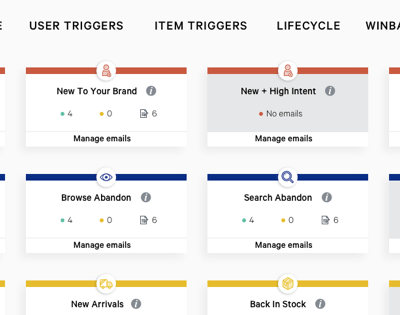 Post-purchase messaging
Triggered messaging is especially effective for encouraging post-purchase engagement. Post-purchase follow-up emails are crucial for building brand loyalty in newly acquired customers. The most basic (and important) of these is a transactional email with an order receipt plus a follow-up with shipping information.
Consumers expect these messages so they can be kept up to date on their order status and track their package. Streamline these with an automated email flow triggered when an order is placed and then again when it ships out.
A subsequent follow-up email can be a powerful influence encouraging them to learn more about the brand and become more invested. The contents of that email will vary by your industry and business, but they can include:
Useful information or instructions about how to use their purchase
Ask for a review or satisfaction rating
Cross-sell products from related categories
How a customer feels after completing a purchase heavily influences if they will turn into a repeat customer. Making them feel satisfied and confident in their purchase is the key to creating positive feelings for your brand and is the first step in cultivating a long-lasting relationship. The end goal is to turn your website from merely a place to buy something into a brand that they love and return to again and again.

Reminder campaigns
Triggered emails can be used to increase customer lifetime value. Use customer data to uncover the typical purchase cycle for a product. Let's use a product like deodorant for an example: your data shows customers typically rebuy deodorant every five months.
Target this customer segment that is about to reach the five-month mark with an automated email slightly before reminding them it's time to repurchase.
By automating this stage, you'll save time, increase efficiency, and make sure customers never run out of a necessity. It's a win-win that helps your customers out and increases customer lifetime value (CLV) for you.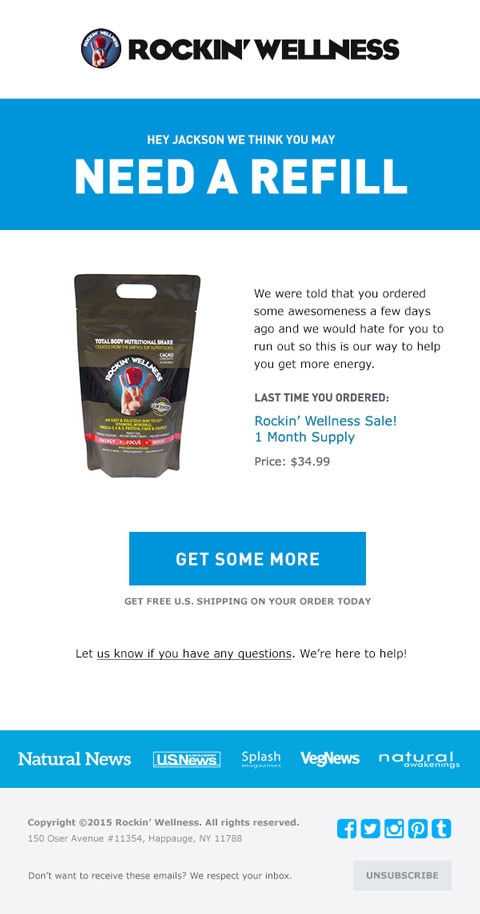 If you sell products that aren't replenished on a regular basis like CPG goods, there are other reminder campaigns you can create to drive repeat purchases.
If you sell a service, encourage pre-scheduled appointments with a discount for frequency
If you sell a subscription, send renewal notices ahead of time.
For those with data showing clear lifecycle trends, these automated emails are a great way to increase the efficiency of your retention programs and use automation to improve customer experience.
Win-back campaigns
Data like website activity, purchase history, and email opens, all paint a picture of your customer. Leverage available customer data to make strategic decisions about relevant automations for each segment. The third automated email strategy is one you can automate based on shopper behavior, a win-back campaign.
For those who are at risk of leaving your brand, create messaging designed to nurture and re-engage them to save the relationship.
Let's say that around three months is the usual time between when an inactive customer tends to completely drop off. Use an automated email flow to try and re-engage them around the two month mark with personalized content based on previous purchase patterns to bring them back into the fold.
Based on the segmentation you use to determine who is a good win back candidate, you can test different email strategies to see what is most effective. Offering a small incentive, like a 10-15% discount or free shipping may move the needle for some recipients. For others, just acknowledging their value with an email saying "we miss you" can do the trick. Knowing your audience and what they value is key for this automated email flow.
Tie it all together
Powerful segmentation and multi-channel targeting are key to effective automation that personalizes the customer experience rather than generalizing it. Each of these triggered flows should be created with the goal of maximizing the profitability of each customer by providing value through personalization.
Intelligent automation based on a customer's lifecycle is the ultimate way to generate engagement, boost retention, and efficiently scale your business.
Check out ReSci (Retention Science) and how you can use intelligent automation to create strategies like these to help you stand out from the competition.
Pro Tip: integrate your ReSci account with Justuno and supercharge your segmentation immediately!