Segmenting the traffic that's coming to your site by geolocation is a powerful way to introduce and convert more from your Justuno offers.
By geo-targeting your traffic, you automatically provide a heightened and more personal online shopping experience when the visitor sees messaging tailored to their location.
And we all know a good shopping UX is key to conversion!
Let's look at a couple of use cases for implementing geo-targeted marketing practices…
Show targeted offers or messaging to a specific country
If you're receiving traffic from different countries, it's in your best interest to cater offers and messaging to that particular geo-location. This is going to provide a more seamless experience for visitors and can result in increased conversion rates. Here are a few common use cases for targeting visitors by country:
Present different shipping options and offers based on the visitor's country
Present unique copy, imagery, and offerings based on the visitor's country
Present messaging in native language based on the visitor's country
Here's how to show a targeted offer or message to specific countries (hint: very popular for Free Shipping):
How to show targeted offers or messaging to specific states or zip codes
There are many effective use cases for segmenting your traffic by state and even zip code. Here are a few:
Show targeted offers to visitors in a specific city/state
Show specific messaging for a popup shop happening in a specific area
Offer an in-store discount to website visitors (can help clear inventory in a physical location and/or drive more foot traffic)
Here's how you can use Justuno to geo-target by state and/or zip code:
See it in action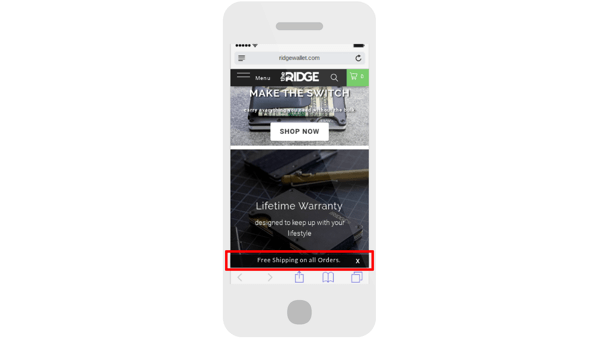 Earlier this year, we posted a case study about how Shopify Plus & Justuno client, Ridge Wallet, used a geo-targeted, simple website banner to display a Free Shipping offer.
Click here to read how they converted 4.9% on mobile.
Try out geo-targeted promotions today and see how increasing personalization can drive conversions sky high.