Facebook Messenger could be a new, untapped channel for you to engage and nurture your website visitors.
In this post, we're going to highlight three effective Facebook Messenger flows from our integration partners in this space: Headliner Labs, Octane AI, and ShopMessage. Each partner will highlight:
What the crucial Facebook Messenger flow is
Why it works
How you can set it up
Even if you already know your way around Facebook Messenger marketing, read on to make sure you're using the best strategy for your brand moving forward!
1. Winback Flow – Headliner Labs
You met online, had a great connection, were in frequent, cheerful contact – liking, tagging, retweeting, sharing – then suddenly, out of nowhere, radio silence.
It's every marketer's worst outcome: when a hard-won, engaged customer starts "ghosting" you. So what do you do? Win. Them. Back.
A win-back campaign is a highly targeted campaign meant to focus on your brand's "inactive subscriber." Delivered through Messenger, it can achieve a 92% open rate and a CTR of 40%, making it one of the most successful campaigns we power on the Headliner platform.
Who is the target of this campaign?
Typically, those on your Messenger list who have gone 30 – 90 days without any engagement with your brand. If your product is something bought with frequency, has a lower basket price, or needs to be replenished, you can set your win-back for 30 days out; if the opposite is true, you can send it closer to 90-days out.
So what makes for a great "Win-Back" campaign?
1. FOMO
Don't be afraid to show customers what they're missing. The best campaigns are those that remind the customer of what drew them to your brand in the first place and lets them see something similar that they'd enjoy.
This can be done with AI that powers recommendations; a customer who purchased something can be sent additional products they are most likely to want. Copy also plays a huge role in creating urgency and, well, FOMO.
You can tell them that something they are likely to love is selling fast and you don't want them to miss out; you can "check in" and tell them about your current "most popular" item. You can be subtle, and send a tutorial video or other content featuring an influencer in their demographic using something they'd like.
The beauty with Messenger is that you can send rich media content like carousels of products, videos that play in-chat, surveys and quiz experiences that change dynamically in real time based upon user inputs.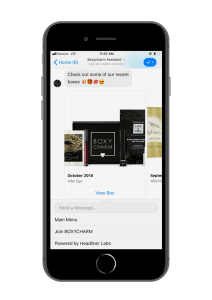 2. Specificity
Just because your relationship has stalled, doesn't mean it never existed! You have valuable data about the customer's past purchases and behavior, and should use that to make your messaging intelligent, relevant and useful.
Send product recommendations tailored to them; you can even send an in-chat conversational quiz to engage them and gather more data to effectively recommend the best shirt/shampoo/lipstick/laptop etc. from among your product offerings.
As Headliner Co-Founder Dana Gibber loves to say: "The best marketing removes indecision from the shopping process." Win them back by showing that you really know them, suggesting content and products specifically for them.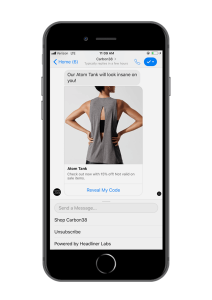 3. Humility
Nobody loves an arrogant jerk. If you're trying to win back a lost customer, you have to remind them why they love you, and the tone that almost always works best for this is a humble one, with empathetic and self-deprecating copy.
Language such as: "We miss you!" or "We thought you might love this!" perform consistently among the top 10% of win-back campaigns used by Headliner customers. A similar approach applies to cadence.
Set your drip campaign so that you can remove people who respond to the first message, and for those who don't respond, include a second message with a discount to entice them back. If they don't respond after that, give them another 15-30 days before commencing with another win-back campaign.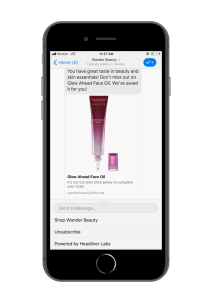 And the most important tip of all….YOU can instantly start sending the win-back campaign, as well as many others, to your customers in Messenger using Headliner Labs!
Headliner Labs is the leading chat marketing platform, working with the fastest-growing e-commerce retailers like Saks Fifth Avenue, Cole Haan, Carbon 38, Kenneth Cole, Hot Topic, Modell's, and Sally Beauty, plus tons of up-and-coming brands.
2. New Customer Flow – OctaneAI
Send a first-time customer a special message or a series thanking them for their purchase. This is a critical opportunity to turn a one-time customer into a repeat one. Use this flow to build a relationship with your customers at scale. This flow can be used with the Shipping Confirmation and Order Confirmation flows to further increase Facebook Messenger automation.
Here's how it's done:
Thank your customer for shopping with you, and offer them the opportunity to say thank you or ask you a question.
Two days later, send a message showcasing your popular products.
Two days after delivery, send a message making sure the customer's product has arrived and if it arrived safely.
Four days after delivery, prompt customers to leave a review or send in user-generated contact such as photos and videos.
Stats
Facebook Messenger chatbots can increase increase revenue by up to 17% – Octane AI
Facebook Messenger has average open rates of 80% and click through rates of 40%
In Klaviyo's abandoned cart benchmark report, the average revenue per recipient of an abandoned cart email campaign is $5.81. But when you add Messenger that number goes up. According to Octane AI's data, customers who connect with a merchant on Facebook Messenger have a revenue per cart of $7.97!
Octane AI enables Shopify merchants to increase revenue with a Facebook Messenger bot that customers love.
3. Abandoned Cart Flow – ShopMessage
An average e-commerce store loses nearly 80% of its potential sales to abandoned carts, costing online merchants a combined $5 trillion last year.
There are many reasons why customers abandon their carts. They could be surprised by unexpected shipping costs, found themselves stuck in a long or confusing checkout, or perhaps have gotten distracted and intended to purchase later.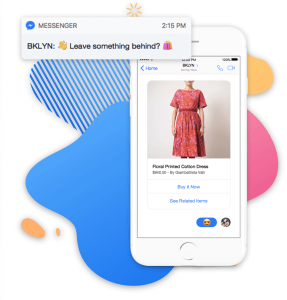 Using ShopMessage, brands can automatically send personalized reminders to customers via Facebook Messenger when they abandon their carts. In fact, ShopMessage is 10x effective than email at recovering abandoned carts.
Justuno is a market leader in email capture and onsite conversion. Now you can use Justuno to grow your Messenger subscriber list and start more meaningful conversations.
Why Facebook Messenger is the New Email
Merchants have relied on email reminders for abandoned carts for many years, but customers today are not responding the same way. Only about 15% of these abandoned cart emails are opened by customers, which leaves the vast majority ignored or deleted.
Even when brands use sophisticated marketing platforms to personalize their emails and segment their audiences, these messages still end up buried in the email "Promotions" section.
Meanwhile, over two billion people have switched to messages as their main channel of communication with friends and family. Your customers are already on Messenger, which has over 1.4B active users. If you want to connect with your customers, you need to reach them on Messenger.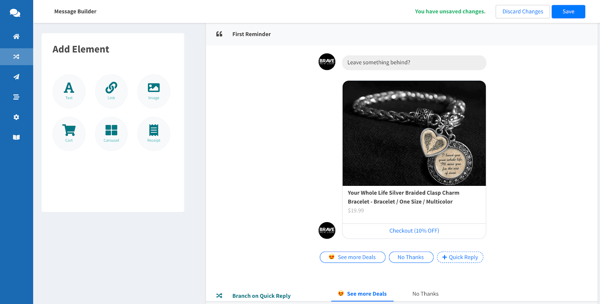 10X Performance vs Email. In company Messenger vs. Email, ShopMessage customers found that Messenger outperforms at every step of the funnel.
80% Open Rates. Abandoned Cart reminders sent over Messenger trigger a push notification on your customers' mobile phones and guaranteed to be delivered to the inbox. Since the purchase is still top of mind, users are highly likely to open the messages, resulting in an 80% open rate vs. a 30% open rate for even the best abandoned cart email flows.
25% Click Through Rate. The messages themselves are engaging, containing the exact contents of the user's cart along with a direct link to checkout.
25% Purchase Conversion. Once the shoppers interest is piqued, the purchase flow is seamless. ShopMessage allows users to recover their carts from any device or session, and can take users directly to the checkout flow with the cart contents and optional discount already entered.
Advanced Cart Recovery Tips. While the standard abandoned cart recovery template works just fine, here are the best practices for recovering more revenue while building long term relationships with your customers.
Custom Rules. You may want to have different cart messages depending on the user or cart. Some ShopMessage customers have different messaging for large carts, say $200+. Others will only provide discounts to new buyers vs existing buyers.
Friendly Tone. Messenger conversations should be short, punchy, and have emojis, like you are chatting with your friends. Use an informal to bring out your brand's unique voice.
Discount. Flows that use a discount have, on average, double the conversion rate vs abandoned cart flows without a discount. Of course, you should follow your brand's stance on discounts, as we have seen various brands be successful, including heavy discounts at the onset, escalating discounts starting with the second message, and no discounts at all.
Start a Conversation. One of the best features of Messenger is that it is interactive. Instead of simply sending a promotional message, you can instead engage customers in a immersive conversation with branching using quick replies.
You should use this opportunity to address the specific reason why your customer abandoned. If the user doesn't want to purchase the item in her cart, you can offer her a link to bestsellers or related items. If trust is an issue, show recent 5-star reviews and customer photos. If there are common questions like shipping and returns, you can build a lightweight menu to give your customers quick answers to their questions.
"Abandoned Cart flows are the best to start a relevant conversation, increase sales, and build longer term relationships with your customers."

-Arjun Ohri, CEO / Co-Founder ShopMessage
Stats
Stores using ShopMessage on average see up to 80% open rates and 25% click through rates, nearly 5x that of email.
An average e-commerce store loses nearly 80% of its sales to abandoned carts
ShopMessage customers recover $40 in revenue from every $1 invested
ShopMessage is a full-service marketing automation platform and a trusted Facebook Messenger Growth engine for ecommerce brands. We've pioneered abandoned cart automation on Facebook Messenger, allowing our customers to recover lost revenue and break into conversational commerce.
Have you integrated with Facebook Messenger yet?
Have you integrated your Justuno account with Headliner Labs, Octane AI, or ShopMessage? Here's how to get started.