Let's get real here for a minute, we've all been online shopping adding items to our cart left and right…only to abandon the entire thing 20 minutes later. We clearly liked the products enough to add them to our metaphorical bag, so why didn't we follow through?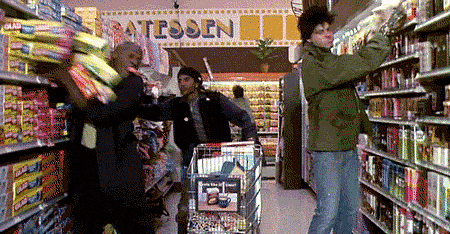 Was it the cost? No free shipping? Fell asleep? Distracted by a glass of wine?
Whatever the reason for abandonment, millions of online shoppers do it all the time. So let's talk about some of the roadblocks that customers face that lead to this, but more importantly, how we can nudge them toward completing the checkout process.
In multiple studies conducted, the top reason behind cart abandonment was when customers encountered shipping costs. We've grown accustomed to the Amazon age, where you can get it shipped for free in two days or less. The expectation has been set, and offering free shipping is a top recommendation for keeping those sales.
Use Justuno to create a free shipping website banner that you display across your site or maybe a pop-up that shows up when people begin to exhibit "exit-like" behavior…AKA an exit offer.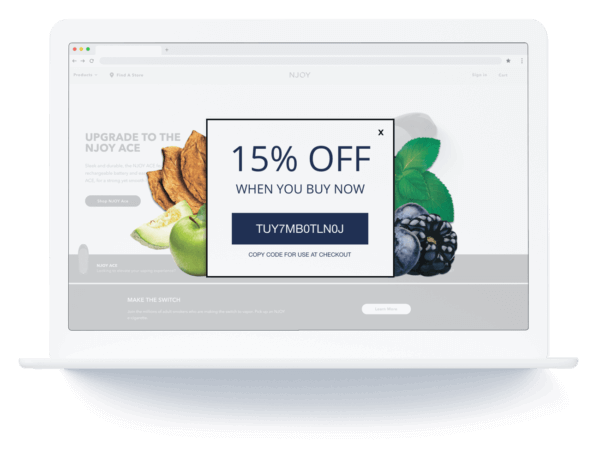 This is a great way to capture a customer at that critical point of abandonment, if you can supply an exit offer to them it often leads to a sale especially if alleviates their pain points regarding shipping. Since this is a concern for so many customers addressing free shipping in the form of an exit promotion can help to boost sales and reduce those abandoning their cart solely over that expense.
One of our clients, The Mountain, was able to decrease cart abandonment by 30% from implementing this type of campaign. They are a great example of how to use Justuno to help you recover carts and close more sales.
Another roadblock that most customers mention is simply that what they added to their cart is more than they wanted or can spend–the online version of window shopping if you will. Some of these customers never had the real intention to complete their purchase, but if you were able to offer a discount when they went to leave it could nudge them through the purchasing funnel. Check out the example below that you could show to people about to exit the cart or checkout pages.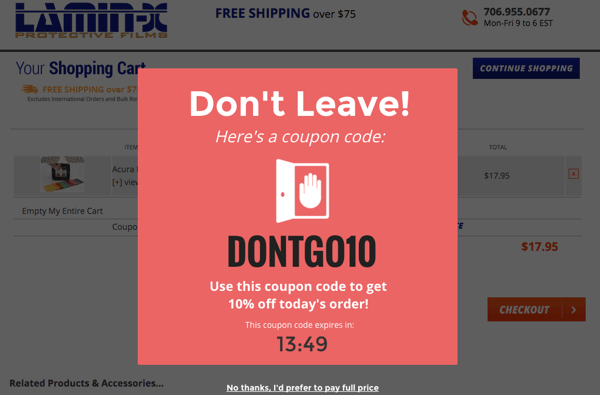 One of our technology partners, Recart, can help you combat this problem and integrate your on-site conversion efforts with abandoned cart communications. Recart uses your customers' information captured with Justuno promotions and creates a personalized campaign for that visitor. The goal is to nurture these abandoners through unique messaging encouraging them to return to reclaim their cart. This integration is just one more tool in Justuno's conversion suite to help you fight cart abandonment.
If you are an online store cart abandonment is likely high on your list of worries, but here at Justuno, we've got you covered. With the implementation of these on-site promotions, you can reduce your abandonment rate by optimizing the bottom of your customers purchasing funnel. Using our advanced targeting rules can optimize these exit promotions even further by segmenting your visitors by cart value, how they behave, and more!