One of Justuno's most powerful features – hidden fields – is something I've come to realize many of our agencies and clients may not know how to use.
Maybe you know they're there…but how can you use them correctly?
In today's quick post, I'm going to outline some of our hidden field options and how you can leverage them in your current marketing campaigns.
What are hidden fields?
When building a Justuno promotion, you almost always include a form. A super basic (and effective) example is a form field.
But, by adding more form fields, you enable your other marketing efforts to be more targeted. We recommend adding up to three (visible) fields in a promo. Anything more than that and you risk a user declining to engage.
Even if you have just a few visible fields capturing information on your promotions, you can still capture more information about your user with hidden fields!
You can add hidden fields to your form, specify them as hidden, and capture information that can help better-inform your marketing efforts through your ESP or other marketing automation software.
Here are the current hidden fields options we have in Justuno: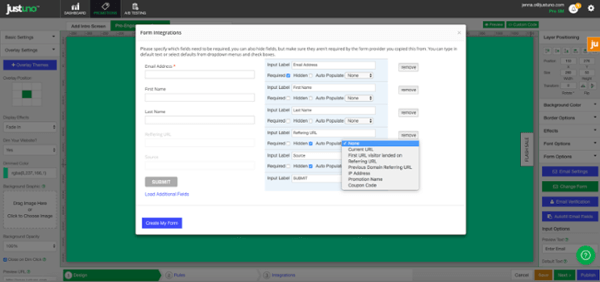 I'm going to outline a few examples (this is by no means an exhaustive list) below so you can get a more concrete idea of what hidden fields are and how you can use them:
Unique coupon codes
If you're offering unique coupon codes to your visitors with a pop-up, you can pass that unique code back to your ESP in order to send them follow-up emails related to that specific offer.
Click here to get the full step-by-step.
When to Use Unique Codes: Use Unique codes when you want to limit the number of shoppers that are able to receive the offer. Free gifts, large discounts, and other exclusive offers are ideal situations to use a unique code. Rewarding your repeat customers with exclusive promotions is another great use of unique codes.
Here's a step by step guide on how to add both generic and unique coupon codes to your e-commerce promotions.
Referring URL
It's pretty cool to understand where your opt-ins are coming from. This can help you weed through the marketing campaigns you're currently running and nix the ones that aren't converting.
By placing a hidden field to capture the referring URL, you are enabling this information to be pushed to your ESP or marketing platform. Once you have that info, you can segment these users accordingly.
For example, if the referring URL is from an influencer marketing campaign you're running with an Instagram superstar, you can capture the URL of the referral, and push contacts into a drip campaign or workflow with a goal targeted to that specific audience.
When to Use Referring URL's: Referring URL's are a marketer's best friend because they help you track your ROI on specific campaigns. Tracking a referring URL can be useful to determine the effectiveness of things like:
Affiliate/referral campaigns
Ads
Your site's buyer journey (understanding buyer journey on your own site)
Influencer marketing
IP address
I've spoken about this specific one a bit in Agency Trainings and on the blog, but capturing IP Address can be very informative for your marketing campaigns.
You can learn where your engaged users are located! By capturing that information, you can push it to your ESP or marketing software to send specific offers based on location.
For example, if you have users opting-in for a New Visitor discount with sign up, you can learn where those users live, then send them to a campaign offering them Free Shipping on their first purchase if they're located in the U.S. (for example).
When to Use IP Address: Anytime you want to leverage your user's location, you can capture this info! You can push them to a segment by country, state, etc. to inform your marketing campaigns and make them highly-targeted.
Final thoughts
Hidden fields are a powerful feature that can allow you to gather customer intelligence and power more targeted marketing. Each promotion strategy depends on personalization and serving the right pop-up to the right customer at the right time to get a conversion. Try out adding hidden fields to your Justuno pop-ups and watch your conversions grow.