If you're a digital marketer, you know there's so much more to content creation than just writing a blog post.
There's media.
There's imagery.
There's lead magnets.
There's distribution…
There are so many facets to consider for you to do a good job at content creation!
Today, we're going to show you our list of the top-performers in content creation resources that can take you from ideation to publication:
Imagery
Image creation
1. Canva: Don't have Photoshop or an internal design team? Canva makes image creation easy. With a ton of free templates that look like you have a graphic design degree, this solution allows you to knock marketing imagery out in a few minutes. We use it for slideshow creation and Facebook ad creation, among other things.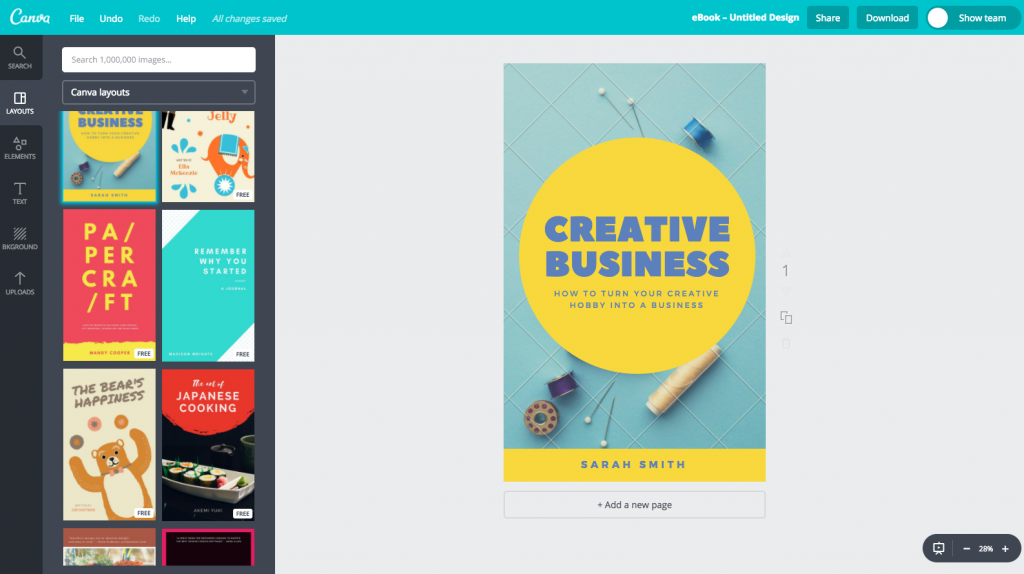 2. Giphy: Giphy is the go-to resource for gifs. If the audience you're writing to is Millennial or younger, this website should be in your content creation toolbox.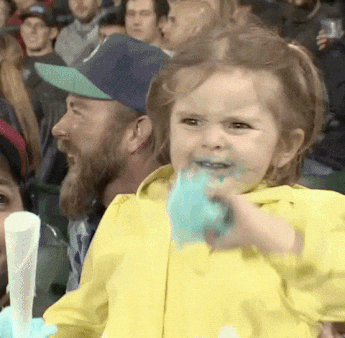 When you find the perfect GIF for your blog post
3. Fiverr: Lots of teams have their internal designers dedicated to more "top-priority" projects, like client designs or more important internal tasks. If you need some small design work done like photo editing, banner creation, podcast transcription, and tasks of the like, Fiverr is a decent resource. *Note of caution: you'll get what you pay for. The starting project bids are at $5, so don't be surprised if you get something low quality. Go for the upgrades. In the end, it will probably be cheaper than the time and resources you'd spend in-house.
4. Upwork: If you're looking for high-quality freelancers, Upwork is a freelance hub where you can post projects, receive bids and choose a freelancer for pretty much any type of project you need. I'm placing it under imagery, but you can also use Upwork to source writers, marketers, developers and more.
"Non-Stock" stock imagery
It's old news that stock imagery isn't cool anymore. Here are a few sites with free imagery that don't have that cookie-cutter feel:
5. Pexels
6. Unsplash
7. Stocksnap
8. Splitshire
9. Pixabay
Image compression & optimization
A lot of people don't understand how image optimization affects your user experience. If you are NOT optimizing or compressing images before you upload them to your site, you are feeding your site pretty heavy files, that eventually pile up and can drastically slow your site load time down. Don't forget this step! Here are a couple of great resources:
10. Tinypng
11. Image Optim (good for Macs)
Content ideas
12. Carrot Search: This resource is a hidden gem! It organizes your search terms into topics so that you can have a better-defined scope of your article or content before you start developing it.
13. Answer the Public: This site is another great resource that takes your keyword ideas and returns content topic suggestions. You can filter by country and the site will even return results in a cool, visual graphic for those of you that are more visual people.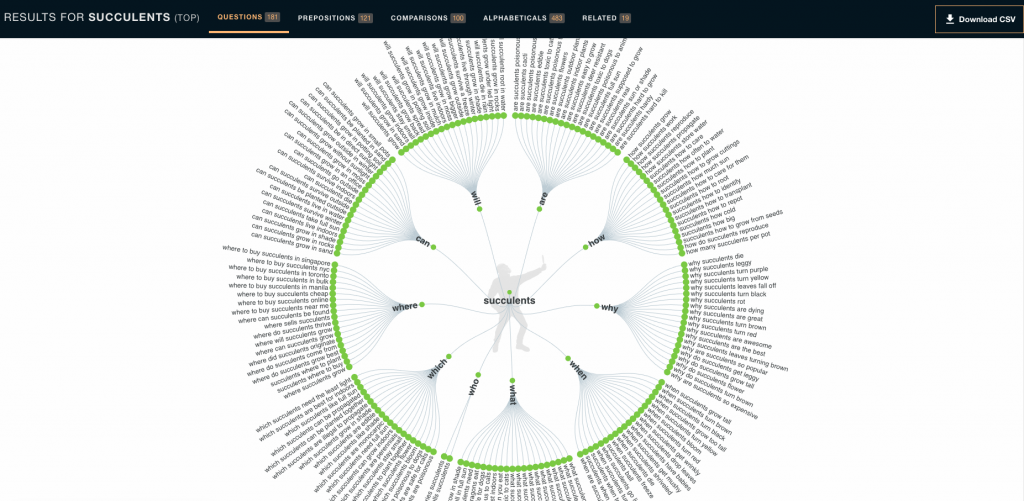 14. Facebook Groups: Facebook groups are a fantastic way to mine content ideas. Join some that are rooted in your industry or about a topic you're product or solution solves. Once you're in, just listen. Be a valuable resource. Don't spam. Once you develop a good rapport with users, you'll have a direct line to your target demo. You can learn what their problems are and generate content to help solve it.
15. Reviews! (for e-commerce users): One of the most underused resources for content generation are reviews! If you're an e-commerce retailer and your customers are leaving reviews: this is a gold mine. Read their reviews and suggestions. Learn what problems they're having or what ideas they have. This can lead to very valuable and useful content for your audience.
16. Instagram: Instagram is also a gold mine for content. Check out your account and read user comments. Also, if you don't have an app that does this for you already, manually search your brand as a hashtag and see what images users have uploaded. This can give you insight into how they are already using or interacting with your brand or service. Brainstorm content ideas around their application(s).
17. Hubspot's Blog Topic Generator: Sometimes idea generators are the best. And, if there's any name to trust in marketing, Hubspot would be that name (that's who we use here at Justuno). They have a pretty cool idea generator that spits out ideas based on your submission of just 3 nouns.
18. Text Optimizer: This is a great tool for taking content you've already created and making it search engine friendly. It recognizes gaps in your content and identifies them, allowing you to correct and optimize your content for better rank before you publish!
19. SEMRush: SEMRush is the perfect tool for identifying SEO opportunities and targeting keywords which have become a key part in creating effective content. SEMRush gives you a full breakdown of your current SEO efforts and rankings while also providing you with the same information on your competitors in your space. SEMRush also provides SEO recommendations so you can identify and fix what may be penalizing your rankings.
20. Google Trends: Search trends are a perfect place to find new content ideas and who better to trust than Google! Google Trends gives you insight on popular searches, growth in search volume over time, and similar search terms.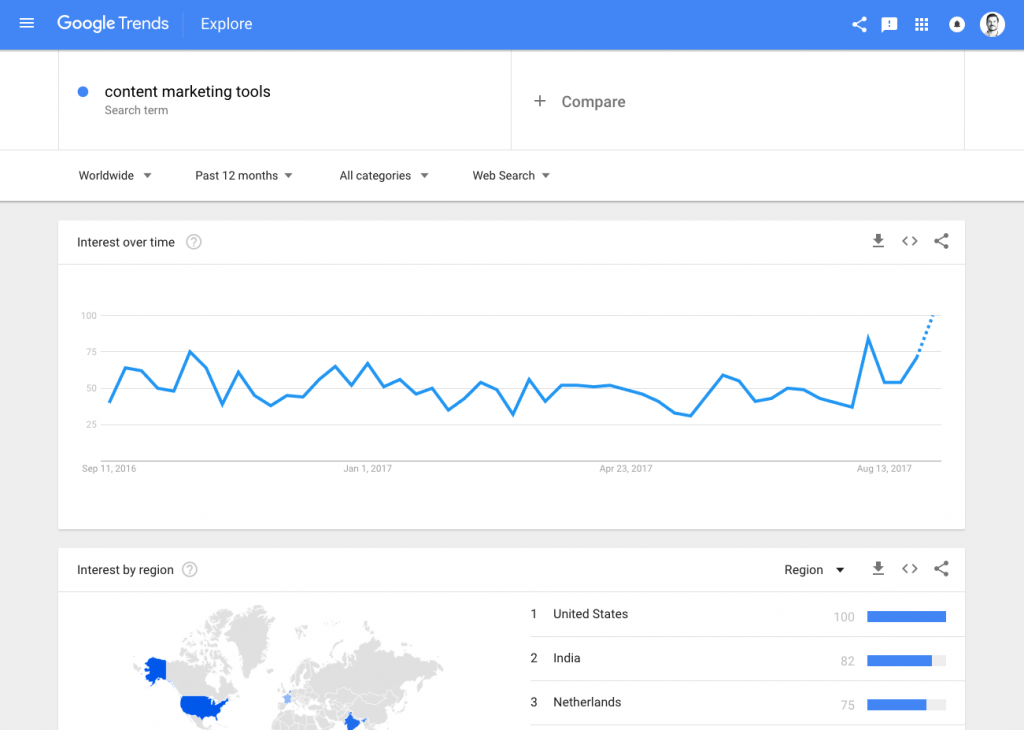 Writing
22. CloudPeeps: Though CloudPeeps is a hub for sourcing all types of freelance professionals – like Upwork – I, personally, have found great success with hiring writers from CloudPeeps. You can use this platform to hire for a one-off project or a more long-term gig. CloudPeeps support is also really thorough, so if you're ever left with questions, a customer support member is very quick to respond.
Bonus: Upwork (Again): As mentioned above under the "Imagery" section, Upwork is a fantastic resource for finding freelance writers (especially those you may want to bring on long-term).
Productivity
23. Hemingway: Hemingway is like your personal editor for your writing. It highlights places you can simplify, change the tense of voice, and even suggests areas to omit for more logical flow. Using this tool could potentially replace the "editing" step of your content marketing workflow!
24. WriteRoom: WriteRoom is an "alternative to Microsoft Word" for Mac users. It's a no-frills writing environment that allows you to write in a full-screen, distraction-free zone. The ultimate goal here is a simplification for productivity and could help you out on those days that you just have way too many distractions (or tabs open)…
25. Evernote: Speaking of having too many tabs open, Evernote is a must-have app for content marketers. It allows you to save your ideas – perhaps from a browser window or writing screen – and organize them into folders, sub-folders, etc. And, you can even collaborate! It's a great resource for making swipe files and inspiration folders to share with your team because it eliminates the need to send a million links or complex email chains.
26. Word2CleanHTML: This tool takes your content and cleans it up for HTML use! You can copy/paste your writing from a Google Doc, Word, or whatever word processor/writing tool you use, and it will remove any unnecessary formatting that would cause a hiccup in using your provided text as HTML.
27. Grammarly: I don't even have to ask if you hate grammar – I know you do. Grammarly takes all of the disgusting, confusing, and difficult-to-remember grammar rules of the English language and applies it to your text! What's different about Grammarly is that it can recognize context to help identify if you've used the right words and structure.
Social
28. Buffer: Buffer is a robust social media management tool that not only allows you to schedule your posts across multiple platforms but also track the analytics and performance of content. You can collaborate with other users and build a backlog of posts to be sent out at later dates, allowing you to have a clearer idea of what your social schedule actually looks like!
29. Hootsuite: Hootsuite is also another social media management tool that touts the same features and expectations as Buffer: you can integrate with 35+ social profiles, collaborate with team members, measure ROI on social efforts, and even manage brand reputation control by tracking mentions, etc.
30. Adespresso: Adespresso is awesome! It takes the painstaking task of creating different ad copy and image variations and simply does it for you. All you provide are the variants, and Adespresso creates the greatest amount of variants possible. So, what once was your A/B test for a Facebook ad with 4 different variants, now turns into a robust A/B test with more than 25+ options!
The app, of course, helps you identify your top-performing ads quickly so you can shut off low-performing options and throttle what works. If you use Facebook ads a lot but find that you're not giving them the best chance at success because you simply don't have time, this is your tool!
Video resources
31. Camtasia: Camtasia is an easy-to-use video editor that anyone – with or without video experience – can pick up and use. If video creation is part of your content marketing strategy, you and your team can try this tool to help you create those marketing assets. You can grab a high-quality screen recording, overlay text, and graphics, and add music among many other features.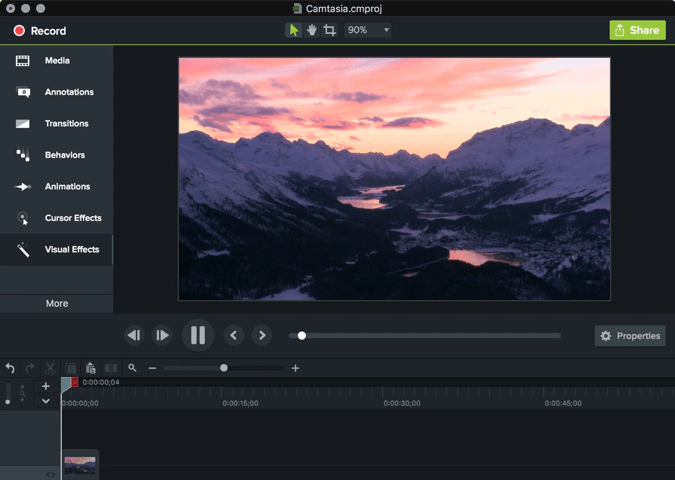 32. Wistia: If you have video content that you want to gate or require people to opt-in to, Wistia is exactly what you're looking for! It's like a mix between LeadPages and Youtube. This tool allows you to upload your marketing videos and design a gated landing page. When users land on this page, they'll be prompted to opt-in before they can actually access the video. Wistia also provides some in-depth video analytics so you can judge how well your content is performing.
Audio resources
33. Stitcher: For users wanting an easy place to kickstart their podcast audio hosting, Stitcher is a great place to start. Instead of heading directly to iTunes, if you start with Stitcher, you gain access to a huge user base right out of the gate, and spend some time testing your content before you take it to iTunes.
34. Zoom.us: Zoom is the best tool I've found for recording audio. Every time I've used it, I get the cleanest, highest-quality sound compared to other tools I've tried in the past. I use Zoom for pre-recording webinars but have also used it in the past to record podcast audio and I have also attended several conference calls via this platform.
35. Smart Podcast Player: OK, so you have audio and now you need a way to display it on your site that's not ugly. For those WordPress users, the Smart Podcast Player app is probably your best option. This plugin allows you to sync your audio feed (let's say from Stitcher), select an episode, and place a player right on your site. You can also customize the look of the player some if you're using the free option. Or, with a paid option, you can have much more customization freedom!
Okay, you have content…now what?
If you've read this list, now you have no excuses on not being able to create a certain type of content. This isn't an exhaustive list of all the tools out there – but it's a list of the top performers and a really good resource to get you started.
But once you create that content, you're going to drop the ball if you don't use it fully to your marketing advantage.
What I mean by that is: you better be gating it!
If you truly create a valuable piece of content, then you need to acquire email addresses in order to access it. If you don't, the resources you put toward creating and producing this content in the first place may end up totally wasted if no one converts from the content!
You can use a free Justuno account to place opt-ins for your content and convert some of the organic traffic you already have and/or the paid traffic you receive. With this final step, the effort you put into creating this rockstar content won't be in vain.