You already know the advantages of content marketing.
Effective content marketing raises brand awareness. A regularly updated site gains organic rankings and traffic share naturally.
Content also gets linked and drives referral traffic.
E-commerce websites can benefit a lot by engaging in creating content for their target audience.
When it comes to content, most store owners immediately conjure up images of having to write and post thousands of words. But that's far from the truth. Some of the most successful e-commerce companies today don't rely on creating the lengthiest piece of content there is.
Others don't publish blog post after blog post. Some of the most successful companies leverage other forms of content and at times they don't even produce it themselves.
I'll share examples of all these types of content marketing below!
Creating written content pieces
Yeti, a retailer that sells high-end coolers, discarded traditional blogging in favor of stories that can either be read or watched to compel visitors to stop and pay attention.
They sell coolers but you won't find cooler descriptions on their blog. Instead, they have replaced boring product descriptions with photos and videos and writing that inspires people.
Product placement within these stories is barely noticeable.
Back in 2012 and 2013, they wrote about topics like "how to pack a cooler for a hunt" that were obvious sells. Then, in 2017, Yeti branched out completely to a different journalistic style: storytelling. If you search for those "how to terms" today you won't find a single article on their blog covering those topics.
They've switched completely to stories.
Part of their continued success with blogging is due to identifying their core audience that others had largely neglected. By niching down their blog exclusively to outdoorsmen, they were able to drive high intent traffic and attention.

With their unique strategy, Yeti transformed themselves from some high priced cooler brand to an aspirational brand.
In another instance, a subscription box site, Gentleman's Box, offers grooming tips and tricks to its loyal readers through its blog.
The site favors textual content and the blog offers advice pieces and style suggestions to visitors.

Video content
As we discussed earlier, content marketing isn't always about creating textual content.
In fact, videos may outperform written content. According to Hubspot, more and more marketers are increasing their ad-spend on video-based platforms like YouTube and Facebook.
45% of people watch more than an hour of Facebook or YouTube videos a week. More than 500 million hours of videos are watched on YouTube each day. 51% of marketing professionals worldwide name video as the type of content with the best ROI.
For instance, Zappos' use of demo videos for its products lifted conversions from 6 to 30%.
OrganizeIT, a home product online retailer, discovered that products that had videos on the page increased purchase rates by 144%.
Birchbox, a beauty subscription box, posts makeup video tutorials on their site.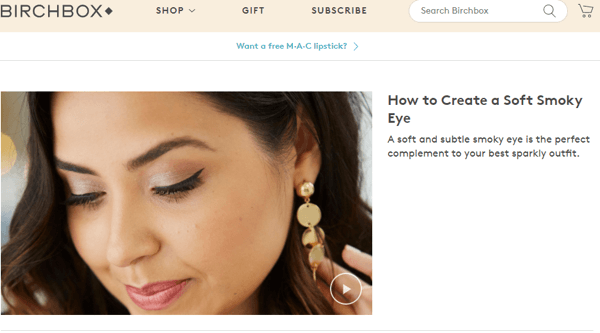 Prior to Twitter pulling the plug on Vine, many brands thrived on creating short six second videos.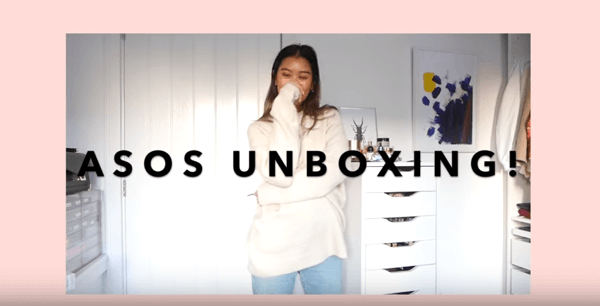 For instance, ASOS, a clothing retailer, provided a nice twist to unboxing by encouraging customer participation. Instead of relying on bloggers, they took to customers and asked them to tag ASOS purchases with the hashtag #ASOS and create short Vine videos of them unboxing their purchase.
This unique way of showcasing their products helped the world see what kind of products ASOS sold.
Unboxing your product is a great way to showcase different features of the product and provide a closer look at what people want to see.
Another example is of Sparkfun, a site selling electronics that posts quirky tech DIY tutorials. Most of these tutorials are fun to watch and often go viral.
They're not only fun but set a positive tone throughout their site and videos which resonates well with visitors.
RITZ crackers and Buzzfeed brought out branded recipe videos on Facebook in an effort to lift sales.
In one case study, the Buzzfeed's Tasty food channel featured a branded recipe video which resulted in 2.1% sales lift among new buyers.
The same video resulted in a 1.4% lift in household penetration with branded video and ultimately brought a 1.2X return on spend.
Blitsy, an eCommerce site in the DIY crafts niche posts video tutorials on its blog that help people create stuff for themselves. This mirrors the overall theme of the site.
Blitsy posts videos to educate and inspire site visitors.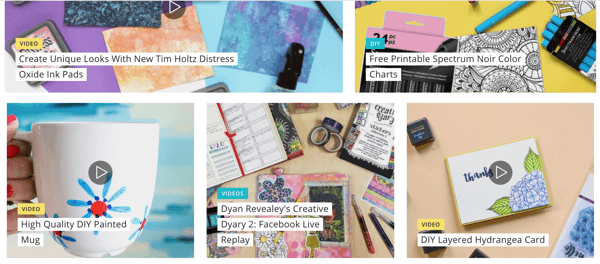 Leverage content from others
Influencer marketing is on the rise because it simply works. 70% of millennials are influenced by peer recommendations. Again a lot of people consider recommendations from bloggers as recommendations from friends. Over 30% consumers are likely to purchase non-celebrity blogger recommended products.
Even big brands are leveraging influencer marketing.
For example, L'Oréal launched the beauty squad to build a better relationship with their audiences. The squad consists entirely of beauty bloggers who create engaging content and blog about fashion events that the brand conducts.
At L'Oréal, traditional media budget is being replaced by a budget for influencer marketing seeing the success they're witnessing with influencer marketing.
Not only that, the marketing has shifted to creating campaigns that are led by purpose.
Subscription box brand, Beardbrand, works with influencers to create content that beard growers and lovers would love to engage with. Beard influencers share knowledge and tips about beard growth on their site. All the products used for the tutorials are from Beardbrand but there's no attempt at a hard sell.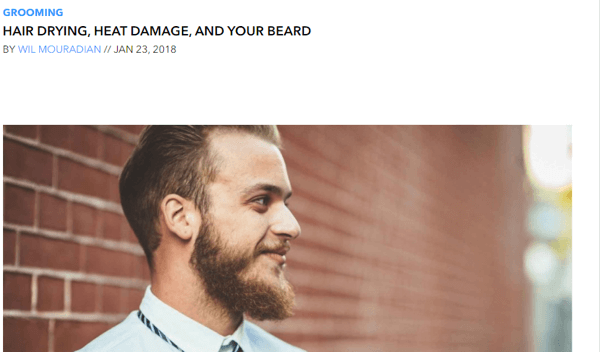 In addition to that, they also post YouTube tutorials on beard grooming.
This brand of influencer leveraging creates engaging content over and over again.
LuLaRoe is another brand that hands the ball over to its users. They use user-generated content (UGC) to promote their products on Instagram.
Each of their photos will have a customer wearing their products. Most customers post these pictures along with recommended hashtags which creates an unending supply of content.
How to decide the kind of content to create for your e-commerce site
To find content that will resonate with your audience, there are several things you need to research.
You should try to answer the following questions:
Who is your ideal customer or who are your ideal customers [if there are several segments]?
What do they really want?
Does your story resonate with what they want?
What do they care about?
What values do they share?
Even when you have the ideal customer in mind, not all story angles will work with them. You need to continually experiment until you find the best fit.
How to decide on a platform
What is best— your blog, Instagram, Pinterest, Youtube or something entirely different?
There are of course risks associated with a third-party platform. Like Vine, they can get shut down.
To understand clearly what platforms are best, you might want to see what your competitors are doing.
That combined with some innate sense of the kind of content that your ideal readers dig is often enough.
If it's a makeup subscription site, makeup tutorials may work well. So YouTube is where you should be.
That said, exceptions do exist. Yeti was able to generate thousands of visitors by honing in on one particular type of visitor: outdoorsmen who wanted coolers for camping.
Common sense would dictate that they post reviews and blog content centering on outdoorsmen. But they chose to create stories.
They figured that that's what's going to be valuable.
Long form content isn't the panacea for all traffic and conversion problems.
Creating engaging content often boils down to finding content that's already doing well and rinsing and repeating it.
Final thoughts
Content marketing doesn't begin or end with the written word.
As you've seen in the many examples above, there are many dimensions and opportunities for content marketing that we're only beginning to scratch the surface of it.
Each of the brands we've looked at focused on their strengths and proceeded to create something that'd sit well their target audiences.
They hone in on a strategy and make it work because they realize this is what their audience wants.
They experiment and identify what could be the most valuable thing for their customers and went about creating engaging content based on that information.
And so should you.
Want more on content marketing? Check out these 35 content marketing tools to help you execute your content strategy!