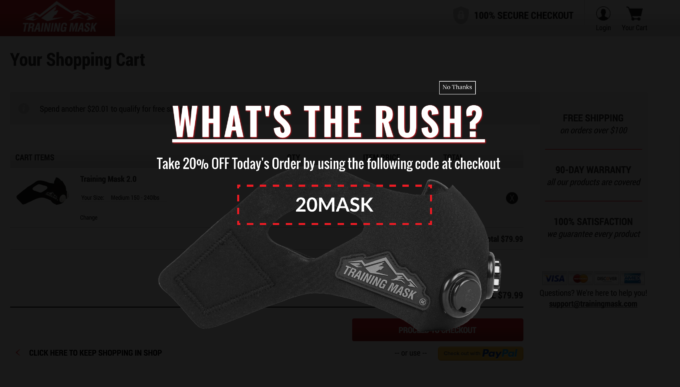 As digital marketers, we're all trying to convert a higher percentage of our website traffic. This is especially true when it comes to bounce traffic, leaving visitors, and cart abandonment. With all of the effort, it takes to drive these visitors to your site, you can't just let them go without taking one last shot at a conversion. This is why you're using exit pop-ups, and if you're not, you should be.
Read: Quick crash course on how and why exit promotions grow your business.
While exit pop-ups are incredibly effective at converting visitors at that moment right before they leave your site, there's always room to optimize for conversions. Here are five helpful tips for creating high converting exit pop-ups to use on your site.
1. Bold Pop-Up Design
The first component of an effective exit pop-up is its ability to grab the shoppers attention. There are several ways that marketers accomplish this. A great place to start is pop-up design.
Bold and clean designs generally perform well because they stand out while still showcasing the marketing message. The design of your exit pop-up should attract visitors to read your marketing message, not distract visitors from reading the content.
Here's a solid exit pop-up example from Beloved Shirts. The design is simple, branded, and brings focus to the call to action. Also, notice the faded background to allow the pop-up to stand out from the website design. 
A big pop-up along with big text is always a good idea. This ensures that your marketing message is being seen by visitors who are leaving. Here's a solid example of a full-screen exit pop-up to bring the visitor's entire focus to the action of using the promo code.
2. Actionable Headlines
Since exit pop-ups will only show to visitors who are leaving your site, customize the headline to speak directly to them. Effective headlines that we commonly see are "Wait, Don't Go!", "Before you go…" and "Why leave when you can save?"
Acknowledging that the visitor is about to leave and that you're willing to offer them something to either stay on site or leave their email will spur action. Go for short, easy to understand headlines that will stop visitors from immediately leaving your site.

3. An Enticing Offer
Now onto the aspect that will drive visitors to take the action that you desire. People will generally not pursue an action unless it is in their best interest. So make it worth their while to enter their email or complete their purchase. Common incentives to use with your exit pop-ups are discounts, free shipping, contest entry, and a gated piece of content.
You don't have to include an incentive but this usually leads to both higher engagement and conversion rates. Some businesses are able to sell visitors on their newsletter and still drive a high number of email sign-ups. In short, if you can offer an incentive, do it. You'll experience faster email list growth and increased sales conversion.
4. Clear Call to Action
What do you want your visitors to do? How do they complete the action? Are you presenting the exit pop-up on a page that's relevant to the call to action? These are all things to consider when determining your call to action and how you plan to present it to your leaving traffic.
For the sake of this scenario, let's think of the call to action as both the CTA button and the small amount of copy that intuitively shows the visitor what action to take and why they should take it.
This first example is an email pop-up from Greetabl, a store that specializes in gifts. The copy is very clear on what value the visitor would receive. Also, notice the call to action button text "reveal my coupon code." It's actionable and engaging which should result in high conversion rates.
This example is an exit pop-up from Sivana with the goal of driving a shopper to complete their purchase. The copy is super simple and the call to action is clearly displayed with both the promo code and CTA button reading "Continue Checkout." 
5. Add a Countdown Timer
Creating urgency, scarcity, and exclusivity around your offering is incredibly effective at driving people to take action. This also applies to converting traffic. Including a countdown timer on your exit pop-up will force visitors to make a decision with the pressure of urgency and scarcity.
You're also giving people a definite time frame that they can work within. Here's an additional article that showcases three ways to create urgency and increase sales conversion.
Before You Leave…
Hopefully, this article provides you with a few ways that you can increase conversion rates of your exit pop-ups along with some spectacular pop-up design examples. Test a few of these conversion marketing hacks with your exit pop-ups and see how effective they are!
Need a platform to deliver high converting exit pop-ups? Want to implement and test design changes in minutes? Target low converting traffic sources with exit pop-ups?
Try Justuno out today! Enjoy a free 14 day trial of the entire platform PLUS a boatload of conversions to go with it.