Checkout is the final barrier between a customer wanting an item and actually getting the item by placing an order. It's absolutely crucial to the customer experience. We all know what it's like to peruse a site, add a few things to the cart, and then leave.
In fact, there are many reasons customers abandon their checkouts. Today's eCommerce checkout abandonment rate is 70% across all industries.
At PrettyDamnQuick, our goal is to reduce this abandonment rate as much as possible while increasing customer conversion and brand revenue.
Here are 5 critical steps to reduce your Shopify store's checkout abandonment:
1. Add Arrive By Dates
Customer expectations of when they should receive their order have shortened dramatically, and the best way to keep up with the times is by showing customers specific arrive by dates instead of ambiguous language. Many brands use "X business days," which can be misleading and confusing to customers. Sure, we all know what business days are, but when it comes to an item that you order and want ASAP, none of us are thinking, "hmm, is this brand picking/packing today?" This confusion typically leads to customer WISMO "Where is My Order" complaints, and adding specific dates would remove these complaints entirely.
Research shows that 62% of customers say an accurate estimated delivery date is more important than fast shipping. Doing so will enhance your customer experience and create more trust with customers.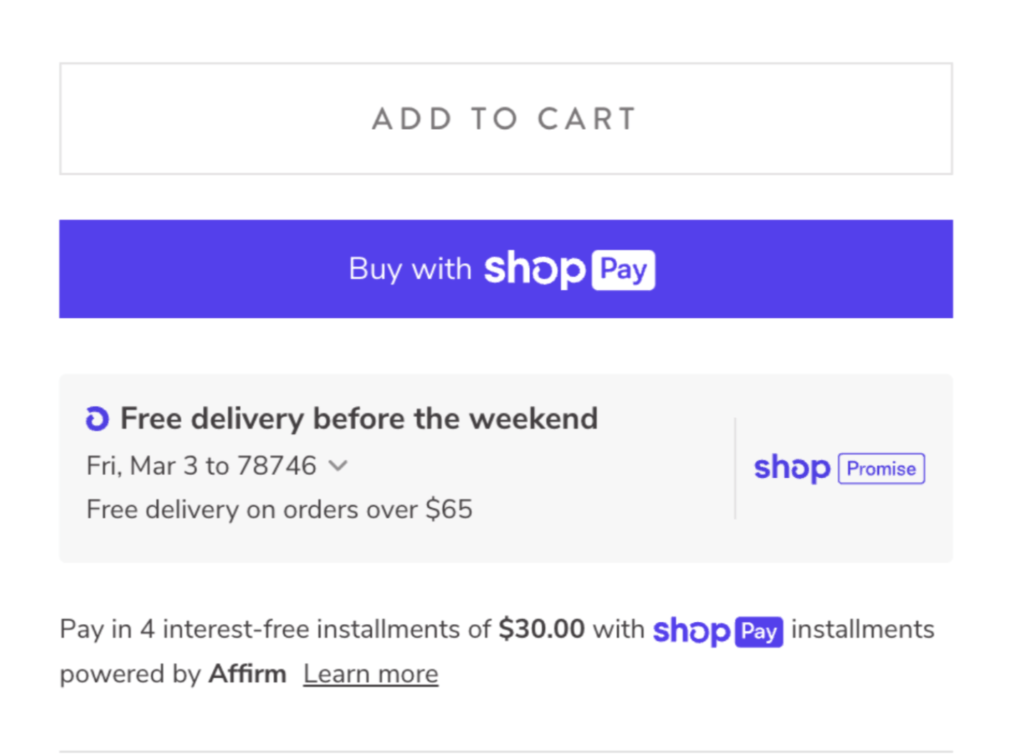 2. Have a Free Shipping Option
Customers love a free shipping option. What's not to love, it's free! A fun way to think about shipping and logistics (which doesn't immediately sound so fun) is to gamify the process. When a customer sees a free shipping option, they are more likely to spend more on products as they aren't spending on a shipping cost. An exciting way to leverage shipping is as a loyalty-building engine. If someone is a third-time customer, gift them with free shipping as a "thank you" for their loyalty.
Another way to play with a free shipping option is to make sure you're taking advantage of your free shipping threshold. We've seen some brands have a free shipping threshold way below their average order value, and a simple boost of the free shipping threshold boosted more customers to spend more on their orders. Implement this on your Shopify store easily using Justuno's dynamic shipping banners or other Shopify pop ups!

3. Offer Multiple Shipping Options
We've seen a lot of brands only offer one shipping option, which can be limiting. Leading brands offering at least 3 precise delivery methods have increased conversion by at least 6%, so only offering one option is a huge limitation. Typically the one shipping option is a free shipping option with a description like "5-7 business days," and with customer delivery expectations rising faster and faster (thanks, Amazon!), it's wise to meet that expectation. Offering a variety of delivery speeds, such as free standard, express, and overnight, enables customers to have some control over when they can get their order as opposed to having to go with the default.

22% of abandoned checkouts are due to delivery options that are too slow, so adding more options is a simple way to reduce checkout abandonment. Beyond reducing checkout abandonment, offering multiple shipping options has the potential to increase shipping profitability as well. Consider making your expedited shipping option more expensive than the standard option and see how your profits increase!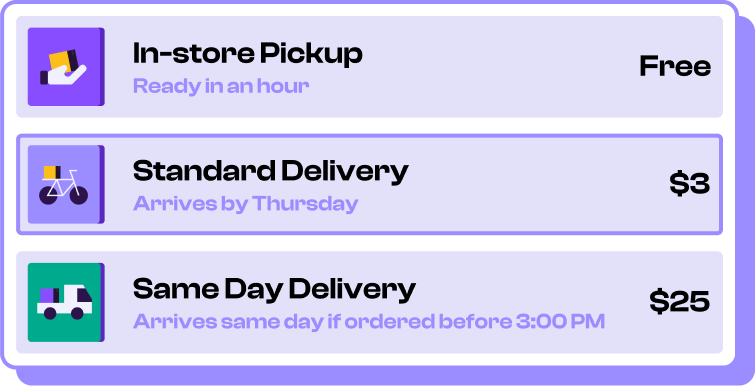 4. But Don't Offer Too Many Shipping Options
On the contrary to offering one option which we've seen many brands do, some other brands offer too many shipping options, which can often lead a customer to having analysis paralysis and ultimately ditching the checkout altogether. Brands that offer 5+ shipping options add unnecessary friction to checkout. Often these options are repetitive anyway, meaning multiple options are set to arrive on the same day, but vary in price.
Being overwhelmed is high on the list of reasons users abandon their checkouts, and simplifying shipping options removes this issue. We've found three options to be the sweet spot of checkout decisions.
5. Test, Test, Test!!
Like every other aspect of the e-commerce customer journey, checkout needs to be continually updated and perfected. Just like you'd A/B test email campaigns or a headline menu on your homepage, checkout should be revisited and tested.
A few testable checkout opportunities include the free shipping threshold, specific shipping options, and personalization efforts. Checkout is as dynamic as our customers, and we should strive to meet them where they're at with an optimized and personalized checkout experience.
So there ya have it: five ways to ignite your Shopify store's checkout. Give these a try and see for yourself how seemingly small, simple changes can make a massive impact on website conversion.
If you're interested in learning more about checkout optimization efforts and A/B testing opportunities, reach out to PrettyDamnQuick, their experts love talking about checkout optimization.
Guest writer- Samantha Felgoise, Head of Partnerships at PrettyDamnQuick.