When it comes to marketing to shoppers on your site, direct and relevant communication is going to yield the biggest return. A marketing message with content personalized to a particular shopper's session is the ultimate dream for retailers.
That dream is now a reality! Justuno offers Shopify retailers and agencies the ability to incorporate cart values into both design and targeting. This opens up so many possibilities to deliver true 1:1 marketing messages throughout the shopping experience with pop-ups on Shopify.
In this post, we'll show you how to deliver a personalized promotion that tells shoppers the additional dollar amount needed to unlock a free shipping offer with the goal of converting more sales and increasing average order value!
The free shipping threshold offer
This use case makes sense for any e-commerce retailer that is looking to increase average order value. Free shipping is a high-value perk that shoppers are avidly looking for but it doesn't always make sense to offer it on every order. You may be dealing with strict margins or want to maintain some exclusivity with the promotions offered.
A free shipping threshold allows retailers to decide on which cart totals to offer free shipping and use it as a conversion tool. Using Justuno's cart value functionality, you can display the exact dollar amount needed for a shopper to get free shipping.
This immensely increases the personalization of a shopper's visit, tailoring the promotion to their experience. Not only does this help more companies offer free shipping as an incentive but it also acts a strong motivator for buyers. Clearly seeing how close you are to "earning" free shipping, makes visitors much more likely to add one more item to their cart to get their reward. Threshold offers not only help boost AOV and lift conversion rates, they give customers something they want too.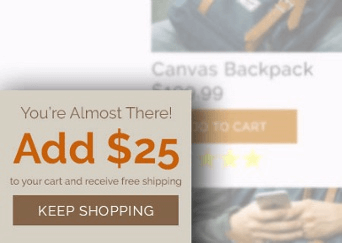 How to setup a free shipping threshold offer
This tutorial shows how to set up a banner promotion but this setup can be applied to any display type within Justuno. Use it in a corner pop-up, an exit offer, and so on! Check out the video below to help you build your own today.