Online shopping has become a part of life for just about everyone.
Buying online used to be a luxury — but now it's a dependency that many shoppers use on at least a monthly basis (for some — even more often).
96% of Americans shop online — and almost a quarter of them are buying something online weekly.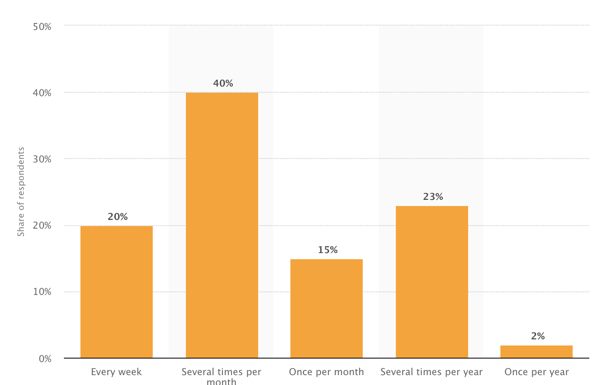 In a 2017 survey, 40% of those surveyed reported that they shop online several times per month. 20% reported a weekly online shopping habit. (source)
Where there's traffic, there's also competition.
Starting an e-commerce store or moving your business online has never been easier, thanks to intuitive e-commerce platforms like BigCommerce.
But with an increasing amount of brands and shoppers online, it can be hard to stand out from the competition and find a clear path to e-commerce growth.
With the emergence of optimization tools like Justuno, making informed marketing, site design, and product demand decisions can become routine to your business.
In this blog post, we'll outline five different strategies you should use within your e-commerce business marketing strategy to convert more visitors and grow your revenue.
1. Determine your channel strategy: Multi-channel or DTC?
Multi-channel retailing means a company sells in multiple online channels — such as an online store, marketplaces like Amazon and Ebay, as well as social media.
As they grow, many brands move towards a multi-channel strategy to ensure that they're reaching their audience in as many places as possible. This makes sense, as some shoppers prefer to shop through online marketplaces with free shipping or with social media for the ease-of-use.
But selling with a multi-channel approach also may result in channel conflict — where retailers sacrifice their bottom line by selling through methods like marketplaces that take a large cut of profits.
In recent years, more and more brands are shifting towards a more grassroots approach and selling primarily (or only) through their online storefront.
Gillette's share of the U.S. men's razor business fell from 70% in 2010 to 54% in 2016.
Dollar Shave Club, Harry's, Billy, and other brands have attributed to that decline.
The same move is happening in the footwear business, with closures at Payless ShoeSource, Stride Rite, and Crocs falling behind behemoths like Allbirds, Rothy's, and M.Gemi.
This is called direct-to-consumer (DTC), and not only does it help increase your bottom line by cutting out the development and referral costs from third-party marketplaces — it also helps establish your brand voice, double-down on social and native advertising, and truly own your e-commerce experience through testing and measuring the one buying channel.
So how do you determine which path to take?
If you're a smaller brand looking to reach more customers, a multi-channel approach may help. Make sure to add and test just one channel at a time, so you can really measure what works and what doesn't.
If you're a large brand recently faced with issues increasing your bottom line due to the diversity in marketplaces you've already created, it may be time to make the move to either acquiring or becoming a smaller DTC brand to completely control your inventory management and selling channels.
For those who are considering adding channels to their mix, the BigCommerce Channel Manager makes it easy to list products, aggregate orders, and fulfill shipments across major marketplaces and channels directly from your BigCommerce Control Panel.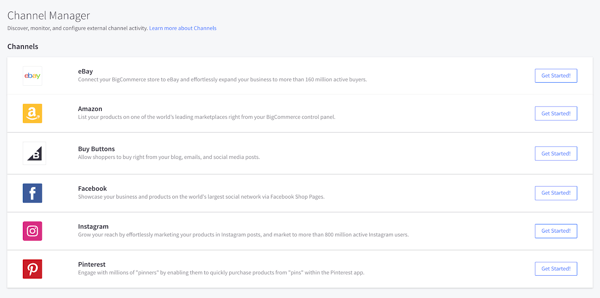 For brands that use a single-channel approach on BigCommerce, our growing selection of technology partners and integrations like Justuno help brands capitalize on marketing strategies that are aligned with a DTC vision, such as retargeting, video advertising, and rewards programs. Users can select and purchase app integrations right from the BigCommerce E-commerce App Marketplace.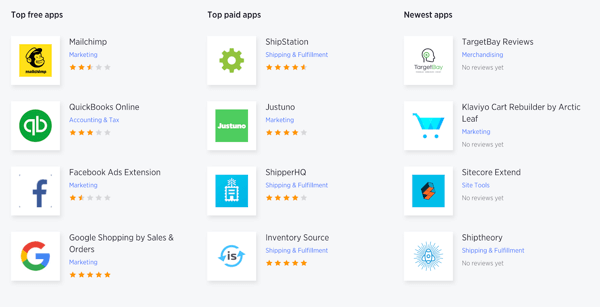 2. Use email marketing to reach your customers
As a customer engagement strategy, email marketing should never be overlooked. It's an easy way to get into the minds of your users — after all, the average person checks their email at least 15 times per day.
As a baseline, make sure you have these three types of emails set up for your business:
1. Welcome emails. Send these emails once a person has signed up to your email newsletter or purchased a product. They're incredibly effective: on average, 320% more revenue is attributed to them on a per email basis than other promotional emails.
Example: After visiting the Koa Coffee website and signing up for emails, potential shoppers are greeted in their inbox with a short but impactful welcome email. Readers are incentivized with a 10% off coupon, which helps to increase quick conversions.
2. Cart abandonment emails. If someone visits your website, shops around, and puts an item into their cart, they're already far down the purchase funnel. They've discovered that they like the item, and they want to purchase it. But if for whatever reason, they leave the website without completing their order, a cart abandonment email will remind them that they still need to finish the transaction.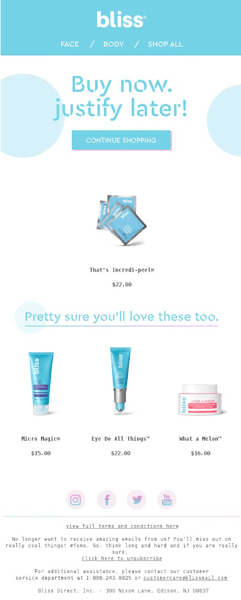 Example: Bliss sends out reminder emails to people who have browsed an item.
With true-to-brand language and colors, they've crafted a message that incentivizes the purchaser to come back, while also suggesting other products.
3. Shipping confirmation emails. This one is a bit of a wildcard — since shipping confirmation emails only occur after a user has already navigated to your site and made a purchase. But these types of email are a bit of a treasure trove when it comes to remarketing opportunities. Take the time to offer a percentage discount on an additional purchase, or add-on an item for a small cost.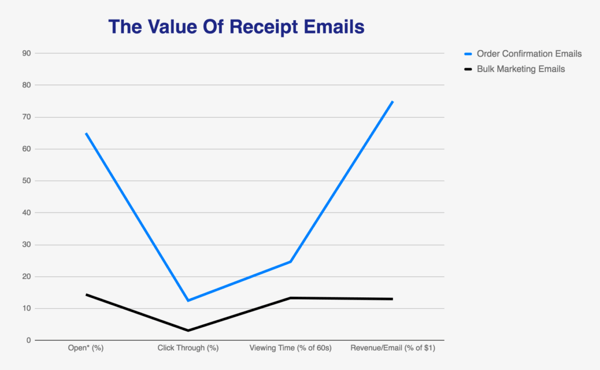 Shipping confirmation emails have a higher engagement rate than bulk marketing emails, as this graph shows. (source)
BigCommerce partners with a number of email marketing platforms like Klaviyo, Mailchimp, and Constant Contact to help put data to good use and market effectively to people who have engaged with your website.
3. Optimize your shipping strategy
As of June 2018, there were more than 95 million Amazon Prime subscribers in the U.S. Each of those subscribers are now used to 1- and 2-day shipping as part of their online shopping experience.
How do you, as a brand, compete with that?
Nail down your fulfillment and shipping services.
If you want to give an Amazon-like experience to your customers, use a 3PL service like BigCommerce partner ShipBob to handle your fulfillment and logistics.
If international shipping is part of your plan, consider a partner like EasyShip or WebInterpret.
BigCommerce also recently introduced our newest solution in shipping: BigCommerce Shipping — now in beta. Powered by partners Parcelcast and ShipHawk, this add-on helps you get better margins on every order with pre-negotiated rates, label printing, and automation options.
4. Boost your conversion rate with marketing tools
With more than 300 technology partner solutions available, it's easier than ever to find an integration that solves for even the most complex business needs within the BigCommerce app marketplace.
Here are some examples of what you can do with easy-to-install BigCommerce partner applications:
Develop loyalty programs that reward your customers for repeat purchases and referrals to friends and family.
Create a coupon code pop-up when someone intends on exiting your page, to help incentivize them to stay and complete the sale.
Link to your Facebook Ad account to add retargeting ads to your shoppers' Facebook feed.
5. Double-down on research and knowledge
As competition continues to increase, it's important to stay informed on all the things that are important to your business, both from an industry standpoint and from a marketing standpoint.
Take a look at what other successful brands are doing in the space. Are they using technical, customized marketing? Are they using certain messaging and imagery in their campaigns? At BigCommerce, our Community serves as a watercooler for all new ideas, Q&A, and announcements regarding product updates and changes.
Staying up-to-date will help you keep a leg up on the competition and be the first to know about and implement new technologies into your e-commerce store.
About BigCommerce
BigCommerce is the world's leading cloud-based e-commerce platform for fast-growing and established brands. Combining enterprise functionality, an open architecture, and rich app ecosystem, BigCommerce enables businesses to grow online sales with 80% less cost, time and complexity than on-premise software.
BigCommerce is offering one month free for JustUno's blog readers! Start your free trial to try out all of our built-in functionality and take advantage of the special offer.
About the Author: Corinne Watson
Corinne is a writer and researcher at BigCommerce, where she works directly with agency and technology partners to bring their tools, services, and ideas to the commerce industry at large with educational content.