It's been years in the making, truly. We've tearfully watched Universal Analytics load our data for the last time, and we've watched GA4 take up the data reins.
The transition has been a thorn in the side of e-commerce brands for months because the new platform is so different. Different enough, in fact, that thousands of brands have faced challenges simply in setting up GA4, which requires a fair amount of understanding to ensure accurate data.
Data that, fundamentally, has changed.
That's what we're here to cover—three of the biggest data and definitional changes in GA4 so you can be better prepared to report on and analyze your performance.
GA4's New (Data-Driven) Attribution
In addition to turning the world on its head because of GA4 in general, Google has upended marketers' lives with a new attribution model, Data-Driven Attribution.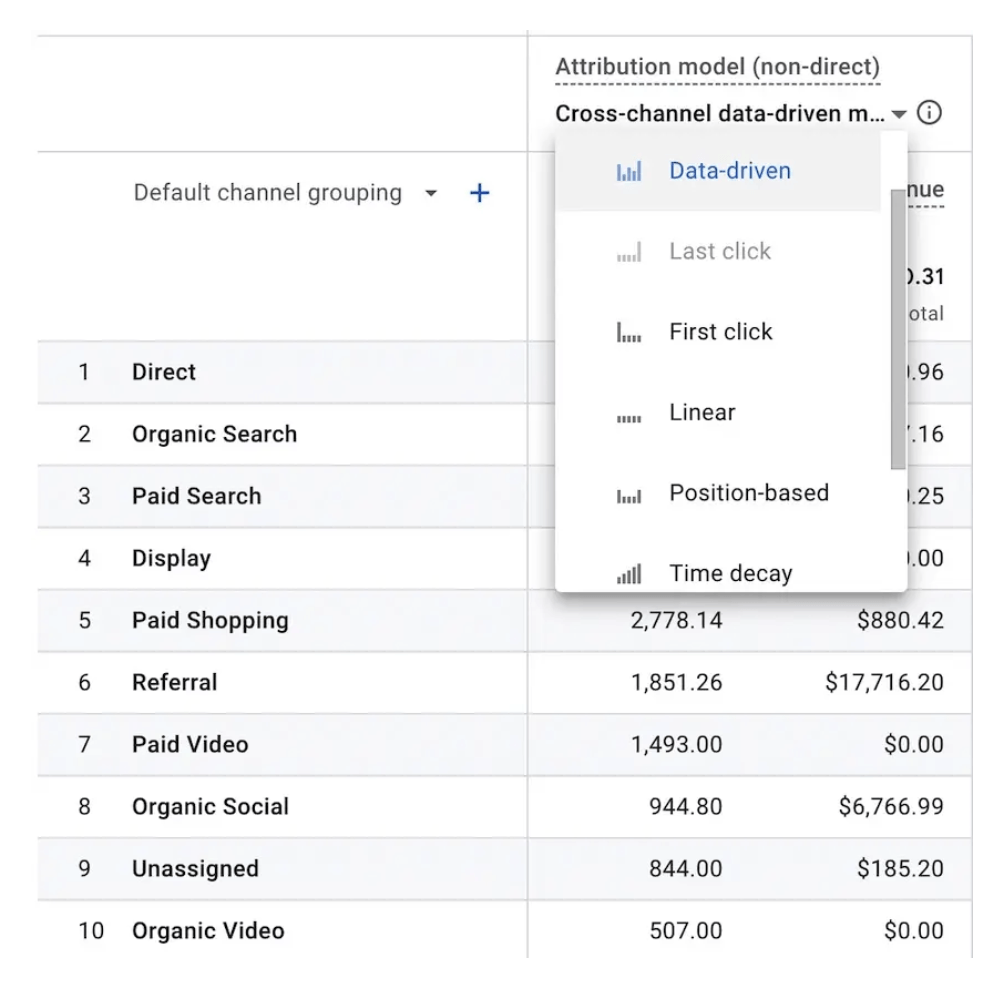 Data-Driven Attribution is a dynamic attribution model that looks at your users' source/medium/campaign combinations over their customer journeys and attempts to determine which are most crucial to the conversion.
It uses a weighting system to distribute credit: combinations that were more important toward driving a conversion are weighted more heavily, and less important combinations are weighted less.
Further, to determine how much credit a particular channel should get for this conversion, Google's machine learning algorithms will look at all similar paths to conversion to determine how crucial a particular click was to driving the conversion.
Quick Customer Journey Example + Credit in GA4
So, for instance, if a particular path to conversion was…
Paid search ad click
Organic search ad click
Affiliate click
Conversion
…Then, Google's algorithms will consider the conversion rates of users who follow the following paths:
Paid search ad click -> organic search ad click
Paid search ad click -> organic search ad click -> affiliate click
Enter a quirk.
What channel will get credit is unknown and is actually based on percentages of behavior:
Let's say the conversion probability of users following path 1 (i.e., without the affiliate click) is 5%, and the conversion probability of users following path 2 (i.e., with the affiliate click) is 10%.
In the case of path 2, the affiliate click doubled the odds that the user would convert, so it would therefore receive a larger share of the conversion credit than either the paid search ad click or the organic search click.
If it were the opposite case, and the affiliate click actually decreased the odds of the user converting, it would end up getting a smaller share of the credit when compared with paid search and organic search.
Changes to the Definition of a "Session" in GA4
Yes, sessions are changing too.
In Universal Analytics, a new session started either when:
A user first lands on your site
A user lands on your site from a new traffic or source/medium campaign combination
In both cases, a session ends after 30 minutes of inactivity.
In GA4, however, a session has been simplified to only include option 1: when a user first lands on your site. Session endings are the same in GA4, and they end after 30 minutes of inactivity.
While this change makes sessions as a metric easier to understand, it has fairly significant consequences on your data and reporting, especially when users visit your site through multiple sources in a short period of time.
Takeaways From Changes To Sessions
In short, your data will change.
However, actual changes may vary considerably depending on how customers interact with your site. In general, though, you can expect three changes:
Overall session count will be lower (we've seen this across the board, without exception with our merchants). Session counts per source will look different between Universal Analytics and GA4.
If you get a lot of traffic from affiliates that occur when a customer does a check for promo codes during checkout, you'll likely see fewer sessions from that traffic in GA4 than in Universal Analytics.
If you have abandoned cart emails that are triggered immediately after a customer leaves your site, you'll probably see a lower session count there as well.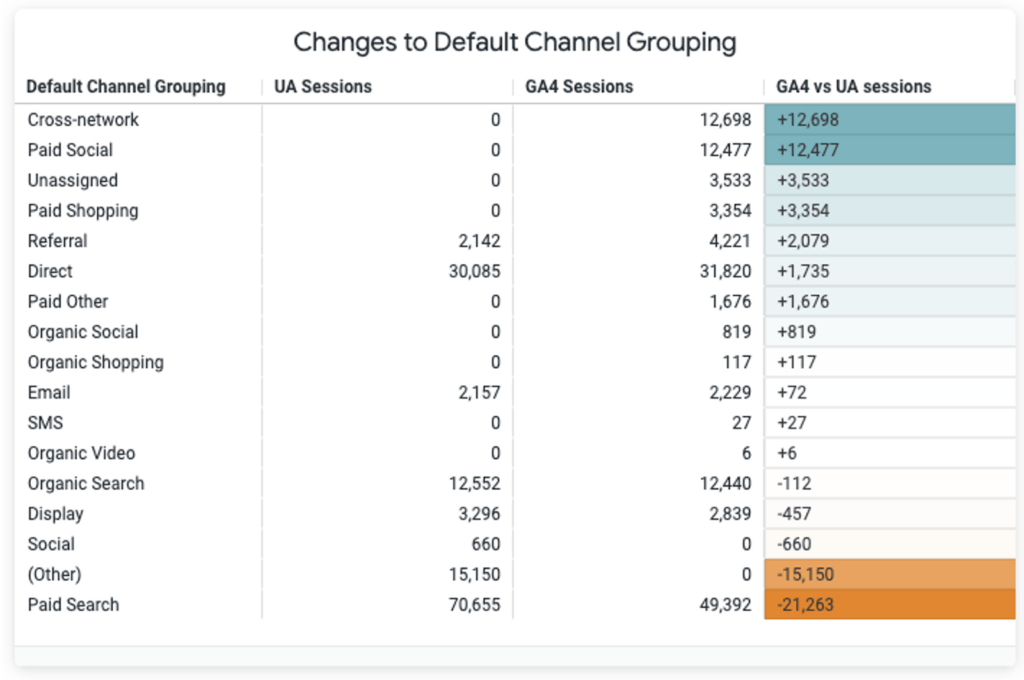 Different Channel Groupings
As a third fun set of changes with GA4, channel groupings are changing fairly significantly.
The short version:
Some UA channel groupings are being phased out.
GA4 is adding some new channel groupings. Additionally, some of the ones that are being carried over will have slightly different definitions. Unfortunately, GA4 does not yet have the UA feature to allow you to edit Default Channel Grouping definitions. We don't have any indication of whether this feature will be added to GA4.
The biggest changes to be aware of are around how GA4 buckets your Google Ads traffic.
In UA, virtually all of your Google Ads traffic is lumped under Paid Search. Additionally, most traffic with CPC or PPC in the medium was bucketed into paid search. In GA4, though, the channel groupings get a little more granular for CPC traffic:
If the campaign includes shop or shopping, it will get grouped as Paid Shopping.
If the campaign contains cross-network or is a performance max/smart shopping campaign, it will be grouped as Cross-Network.
If the source is from a list of video sites (e.g. YouTube), it will be grouped as Paid Video.
For a complete discussion, as there are dozens of changes to be aware of, we've written a complete guide to GA4 default channel grouping.
Get On Top of Your GA4 Data Yesterday (But Today Works, Too)
At Daasity, we centralize e-commerce, Amazon, retail, and wholesale data for consumer brands and enable robust analytics and reporting on KPIs such as customer lifetime value.
We also placed a major emphasis on preparing merchants for the GA4 transition. For more information about GA4, including several authoritative resources on the topics covered in this article (and others), consult our GA4 launchpad.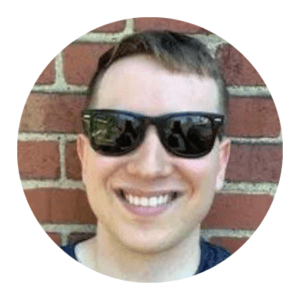 David Swendeman
Dave loves words, wordplay, and he has the audaasity to use a pun in his bio. Dave runs content at Daasity, and he works to make sure that as many people as possible understand how a data-driven business is a better business. Outside of work, he can be found studying languages, lifting things up and putting them down, and tending to his citrus trees.