Geo-targeting is a very powerful conversion optimization tactic that lots of businesses may disregard.
You don't have to be a brand with an international presence or a retailer with multiple brick-and-mortar locations.
The beauty of geo-targeting is that as long as you have website traffic coming from different locations (wherever that may be) – you can capture that data and show your visitors a personalized message based on where they are!
As a result, your visitors will be incentivized to further engage because the offer is more personal. Yes, this is an example of the marketing "buzz word": personalization.
Let's look at how Justuno user, Backstage.com, implemented this optimization strategy and what results they saw:
Targeting a specific audience
Niche job boards like Backstage live and breath to serve one specific, and usually underserved, part of the market. They also need to entice employers and job seekers alike to actually sign up.
That's where a smart offer like the one on display in the banner here can be used to target specific geographical regions.


This Banner offer they've created is offering 6 months of their service – FREE – only for UK users.
So, it only appears to website visitors arriving from an IP address that correlates to that geographic region.
Engagements: 3,679
Conversions: 990
Conversion Rate: 26.9%
Highly targeted promotions, in this case, an offer targeted just at residents in the UK, are a great way to create a sense of personalization that can tie in with your other marketing channels.
Note that the brand's name is in red and NO CREDIT CARD REQUIRED. This creates a bridge between the name of the brand and reduces the barrier to entry for those who may be reluctant to get started.
Six months free, no credit card required, brand name – those are the critical pieces of information and they are easy to pick up.
A banner is also a fantastic way to maximize your use of real estate, especially if you position your CTA right near other important buttons like a login button as seen in the example above.
A/B test a banner vs. full-screen takeover
Now that Backstage has hard data that geo-targeting works, they're beginning to test new forms of presentation.
Here's a full-screen takeover they've set up, which pulls in geolocation data to change the wording of the offer: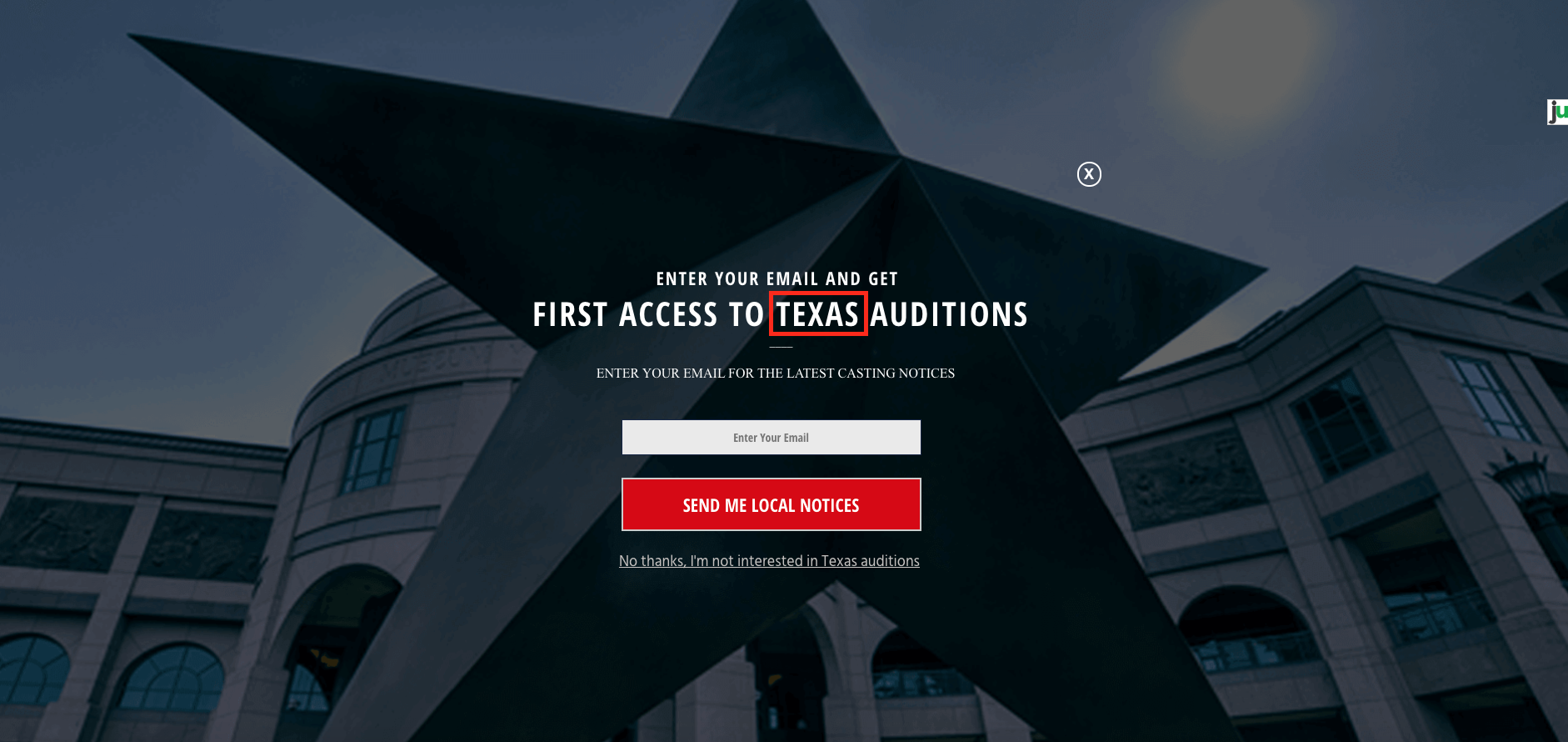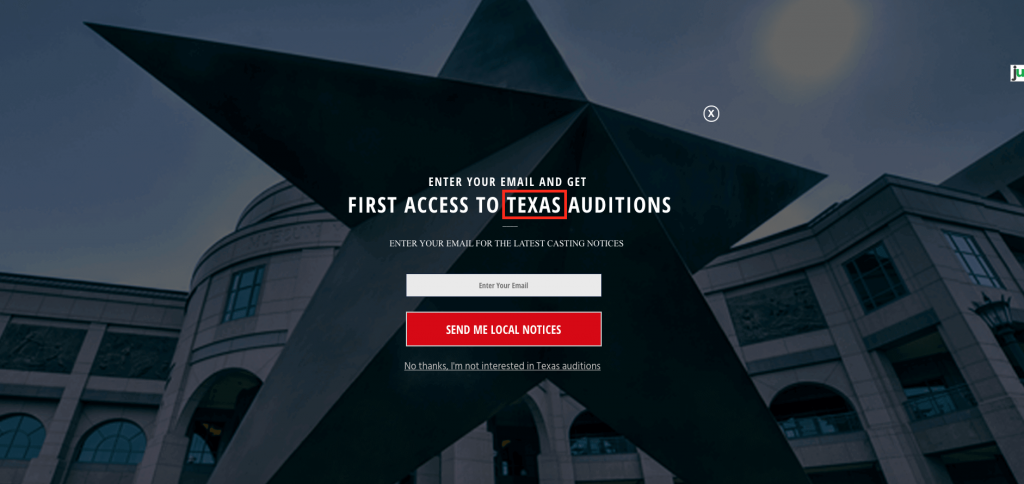 What are some use cases for geo-targeting?
Here are a few ideas on how you can use geo-targeting:
Announcing details of a pop-up shop to a specific area
Announcing the opening of a new brick-and-mortar store
Offering a special in-store (physical) discount to website visitors who visit a designated location (great for getting rid of excess inventory in a brick-and-mortar)
Offering exclusive access or a discount to visitors in a specific state/region/area
Setting up a compliant opt-in with the recent CASL anti-spam law in Canada
…those are just a few to get you brainstorming.
Start using geo-targeting today!
It's easy to start targeting visitors by their location. If you already have a Justuno account, login and design your offer.
The geo-targeting will come into play when you're ready to set up your Rules. To get a better idea of setting these advanced targeting rules, check out our Advanced Targeting Rules Support Documentation.
Want to see how another Justuno client, Ridge Wallet, used geo-targeting for mobile promotions? Check out their strategy that converted 4.9%!