For over two decades, The Mountain has been grabbing attention with their eclectic and bold t-shirt designs. You may know them from their iconic Three Wolf Moon® Tee and collection of Big Face® Tees that have taken the apparel game by storm! Chances are you own one of their shirts or are jealous of that one friend who rocks The Mountain gear.
Company Background
The Mountain has humble roots dating back to 1972 which involved onion rings, an ice cream truck, and eventually their first products, belt buckles. The two friends went on to found The Mountain, an alternative t-shirt company that burst onto the scene with licensed Grateful Dead, Jimi Hendrix, and Bob Marley tees. In 1996, The Mountain changed their focus to producing quality, eco-friendly artwear which has revolutionized the t-shirt game! The brand's legacy continues to carry on.
A few weeks back, I had the pleasure of talking with Sam Elliott, The Mountain's Director of Digital Marketing and eCommerce Operations, about their eCommerce success on the BigCommerce platform and how cart abandonment solutions provided by Justuno have helped grow their business.
Interview
The Mountain is a well established and respected company. What are some new things you are currently doing to grow The Mountain's brand?
Aside from launching new design categories and collections, we have a couple new things going on. First, we are in the process of launching a European website. The site is spectacular and we're really excited to serve the European market!
We also have launched a brand new line of college sports team shirts. Go check out the collection and grab your favorite team's gear! This new collection is in partnership with Operation Hat Trick, an organization that helps support our veterans.
What are some problems or struggles that you face as an online retailer?
Our biggest struggles are expanding our brand awareness and driving higher quality traffic to our website. Another major problem that we face is shopping cart abandonment. We are always looking for ways to prevent and recover abandoned shopping carts.
What are the key reasons you decided to use website conversion solutions from Justuno?
We wanted to expand brand awareness via social platforms by gathering more likes and followers. We also wanted the ability to design and present cool-looking pop-up promotions on our site. Lastly, we needed more control over exit offers for abandoned cart prevention and recovery.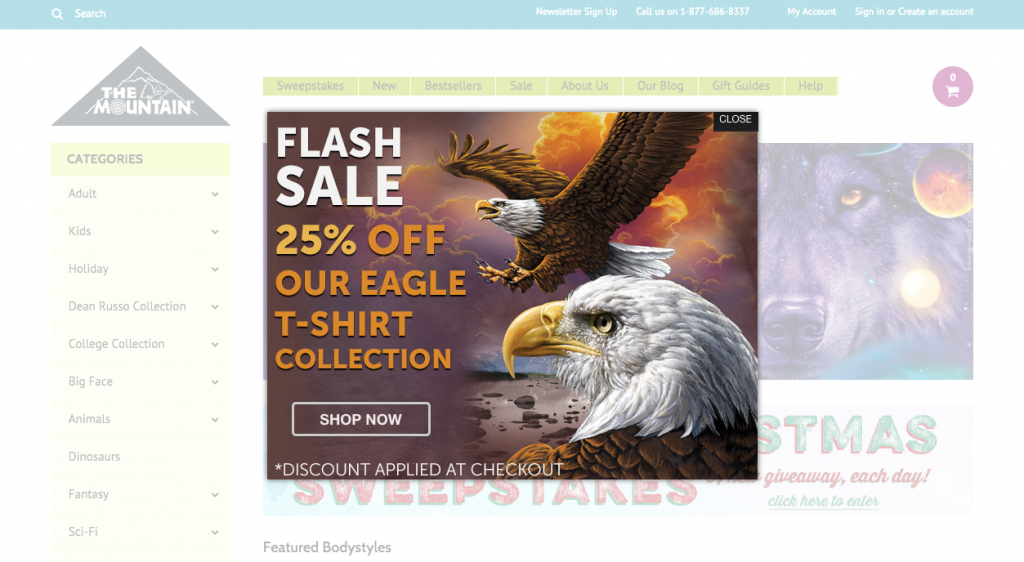 What do you like most about the Justuno platform?
I love using Justuno's design interface. To have so much control over look and design of both the pop-up and tab is incredibly cool. The rules-based system allows us to place pop-ups anywhere on our site, and engage any type of customer or visitor. It's so easy to use and intuitive. We have only scratched the surface of the power of Justuno. It's a unique sales/promotion tool that is far above the rest of the competition.
Decreasing Shopping Cart Abandonment
Shopping cart abandonment is one of the biggest, if not the biggest problem for online retailers. It's also the largest opportunity to bring in new revenue. A small decrease in cart abandonment rate can result in huge sale increases!
To decrease shopping cart abandonment, The Mountain implemented an exit offer on the cart page that stopped shoppers from leaving their carts. In a year over year comparison, this simple tactic decreased shopping cart abandonment rate by 30%!
By simply giving the promo code to shoppers at a critical point in the purchasing process, The Mountain was able to eliminate barriers and get shoppers to purchase that same visit.
Building Brand Awareness
Building brand awareness online is tough, especially when you have to worry about multiple sources of traffic. To simplify this, The Mountain engages shoppers with an email pop-up that acquires both email subscribers and social followers! After the promotion launched, we let it run and monitored the success.
The brand awareness promotion was able to grow Twitter followers, Facebook likes, and Pinterest followers without having to devote a bunch of effort!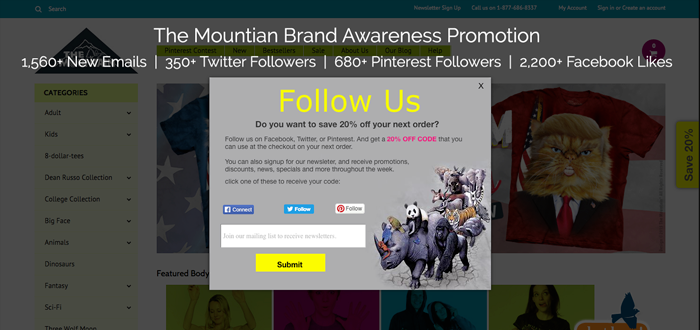 Final Thoughts
Through the use of on-site promotions, The Mountain has been able to accomplish their goals in reducing cart abandonment and growing their email subscribers and social followers.
To implement any of the website conversion optimization strategies outlined above, hop on a free 14 day trial of Justuno and get started in minutes!