The holidays are the most profitable time of year for eCommerce businesses. For a successful holiday season, it is necessary to differentiate your business from your competitors while also removing the #1 reason for cart abandonment: shipping costs.
More specifically, by offering free shipping to your customers.
83% of shoppers prefer stores offering free shipping, and 33% said they would only purchase online if offered free shipping.
As a small eCommerce business, the question is, how do you offer free shipping without sacrificing profits and efficiency? The answer lies in ensuring you aren't overextending your budget while also offering shoppers the shipping experience they expect.
In this post, we're talking about everything related to free shipping for small businesses, including how to offer free shipping on Shopify, how to make this budget-friendly for businesses, and how to market your free shipping offer in order to improve your overall website experience and conversion rate.
Why Should You Offer Free Shipping?
For consumers, free shipping is one of the most important factors they evaluate when making an online purchase. In fact, one of the main reasons customers abandon their shopping carts is because of exorbitant shipping charges. Research has shown that 56% of all cart abandonments occur because of shipping-related issues at the time of payment.
Providing free shipping is beneficial for both your business and your customers. Customers will be willing to make more purchases as they feel at ease buying your products without being concerned about the expense of shipping.
For many small businesses, offering free shipping might seem like a tactic that results in losing money. But this is not completely accurate. Consider it as bait that will pay off in the long run. Providing free shipping services is generally worthwhile, especially when done properly. Here are some figures to demonstrate why you should consider offering free shipping:
These statistics confirm what many of us already know—that Amazon and other large retailers with 2-day or even same-day delivery have raised customer expectations when it comes to fulfillment. They want it fast, but most of all, they want it for free, and many buyers are prepared to keep looking until they find what they want at no additional cost.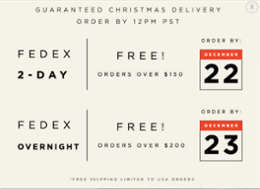 But we understand that sometimes it's not possible to offer free (much less express) shipping for many retailers, which is why we have some creative strategies below when blanket free shipping isn't an option for your store.
How To Offer Free Shipping on Shopify
Shopify merchants have the option to choose the type of shipping rates. Your shipping costs will usually fall under one of these headings:
Calculated Shipping Rates. Your first shipping option is to integrate third-party shipping calculators into your Shopify store. This means that the third-party shipping company will calculate your customers' shipping costs as they check out after making a transaction, ensuring that you charge just the right amount for delivery.
Flat Shipping Rates. Choosing a flat-rate shipping fee makes the checkout process much simpler for your customers. You can define different flat rates for different locations in the world.
Free Shipping. As a Shopify merchant, you can choose to add conditional free delivery rates to your store. Conditions could apply to particular products, volumetric weight, orders, or consumer groups, as well as to specific geographic places. To set up free delivery on Shopify, follow these simple steps:
Log in to your Shopify admin dashboard
Navigate to Settings and select Shipping and Delivery
Select Manage rates on the shipping profile you want to alter
Click Add Rate and put a 0 in the price field
Click Done and Save
How To Make Free Shipping For Small Business Operations Budget-Friendly
Offering free shipping services throughout the holidays can be difficult for small businesses. It is great because it reels target customers in for sales, but how can you afford to pay for it? Here are some different methods to use when setting up a free shipping offer:
Hide The Shipping Cost In The Price: Factor in the cost of shipping, or at least some of it, into the price of the item. That way, you can still offer free shipping and make a profit. This removes customers' mental blocks about paying for shipping by simply not showing another option.
Set A Minimum Amount: This is something even some of the big box stores enforce: a minimum order value. Follow suit and set a minimum order amount to qualify for free shipping. This will ensure you are not losing profits when offering free shipping. Using Justuno, you can create these dynamic threshold banners to show shoppers how much more they need to spend to unlock free shipping.
Bundle Products: Shipping more than one product will lower the cost of shipping, not to mention boost cart values. For products frequently bought together, offer free shipping on a bundled product listing.
Event-Based: Offer free shipping on specific days or hours. Use this as a flash sale, where you randomly announce the free shipping offer, or as a scheduled promotion, where you market and create excitement for the offer.
Members Only: Have a loyalty or rewards program? Offer free shipping for that customer base, specifically. It's a great perk for your loyal, frequent fliers and can help increase the number of program members. Use Justuno to show free shipping messaging to those who are logged into their account as a reminder of their status. Or, for those not logged in, when they add something to their cart, trigger a pop-up prompting them to create an account to unlock free shipping on today's order.
Email Sign-Up: Do you have a newsletter or email list? Run a promotion offering free shipping on your email pop-up for new subscribers. Once they sign up with their email address, they get free shipping on their first order.
Bestsellers: Look at your inventory and determine your highest-performing products. Take the top three with your best profit margins. Offer free shipping on any order that includes a purchase of one of these bestselling items.
Certain Locations: Offer free shipping to certain locations or areas. Choose areas that make sense, logistically, to ship products for free without your business losing money. It may be areas near your warehouse, brick-and-mortar locations, etc. Use Justuno's geo-targeting rules to show this message only to those who qualify for it; you can even get as granular as zip code for US traffic!

How To Best Market Your Free Shipping Offer
Now that you have some ideas about how to make free shipping feasible for your business, it's time to look at how to promote your offers.
After all, if nobody knows about your promotion, it's ultimately not going to be effective. Before we get into the marketing strategy, we need to figure out how your free shipping offer will be redeemed.
In most cases, retailers are going to distribute promo codes that the shopper will redeem at the cart or checkout. Most cart platforms provide an easy interface for creating promo codes with specific parameters for custom promotions.
Promo codes are easy to distribute, and it's easy to monitor how effective your promotion has been.
Three Promotional Marketing Tactics For Free Shipping For Small Business
Engage New Shoppers With A Promotional Pop-Up
80% of consumers stated that free shipping would make them more likely to purchase. Given this information, presenting your free shipping offer to new shoppers makes sense.
Using a Shopify pop up is the easiest and most effective way to promote your offer to all new shoppers. If your free shipping offer requires a promo code, you can easily distribute promo codes directly from your pop-up.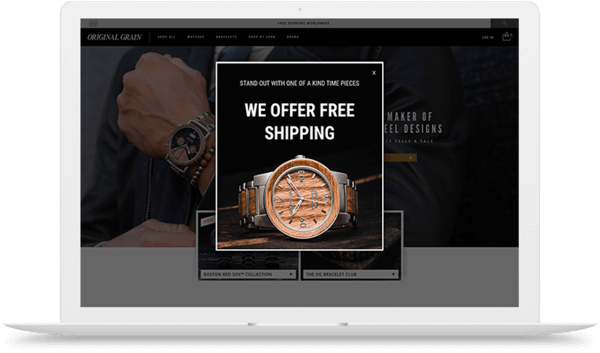 To make it easier for your shoppers, you can add a "click-to-copy" feature to copy the promo code to the shopper's clipboard when clicked. Want to take it a step further? You can auto-populate the promo code in the cart and checkout pages with a bit of coding!
Free Shipping Threshold Promotions
As discussed earlier, you can make free shipping work for your business by setting up restrictions. Setting a minimum order amount for free shipping, also known as a free shipping threshold, is the perfect way to ensure that free shipping doesn't destroy your margins.
These thresholds can also increase the order size. Research has shown that consumers want free shipping so much that they are willing to buy more just to get the incentive.
Now, onto how to market your offer effectively so you can capitalize on this shopper behavior. Typically, we see banners at the top of the site that state, "Free Shipping on orders of $XX or more." This is fine, but we can do better, and we even have a video showing you how to do it.
In this video tutorial below, you'll learn how to set up a free shipping threshold promotion that updates to tell the shopper how much they have left until free shipping.
The video also shows how to engage shoppers with shipping promotions once they reach the given threshold. If you're on the Shopify platform, the tutorial can be found here.
Cart Abandonment Free Shipping Offer
When it comes to the holidays, shoppers are looking for the best deal possible. This exposes retailers to a massive increase in cart abandonment rates.
Since we know that the top reasons for cart abandonment generally have to do with price and shipping expenses, we can meet our shopper needs by offering free shipping to abandoning shoppers on the cart and checkout pages.
This tactic can make a huge impact on sales conversion, which is so important during Q4.
Note: If you plan on setting up free shipping offers with limitations, you will have to customize your promo codes or your checkout process within your cart platform to accurately apply shipping discounts.
This is the same as your pop-ups and promotions. You can implement display rules based on time, date, cart value, past order history, product specifics, geo-location, and much more.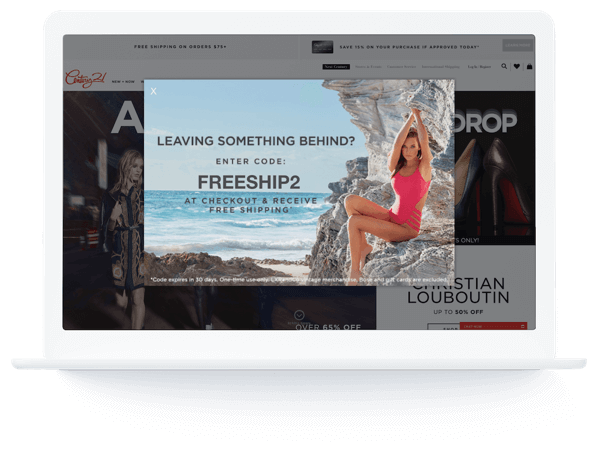 This gives you everything you need to align your promotional campaigns with the promotions you've lined up in the backend of your site.
Factors To Consider Before You Offer Free Shipping For Small Business Operations
There are several things you need to take into consideration before offering free shipping:
What Are The Carrier Rates? You must take into account how much carriers are charging to ship your products to the delivery address. Simply because you are providing free shipping does not eliminate this expense.
How Much Are The Transaction Fees? Any additional costs you pay on your transactions must also be taken into account. These could include items like credit card fees and duty fees.
Are There Shipping Surcharges? These are additional fees that shipping carriers can add to regular shipping costs and are very common during the holiday season. Make sure to stay on top of any shipping surcharges that may come up during this time.
How Much Revenue Are You Prepared To Give Up? If you decide to offer free delivery, you will be responsible for paying for the shipping of the goods. Before starting, it's crucial to consider how this can impact your profit margin.
Does Free Shipping Pay Off? To answer this, you must determine whether free shipping improves your conversion rate and other important metrics enough to offset its cost.
How To Handle The Influx Of Orders During The Holidays
Now that you have perfected how to offer free shipping to your customer, how will you ensure the order will make it to its destination on time?
Many factors, including sales channels not being synced, improperly managed inventory, overselling, and fulfillment mistakes, can be detrimental to a business. Prepare for the influx of sales by doing the following:
Forecast Sales: Planning ahead through forecasting is an important step to ensuring you have the proper amount of inventory for the holidays. Start by looking at industry trends and data, your company's sales history, and your customer's purchasing habits.
Calculate Safety Stock: Calculate the minimum safety stock (items sold per day x days it takes for new inventory to arrive) for your bestselling inventory so you always have a buffer on hand.
Automate: Take the hassle out of managing your inventory this holiday season through automation. By using inventory management software or a shipping automation system, you can have more time to focus on other important operations of your business.
Free shipping is an enticing offer for customers and has proven results for businesses. Use one of these ideas for offering free shipping this holiday season and watch the sales roll in.
The Bottom Line For Offering Free Shipping As A Small Business
With the rise in popularity of online shopping in recent years, it's getting harder for small businesses to set themselves apart from the competition. Because of this, offering free shipping is a great method to establish a solid rapport with your target customers, improve the shipping experience, and get them to keep shopping at your store.
This post has walked you through free shipping as a marketing strategy, how to free shipping for small businesses, and how to offer free shipping on Shopify.
If you'd like to see how these strategies might look on your website, reach out to our team for a custom demo or get a conversion audit to see where else you can optimize your website for this year's holiday season.