When it comes to marketing to shoppers on your site, direct and relevant communication will yield the biggest return. A marketing message with content personalized to a particular shopper's session is the ultimate dream for retailers.
That dream is now a reality! Justuno offers Shopify merchants and marketing agencies the ability to incorporate cart values into both design and targeting. This opens up so many possibilities to deliver true 1:1 marketing messages throughout the shopping experience.
Incorporating Cart Value Into Your Marketing
Add Cart Values Into Your Promotion Design
Shopify users can easily add both cart total and cart quantity directly into their promotions, which is great for consistent messaging but also for some unique opportunities such as upsells, threshold promotions, and much more. We'll get into this more in the next section.

Target Shoppers Based On Cart Values
Displaying different cart values within your Justuno pop-ups and banners is just half of it. We've also built-in functionality that lets you do some pretty cool stuff! Shopify cart value rules allow you to target shoppers based on the following:
Product Number, Name, Quantity, Price, Color, and Size
Cart Total and Cart Quantity
Past Order History
New Customer vs Returning Customer
Time Since Last Purchase
All of these capabilities are built into Justuno's advanced targeting rules and can be implemented on your Shopify store. Now, onto some applicable use cases of the cart value functionality.
Use Cases For Cart Value Functionality
Free Shipping Thresholds
This use case makes sense for any e-commerce retailer that is looking to increase average order value. Free shipping is a high-value perk that shoppers are avidly looking for, but it doesn't always make sense to offer it on every order.
A free shipping threshold allows retailers to choose which cart totals to offer free shipping and use it as a conversion tool. Using Justuno's cart value functionality, you can display the exact dollar amount needed for a shopper to get free shipping (or any other incentive).

Target Specific Cart Totals & Created Tiered Promotions
Let's face it: we can't always use a "one discount fits all" strategy with promotional marketing. Offering free shipping on every order just isn't feasible for retailers with bigger items, lower AOVs, or those with shipping surcharges. It also makes sense to target higher cart values with special offers that convert at a higher rate.
With these cart value rules, you can deliver specific promotions to shoppers based on the dollar amount in their cart, giving you another conversion tactic to drive sales from high-value shoppers. Here, you can get very creative with your discounting strategy without sacrificing margins on low-value sales.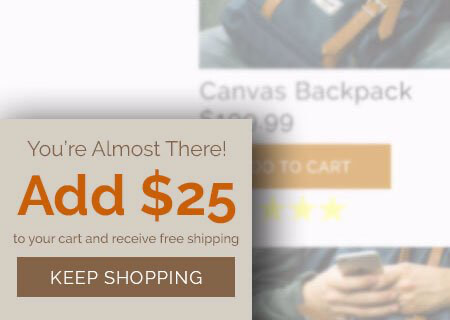 Deliver Promotions Based On Specific Items In Cart
By using Justuno in unison with Shopify, you can get super crafty with personalizing marketing messages based on the contents of a shopper's cart. Deliver specific messaging, promo codes, or an upsell opportunity when a shopper adds a certain item or items to their cart. Boil it down further by quantity, color, price, or size!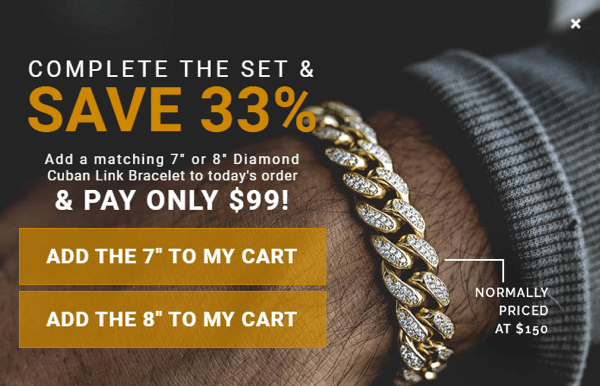 The GLD Shop serves up upsell offers once a shopper adds specific items to their cart!
Specific Promotions For New & Repeat Customers
One major frustration that retailers run into on promotional campaigns is the inability to fully segment between new and repeat customers. These audiences should absolutely be treated differently, but it hasn't always been possible.
Using past order history, you can truly segment between these two different audiences and deliver a unique experience to each using Justuno. This is particularly valuable for retailers who want more control over their promo codes and which shoppers they are delivered to. Create larger segments like new visitors vs. repeat customers, but you can also get much more granular. Here are a few examples of the types of website segments we see our customers targeting:
Window Shoppers (Visited the website 3 or more times without purchasing)
First Time Cart Abandoners (Signed up for newsletter or SMS and added items to the cart in first session)
New Customers (First purchase)
Return Customers (Made 2 or more purchases)
VIP Customers (Made 3 or more purchases OR CLV is higher than average)
Discount Lover (Only purchases with a coupon code)
And many more
Develop and execute a personalized strategy for each of these segments using Justuno's advanced targeting capabilities + dynamic pop-ups.
Specific Promotions For ShopPay Customers
Shopify retailers can use Justuno's lead capture by Shop feature to grow their email list with automatically saved and applied discounts from a single opt-in.

ShopPay is an accelerated checkout allowing customers to save card and shipping information to glide through checkout with pre-filled fields. Justuno allows you to add this log-in to your lead captures for seamless list growth and subsequent conversion optimization.
Create dynamic pop-ups to continue personalizing the experience of logged-in ShopPay customers after interacting with your lead capture to push them toward checkout.
Create A Dynamic Cart Value Promotion Today!
As a Shopify retailer, you need the ability and flexibility to create dynamic promotional offers. Now, with Justuno's cart value rules, you can essentially create highly targeted and relevant promotions to turn everyday shoppers into paying customers.
Get started today with a free Justuno account, and check out our support documentation for full instructions on how to set up these offers.
Want to do even more to optimize your Shopify store? Check out these 15 top-rated apps for Shopify retailers to take your strategy even further.