Imagine this: your customers keep coming back to you. They frequently buy the latest products from your store. AND they invite their friends, too, because they love to spread the word about you.
Now, let's turn this lovely little fantasy into reality. Retaining your best customers long-term and having a recurring source of new business referrals from them.
A loyalty program can make it happen IF it triggers the right reactions in customers. Reactions that show how happy your customers are with you.
What are these reactions, and how can your loyalty program encourage them? That's what I'll cover over the next five points:
Wow, This Is Way Better Than A Discount!
77% of loyalty programs fail in the first two years. What's the reason for this?
The answer: because they only reward purchases.
Now, let me ask you a question: what kind of connection would we have if I only rewarded and recognized you when you purchased a hot coffee from me? (And let's say I have a successful coffee chain, like Starbucks… lucky me.)
Empty. That's how I would describe our "relationship." I give you the product you want; you give me the money. Oh, and I give you some points after your purchase. But the problem with that is that it pretty much communicates one thing: "I'm giving you the points to try and get you to buy more."
That's no relationship! So how can stores move away from this emptiness? Simply by surprising customers, and rewarding them even when they're not making a purchase. Like when they share a product page from your store, when they watch a how-to video, or when they post a photo of your brand new product to Instagram. With this move, you're hitting two birds with one stone:
You let customers reach little achievements before or alongside a purchase.
You provide an incentive to increase customer interactions with your brand. And more interactions lead to more engagement. And that leads to your brand being top-of-mind when it comes time for your customers to shop.
I Can't Get Enough Of You!
The next component is straightforward communication, which is a MUST in an engaging loyalty program. Customers won't find out what the real value of your loyalty program is if you don't come right out and say it. Here are the tools that can help you reach this goal:
On-Site Notifications: Automatically notify your customers with a floating panel once they've completed a rewardable activity. It's the perfect combination of instant gratification & a sweet surprise.
Automated Emails: Set it up so your customer receives an email when their friend shares a product page or when there's a new reward they can save up for in your loyalty program. These automated emails will save you time while also providing real-time personalization to your customers. If customers are enrolled in your loyalty program, excite them with news and special events and motivate them with updates about how their friends are participating.
Banners: This is when your customers see a banner next to your videos. This can, for example, show how many points they'll earn after watching the video up to a certain point. (This feature is unique to loyalty programs made with Antavo, where we make dynamic, gamified loyalty programs for our clients.)
See? The more places you can communicate the benefits of your loyalty program, the greater the chances that customers will get hooked!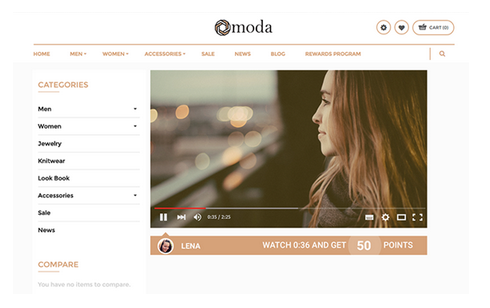 This video banner serves two purposes: it notifies loyalty members how many points they can earn by watching the video, AND for non-loyalty members, it shows how many points they would earn if they were enrolled.
You're Like A Friend Who Knows Every Thing About My Preferences!
Of course, personalization should not be forgotten! I don't just mean on your website, but in your loyalty program, too. Try to make sure you're sending your customers the most relevant offers and updates possible.
Don't know where to start? These elements will help you maximize the power of personalization:
Customer Surveys: A loyalty program gives you a great opportunity to encourage customers to fill out surveys giving your zero-party data about their personal preferences, in return for a small sum of points.
Customer Segments: After collecting the data you need, you can create groups of your customers based on certain filters, like gender, last time they were active in your program, or the number of unspent points they have awaiting them.
Email Marketing: Once you have your segments ready, you can communicate with them in the most relevant emails. You can send personalized emails to each member, "re-activating" them, getting them back on your site… or just keep your active members updated, sending them news based on their preferences, satisfying their curiosity!
And that's how it's done! A loyalty program is a great tool to help you dive deeper into the world of personalization. Below you'll see an example of Lancome's newsletter, where they promote their loyalty program with every send.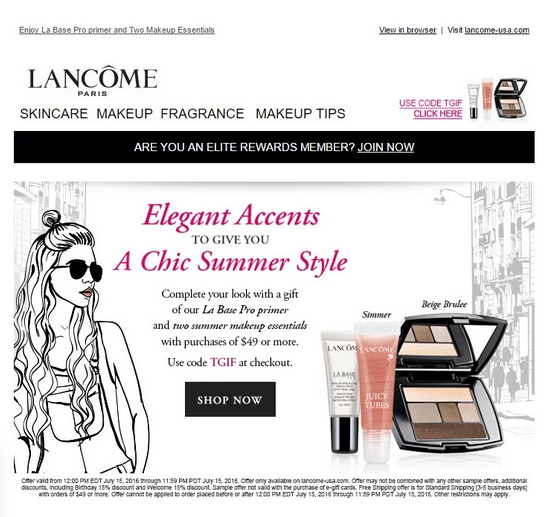 Let Me Entertain You
I promise I'm not quoting lines from Robbie Williams' famous song by mistake…because the usual problem with loyalty programs is that, after some time, they can become just plain boring. For example, if you don't set milestones for loyalty members to reach, there's no real way to keep up their interest in the long run.
That's why I usually recommend having at least three different customer levels in your loyalty program. The higher level of loyalty that members reach, the better rewards they can get their hands on. And it doesn't just stop at reward options; it can also mean more fun names and ways to earn points. This gamification of the loyalty program makes customer retention that much easier–by providing an element of fun to their experience.
Come up with some fun names for each level, that are related to your business and also show your personality! Just take the beauty experts at Sephora, for example. They have three customer levels, namely: Beauty Insider, VIB, and VIB ROUGE.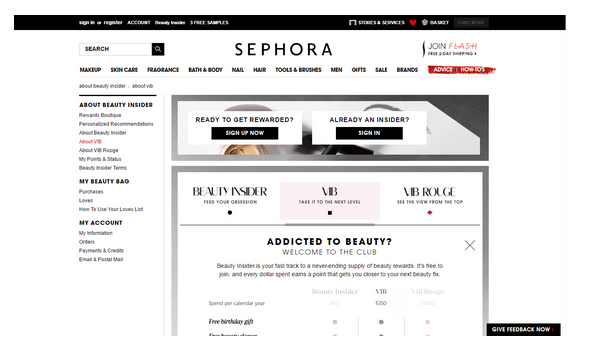 Sephora has three tiers set up for its loyalty members. This allows shoppers to reach achievements other than just collecting points, keeping their interest in the long term.
You Make Me Happy & I Want To Tell Everyone About You
It's just a fact of life and loyalty: when shoppers are excited about and satisfied with your program, they're more willing to talk about it. As the good ol' stat says, 73% of loyalty members are more willing to recommend a company if they have positive experiences with it. And the best part is, you can maximize the viral nature of a loyalty program with these three tips:
Points for Shares: Let customers earn points by simply sharing one of your pages on Twitter or Facebook or by sending the link to their friends through their favorite channels, i.e., in an email. Give them points for the share, telling them you appreciate when they spread the word!
Points for Referrals: A fantastic way to encourage referrals is to reward customers who invite their acquaintances. But, in addition to giving loyalty points to those who send out invitations, you can also increase the chances that these new referrals will do business with you by giving them a sweet little discount on their first purchase.
Contests: Create some buzz by running a contest for your loyalty program members. By offering really exclusive rewards, you can encourage members to spend their points! Or give them a bonus entry if they share your content with others. Once they've shared it, you've got a great chance of getting more people to join your loyalty program, too.
The idea here is to come up with powerful incentives that increase word-of-mouth for your company encourage customers to spread the word about you, and invite more new customers to your store.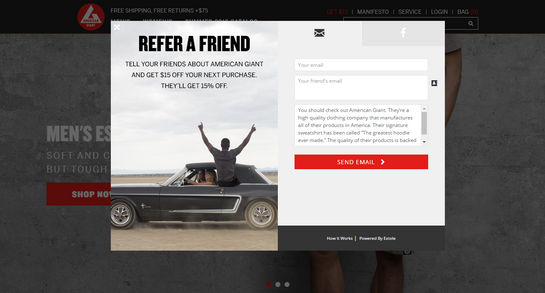 American Giant uses a dual-reward mechanism. This means that not only their current customers but also newly-referred shoppers benefit. Current customers earn $15, while referred friends receive 15% off their first purchase.
What Does It All Mean? Happy Customers
The success of a loyalty program depends on how it can please your customers in the long run. Since the goal of every loyalty program is to retain these customers, it should provide a variety of ways to engage them – through the many different channels they're active on. For example, if young Millennials are your customers, then don't leave Snapchat out of your loyalty marketing strategy.
Oh, and no matter what channels you're on, try to continually surprise your customers with relevant rewards. Delighting customers and making them happy serves to strengthen the emotional bond between you two.