Apple's latest release of software updates with IOS16 continues their trend of throwing marketers a curveball. Last year's updates were primarily focused on privacy and impacted email/data usage, while this year's updates are geared more towards personalization and how Apple users can customize their iPhone experiences.
Let's dive into some of the bigger announcements and what they mean for your brand's marketing strategy.
1. iOS16 Safari Web Push Notifications
Previously, push notifications were desktop only. However, they will now be available to reach Apple users on Safari in 2023. You can add this to your marketing toolbox to collect opt-ins from mobile visitors and be able to reach them by native mobile pushes without Safari being on/used.
This is a great opportunity for brands who don't have a mobile app and want to provide a mobile-friendly experience for their Apple customers where they previously couldn't.
Start planning now for a push to collect opt-ins from your mobile Safari traffic, but don't overdo it. Take a similar approach to that of SMS lead captures since push notifications are a very personal, 1:1 channel. We suggest starting with your VIP customers that are already opted-in to your other channels & offering them incentives like double loyalty points, a free gift, etc. to subscribe.
Alternatively, use this when you have products out of stock or an upcoming collection launch, push notifications are best used for small amounts of time-sensitive info to maximize relevance and engagement.
2. Mark SMS Messages as Unread
Among other updates to texts like editing (finally!), unsend, and recovering recently deleted messages—Apple is now letting users mark texts as unread so they can come back to them later. A great way to work this into your SMS campaigns is by adding a line like "Not ready to shop? Mark us as unread so you don't forget this deal!"This update has the potential to extend the life of your SMS messages and campaigns, opening up the opportunity to send less time-sensitive campaigns, which SMS is known for.
3. Expanded Support for SMS Filtering
Because of the rise in brands using SMS to connect with customers, Apple has added additional support to filter messages from unknown senders. They introduced a nuanced categorization schema that automatically filters SMS into either Transactions, Promotions, or Junk. Then within the Transactions and Promotions, there are sub-categories for:
Transactions: Finance, Reminders, Orders, Health, Public Services, Weather, Carrier, Rewards, Other
Promotions: Offers, Coupons, Other
Take a deep breath! This shift still requires effort on the part of the consumers, taking initiative to download a filtering app and then set up their settings, etc., to access this function. So, if someone is taking the time to do all that…you've likely really annoyed them and should be rethinking the value and messaging approach of your SMS efforts to start.
But that's not to say you should sleep on this. Apple is known to make these changes easier to use by customers with time. So take this as a signal to re-evaluate your SMS sends and make sure you'd be in the right category (AKA not junk).
Even better, encourage your subscribers to save your contact information, so you're always landing in their primary inbox.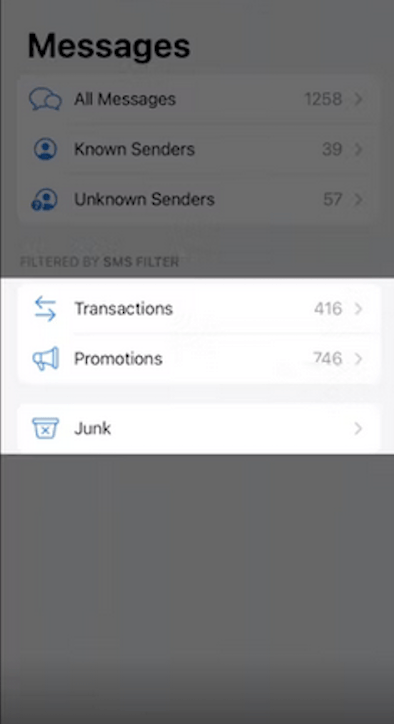 What the SMS Experts Have to Say
We asked a few of our partners to give input on what they think these iOS16 updates will mean for SMS marketing and what brands can do about it to ensure they're not missing out.

The newly introduced "Report Junk" in iOS 16 is great for customer control, similar to previous privacy changes from Apple. It will help curb bad actors and protect the channel's long-term viability for brands that respect the channel and the end customer.
Brands need to double down on a thoughtful approach to SMS and personalization of their texts — from what goes inside (such as dynamic shortcodes) to who it's going to.
Similar to iOS15, brands will need to lead with a clear value exchange. That starts with opting in by sharing with customers exactly what type of messages they can expect from a brand via SMS. This will be especially useful for establishing trust with subscribers and building long-term relationships.
This means increased importance of contact cards used by brands. Contact cards are widely known to boost brand recognition and drive higher engagement. Now with iOS16, getting users to add a brand to their contact list is more important than ever, as the "Report Junk" feature will only be visible to users when the message comes from unknown senders.
As for unsubscribe rates, we are predicting a minimal impact as unsubscribing from SMS messages has always been simple for customers by replying "STOP." Additionally, based on Apple's documentation, reporting a message as junk/spam doesn't actually unsubscribe a customer. In the long term, it is something we will be watching.
-Kalah Siegel, Co-Marketing Manager
---

For several years now, users could categorize SMS messages for known and unknown numbers. I, for one, tried using folders but eventually turned the feature off. The separation created an extra step (navigating between the two) that doesn't match how I prefer to use SMS—for quick info.
For DTC brands, I expect very little impact from having the ability to categorize texts. If it does become adopted over the next several years, I expect it to be beneficial to merchants, much like the Gmail promotions tab. Users who specifically navigate to promotional messages are in a shopping mindset and are more receptive to the content. That's a good thing for brands.
Having the ability to mark SMS as junk is more interesting to me, but I think this impacts brands less than actual spammers and those pesky political texts. Like with email, you will, of course, have a small subset of subscribers mark messages as junk instead of opting out, but I believe it will be an exception rather than a rule. Seeing as SMS is an opt-in channel, meaning only people who opt-in to receive them will, this should limit the instances of consumers marking messages as junk.
That doesn't mean brands shouldn't be smart about how to use SMS. Because of their relevance, behavior-based automated SMS messages convert 350% better than scheduled campaign SMS messages, and conversion rates for these messages increased 42% year over year. Continuing to optimize automated workflows to combine email and SMS will be a good way to ensure messages are continually wanted and acted upon. For scheduled SMS campaigns, brands should work to make them as relevant as possible by adding a layer of segmentation to them.
All in all, I don't think there will be a storm to weather with these updates. Focus on growing your opt-in SMS list and make your messages as relevant as possible, and you'll put yourself in a great position for increased success.
-Greg Zakowicz, Sr. Ecommerce Expert
---


I think that the "Report junk" prompt that's now being surfaced on iPhone should serve as a friendly reminder to marketers that if they're going to spend time, energy, and money on SMS marketing, it is critical to have a clear strategy in terms of what kind of messages you're sending and who you're sending them to. Segmenting customers into useful buckets relative to your industry and brand while providing as much unique value as possible is key to keeping yourself out of the Spam folder. SMS is an incredibly personal channel, and it's up to us as marketers to respect that.
-Jenn Brisebois, Principal Customer Education Specialist
---
There is a lot of confusion about how SMS messages can be filtered by consumers. According to 9to5 Mac re: iOS16 specifically: Apple has its own SMS filter built into iOS, but there's a catch. Right now, it is only available for users in Brazil and India – as these countries are heavily affected by SMS spam. With iOS 16, some of the new SMS filtering subcategories will be available by default in India, but users in Brazil will continue with the Transactions, Promotions, and Junk categories.
This is what is being hyped as coming and will destroy SMS open rates, but it's been in testing stages for a while when you look back into when they first started playing around with similar functionality back with iOS14.
Looking at what Apple currently offers for everyone outside of Brazil & India, you can have your SMS sorted, BUT it can only be known vs. unknown numbers. My husband can't stand SMS junk, so when the feature first came out, he excitedly went to enable the feature and was disappointed with the buckets of known vs. unknown because of how often you get 2FA verifications, and those end up in the unknown folder. It also wasn't a feature where the user was forced to make a decision and thus had much lower adoption compared to features like iOS14.5 that forced users to say if apps were going to be able to continue sharing data (we all know that was an extremely painful change for marketers, and I would imagine that being a forced decision had a big impact on adoption).
I think for merchants using SMS today, the big thing to keep in mind is that they want to avoid being seen as an unknown sender. While that isn't a problem right now, it will become increasingly challenging in the future as more changes to iOS & Android continue to roll out.
Contact cards are going to become increasingly important because they give consumers a quick, easy way to save a brand's SMS number to their phone. This, first and foremost, makes the brand a known sender but secondly, allows merchants to have more branding when a consumer reads their texts by adding an image & name instead of their phone number- just like you would see from a friend or family member who is saved in your phone.
All of this is important because the option to report junk appears on messages from unknown senders. As more consumers up to iOS16, I think we will start to see the impact of messages being reported as junk/spam in a much higher volume. Having those strong relationships is going to become even more important.
-Mindy Regnell, Principal Market Intelligence Manager
---
This is simply the result of SMS marketing becoming more mainstream and the inevitable need to provide consumers with more control and customization options. Much like Google introduced the promotions and social folders in their email inboxes—this SMS filtering will lead to the need to shift approaches and cause brands to try a little harder to make it in the main inbox and be read. Overall, SMS marketing will only get better as a result of these changes—marketers will need to provide real value to subscribers and invest in building a relationship over SMS.
Looking for help to grow your SMS list? Check out Justuno on a free 14-day trial to get started collecting more subscribers and optimizing your online performance.