This article is brought to you in conjunction with our partners at Postscript.
Why SMS Compliance Matters For You
SMS compliance is a constantly moving target, and we're here to bring you up to speed on the latest: compliant pop-ups.
We've just been informed that moving forward, brands capturing SMS opt-ins via an SMS pop up must now have the phone number collection form as its own step with its own CTA. This means if you want to capture both SMS and email in your pop-up, it needs to be a multi-step pop-up in order to be compliant, and the phone field must not be required to complete the opt-in flow.
What happens if you're not compliant? Non-compliant brands are at risk of having message sending blocked by carriers, or worse, fines*?  
This change impacts merchants of any size, and we want to help you prevent any issues before they happen so you can focus on growing your business.
*Violations can result in class-action lawsuits with fines starting at $500 and going up to $1500 per customer for every text message sent. In addition to the legal repercussions, you will also have to deal with the backlash from your consumers if you do not respect their right to privacy. (source)
Here's a more technical look at what staying compliant looks like:
What's The SMS Compliance Update?
Email and SMS must be split into different steps
SMS field must be optional
The pop-up must be dismissable (must be able to close at all times)
The consent checkbox for SMS is optional as long as the SMS field is optional
The pop-up must include compliant opt-in disclaimer language, with links to both your Terms of Service (ToS) and Privacy Policy
Justuno was recently notified that carriers have made an update for what they consider to be proper SMS opt-in consent for pop-ups:
"Opt-in stands alone and is not displayed with other forms of communication (email, voice calls, etc)." (Source)
Additionally, the phone field must not be required to complete the opt-in flow.
What this means is the email field, and the phone field need to be entirely separate calls-to-actions.
Translation: your Justuno SMS capture needs to be a multi-step capture!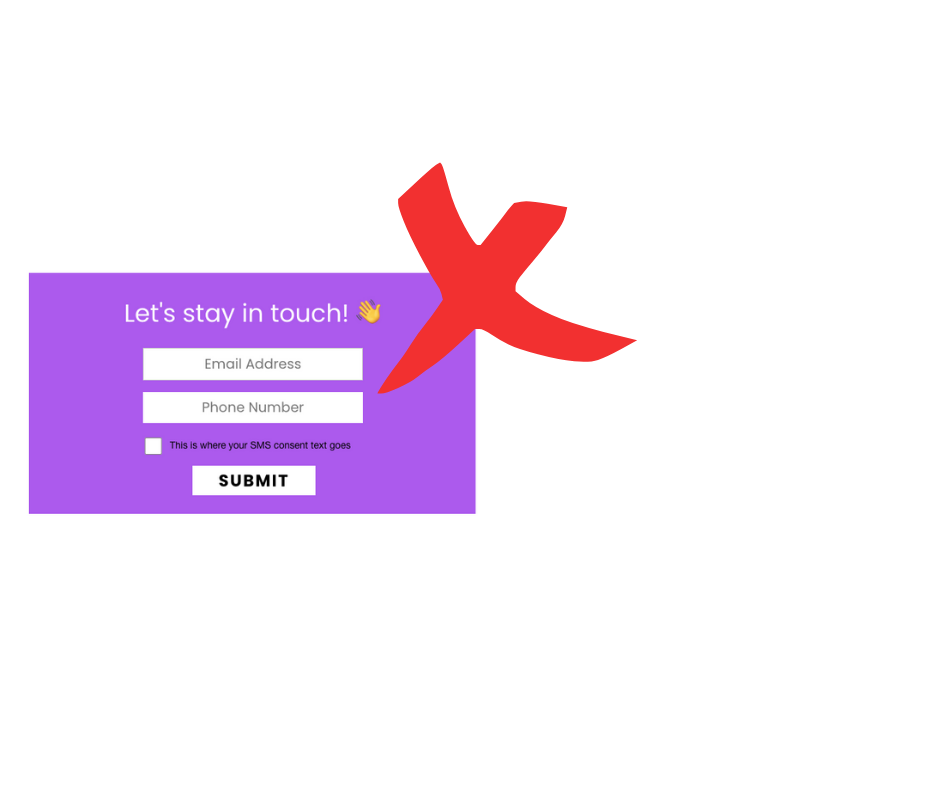 This is an industry-wide regulation; these policies are not driven by any specific SMS provider, and they will affect every SMS platform.
How To Set Up Compliant SMS Pop-Ups
Step 1: Turn off your non-compliant pop-up(s)
Large carriers (Verizon, T-Mobile, and other companies that deliver text messages) will begin auditing brands beginning the week of August 9, 2021. Turn off your SMS capture pop-up if it does not separate email capture and SMS capture on two different screens.
Step 2: Build a multi-step lead capture pop-up
To save you some time, we made a multi-step email and SMS capture template, which you can simply upload to your Justuno account.
A. Download the zip file here. Select the zip file to unzip the JSON files from each other, you'll see the mobile and desktop versions available.
*If you don't know what json is, don't worry! It's the file format that Justuno promos export as. It's similar to seeing a .docx or .pdf at the end of your file – only you'll see .json.
B. Login to your account here. Then upload the .json files into your account by:
Clicking "Create Promotion"
Click "Import"
Drag-and-drop or upload the .json files directly
See the video below if you need more help!
C. Connect your SMS and ESP providers, then customize the template to your branding.
D. Add compliant opt-in disclaimer language:
*I agree to receive recurring automated marketing text messages (e.g., cart reminders) at the phone number provided. Consent is not a condition to purchase. Msg & data rates may apply. Msg frequency varies. Reply HELP for help and STOP to cancel. View our Terms of Service and Privacy Policy.)
Make sure to add the links to your own Terms of Service & Privacy Policy!
Step 3: Turn on your compliant pop-up and start capturing new SMS contacts
Activate your Justuno promo, and you're good to go – no need to worry that you're displaying a non-compliant SMS opt-in. 
If you'd like further consultation on SMS compliance, we'll direct you to our preferred SMS partner and experts in compliance, Postscript.
Want To Learn More About SMS Marketing?
If you're not sending SMS today and want to speak to our preferred SMS partner, Postscript, click here to book a demo or watch the video below to see how our platforms work together to supercharge SMS campaigns.
If you're currently using Postscript for your SMS solution, reach out to your CSM for more details on multi-step capture!