SMS marketing is the hottest new marketing channel for brands to connect with their customers, boasting a 98% open rate within three minutes of reception!
So how can you go about taking advantage of such a powerful tool? By utilizing a high-performing SMS pop up that maximizes subscriber growth while maintaining compliance and creating a streamlined experience for website visitors.
Justuno's tap-to-text technology empowers brands to reduce barriers to subscription for website visitors. Simply click a CTA to open a pre-populated text message and then tap send; that's it. Just two taps, and they're subscribed to your SMS list–now that's efficiency!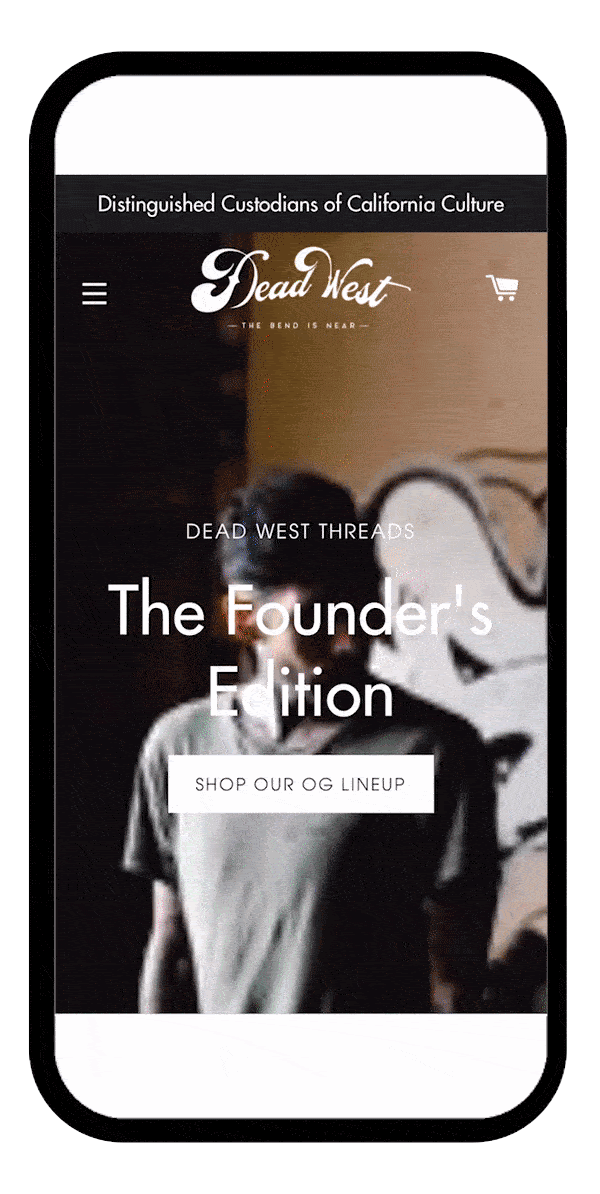 Let's dive into a few opt-in strategies for using Justuno to ramp up your SMS marketing!
1. Two-Step Lead Capture
If you're looking to grow email and SMS lists at the same time, a two-step lead capture is what you need. Since compliance regulations state that email and SMS fields must be on different screens and the SMS opt-in cannot be required, this traditionally is set up with an email on the first screen and tap to text opt-in on the second. You can push both the email and phone numbers to your ESP and SMS platforms independently if you're using two different providers.
In our template library, we have a variety of these types of SMS opt-ins, including ones by our preferred SMS provider, Postscript! These pre-built templates already have best practices and compliance checkboxes built in so you just need to brand it and go live.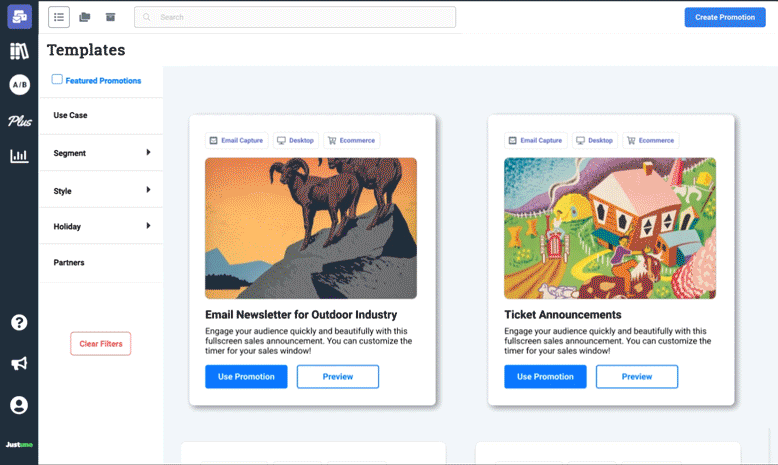 Sign in to your Justuno account or create one today to access these designs!
2. Multi-Visit Strategy: Email First, SMS Second
Since SMS is a more personal and intimate channel (that's part of its inherent value), it can make some consumers wary of opting in. If you find that to be the case among your target audience, take the value-first approach. You can use a traditional email lead capture on their first visit and then hold off on showing an SMS opt-in pop-up until their second visit or even wait until after they've made their first purchase. This way, you've been able to demonstrate value for them before asking for something as personal as their phone number, which builds trust and increases the engagement and long-term value of their contact.
Another extension of this "email is less of an ask than a phone number" ideology is simply offering a better incentive for SMS opt-ins than email, like a 25% discount for SMS vs. 15% for email, a free exclusive gift, etc. This conveys to the website visitor that you understand this is a personal channel, and you're willing to give them something of more value in return!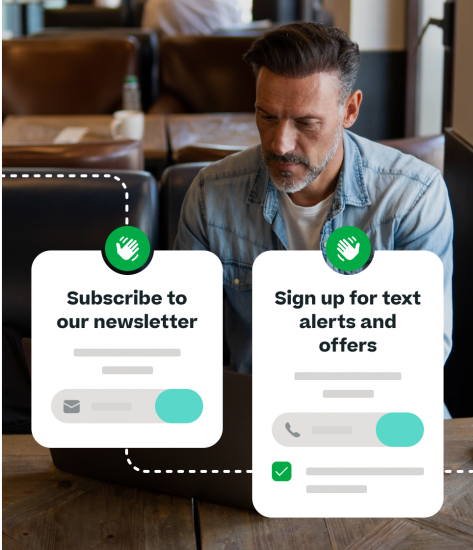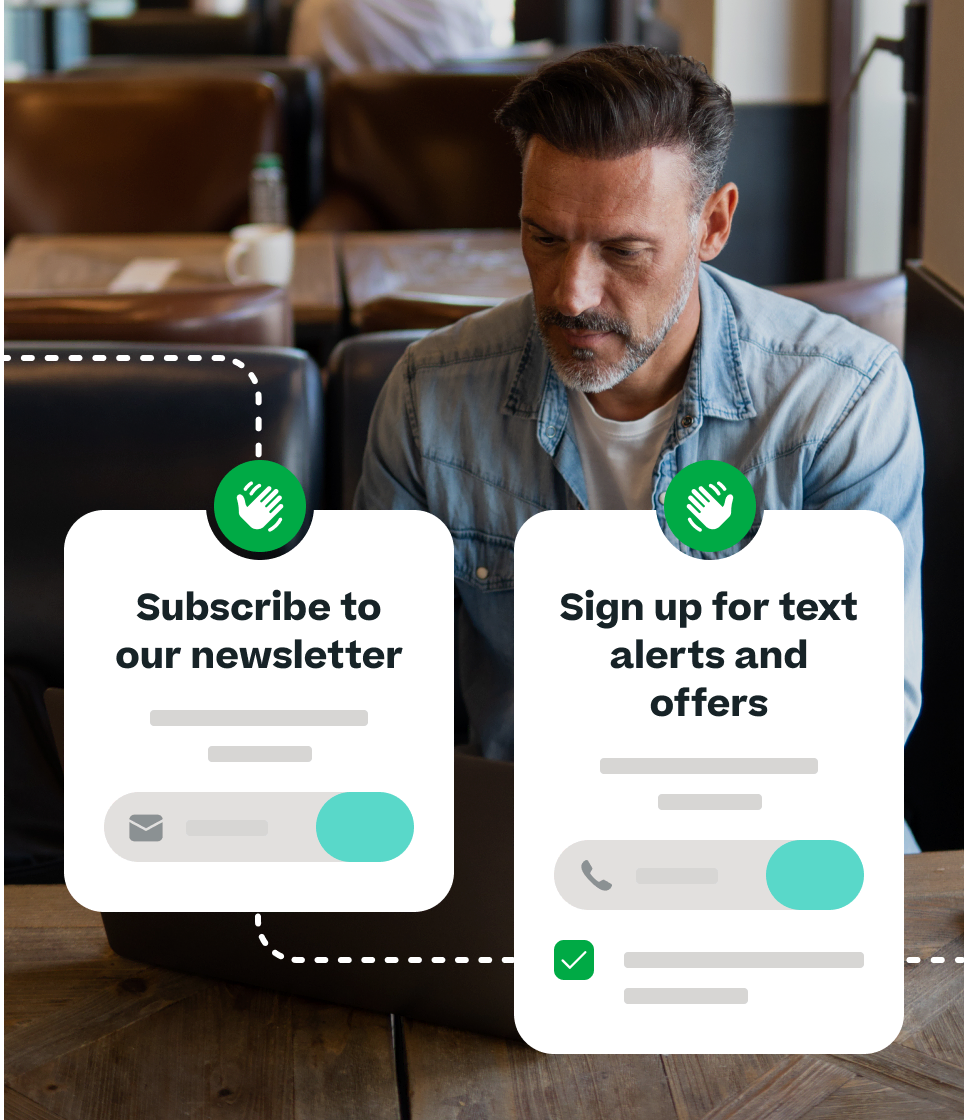 3. Upon Adding to Cart
This is a strategy that emphasizes SMS list building alongside driving same-session conversions. Set up your SMS opt-ins to fire upon a visitor adding something to their cart with messages like "Get 25% off what you just added by signing up for texts."
This is a perfect use case for the tap-to-text feature since it just takes two clicks to opt-in; they immediately get their discount code and are right back to their shopping experience. No barriers, no distractions–just value all around!
Champion SMS Compliance
Privacy and compliance are extremely important for SMS marketing, so make sure you've done your due diligence with SMS opt-ins and are using a provider who prioritizes compliance. Some of the regulations you'll need to keep in mind are:
Showing apparent opt-ins and checkboxes for ADA, Telephone Consumer Protection Act (TCPA), California Consumer Privacy Act (CCPA), and General Data Protection Regulation (GDPR) to make sure your bases are fully covered.

Pro Tip: If you are only doing an SMS opt-in via tap-to-text you do NOT need to include a checkbox, consent is given when the consumer sends the text (though consent opt-in language is still required on the pop-up). If you are doing a two-step lead capture or a non-tap-to-text SMS opt-in, you'll need to include the checkbox on the screen where they're providing their phone number.

Use explicit messaging for any disclaimers, data rates, and opt-outs (Talk with your SMS provider for this)
Tap-to-Text in Action
Justuno client MegaFood was one of the first clients to use tap-to-text when we launched it in 2020. Their tap-to-text promotion had a 30% conversion rate with $4,500 in same-session revenue in just two weeks!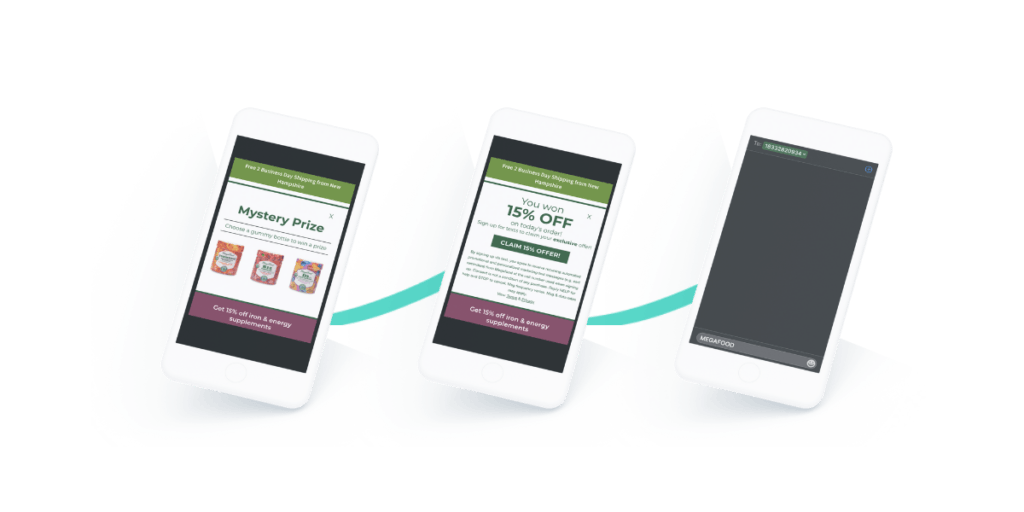 Since then, tap-to-text has been widely adopted by Justuno users with an average 12.86% engagement rate, 18.35% engaged conversion rate, and an AOV of $89.64.
"Tap to text allows you to engage and capture customer data while bringing the convenience to a customer's fingertips. Because tap-to-text allows for a customer to interact with a brand in a way that feels more personal, marketers are able to leverage this feature by humanizing a brand and building a stronger merchant to customer relationship from the start."
–Simon Byrne, Head of Client Strategy, Andzen
How to Set Up Tap to Text With Justuno
Setting up a tap-to-text promotion is as easy as it is for shoppers to subscribe to; let's begin.
Set up a keyword campaign in your SMS provider (this keyword is what opts someone into your list), then go into the Justuno admin and choose a pre-built SMS tap-to-text lead capture from the template library OR create a mobile promotion in the design canvas and add the SMS layer from the layer options.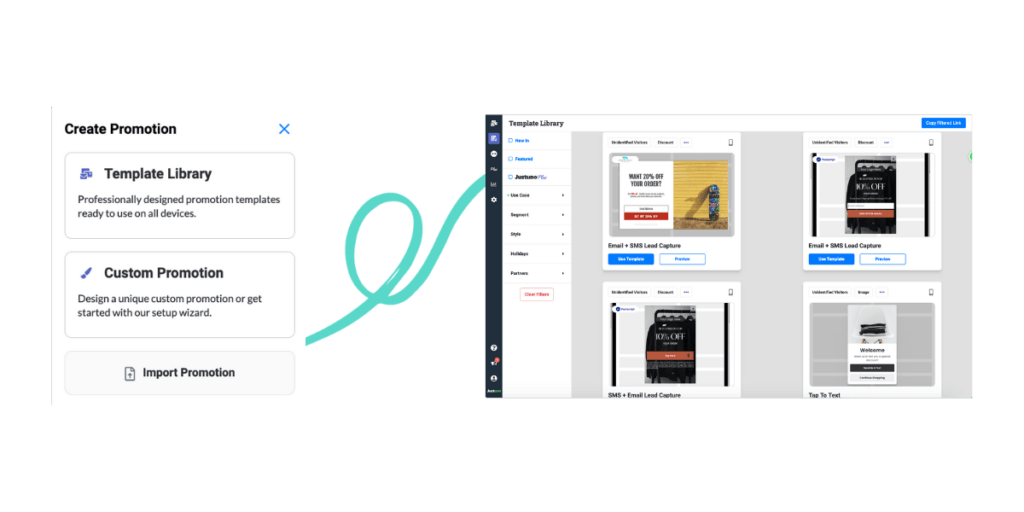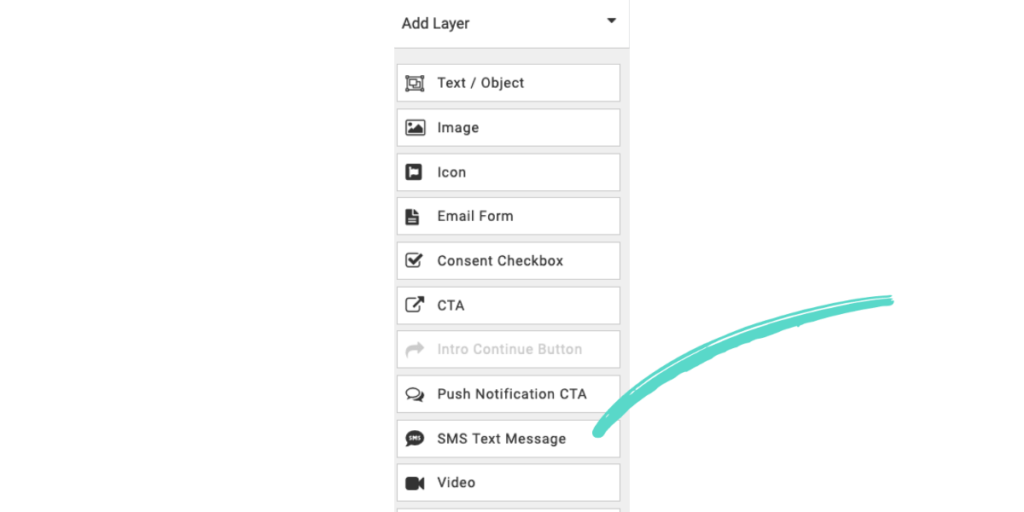 2. Under 'Other Options' on the right-hand side, you'll put the shortcode or dedicated number from your SMS provider along with the pre-populated message consumers will send. We recommend using on-brand text that shows some personality to boost engagement rates!
Pro Tip: Make sure if you're using a short code that there is a dash before the last two digits, i.e. "234-42"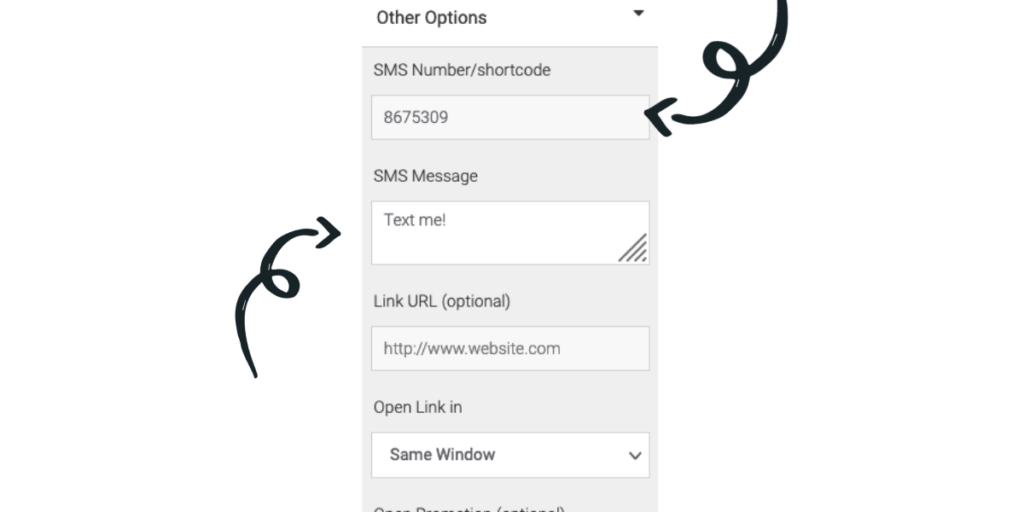 3. Set up your targeting rules for the segments you want to see this promotion and go live!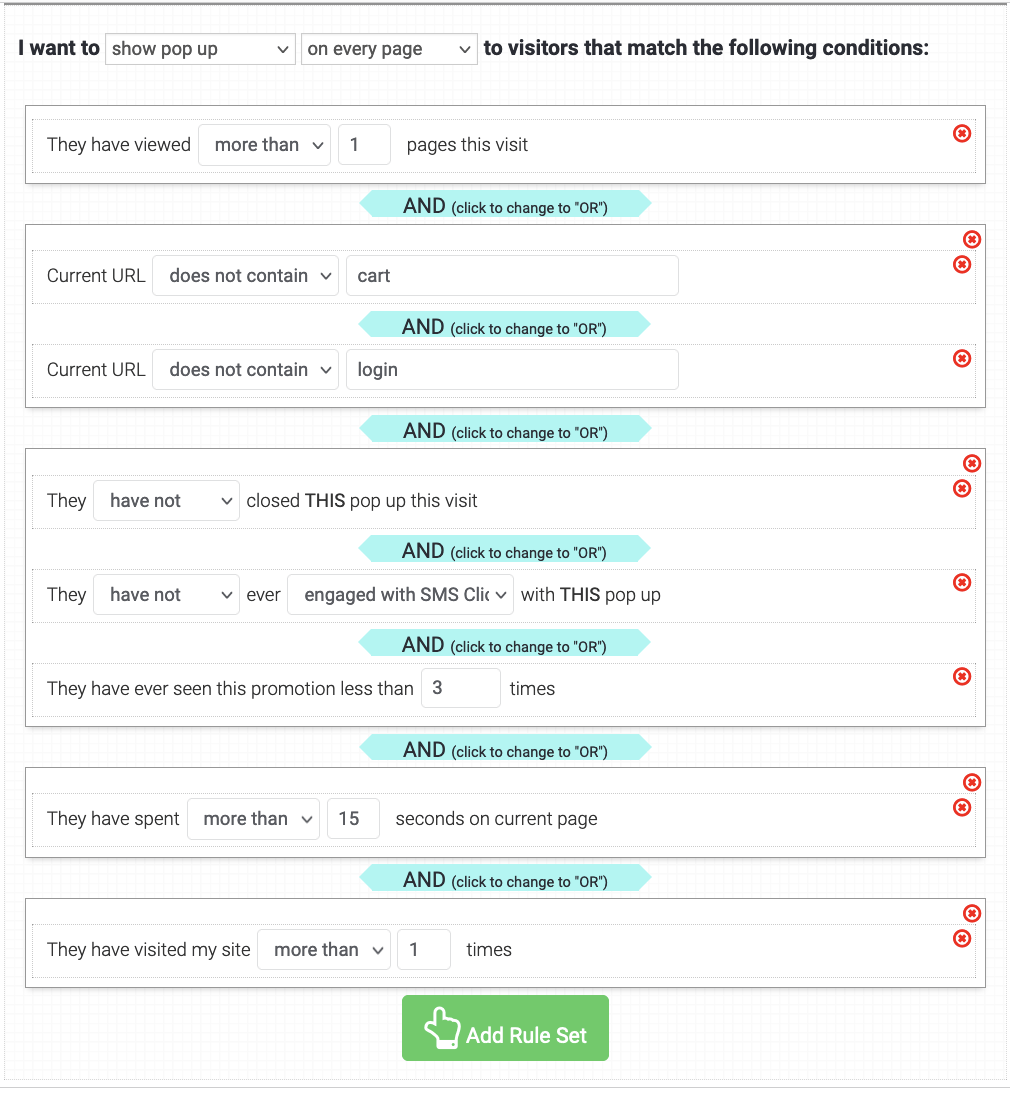 That's it! You're on your way to collecting SMS subscribers with just two taps. This feature works with all of our SMS provider integrations like Postscript, Yotpo SMS, Attentive, Retention Rocket, and Emotive as well as our ESP integrations that also have SMS functionality like Klaviyo, Sendlane, Omnisend, and more.
If you're a Justuno customer and have questions about how to set this up, email us at support@justuno.com, and we're happy to help.
If you're not a Justuno customer and want to start seamlessly growing your SMS list, start a free 14-day trial today and set up a tap-to-text pop-up in just a few minutes!