Do you want to generate more revenue from your email subscribers automatically? Email automation is one of the best things in email marketing for super-targeted, high-converting messages.
Once you set up triggered emails or series of emails, your work is done and subscribers will receive various emails based on a range of different behaviors.
Let's take a look at automated email sequences that every e-commerce store should set up and optimize.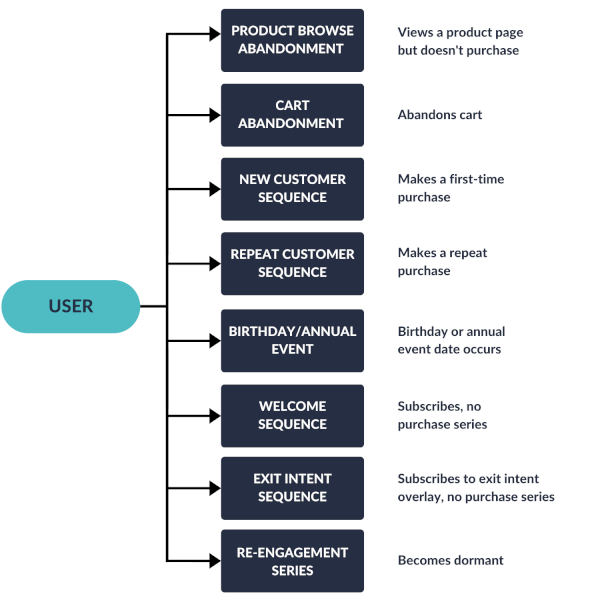 1. Product Browse Abandonment
Product browse abandonment emails are automated emails sent to subscribers who recently viewed specific products on your store's website but did not make a purchase. Ideally, these contain the dynamic values for the exact product's information within the email, with a strong call-to-action to come back and shop. It's also appropriate to include dynamic recommended products similar to what they were previously browsing. Typically, the delay will be within 24 hours since the browse abandonment event.

2. Cart Abandonment Sequence
Nearly 60%-70% of online shopping carts are abandoned. We've seen shopping cart abandonment emails have open rates of 50%+ and conversion rates upwards to 30%.

With the cart abandonment sequence, the goal is to get these shoppers to come back and complete their purchase. Usually, the first cart abandonment email timed 4-6 hours post-abandonment is a good place to start. We recommend having up to three emails in this sequence as follows:
2.1 Cart Reminder
Typically, the first email in this sequence should be a simple reminder to return to the shopping cart. The message should have more of a customer-service oriented tone.
2.2 Cart Incentive
As a second touch, we'll want to be a bit more aggressive with our messaging since they haven't converted off of the first cart email. Here, we can introduce a discount/shipping incentive to further drive the purchase.
2.3 Cart Expiration
On the third and final email in this sequence, we'll want to play upon a sense of urgency to move the subscriber over to becoming a customer. The messaging can be around the cart and/or incentive expiration.
3. New Customer Sequence
3.1 Transaction Emails: Order & Shipping Confirmations
Transactional emails are some of the most highly opened & clicked emails in your arsenal. Therefore, they are among the first to make sure you have set up and optimized. Although pretty much all retailers send the basic transactional emails (order confirmation & shipping confirmation), many of the emails are not truly optimized.
Several notes regarding order & shipping confirmations:
While your larger batch emails tend to have an average open rate around 20%, transactional email open rates average north of 50%.
Customers are expecting to receive transactional emails, and will be on the lookout for them to arrive in their inbox.
The immediate period right after purchase is a golden time to capture a repurchase when customers are feeling the "warm & fuzzy" buzz right after purchase.
Including a discount to shop again: Highlight shipping-specific value-points, such as always free shipping, seamless returns, etc.

3.2 New Customer Welcome
In addition to the transactional emails sent to new customers, a separate New Customer Welcome email is very useful in engaging your new customer. Your subscriber is at an emotional high-point right after their first purchase, so use this opportunity to really show them what your store, product, and brand are about!
In terms of content, possible things to include:
Your brand's origin story
Your social media accounts to engage and follow
Customer programs they can enroll in
An incentive on their next order
An invitation to modify their customer profile or preferences
Helpful product or lifestyle-related resources
Also, brands can have a lot of fun with this email, using their unique brand voice and messaging in the content.

3.3 Product Review Request
A post-purchase email requesting a product review from your recent customers is a great way to get more…well, product reviews for your site.
Time your product review email to arrive in your customer's inbox a few days after they've received their product shipment. Your email should focus primarily on asking them to complete a review, although some light secondary CTA's are viable

3.4 Cross Sell & Up-Sell
Depending on your product selection, there may be ample opportunities to cross/up-sell your customers after their initial purchase. Most stores want to implement automated emails specifically designed to sell complementary or upgraded products during this New Customer Sequence. Of course, the more personalized and accurate the product selection (many email platforms have dynamic product recommendations built-in), the better chance you'll have to make another sale.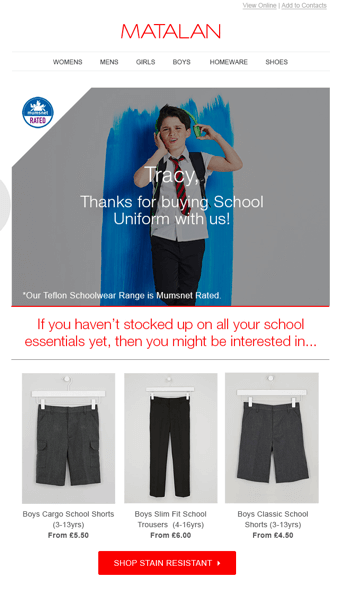 3.5 Re-Order & Replenishment
If your products are consumable, a product reorders email will pack a big punch in terms of garnering repurchases. Set your product reorder triggers to go out around the estimated time that their product runs out/is running low.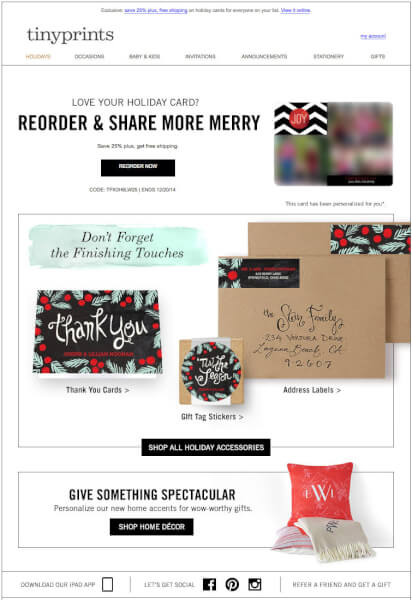 In addition to a high chance that your customer will re-order that particular product, it's also likely they will buy additional products from your site as well.
4. Repeat Customer Sequence
4.1 Thank You Email
We want to treat repeat customers a bit differently than first-time customers. Repeat customers are a high-value segment of the customer base, so we want to do a warm welcome with messaging that makes them feel particularly special. Moreover, they are more likely to become brand/product advocates and help recruit friends to purchase from us.

4.2 Referral, Loyalty, & VIP Programs
If your store has a referral or loyalty program, this is a good opportunity to introduce it to your repeat customers. They are more likely than the average subscriber on your list to enroll in the program and purchase more/refer you more business.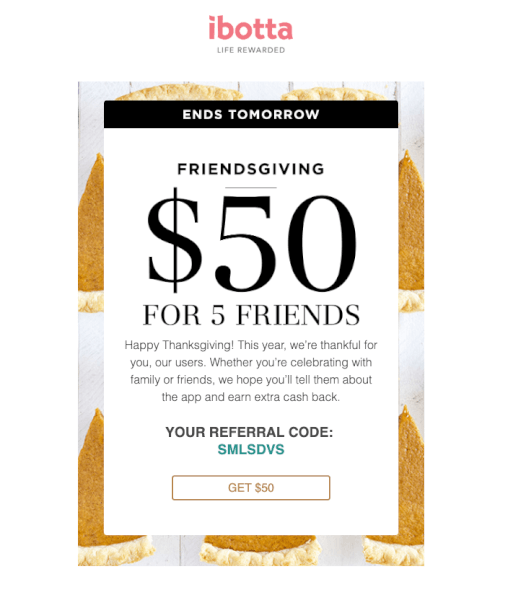 5. Birthday & Annual Events
Everybody appreciates their birthday being remembered, and your subscribers are no different. You can trigger automated emails days before your subscribers' birthdays with a personalized messaging and perhaps a discount.
Furthermore, if your store sells products linked to an annually recurring event (such as gift-products) you can set an automatic reminder to go out on an annual basis.

6. Welcome Sequence
A welcome sequence consists of several emails focusing on "onboarding" new email subscribers. A good welcome series can help extend the contact lifetime value, prompt contacts to make the first purchase, and build brand engagement.
6.1 Welcome Introduction Email
This is the first email sent to a new subscriber. Many retailers will offer a first-time customer incentive to try to convert a non-customer into a customer. These offers usually take the form of a coupon code for first-time customers only or some sort of shipping offer. The offer can also incorporate a deadline to drive urgency for the purchase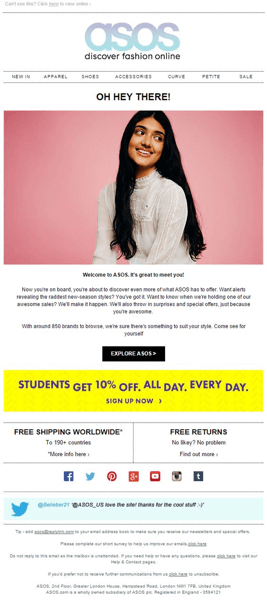 6.2 Incentive Reminder
You'll always want to send a reminder email to redeem the incentive you offered in the first welcome email. This helps convert subscribers who may have missed your first message, or who are waiting until the last minute. Using urgency and scarcity in this message is also highly recommended to drive the conversion.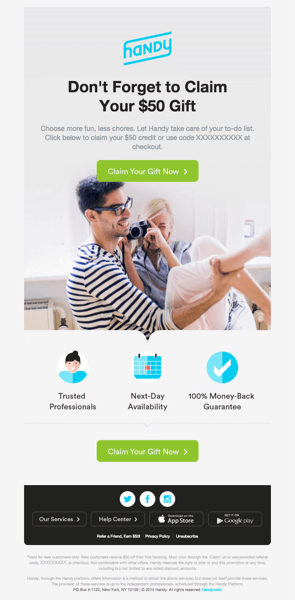 6.3 Other Welcome Emails
A welcome sequence is one of the automations that can truly be customized to fit your brand and goals. So, in addition to the two core ones mentioned above, We've seen these sequences include many individual emails such as:
Evergreen best-selling products
Social proof/promotion
Testimonial
Top Resources
7. Exit Intent Sequence
An exit intent sequence is similar to a Welcome Sequence, except the entry point for the subscriber is when they opt-in to an exit intent popup overlay on your site. Many exit intent overlays offer some sort of incentive to join the list, so the subsequent email follow-up sequence should be geared towards delivering the incentive (discount, resource, etc) as well as reminding non-redeemers to take advantage of it.
8. Re-Engagement Series
The purpose of a re-engagement series is to attempt to "reactivate" dormant contacts on your email list before unsubscribing them from your list. A portion of contacts on any email list will eventually become "dormant", so we'll want to remove them from the list. However, first, we want to do a last-ditch effort to re-engage as many as we can, and only unsubscribe those who are truly dormant.
8.1 We've Missed You
This is the first touch-point in the series. The messaging is based around a simple check-in email stating that we have not heard from them in a while. The copy can be witty or straightforward depending on the brand voice. This email acts as a soft push for them to re-engage. The subject line should be very enticing to heighten the chance of the open.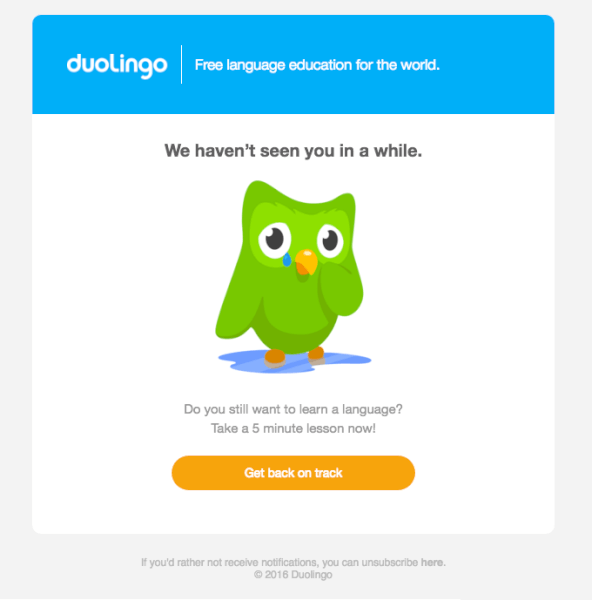 8.2 Personalized Discount
In the second touch-point, we want to use a very sweet, personalized incentive to get the user to engage. This will need to be a better-than-normal offer to work best.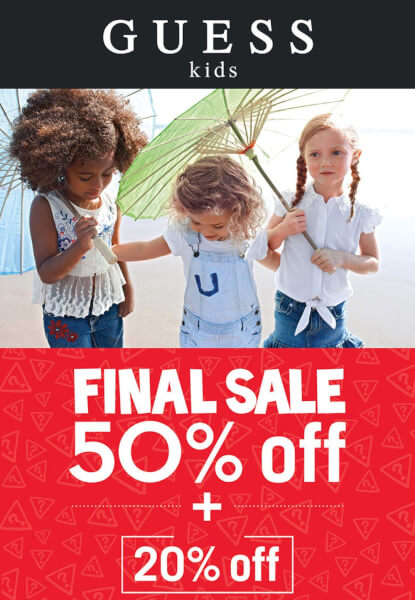 8.3 Unsubscription Notice
Last effort is either confirm subscription or to unsubscribe. Most dormant contacts will still be non-responsive, but anyone we get to click confirm or to open the email will be reactivated.

Wanna learn more about email design & timing?
We've run through essential e-commerce email automation. It's quite challenging to set up all of them at once (in fact, we can help). However, once you have them, you'll start taking advantage of the automatic revenue and customer engagement they generate!