Valentine's Day is the first major spending holiday of the year for DTC brands, so it's important to be prepared for it. Last year alone, Valentine's Day sales were expected to reach $27.4 billion – a $6.7 billion increase from 2019. Formerly considered to be the most romantic, couples-focused holiday of the year, it has developed into a time for consumers to indulge in a little self-love or self-care (Singles Awareness day is the day after) with more brands than ever getting in on the action. Review our tips below to make sure you're maximizing your conversions and revenue this Valentine's Day.
More than Flowers
About half of consumers will not be celebrating Valentine's Day. Rather than alienating this segment of the market by strictly promoting Valentine's Day gifts for a significant other, mix in some other messaging that caters to those who are single. Encourage single shoppers to treat themselves and offer discounts to make it worth their while. Since it may be difficult to segment your shoppers by relationship status, you can always resort to incorporating a few single-focused emails in your campaigns or place this messaging in your onsite pop-ups. This can help you guide those shoppers to the desired part of your website, whether that's a product collection all about treating yo' self or a special product bundle for one this year.
Consumers have quickly adopted Valentine's Day as an excuse to spend money on more than just their partners. Gift recipients include family members, children, co-workers, pets, and even themselves. Did you know that consumers spent $1.7 billion on their pets alone during Valentine's Day in 2020!
Even if you don't sell traditional Valentine's Day products, use this as an opportunity to reach out to leads and past customers. After a year like 2020, people are looking for a moment to give themselves (and their loved ones) some self-care, and this is the perfect excuse.
As you can imagine, there are some very stereotypical categories for traditional Valentine's Day purchases:
Flowers
Jewelry
Clothing
Dining
Travel
Hotels
Events
Candy
Greeting Cards
But let's open that up a bit further, today's consumers are taking this day of love with them into new product categories that are less traditional such as:
Self-care books & journaling
Art supplies and art therapy
Comfort Clothes
Self-massage devices
Spa experiences for 1
Anything bath – facemasks, nails, bath bombs
Weighted blankets
Candles
As you can see, even if your brand doesn't fit neatly into the traditional Valentine's product box, you can still take advantage of holiday sales and get an early Q1 win. Plus, practically all of the traditional products -like clothes, candy, dinner, can be marketed as being for yourself or other loved ones.
Delight your shoppers
Like all holidays, the easiest and most efficient way to improve conversions and revenue is to engage your customers with Valentine's Day promotions. Present shoppers with Valentine's themed promotions combined with valuable incentives to purchase like a percentage or dollar amount discount. With the season of love (and last-minute procrastinators), consider free or expedited shipping, an additional gift with purchase, gift wrapping, or personalized notes on the gift. We all know that shipping can be a little tight these days, so if you have a brick-and-mortar store this is another great time to emphasize your buy-online-pick-up-in-store (BOPIS) value add.
If you're getting together last minute holiday marketing, a simple sales promotion with a discount is a great way to drive them to buy from you over your competitors. To make things even easier for you, our team has pre-built promotions that you can add to your site in a few easy clicks.
If you want to ensure success, take advantage of Justuno Plus for exclusive, high-converting on-site promotions that are sure to delight your visitors.
Add a Valentine's Day Promotion Now!
Re-engage your holiday season customers
With the Q4 holiday season behind us, this is a perfect opportunity to re-engage customers that just bought from you during Black Friday/Cyber Monday and Christmas. Segment them by their recent holiday purchases to send highly targeted emails based on product preferences, gender, or complementary goods.
Reward reviews and testimonials with discounts or free samples to get your brand back on their mind, and re-engage with killer Valentine's Day promotions. If they bought your product as a gift, even better – the holiday of love is all about gift giving. Be creative with post-purchase engagement messaging and you'll be able to turn a one-time holiday purchase into a repeat customer.
Expert Strategy: Make converting easier with AI
Take advantage of Commerce AI: Justuno's AI-driven product recommendation engine. Using insights from over nine billion user sessions, Commerce AI can take your conversions and website experience to the next level. Intelligent product recommendations are the core of the e-commerce giants platform (e.g. Amazon), but there's no reason you can't take advantage of them too. (For reference, Justuno Plus customers using Commerce AI saw a 38% conversion rate during Cyber Weekend).
The two most potent AI-recommendations are cross-sells and upsells. Cross-sells display additional items based on what other customers bought, viewed, or put in their cart which provide a great opportunity to add in an extra gift (or something for yourself) at the click of a button. Upsells offer products that are the same price or more based on what other customers bought or viewed in the same product category. When buying a gift for others, especially a loved one, this is an especially high-converting strategy to show shoppers what other options are to inspire them further.
Interested in seeing how Commerce AI can help? Get a free demo here.
Make Valentine's Day easy for your shoppers
For those last-minute shoppers, Commerce AI provides something even more useful – most viewed and most purchased banners display products that are popular among other shoppers. If everyone's getting it, surely it's a good one, right? Start with a gift guide to get them thinking and finish with consumer peer pressure AKA social proof for a guaranteed boost in sales.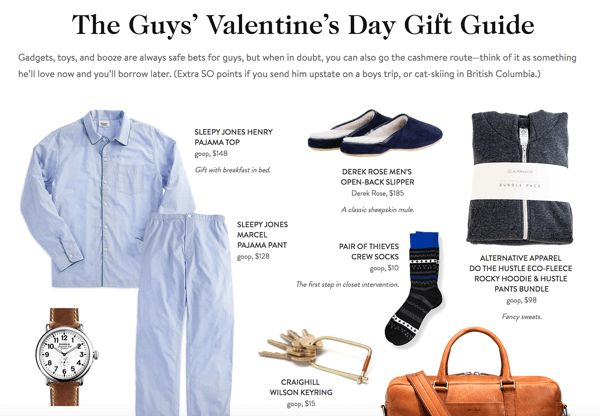 Market to mobile
Mobile commerce sales accounted for 2.9 trillion dollars in 2020, 25% more than in 2019 ($2.3 trillion). With such incredible growth for mobile shopping, it's crucial your site is equally optimized for mobile users. Fortunately, Justuno offers the same solutions for mobile users without affecting performance (which is paramount for mobile shoppers). With almost 90% of mobile consumers saying that their mobile e-commerce experiences could be improved, it's good to focus on standing out to shoppers.
If nothing else, take advantage of Justuno's pre-built mobile promotions to ensure you're maximizing conversions where over two-thirds of shoppers buy. Having mobile promotions available on your site can be the difference between an average and a great Valentine's Day sale.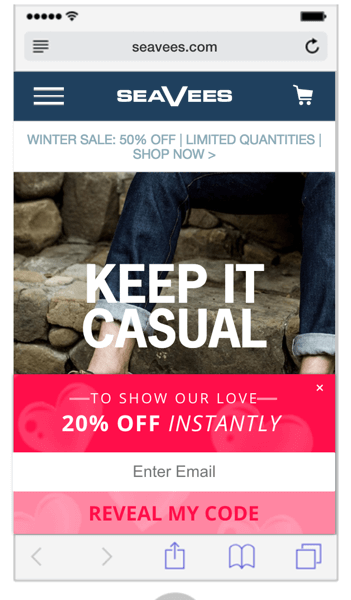 Make Valentine's Day marketing easy
These Valentine's Day marketing tips should help you convert more visitors and re-convert old customers. As the first major spending holiday of the year, let Justuno help you create the ultimate onsite experience for your visitors and start this year on a high note. If you're short on time, get a free trial and launch a Valentine's Day pre-built in minutes through Justuno.
Want to take it to another level? Try out Justuno Plus and see how it can transform your onsite conversion game with a demo here (and get access to 200+ exclusive pre-built pop-ups). You can also sign up for our Valentine's Day webinar to get more tips on how to take on the big day and succeed; RSVP below!