As growth marketing experts, we are consistently asked this simple question:
How do I get more customers?
It's a broad question that can be answered in a variety of ways, however, we see one key area of focus that can help any type of business (e-commerce, SaaS, publishing, etc.).
Our expert advice: Focus on converting NEW visitors into leads and customers.
So when our friends from Straight North put together a study on when new leads convert, I knew I had to write up a post.
Why new visitors?
On average, 98% of your website's new traffic will not complete a marketing conversion and of those visitors who do convert, 84% of them will do so during their first visit!
It's simple, your best chance at converting a visitor into a lead is during the first visit.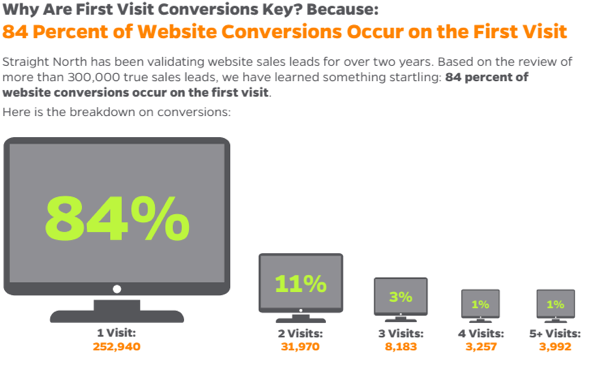 These numbers are based on average traffic conversion rates for online businesses and Straight North's study which analyzed over 300,000 true sales leads.
But the reasons for turning your focus to new traffic don't stop there. Think about all the time, money, and effort that goes into driving new traffic to your website. You're probably using a combination of paid advertising, content marketing, and social media to generate new traffic for your site.
Now, after quantifying all of the inputs that go into generating traffic for your website and factoring in the importance of first visit conversions, doesn't it make sense to invest in a strategy that converts that traffic into leads during that first visit?
I'd sure say so!
If you can get an email address from a new visitor, you can retarget that lead with marketing emails for free!
However, you must act fast, or the chances of converting will dramatically decline. You could've missed your chance at a lead and that visitor could be gone forever.
Three tips for converting new traffic
As digital marketers, we are given the difficult task to drive conversions in a highly competitive environment in which consumer attention span is at an all-time low.
Not the best hand to be dealt. But us marketers like a challenge!
When it comes to converting first-time visitors, you must:
Be assertive and direct
Be convincing (Offer something of value)
Make the conversion process accessible and easy
To accomplish this and optimize for conversions, let's take a look at these three marketing tactics.
1. Engage first time visitors with an email pop-up
Your primary goal with new visitors is to get an email address. Very rarely do first-time visitors complete the entire process and purchase from you. If they do, that's awesome! However, don't get hopeful of that occurring regularly and don't forget your primary goal: the email address!
Here's where email pop-ups play a major factor. You can directly engage a new visitor, convince them to join your mailing list, and place the call-to-action right in front of their eyes for them to complete in just a matter of seconds.
You also have control over branding, design, your offer, and your marketing message. This means you can get creative, run tests, and take control of the website experience. Just ask Isle Surfboards who increased email capture by 660% with email pop-ups.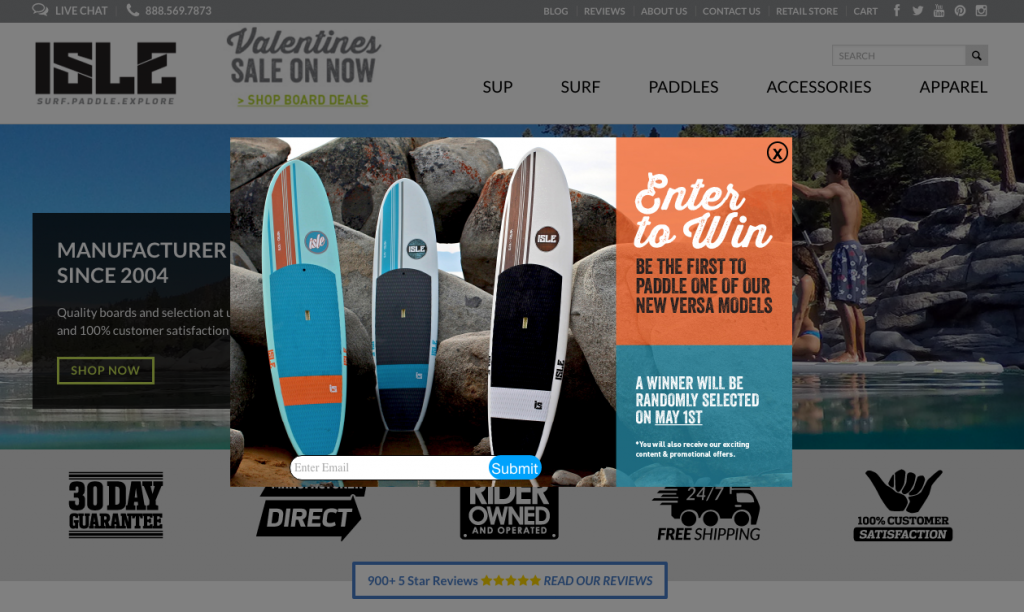 2. Capture leads with exit pop-ups
There will be visitors who don't convert after an email pop up or while they are browsing your site. Fortunately, we can engage them with targeted messaging at the very moment they attempt to leave the site with an exit pop up! An exit pop-up gives you that one last chance of converting a leaving visitor and can be highly effective in doing so.
If you want more leads, then you need to be using an exit pop-up. Again, you control the messaging and design which allows you to become very persuasive with your offers. Here's a great example of a lead capture exit pop-up.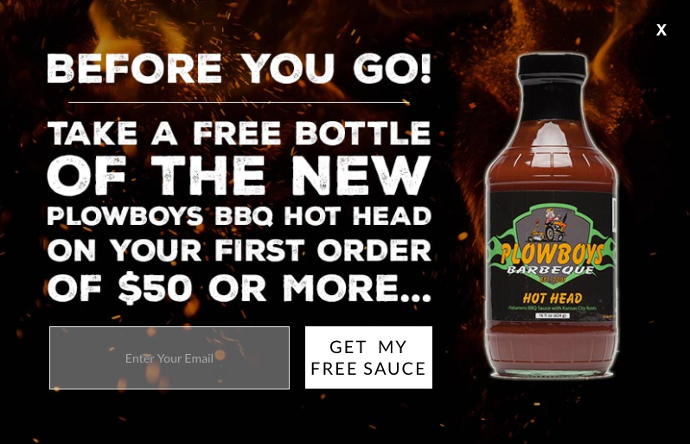 3. Use incentives to provide value and sweeten the deal
You can and will drive marketing conversions with a simple email po-pup, but when you add an incentive to your offering, you can dramatically increase your conversion rates.
It doesn't matter what type of business you're in, this stuff really works. I'll give a few examples, each relating to a particular industry.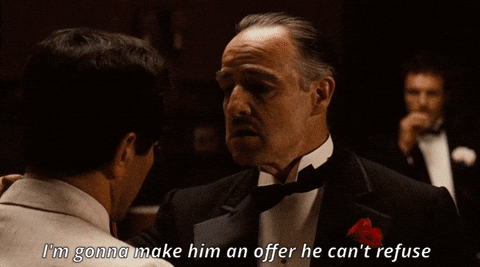 E-Commerce: The Contest Giveaway
The contest giveaway is perhaps the most powerful lead capture incentive that you can use for e-commerce. Present your first-time visitors with the opportunity to win a high ticket item by simply entering their email address. This item could be one of your products or an item that you know your ideal customers would be interested in. This way, you know you're getting qualified emails.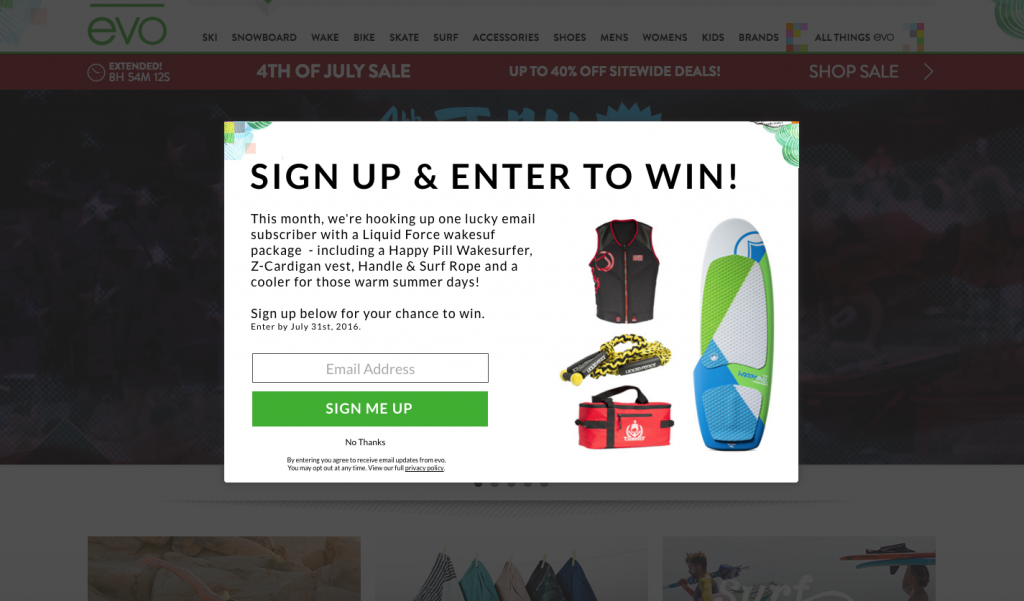 SaaS: The E-Book or White Paper
Gated content is an excellent way for SaaS businesses to turn interested visitors into qualified leads. Craft a solid piece of long-form content (the lead magnet) that relates to the software or service that you provide. This can be a common problem your solutions help solve. It can be an industry report. It can even be a step-by-step video.
Once you've put together this irresistible lead magnet, it's now time to gate it. Present your gated content offering to new visitors, blog readers, and anyone else who could benefit from reading it. Now, you have a high converting piece of content to use for lead generation!
While you're here, you should grab our guide on conversion rate optimization! The guide covers the basics of CRO, why it's important, and several effective conversion tactics that you can implement today! How about that subtle self-promotion?
Publishing: The Email Series
In publishing, you make your money mostly off of your content and your business' well being relies on driving traffic to your site. It only makes sense to use your valuable content as an incentive for visitors to opt-in but also as a way to consistently drive traffic back to your site. Plus, they're automated!
Email series are also a great way to identify qualified leads. You can do this by tracking email opens and click-throughs. If you see that a particular contact has clicked through on the first three emails of the series, that's a clear indicator that this person is interested in what you offer. In this case, it'd make sense to hit them with a sales oriented offer.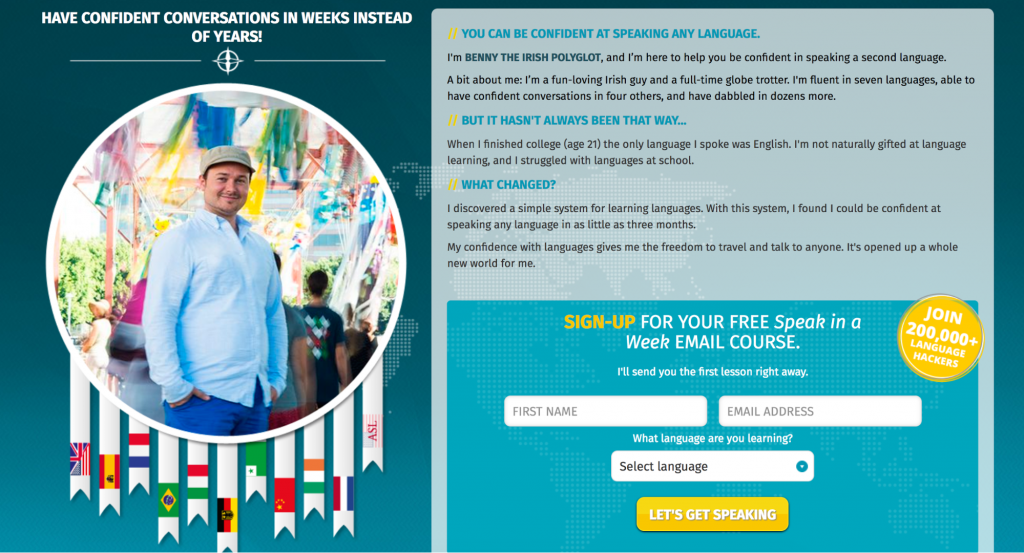 10 more tips on driving first visit conversions
As mentioned earlier in the article, the Straight North team put together this awesome slide deck with 10 additional tips for converting traffic into leads during the first visit. I found great value in this slide deck and I'm sure you will too!
First Visit Conversion Study created by Straight North (https://www.straightnorth.com/services/seo/)